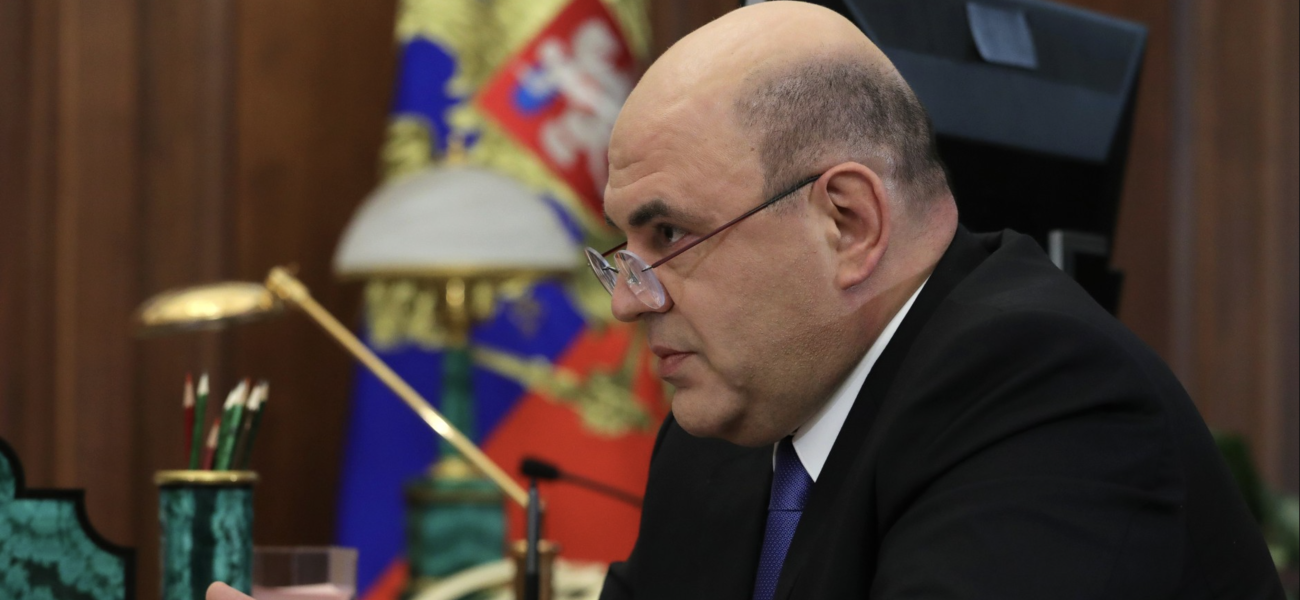 Russia's Prime Minister Mishustin: A Quiet Technocrat Who Toes the Line and Gets Results
May 11, 2023
Yana Demeshko, Natasha Yefimova-Trilling and Ingrid Burke Friedman
Ever since Mikhail Mishustin was hoisted from his job as tax chief to become Russia's prime minister in 2020, analysts have said he would not be a potential successor to Vladimir Putin after the president's term ends next year. This take was hard to argue against. As Carnegie's Tatiana Stanovaya wrote back then: "Mishustin does not have any political experience or popularity with the electorate, and is not part of Putin's inner circle."
What Mishustin does have is Article 92 of the Russian constitution, which would make him interim president — and commander-in-chief of a country at war — if something were to abruptly stop Putin from carrying out his duties. Last week, the Kremlin claimed that two drones destroyed over Putin's Moscow residence had been sent to assassinate him. Though there are still multiple alternative explanations that are at least as compelling, the incident does spark some curiosity about the man who would take over the presidency if Putin dropped out of the picture before his term is up.
Describing the softspoken Mishustin as a "faceless functionary without ambition" seems off the mark. It is true that he lacks both the insider credentials of a more obvious potential successor like Security Council head Nikolai Patrushev and the populist appeal of hawkish firebrands like former president Dmitry Medvedev (whom he replaced as prime minister) and Duma speaker Vyacheslav Volodin. But those who track Russia's fiscal health have praised Mishustin as a highly competent technocrat, who oversaw a doubling (if not tripling) of budget revenue when he ran the tax service. Granted, that image of competence may be bolstered by the prime minister's alleged preoccupation with his public persona. In either case, now — as his government helps Russia overcome unprecedented sanctions pressure — it also seems to have translated into a measure of popular appeal: Mishustin's approval rating, according to the Levada Center, has climbed from around 50% at the start of 2020 to more than 70% as of this April.
Like many other senior Russian officials, Mishustin appears to have been caught off guard by Putin's decision to mount a full-fledged invasion of Ukraine in February 2022, but he has publicly stayed loyal to his boss. At an emergency meeting called by Putin three days before he sent Russian troops over the border, Mishustin suggested Moscow continue dialogue with the West about the two breakaway statelets in eastern Ukraine before deciding whether to recognize them. (They were recognized later that day.) And though the prime minister usually speaks about the war obliquely, without the vitriolic saber-rattling of his predecessor, he has stayed on in his role, not challenging the Kremlin's messaging, working for Russia's "technological and economic sovereignty" in the face of pressure from "the collective West." The details have changed but the ethos is the same as in fall 2020, when an official at a research institute that Mishustin was visiting began his story of progress by recalling a visit some years earlier by "your colleague" Putin, during his time as prime minister; Mishustin corrected him: "Not a colleague, but our leader."
Below we have started collecting a sampling of Mishustin's quotes, mostly since his appointment as prime minister, meant to shed light on his views on issues that impact vital or important U.S. interests. (Notes on formatting and sources come after the quotes themselves.)
I. U.S. and Russian priorities for the bilateral agenda
Nuclear security and safety:
Rosatom is doing a great deal of work to rehabilitate 'uranium legacy' sites in Kirghizia [i.e., Kyrgyzstan]. (Interfax, 05.09.23)

.
North Korea's nuclear and missile programs:
No significant developments.
Iran and its nuclear program:
No significant developments.
Leaks of U.S. intelligence assessments:
No significant developments.
Humanitarian impact of the Ukraine conflict:
On the allocation of more than 2.5 billion rubles for a federal workforce retraining project under which Ukrainian refugees would be eligible for a free education: Funds will go toward grants to organizations that train workers needed on the labor market. (Telegram, 03.30.23)
Military aspects of the Ukraine conflict and their impacts:
Lauding a recent uptick in the production of military equipment:

This was achieved thanks to the prompt detection and elimination of a whole series of technological obstacles in production processes both in the organizations of the defense-industrial complex and in those cooperating with them… These are all preliminary results. It is necessary to continue acting in the same vein, there is still a lot to be done. Our industry is gradually coping with current challenges and leveling the situation out. (

Telegram

, 12.27.22)

Now the needs of the Armed Forces in equipment have increased significantly. … It is important to continue the construction of fortifications on the line of deployment of our troops. Most of them are already fully equipped. Also, new strongholds are being built for the border service and the existing strongholds are being equipped. (Government.ru, 03.31.23)
The government has approved the charter of the Defenders of the Fatherland State Fund for Supporting Participants in the Special Military Operation, established on the initiative of the president… First of all, this involves comprehensive support for the families of those killed in action and veterans of the special military operation. It also includes assistance for our defenders in obtaining social support measures, essential medications and medical devices, technical rehabilitation systems, vouchers for health centers and home care, as well as education, advanced training and employment opportunities and, of course, psychological counselling. … Caring for our defenders is our common task. (

Government.ru

, 05.11.23)
Punitive measures related to Russia's war against Ukraine and their impact globally:
Ukraine-related negotiations:
No significant developments.
Great Power rivalry/new Cold War/NATO-Russia relations:
We are faced with the task of ensuring the development of the country's economy under the restrictions imposed by unfriendly countries. Russia is still part of the global world, so we will continue to expand and strengthen our trade and economic ties with those who are interested in such cooperation. (Government.ru, 03.14.23)
Last year saw the start of a deep transformation of the world order. More and more countries have come to realize that a fair world of the future is incompatible with the rules imposed by the collective West. The transition to multipolarity is gathering speed. Russia is at the cutting edge of this process. (Government.ru, 03.23.23)
The West continues to do everything possible to limit the Russian economy's access to global finance — loans and investments — and to restrain the development of Russia not only in the short term, but also in the long term. (Government.ru, 03.28.23)
China-Russia: Allied or aligned?
Missile defense:
No significant developments.
Nuclear arms control:
No significant developments.
Counterterrorism:
No significant developments.
Conflict in Syria:
No significant developments.
Cyber security/AI:
Speaking in 2018:

But if destiny chooses a different path for me [other than government service], I would work in innovations, with new technologies, in the same field as I have always worked: transformation, related to the digital economy. (

Reuters

, 01.15.20)

On a new technological order, including artificial intelligence, robots, sensors, 3D printing and more: By implementing new technologies, it is possible to ensure the growth of efficiency in all sectors of the economy, from agriculture to the service sector, improve the quality of products, establish more environmentally friendly production, and reduce costs. New forms of creating added value are also emerging. (Telegram, 04.26.23)
Energy exports from CIS:
For Russia, the Caspian has great significance. Above all, given its strategic location in the center of Eurasia, at a crossroads of transportation and energy arteries, as well as having a large amount of natural reserves and unique bioresources in its waters. (TASS, 10.06.22)
Climate change:
No significant developments.
U.S.-Russian economic ties:
No significant developments.
U.S.-Russian relations in general:
No significant developments.
II. Russia's domestic policies
Domestic politics, economy and energy:
Defense and aerospace:
The volumes of production of the necessary machinery and equipment and other necessary property are systematically increasing. And now we need to actively increase factory capacity. To this end, the Government has made decisions to subsidize investment projects for the modernization of enterprises. (Government.ru, 02.08.23)

See also section on "Military aspects of the Ukraine conflict and their impacts" above.
Security, law-enforcement and justice:
No significant developments.
III. Russia's relations with other countries
Russia's general foreign policy and relations with "far abroad" countries:
Despite such rapid growth of the trade turnover, we [Russia and Iran] have good opportunities to further boost trade and, certainly, scale up mutual investments in such areas as energy, industrial cooperation, transport, agribusiness, innovation, and many other lines. (TASS, 10.06.22)
We welcome the Iranian side's decision to provide comfortable conditions for Russian business. Due to the withdrawal of companies of unfriendly states from Russia, a large number of areas have been freed up in our market that our Iranian partners will be able to occupy. So it is a two-way street and they are welcome in Russia. (TASS, 10.06.22)
Ukraine:
We have been preparing for many months for a possible reaction to the recognition of the LNR and DNR [separatist "people's republics" of Luhansk and Donetsk in eastern Ukraine]. I mean, first and foremost, import replacement and analysis of all risks that we might encounter in the event of such a decision. (

RG

, 02.21.22)

Last October, the Donetsk and Lugansk people's republics, Zaporozhye and

Kherson regions became an integral part of Russia. The president asked us to ensure their integration in the single socioeconomic space of our country. We launched a pension and social security system there with regular payments and benefits. I want to thank all members of parliament for this work. The relevant legislative acts were promptly adopted by the State Duma and approved by the Federation Council. This decision is very important for over 1.5 million people who started receiving pension benefits, and 1 million citizens who received social benefits and monetary compensation. We provided support to the people whose homes were destroyed or damaged, and to those who were injured as a result of hostilities. Last year, we started to restore infrastructure in the new regions to help them return to normal life and activities. (

Government.ru

, 03.23.23) 
Russia's other post-Soviet neighbors:
This is the fourth in our series of compilations of quotes by Putin's potential successors; earlier installments covered Nikolai Patrushev, Dmitry Medvedev and Vyacheslav Volodin. All sections may be updated in the future. The quotes above are divided into categories similar to those in Russia Matters' news and analysis digests, reflecting the most pertinent topic areas for U.S.-Russian relations broadly and for drivers of the two countries' policies toward one another. Bulleted text that is not italicized, bracketed or in parentheses is a direct quote. Quotes linked to English-language sources were taken from the source indicated; quotes linked to Russian-language sources were translated by RM. Entries in each subsection are in chronological order, from oldest to newest.
This item is also part of Russia Matters' "Clues from Russian Views" series, in which we share what newsmakers in/from Russia are saying on Russia-related issues that impact key U.S. national interests so that RM readers can glean clues about their thinking. The opinions expressed in the compiled quotes are solely those of the speaker.
Author
RM Staff
This article was written and prepared by Yana Demeshko, Natasha Yefimova-Trilling and Ingrid Burke Friedman of Russia Matters.