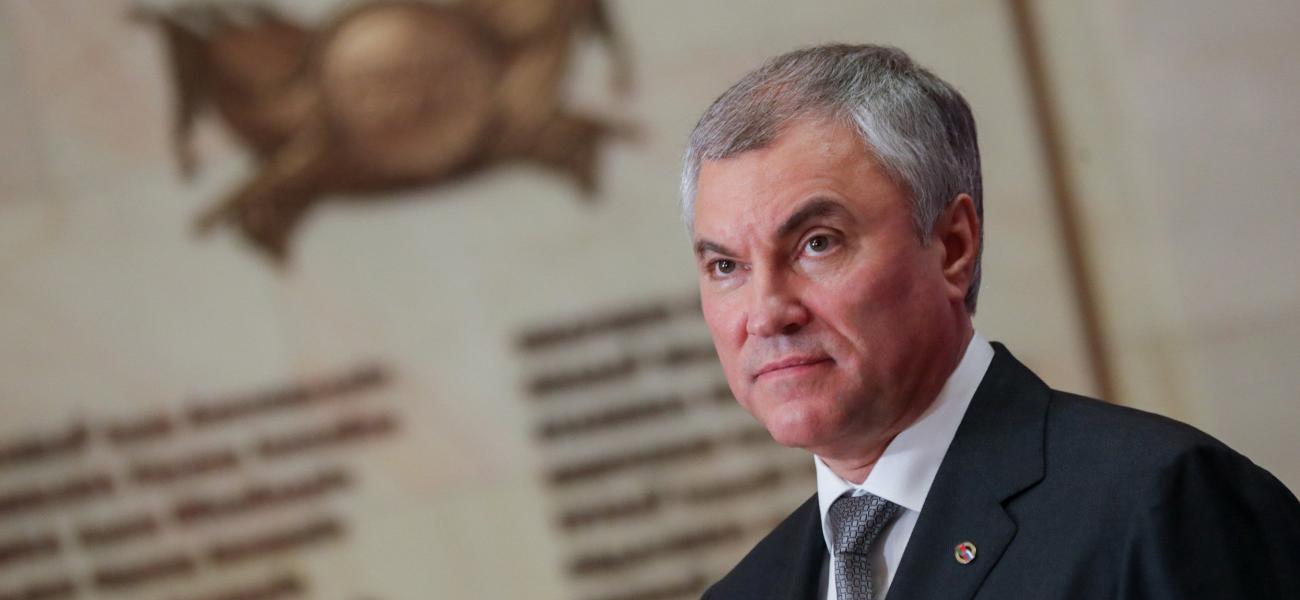 Devoted to Putin: Volodin's Views on Russia, the West and the Rest
January 27, 2023
RM Staff
When it comes to Russian officials singing the praises of Vladimir Putin, current speaker of the State Duma Vyacheslav Volodin may not be the loudest or most frequent, but he is definitely the most blunt in explaining to Russians why they should be grateful for Putin's rule. "If there is Putin, there is Russia. If there is no Putin, there is no Russia," Russia's then-deputy premier asserted in 2014. Putin quickly and publicly rejected this masterpiece of reductionist flattery, but Volodin has insisted on repeating it on several occasions since. Whether or not accolades for Russia's autocratic leader have helped Volodin remain near the top of federal power despite several reshuffles ordered by Putin since returning to the Kremlin in 2012, we do not know. What we do know is that Volodin's name often comes up when Russian officials and experts publicly short-list Putin's potential successors. While Volodin—whose defining trait as a potential successor in Putin's eyes has been described as "unlimited devotion" to the Russian president—is usually not the top pick, he may nevertheless have a shot at the Kremlin if Putin decides to depart when his current terms ends in 2024 or otherwise.
Volodin served as deputy chairman of the State Duma from 2000 to 2010. In 2010, he was appointed deputy chairman of the government - head of the office of the government, and in 2012 became the first deputy chief of staff of the presidential administration of Russia. In October 2016, he assumed his current position as the chairman of the State Duma. That makes him the fourth highest-ranking official in Russia, but it is unlikely that this outspoken Duma speaker is among the circle of people Putin consults on key aspects of Russia's external policies.  Had Volodin been part of that small circle, he would have probably been informed of Russia's forthcoming invasion of Ukraine. That he was in the dark about the invasion plans (or was instructed to mislead the public on that issue) follows from the fact that he promised on Jan. 28, 2022, that "Russia will not go to war against Ukraine," and then demanded on Feb. 18, 2022, that the West apologize for its "disinformation" "promising" a Russian invasion into Ukraine. Additionally, Volodin was about 6,000 miles away from Moscow, visiting Cuba, on the day the  Russian forces launched their multi-pronged offensive against Ukraine.
In the know or not, Volodin apparently did not need to catch his breath once the invasion commenced on Feb. 24, 2022, producing a post on his Telegram channel before the day was over that pledged support for the "special military operation" and urged Ukrainians not to resist it. His subsequent rhetoric rivals that of other potential successors, such as Dmitry Medvedev, in vitriolic attacks on Volodymyr Zelensky's government and its supporters in the West, which he has described as "evil" and "dark," predicting times of "cold and hunger" ahead for it. A topic on which Volodin has managed to outdo even Medvedev in vitriol is what the Russian authorities should do with the hundreds of thousands of their compatriots who left Russia immediately after the invasion began or after the subsequent partial mobilization that Putin ordered in September. The Duma speaker—who has reportedly accumulated significant wealth during Putin's rule—is so aggrieved by these departures that not a fortnight goes by without his promising higher taxes, confiscation of property and other punishments for those who "betrayed" their country by leaving it. In his invariably tough stance on the Kremlin's external and internal "adversaries," Volodin has occasionally deviated from the party line, or failed to predict its next turn. For instance, on May 28, 2022, he called for preventing exports of Ukrainian grain, asserting that "[u]nder no circumstances should grain be exported" from Ukraine, only to have the Kremlin agree to just that by joining the so-called Black Sea Grain Initiative on July 27, 2022.
While competing with Medvedev in chastising Ukraine and its supporters, Volodin has also rivalled another potential successor, Nikolai Patrushev, in disseminating conspiracy theories about the West, including one about "Washington's involvement in the emergence of the coronavirus." In fact, other than his descriptions of often draconian laws—which his lower chamber of the Russian parliament has been rubber stamping since before the invasion—we struggled to find recent claims on Volodin's Telegram account that are backed by facts. It is important for our readers to keep this in mind when reading through the samples of Volodin's public remarks since Putin's return to the Kremlin in 2012 below.  After all, knowing what the fourth highest-ranking politician in Russia publicly says on issues that impact vital or important U.S. interests, per our "Clues from Russian Views" approach, is important, but so is not taking at face value the dubious claims he routinely produces.
I. U.S. and Russian priorities for the bilateral agenda
Nuclear security and safety:
North Korea and its nuclear and missile programs:
We need to begin expert analysis of trilateral projects without waiting for the international sanctions on North Korea to be lifted. … [Above all] integration of Korean railways with the Trans-Siberian Railway and transport of pipeline gas and electricity to the Republic of Korea via the DPRK. As far as we know, Pyongyang is prepared for cooperation in this sector. (

Interfax

, 05.28.19)

At a meeting with the chair of the DPRK's Supreme People's Assembly Pak Thae Song

: We believe that relations [between nations] should be based on the principles of mutual respect, non-interference in the sovereign affairs of other states. (

Duma

, 10.22.19)
Iran and its nuclear program:
On the U.S. potentially leaving the JCPOA

: It will be the wrong decision … It will be a decision that will affect many countries. I hope that reason will prevail and the United States will not agree to this. There is great interest among all countries for the agreement to work.

(Duma, 04.09.18)

Our relations within the parliamentary dimension are developing in various formats, in particular within the framework of the High-Level Commission on Cooperation between the State Duma and the Assembly of the Islamic Council of Iran. Despite the pandemic, we keep in touch. It is extremely important that we can discuss the issues that have accumulated.

(

Duma

, 08.05.21)

Russia and Iran are successfully counteracting the international expansion of the United States and the NATO bloc. This is evidenced by the unprecedented sanctions pressure on our countries. ... Such attempts [to interfere in Russia's and Iran's domestic affairs and disseminate disinformation] are doomed to failure. Our countries will never yield to foreign commands. ... Russia and Iran are defending the principles of sovereign equality and non-interference in the domestic affairs of other countries. They stand for multipolarity and a just world order in the interests of our peoples. (World Service Wire, 01.23.23)
Humanitarian impact of the Ukraine conflict:
Military aspects of the Ukraine conflict and their impacts:
Punitive measures related to Russia's war against Ukraine and their impact globally:
Ukraine-related negotiations:
Great Power rivalry/new Cold War/NATO-Russia relations:
China-Russia: Allied or aligned?
Missile defense:
That the Pentagon will start using balloons against Rus'ia's hypersonic missiles should be taken primarily as a failure of the American missile defense program. (Telegram, 07.12.22)
Nuclear arms:
It is precisely because of people like Sikorsky that it is necessary to make Ukraine free not only from the Nazi ideology, but also to demilitarize it, ensuring the country's non-nuclear status.

(

Duma

, 06.12.22)

If Washington and [other] NATO countries supply weapons [to Ukraine], which will be then used to strike peaceful cities and attempt to seize our territories, as they threaten to do, then this will lead to retaliation with more powerful weapons ... Given the technological superiority of Russian weapons, foreign politicians who are making such decisions need to understand: this could end in a tragedy on a global scale that will destroy their countries. ... Arguments that nuclear powers have not previously used weapons of mass destruction in local conflicts are untenable because these states have not encountered a situation where there was a threat to the security of their citizens and the territorial integrity of countries. (Telegram, 01.22.23)
Counterterrorism:
While expressing his support for a bill that would allow the Russian authorities to revoke Russian citizenship from those who have been convicted of conducting terrorist attacks against Russia

:

This is, indeed, a political signal from the state to those who plot bad things against the citizens of Russia. This is a political decision that signals that no slack will be cut in relation to terrorists. And the struggle of the state [against such individuals] will be uncompromising. (

BBC

, 04.20.17)
Conflict in Syria:
These airstrikes [by the U.S.] were conducted against a sovereign state [Syria] ... this is a fact of aggression by the United States, and aggression under an absolutely far-fetched pretext. (

Sputnik

, 04.07.17)

The positions of Iran and Russia on Syria are not just constructive. Not only do we have a common position, but, first of all, there is a desire to resolve the situation in a country that was practically on the verge of a split, where a terrorist organization was created and began to take on the form of a state, becoming a threat to the whole world.

(Duma, 04.09.18)
[Russia's and Iran's joint anti-terrorist efforts in Syria] help promote security in the region. At the same time, the war on terrorism is only part of our common struggle for a peaceful future. (World Service Wire, 01.23.23)
Cyber security:
The development of new technologies dictates the need to protect digital sovereignty. Entire countries, including Russia, are falling victim to attacks on critical infrastructure. Many states are faced with attempts of cyber interference in internal affairs, including in their information and political processes. In particular, the dissemination of false information and "fake news" is a serious destabilizing factor. This is another threat to the basic traditional values ​​that underlie all institutions of social interaction. In addition, "fake news" can be used as targeted disinformation for economic wars and violent provocations. The answer to these challenges is also in the plane of legal regulation.

(RG, 07.09.19)
Elections interference:
The Russian side has always emphasized that we consider the U.S. presidential election to be an exclusively internal issue … and Russia respects the choice of the American people. (Duma, 11.09.16)
It is important that they [elections to the State Duma] be held openly, competitively and legitimately, in strict accordance with national legislation. At the same time, everything must be done to prevent foreign interference in our election campaign. (Duma, 01.19.21)
We hold that meddling in the internal affairs of sovereign states is unacceptable, this is an integral part of our nation's policy. We do not meddle and we will not allow it with regards to us. (TASS, 11.07.22)
Energy exports from CIS:
Climate change:
U.S.-Russian economic ties:
U.S.-Russian relations in general:
II. Russia's domestic policies
Domestic politics, economy and energy:
Defense and aerospace:
On a soldier denied entry into a restaurant because he was in uniform: Our soldiers and officers, risking their lives, defend the country and citizens. We need to do everything to support military personnel and their families. … [I]t is necessary that such actions be punished, and institutions that treat military personnel in this way should be closed. … We are proud of our military and law enforcement officers. Our duty is to protect them from rudeness and similar manifestations. This is the least we can do for them. (Duma, 09.13.22)
On "partial mobilization": Today, not only armed Nazi formations, but also NATO forces are fighting against our soldiers and officers ... The line of combat contact is more than 1,000 kilometers. In comparison, four groups of armies operated to liberate Ukrainian territories from the Nazis during the Great Patriotic War. (Telegram, 09.22.22)
Partial mobilization cannot be treated as a formality. The combat readiness of our Armed Forces, the solution of the tasks of a special military operation, depends on its effectiveness. (Telegram, 09.25.22)

See section Military aspects of the Ukraine conflict and their impacts above.
Security, law-enforcement and justice:
The draft law [

an

amendment to the federal law on weapons] provides for a ban on issuing weapons purchasing licenses to those citizens of the Russian Federation, about whom law enforcement agencies have information regarding their involvement in an organized criminal group (including extremist or terrorist ones) or their intentions to use weapons for illegal (criminal) ends. (

Duma

, 05.04.22)
III. Russia's relations with other countries
Russia's general foreign policy and relations with "far abroad" countries:
We can't allow the revival of neocolonialism, a predatory attitude toward African resources. To do this, we need to protect the sovereign right of African states to build their own future. (MT, 07.03.19)
The European Court of Human Rights has become an instrument of political struggle against our country in the hands of Western politicians. Some of its decisions directly contradicted the Constitution of the Russian Federation, our values and traditions. (Telegram, 01.06.22)

Western sanctions are leading to the establishment of another group of eight nations—China, India, Russia, Indonesia, Brazil, Mexico, Iran and Turkey—that is 24.4% ahead of the old group of developed countries in terms of GDP and purchasing power parity. (

TASS

, 06.11.22)
Ukraine:
Russia's other post-Soviet neighbors:
This is the third installment in our series on the views of Putin's potential successors; the first covered Nikolai Patrushev, while the second covered Dmitry Medvedev. The quotes above are divided into categories similar to those in Russia Matters' news and analysis digests, reflecting the most pertinent topic areas for U.S.-Russian relations broadly and for drivers of the two countries' policies toward one another. Bulleted text that is not italicized, bracketed or in parentheses is a direct quote from Volodin. Quotes linked to English-language sources were taken from the source indicated; quotes linked to Russian-language sources were translated by RM. Entries in each subsection are in chronological order, from oldest to newest.
This item is also part of Russia Matters' "Clues from Russian Views" series, in which we share what newsmakers in/from Russia are saying on Russia-related issues that impact key U.S. national interests so that RM readers can glean clues about their thinking. The opinions expressed in the compiled quotes are solely those of the (State Duma) speaker.
Photo by duma.gov.ru shared under a Creative Commons license.
Footnotes
Unrecognized entities, which were established by separatists in 2014 and annexed by Russia in 2022.