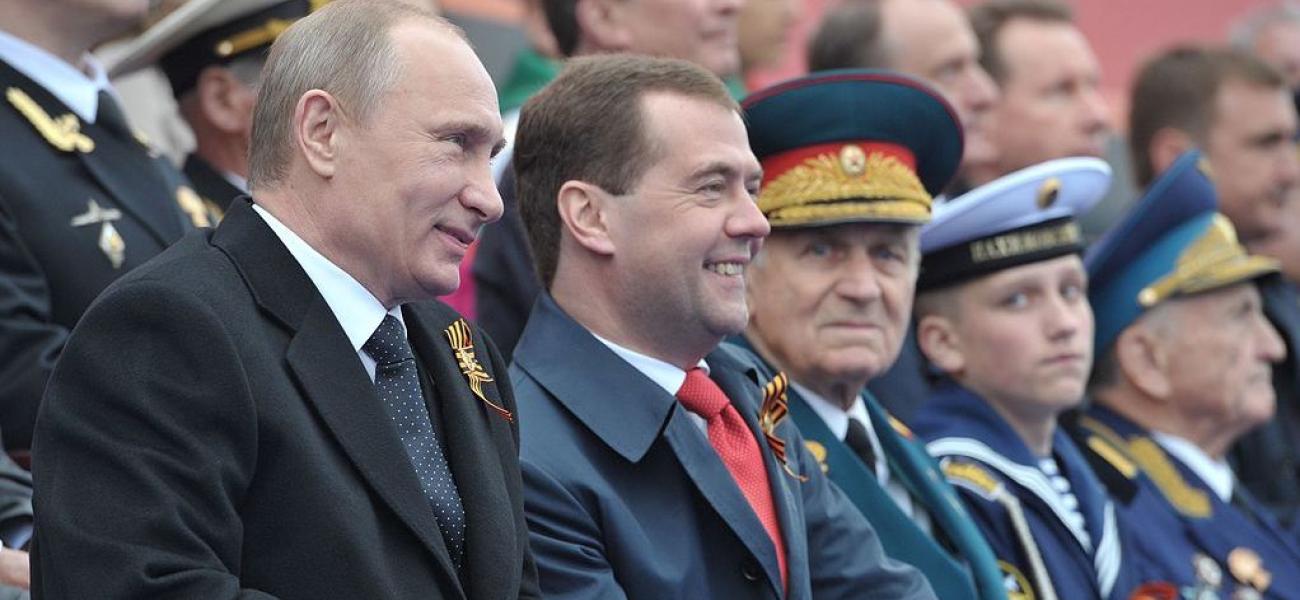 Dmitry Medvedev in His Own Words: From Modernizing Liberal to Hateful Hawk
January 04, 2023
RM Staff
When Russian President Vladimir Putin stepped down after a second term in 2008, making way for his protégé Dmitry Medvedev to have a stint in the Kremlin, speculation about which man was genuinely in charge became something of a sport. Now that Putin once more faces the constitutionally mandated end of his presidential term in 2024, there's a new question: Will Medvedev again be in the running as a potential successor?
Two years into Medvedev's first and only presidential term, U.S. diplomats had no doubt that Putin—appointed prime minister as soon as Medvedev had taken office—was the main man in "Russia's bicephalous ruling format." While the arrangement lasted, Medvedev played up his credentials as a liberal and was routinely referred to as such in the West. He sang the praises of personal freedoms and claimed that "trying to curtail press freedom is a totally hopeless thing to do." He said Russia's long-term goal was modernization and loved gadgets (a dubious hallmark of liberalism, even then). Ultimately, though, he kept the seat warm for his boss: Putin returned to the presidency in 2012, while Medvedev hopped over to the prime minister's office, where he remained until 2020. Perhaps Medvedev's most progressive initiative—regulations introduced in 2009 that obligated officials to publicly declare their income and assets—was canceled by Putin in late December 2022.
Today, Medvedev serves as deputy chairman of Russia's Security Council, first deputy chairman of Russia's Military-Industrial Commission and chairman of the Kremlin-created political party United Russia, which formally controls parliament.  And there is no visible trace of the liberal left in him, as many journalists have noted. His public comments about Russia's war in Ukraine have positioned him as one of the most vitriolic of all Russian hawks, with Ukraine's leadership and its Western supporters as perhaps his most frequent targets. "I hate them," he wrote on Telegram in June without specifying which "they" he means. "They're lowlifes and rejects. They want death for us, for Russia. And while I'm alive, I will do everything [I can] so that they disappear." 
One obvious explanation for Medvedev's transformation is a struggle to remain politically relevant in a Moscow where hawks rule. As political scientist Ekaterina Schulmann observed, "He's trying to save himself from political oblivion by out-Heroding Herod, and consequently posturing as a candidate in a Kremlin 'Apprentice' show." Another Russian political scientist, Alexei Makarkin, concurs: "The goal is to remain in the elite."
Below we have started collecting a sampling of Medvedev's quotes since his time as president, meant to shed light on his views on issues that impact vital or important U.S. interests.
I. U.S. and Russian priorities for the bilateral agenda
Nuclear security and safety:
It seems like Kyiv … and their Western patrons are ready to orchestrate a new Chernobyl. Rockets and shells are falling closer and closer to the Zaporizhzhya nuclear power plant reactor. They say it's Russia. This is obviously 100 percent nonsense even for the stupid Russophobic public [in the West]. … What can one say. Don't forget that there are nuclear sites in the European Union, too. And incidents are possible there as well. (MT, 08.12.22)
North Korea's nuclear and missile programs:
As far as North Korea goes, the situation arising there now worries me more [than Iran's nuclear program] because Iran at least has communications with the international community, while North Korea has … all but cut off contact. (

RIAN

, 04.07.09)

In August 2011, Medvedev met with North Korea's then leader Kim Jong Il, who made his first trip to Russia in nearly a decade. Reportedly the two discussed potential energy projects but also "how to restart the long-stalled six-party talks on disarming Pyongyang's nuclear arsenal in return for much-needed economic aid." When Kim thanked Medvedev for flying out to Siberia for the meeting, Medvedev reportedly replied:

When it comes to meetings with our partners, it's not that far.

 (

LAT

, 08.24.11)
Iran and its nuclear program:
We do have our own very developed relations with Iran. I truly believe that Iran needs a system of motives, of incentives with regards to its nuclear problem. … Iran must cooperate with [the] IAEA, that's for sure, if they want to develop [a] nuclear energy program. It is their duty, not a choice. Otherwise, indeed, the question will always be asked, what are they up to after all? That's very clear. (CNN rush transcript, 09.20.09)
We have never delivered anything to Iran—we will not deliver anything to Iran which is beyond international law. This implies that we have something to deliver, but they're always defensive systems. That's our clear-cut position, and I will adhere to that when adopting final decision on all existing contracts with Iran. (CNN rush transcript, 09.20.09)
Now that a comprehensive agreement on Iran's nuclear program has been reached in Vienna, new opportunities for deeper bilateral ties have opened up… Russia has always insisted … that the situation … could have only a political-diplomatic solution… [The new deal] will make it possible not just to return Iran into the fold of normal economic and political ties with the international community but also to ensure peace and stability in the Middle East. (TASS, 08.05.15)
Humanitarian impact of the Ukraine conflict:
During fighting in eastern Ukraine, Medvedev, then prime minister, ordered his Cabinet to draw up plans for providing humanitarian aid to the region—primarily food and medicine, but also natural gas after reports that Ukraine had cut supplies: People there should not freeze, so prepare the necessary proposals. (TASS, 02.19.15)
Speaking about the Ukrainian city of Mariupol, which was taken over by Russian forces in May 2022 after two months of constant Russian shelling that, according to local officials, destroyed much of the city and killed thousands of civilians: The city has survived. It is now being rebuilt… Everyone who … has overcome this very difficult period of, essentially, truly Nazi rule, in Mariupol and elsewhere, deserves maximum respect. (RIAN, 12.01.22)
Military aspects of the Ukraine conflict and their impacts:
Punitive measures related to Ukraine and their impact globally:
Ukraine-related negotiations:
Great Power rivalry/new Cold War/NATO-Russia relations:
In the event of such an expansion of NATO [the accession of Sweden and Finland], the length of its land borders with Russia will more than double. We will have to strengthen these borders. The Baltic region's nonnuclear status will become a thing of the past, the group of land and naval forces in the northern sector will be seriously increased. No one is happy with this, not the citizens of these two NATO candidate countries. It's not the best prospect for them to have our Iskanders, hypersonic missiles, warships with nuclear weapons on their doorstep. (WSJ, 06.28.22)
China-Russia: Allied or aligned?
Our countries are close neighbors bound by centuries-old traditions of friendship and trust. And we highly appreciate that the Russian-Chinese relations of comprehensive partnership and strategic cooperation, entering a new era, have reached an unprecedented level, have become a model of efficiency, responsibility and commitment to the future. Our countries defined the basic principles and guidelines for joint work in the Treaty of Good Neighborliness, Friendship and Cooperation, the 20th anniversary of which we celebrated last year. (

Chinese Embassy in Russia

, 03.02.22)

A mutually beneficial energy alliance is being formed between our countries. Along with long-term supplies of Russian hydrocarbons to China, we plan to implement a number of major joint projects. One of them is the construction of four new power units at Chinese nuclear power plants with the participation of State Corporation Rosatom, which began last year. All this significantly strengthens the energy security of China and the Asian region as a whole. (

Chinese Embassy in Russia

, 03.02.22)
Missile defense:
Nuclear arms:
Counterterrorism:
Conflict in Syria:
Cyber security:
Cyber sovereignty must be preserved; we must be independent but not closed.

(

Gazeta.ru

, 11.30.17)

At a minimum, unlike many other areas, they [the U.S.] actively ask for cooperation here [in the cyber domain], [and] share certain information, because there is no way without it.

And all these cases, all these operations that were carried out, are, in essence, joint operations.

It seems to me that this is a really good example, especially since the real threats from this are very large, they concern a huge number of people."

(

RIAN

, 01.27.22)

In reference to hacking of his page in Russia's VK social network:

This is a manifestation of the information war. (

RIAN

, 08.04.22)
Elections interference:
After Medvedev appeared on Israeli television amid allegations that Moscow had interfered in the 2016 U.S. presidential election, Russian media paraphrased him as saying that influencing U.S. elections from the outside is impossible: President Vladimir Putin said it correctly a few days ago: What's America, some sort of banana republic that can be pressured and told, "Now your president is going to be so-and-so"? … The American political machine is very powerful. It actively interferes in political processes on every continent and they [Americans] consider this totally normal, acceptable… In other words, they have the right to do a lot, but other countries shouldn't do anything of the sort.

(

EurAsia Daily

,

11.03.16)
According to the data we have, during those three-day [parliamentary] elections [Sept. 17-19, 2021] the servers of the Central Elections Commission sustained a huge number of attacks. According to the Ministry of Digital Development, about 50% of these attacks originated in the United States of America. Now, isn't that reason enough for an investigation? (RT, 09.28.21)
[Big Tech has] enormous power. … [I]n essence, they interfered in the political life of the Russian Federation. … [Prior to the first day of voting] that whole machine was whirring and … promoting videos of a person serving a criminal sentence [opposition politician Alexei Navalny]. And … they did it in order to push their own political line in someone else's country. That's unacceptable. (RT, 09.28.21)
Energy exports from CIS:
We proceed from the assumption that Europe will remain a major consumer of Russian gas. Despite the dynamic development of green energy and the LNG segment. In any case, as long as decisions are made on the basis of economic expediency. … In recent years, Russian gas supplies to the European market have been growing. … So, I think that in the foreseeable future, Russian gas will cover a significant part of the energy needs of European countries. (Luxembourger Worth, 03.05.19)
In response to the Western price cap on Russian oil: These actions by our "friends" remind me of a crowd of carousing burghers who, after gorging on schnapps, frankfurters and beer, take their first dip in icy water. Some of them will quickly sober up and jump out. Some will learn to swim in freezing-cold water but badly… And some will drown. And they'll be buried with dreary toasts about them falling in an unequal fight with the Russian bear and General Frost. Well, good riddance! (Telegram, 12.05.22)
The [European] decision on a "price cap for gas" is … dictated not by economic logic but by a zoological hatred for Russia based on the maniacal thesis that "Russians are to blame for everything." … Moreover, it [the measure] has been adopted with a huge number of caveats making it possible to block its use. Hence, it won't seriously work. … [I]t's been adopted because of the EU's powerlessness… Simply based on the principle "we've got to do something." (Telegram, 12.23.22)
Climate change:
I support the development of alternative energy. … [O]ur country is one of the leaders in the field of hydropower. In Russia, large hydroelectric power plants produce about 18% of electricity. Of course, the dream for many is their own home, which is provided with environmentally friendly energy from the sun or wind. … For Russia, with our open spaces, this is especially true. And we are now working on creating the conditions for its development. A corresponding draft federal law has been prepared. (Luxembourger Worth, 03.05.19)
U.S.-Russian economic ties:
U.S.-Russian relations in general:
II. Russia's domestic policies
Domestic politics, economy and energy:
Defense and aerospace:
Drones have proven effective in modern conflicts. Their use in the zone of the [special military operation] is an urgent need. Russia has yet to establish a large-scale production of UAVs of various types. 

(Telegram,10.14.22)
Security, law-enforcement and justice:
If you are a traitor who committed such a crime [as sabotage] during wartime, you have no … right to the protection of your life. (Telegram, 11.02.22)
III. Russia's relations with other countries
Russia's general foreign policy and relations with "far abroad" countries:
Ukraine:
Russia's other post-Soviet neighbors:
This is the second installment in our series of compilations of quotes by Putin's potential successors; the first covered Nikolai Patrushev. All sections may be updated in the future. The quotes above are divided into categories similar to those in Russia Matters' news and analysis digests, reflecting the most pertinent topic areas for U.S.-Russian relations broadly and for drivers of the two countries' policies toward one another. Bulleted text that is not italicized, bracketed or in parentheses is a direct quote from Medvedev. Quotes linked to English-language sources were taken from the source indicated; quotes linked to Russian-language sources were translated by RM. Entries in each subsection are in chronological order, from oldest to newest.
This item is also part of Russia Matters' "Clues from Russian Views" series, in which we share what newsmakers in/from Russia are saying on Russia-related issues that impact key U.S. national interests so that RM readers can glean clues about their thinking. The opinions expressed in the compiled quotes are solely those of the speaker.
Photo shared by the Government of Russia (Government.ru) under CC BY 4.0 and CC BY 3.0 licenses.