In the Thick of It
A blog on the U.S.-Russia relationship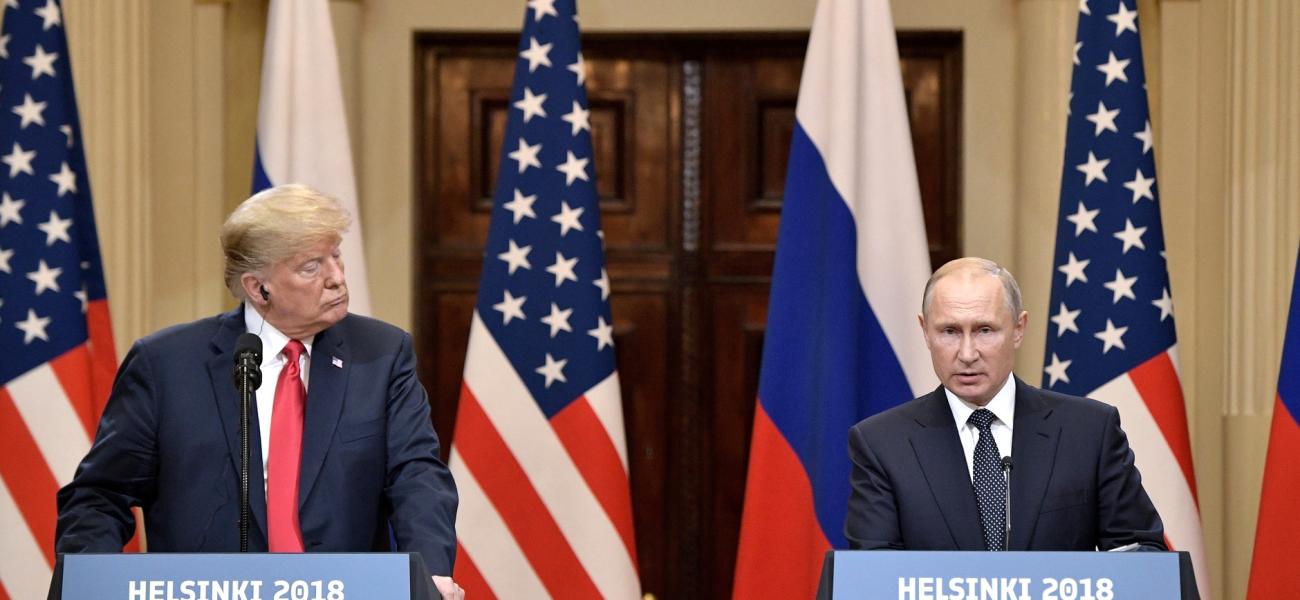 Trump and Russia: 'Quid Pro Quo' or Quid Pro Talk?
April 18, 2019
RM Staff
A few weeks before today's release of the voluminous Mueller report, a former New York Times executive editor, Max Frankel, argued in an op-ed that the Trump campaign and "Vladimir Putin's oligarchy" had reached an "obvious bargain" in the run-up to the 2016 presidential election: The "overarching deal," he writes, was Russian "help in the campaign against Hillary Clinton for … a new pro-Russian foreign policy, starting with relief from the Obama administration's burdensome economic sanctions." As proof of the American side of the bargain the author cites his impression that, since taking office, "President Trump has watered down the sanctions and otherwise appeased Russian interests."
Frankel is not the first to accuse Trump of diluting Russia sanctions and/or appeasing Putin. Early this year dozens of members of Congress tried to stop the administration from lifting sanctions on companies controlled by Russian billionaire Oleg Deripaska; when a Senate effort to do so failed in January, its leading Democrat, Chuck Schumer, accused 42 Republican colleagues of choosing "to stand with Vladimir Putin" because they "are too afraid of breaking with President Trump." Last year, two senior analysts from the Center for American Progress (a group founded by top aides of Trump's one-time Democratic rival, Hillary Clinton) wrote that the administration "refused to implement new, legally mandated sanctions against Russia in January [2018]." They were likely referring to punitive measures required under the CAATSA sanctions package, which the president grudgingly signed into law in August 2017 after his hand was forced by "veto-proof majorities" in Congress. Like Frankel, other authors have also accused Trump of appeasing Russia, and worse, especially after the two leaders met last year in Helsinki. Republican lawmakers criticized the president, in particular for publicly taking Putin's word over that of the U.S. intelligence community regarding Russian interference in the 2016 presidential election and thus making America look "like a pushover." The New Yorker dubbed the meeting an "appeasement summit," quoting Council on Foreign Relations president Richard Haass' view that Trump seemed unwilling "to speak truth to Russian power." More recently, political analyst Fareed Zakaria asked whether Venezuela will "be the moment when Trump finally ends his appeasement" of Putin's Russia.
We wanted to test the claims at the end of Frankel's piece: Has Trump indeed weakened sanctions against Russia and has he appeased Russia in ways that have helped advance its interests? Unfortunately, the author did not specify which sanctions or interests he means, so we've had to cast a wide net.
The results of our effort are below. Overall, we found: (1) that Trump's administration lifted one set of sanctions introduced under his predecessor and wielded another less forcefully than intended by lawmakers, but also sanctioned dozens of new people and organizations in Russia, including some very close to Putin; and (2) that—despite words and actions by Trump that may have boosted Russia's global-stage cred and undermined the authority of U.S. institutions—his administration has taken many more steps detrimental to Moscow's actual national interests than beneficial to them. As various authors have pointed out, this does not necessarily reflect Trump's own intentions toward Russia as there is an important distinction to be made between the president and his administration. Simply put, Trump may face too many checks and balances to pursue the more Russia-friendly policy he touted during his campaign and beyond, and, perhaps, he, like his Russian counterpart, did not realize how difficult that would be.
Proposition 1: "President Trump has watered down the sanctions against Russia."
Evidence for:
Evidence against:
Additional points:
Proposition 2: In addition to watering down sanctions, "President Trump has … otherwise appeased Russian interests."
Evidence for:
Evidence against:
Photo from Kremlin.ru
The opinions expressed in this commentary are solely those of the author.