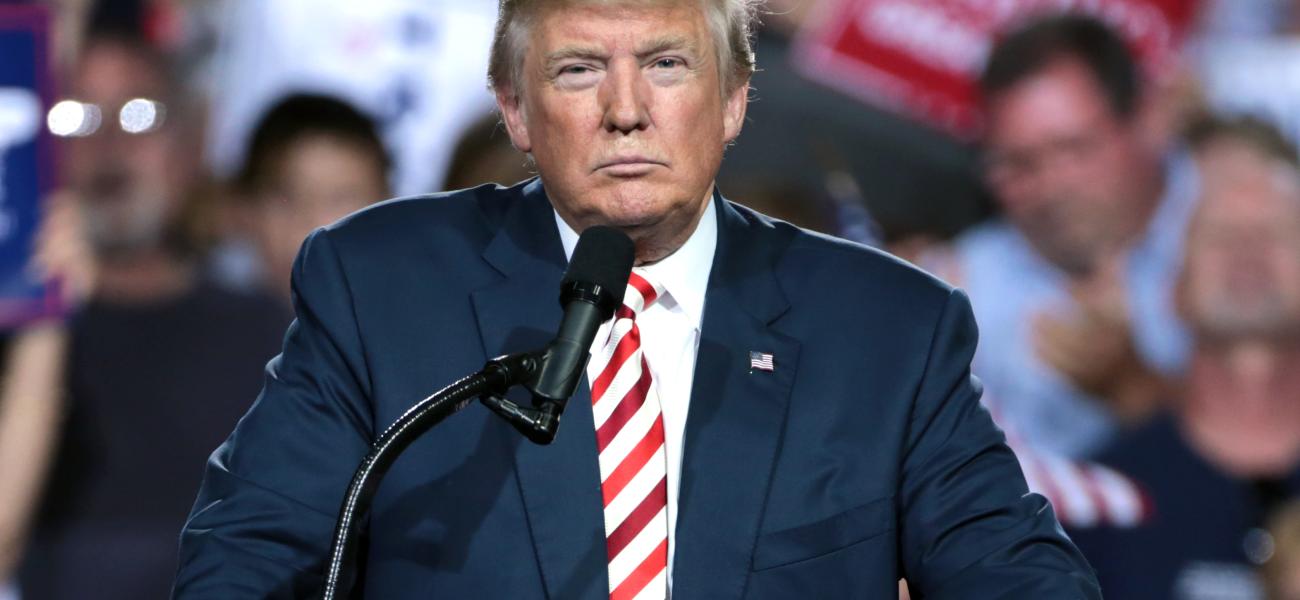 Trump on Russia: In His Own Words
July 13, 2018
RM Staff
This evolving compilation of observations and ideas about Russia by U.S. President Donald Trump is part of Russia Matters' "Competing Views on Russia" series, where we share prominent Americans' takes on U.S.-Russian relations, Russia itself and America's policies toward it. It has been updated ahead of Trump's first official bilateral summit with his Russian counterpart, Vladimir Putin.
With a few exceptions, this compilation covers a period beginning when Trump was competing to become the Republican candidate in the 2016 presidential race.
The entries below are divided into categories similar to those in Russia Matters' news and analysis digests, reflecting the most pertinent topic areas for U.S.-Russian relations broadly and for drivers of the two countries' policies toward one another.
Direct quotes are in quotation marks. An earlier version of this compilation was posted July 20, 2017.
I. U.S. and Russian priorities for the bilateral agenda
Nuclear security and safety:
August 2017:

"We must prevent nuclear weapons and materials from coming into the hands of terrorists and being used against us, or anywhere in the world, for that matter," Trump said. (New York Times, 08.21.17)

June 2018

: "I did it because nuclear [security] is always No. 1 to me," Trump said of his meeting with Kim Jong Un in Singapore on June 12. (USA Today, 06.13.18)
North Korea's nuclear and missile programs:
Iran's nuclear program and related issues:
February 2017:

Trump says it's not fair "the haters" tie him to Putin when Obama was the one who struck a deal with Iran. Trump tweeted Feb. 6: "I don't know Putin, have no deals in Russia and the haters are going crazy—yet Obama can make a deal with Iran, #1 in terror, no problem!" (AP, 02.07.17)

April 2018:

Trump said Putin and Iranian leaders were responsible for backing Assad just hours after the Syrian government reportedly carried out a deadly chemical attack on a rebel-held area. "Big price … to pay," Trump tweeted. (

RollCall,

04.

06.18)
Military issues, including NATO-Russia relations:
April 2016: An interview is published in which Trump says: "NATO's not really set up for terrorism. NATO is set up for the Soviet Union more than anything else. And now you don't have the Soviet Union." (The Washington Post, 04.02.16)
July 2018: Trump said that an upcoming summit with Putin might be easier than a gathering with NATO allies. "So I have NATO, I have the U.K.—which is somewhat in turmoil," Trump told reporters. "And I have Putin. Frankly, Putin may be the easiest of them all. Who would think? Who would think?" (The Washington Post, 07.10.18)

"We're protecting Germany. We're protecting France. We're protecting everybody," Donald Trump said during the NATO summit, adding that "it's very unfair to our country. It's very unfair to our taxpayers." Trump told allied leaders during the summit that if they didn't immediately meet the goal of spending 2% of GDP on defense, "I'll do my own thing." (Wall Street Journal, 07.12.18, RFE/RL, 07.12.18)
Missile defense:
January 2018:

Asked whether he thought the U.S. needs more missile defense systems, Trump said, "Yes, yes I do. We're ordering more missile defense and we're ordering more missile offense also." (Reuters, 01.17.18)
Nuclear arms control:
Counterterrorism:
Conflict in Syria:
Cyber security:
July 2017:

After his first meeting with Putin Trump tweeted: "Putin & I discussed forming an impenetrable Cyber Security unit so that election hacking, & many other negative things, will be guarded and safe." (Reuters, 07.09.17)

Twelve hours later Trump clarified, again via tweet: "The fact that President Putin and I discussed a Cyber Security unit doesn't mean I think it can happen. It can't-but a ceasefire [in Syria] can,& did!" Trump's top aides—including then Secretary of State Rex Tillerson and Treasury Secretary Steve Mnuchin—had touted the agreement to cooperate with Russia on cybersecurity as one of the key wins that came out of Trump's meeting with Putin on the sidelines of the G20 in Hamburg. (CNN, 07.10.17)
Elections interference:
​​​​​​​July 2018:  Trump pledged that he will "of course" raise the issue of Russia's meddling in the 2016 election at his summit with Vladimir Putin, but he insisted there was little he could do if—as expected—Putin denies that Russia interfered. "Look, he may. What am I going to do? He may deny it," Trump said. "All I can do is say, 'Did you?' And, 'Don't do it again.' But he may deny it. You'll be the first to know." (The Washington Post, 07.12.18)
Energy exports:
Bilateral economic ties:
U.S. general policies toward Russia and other bilateral issues:
March 2014: In a series of interviews, Donald Trump singled out Russia as the United States' "biggest problem" and greatest geopolitical foe. In the interviews reviewed by CNN from March 2014, which aired on NBC News and Fox News, Trump goes as far as to suggest imposing sanctions to hurt Russia economically and then later says he supports such sanctions. Trump also expressed his agreement with Mitt Romney's 2012 assessment that Russia is the United States' number one "geopolitical foe." (CNN, 01.17.17)
II.  Russia's domestic developments, history and personalities
Russia's domestic developments:
Defense and aerospace:
Vladimir Putin:
III. Foreign affairs, trade and investment
Russia's general foreign policy and relations with "far abroad" countries:
March 2018:

In a joint statement with the U.K. issued in Berlin, Trump, German Chancellor Angela Merkel and French President Emmanuel Macron said they were "horrified" by the attack on former Russian double agent Sergei Skripal and his daughter and that there's "no plausible alternative explanation" to Russia being responsible. "It sounds to me like it was Russia based on all the evidence they have," Trump said about the attack. Trump then said "it looks like" Russia was behind the poisoning. (AP, 03.14.18, Reuters, 03.16.18, Bloomberg, 03.15.18, Bloomberg, 03.13.18)

July 2018:

"Germany, as far as I'm concerned, is captive to Russia because it's getting so much of its energy from Russia," Trump said. (The Washington Post, 07.11.18)
China:
April 2016:

In a much anticipated foreign policy speech, Trump expressed hope about the potential for improvement in American-Russian relations: "We desire to live peacefully and in friendship with Russia and China. We have serious differences with these two nations, and must regard them with open eyes. But we are not bound to be adversaries. We should seek common ground based on shared interests." (

Washington Examiner

, 04.27.17)

January 2018:

"Around the world, we face rogue regimes, terrorist groups and rivals like China and Russia that challenge our interests, our economy and our values. In confronting these dangers, we know that weakness is the surest path to conflict, and unmatched power is the surest means of our defense. For this reason, I am asking the Congress to end the dangerous defense sequester and fully fund our great military," Trump said in his 

State of the Union address

. Trump did not mention any other post-Soviet republic in his address. (Russia Matters, 01.30.18)
Ukraine:
Russia's other post-Soviet neighbors:
December 2016:

Trump made his first overture to former Soviet Central Asia, speaking with Nursultan Nazarbayev, the president of Kazakhstan. The pair talked counterterrorism, nuclear nonproliferation and ways the Trump administration could mend fences with Moscow. The Kazakh government, in its account of the conversation, said Trump had lavished praise on the president for his leadership of the country over the last 25 years: ''D. Trump stressed that under the leadership of Nursultan Nazarbayev, our country over the years of independence had achieved fantastic success that can be called a 'miracle.''' (Foreign Policy, 12.01.16, New York Times, 12.01.16)

January 2018:

Trump hosted Kazakh President Nursultan Nazarbayev at the White House Jan. 16, praising the relationship between the two nations. Trump thanked Kazakhstan, which last month became the chair of the U.N. Security Council, for "providing crucial support" to U.S. forces in Afghanistan and for backing U.S. efforts to roll back North Korea's nuclear-weapons program. (Wall Street Journal, 01.16.18)
Photo by Gage Skidmore, distributed via WikiCommons under a CC-BY-SA-2.0 license.
The opinions expressed in this commentary are solely those of the author.