In the Thick of It
A blog on the U.S.-Russia relationship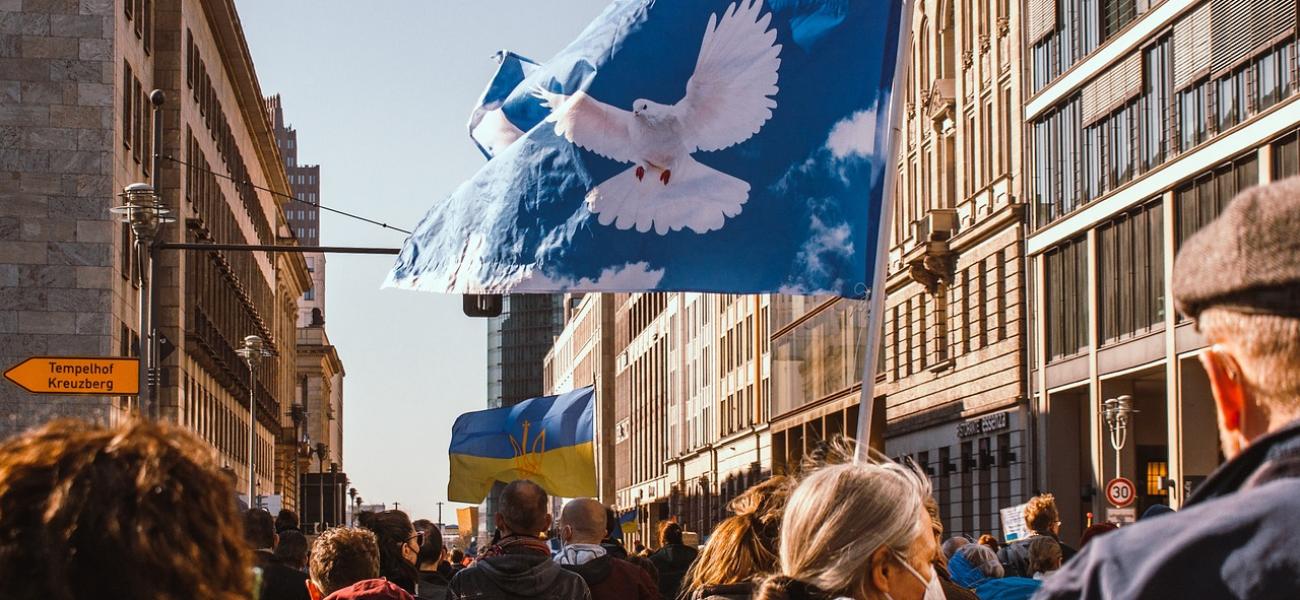 More Russians Advocate for Peace Talks With Ukraine, But Devil Is in Details
November 16, 2023
Simon Saradzhyan and Angelina Flood
A second Russian pollster reports that the share of Russians who advocate for peace negotiations with Ukraine has exceeded the share of their compatriots who favor continuing the war. The devil is in details, however.
When It Comes to Ukraine, Doves Appear to Continue to Outnumber Hawks in Russia
The share of Russians who advocate for peace talks with Ukraine has overtaken the share of those who favor continuing the war for the first time since the Russian Field (RF) pollster1 began taking stock of Russians' attitudes toward their country's so-called special military operation (SVO) in Ukraine in April 2022.2
When asked by this pollster on Oct. 21-29, 2023, if Russia should continue the so-called special military operation (SVO) or move to peace talks, 48% chose the latter, while 39% said Russia should opt for the former. In contrast, the share of peace and war advocates was 44% and 45%, respectively, in the previous poll conducted by this Moscow-based private research agency in June 2023. Moreover, when asked in October whether they would support Vladimir Putin's decision to sign a peace deal and stop the SVO if he were to do so tomorrow, only 18% answered in the negative, while 74% answered in the affirmative, the highest such share in the history of RF's polling on the subject since April 2022. It also follows from RF's October poll that many of its respondents are disinclined to support sacrificing more Russians lives for the sake of the SVO. When asked whether they supported a second wave of mobilization in Russia, 58% said they do not, and 32% said they do. Moreover, 61% of Russians said they would have negative emotions if a second wave of mobilization was declared. RF's findings that the share of doves among common Russians is growing are concurrent with recent measurements of public opinion on the SVO conducted by Russia's leading independent pollster, the Levada Center. This center's two latest polls on the SVO have revealed that the share of Russians who advocate for peace talks (56% in October, compared to 51% in September) has continued to be greater than the share of those who support continuing the war (37% in October, compared to 39% in September).3
But Majority of Russians and Ukrainians Both Believe Their Country Is Winning 
However, that more of RF's and Levada's respondents choose peace talks over continued hostilities against Ukraine doesn't mean more Russians view the SVO as a failure than as a success. RF's Oct. 21-29 poll found that when asked whether the SVO was going successfully, 56% answered in the affirmative (compared to 58% in June 2023 and 50% in November-December 2022), while 25% answered in the negative (compared to 21% in June 2023 and 33% in November-December 2022). Likewise, an October 2023 Levada Center poll shows that a majority of Russians (62%) think their country's war in Ukraine is succeeding. In contrast, 68% of Ukrainians believe their country will win a victory over Russia, according to the results of a recent International Republican Institute poll reported in late October. Some 60% of Ukrainians want their country to fight until a full victory is achieved, according to a recent Gallup poll. Meanwhile, Americans are nowhere near as optimistic as Ukrainians. Only 20% of Americans believe Ukraine is winning, while 14% believe the opposite, according to a recent Gallup poll, and 64% of Americans believe neither side is winning. Even in Europe, 30% of respondents expressed a view that Russia is likely to win the war within five years, while only 38% say that Ukraine is likely to win, according to the results of a poll held by the European Council on Foreign Relations (ECFR) and Oxford University in 21 countries in September-October. That poll has also revealed that majorities in China, India, Indonesia, Saudi Arabia, South Africa and Turkey believe it is likely that Russia will win its war in Ukraine within the next five years.4
Russians' and Ukrainians Continue to Have Irreconcilable Visions of Peace Deal
Moreover, while recent polls by both Levada and Russian Field do show that the share of Russians who want to give peace a chance is growing, the devil is in details when it comes to RF's polls. When asked to elaborate on what the peace deal should entail to win their support, 10% of RF's October 2023 respondents said it should provide for a "return to peaceful life, an end to the deaths of people"; 9% said the so-called Donetsk and Luhansk People's Republics should be recognized as part of Russia (presumably by Ukraine and the international community); 7% said the Kherson and Zaporizhzhia regions should be recognized as part of Russia; 6% said Russia should annex other Ukrainian territories; 6% said Ukraine should capitulate; 4% said Ukraine should be de-nazified and the discrimination against ethnic Russians there should stop; 4% said Crimea should be recognized as part of Russia; 4% said Ukraine should refuse to join NATO and become neutral; 3% said peace should be on Russia's unspecified conditions; 3% said all of Ukraine should be made part of Russia; 3% said Ukraine should be demilitarized; 3% said peace should be made under any conditions; 3% said "a return to the borders of 1991" should occur; and 3% said Russia should withdraw its troops from Ukraine. Thus, in our estimate, about 31% of Russians who advocate a peace deal on Ukraine do so on conditions that Ukrainians would find unacceptable, such as the annexations of parts of Ukraine (beyond Crimea), or the full capitulation of Ukraine. In contrast, only about 27% of peace advocates in Russia condition peace on conditions that Ukrainians could either possibly or surely live with, such as neutrality and guarantees of non-discrimination against ethnic Russians.
That Ukrainians oppose any peace deal that would provide for ceding land to Russia follows from recent polls. For instance, an October 2023 poll by the Kyiv International Institute of Sociology (KIIS) shows that 80% of those surveyed are against giving up Ukrainian territory for the sake of peace.5 Only 14% of respondents would support giving up territory to achieve peace and preserve independence as soon as possible, however, this is up from 10% in the previous poll conducted in May 2023—and the highest this figure has been since the pollster began asking the question in May 2022. Readiness for territorial concessions has grown notably in Ukraine's East and South, the regions seeing the fiercest fighting, from the May 2023 poll, rising from 13% to 22% in the East and 8% to 21% in the South. An earlier poll by Gallup shows that three in five (60%) of Ukrainians want Ukraine to keep fighting until it wins. That is twice as many as the number who want Ukraine to negotiate to end the war as soon as possible (31%), according to the poll, which was conducted in July and August. A poll conducted this past spring by Ukraine's Razumkov Center revealed that when asked if they supported direct talks with Russia on attaining peace, 64% answered in the negative, while 23% answered in the affirmative. When asked in the same poll whether reconciliation between Ukraine and Russia was possible, 36% said "never" and 32% said "not in this generation's lifetime."
That a clear majority of Ukrainians reject peace talks with Russia contrasts with public opinion not only in Russia, but also in the U.S. and EU. In October 2023, 43% of Americans polled by Gallup said they favored the U.S. trying to help end the war quickly, even if that means Ukraine cedes territory to Russia, a continued rise from 36% in June 2023 and 31% in August 2022.  A Chicago Council poll conducted in September 2023 shows that 49% of Americans believe the U.S. should urge Ukraine to settle for peace as soon as possible, more than the 47% who believe the U.S. should support Ukraine for as long as it takes. European polls conducted from April to June 2023 across multiple European countries showed that 48% support a swift resolution to the conflict, even if it means Ukraine ceding territory, with 32% against Ukraine sacrificing territory in the name of peace, according to European Parliament's Eurobarometer. Meanwhile, in the multi-country ECFR poll conducted in September and October 2023, nearly half of respondents in non-Western countries said the war should end as soon as possible, even if Ukraine has to give up territory: 48% in China, 46% in South Africa, 46% in Saudi Arabia, 45% in India and 43% in Turkey.  
But Can There Be Cessation of Large-Scale Hostilities Without Agreement?
We don't have a crystal ball to see the future, but if commander-in-chief of the Ukrainian Armed Forces Valery Zaluzhny's description of the current hostilities as a stalemate remains valid in the upcoming year, it is not unlikely that war fatigue will grow not only in Russia (where even a dictator like Putin cannot ignore the public opinion completely), but also in Ukraine, as well as in the U.S. and other key Ukrainian allies. This, perhaps, may make the cessation or suspension of large-scale hostilities with or without conditions more likely, even in the absence of a negotiated agreement. This is a possibility some of Ukraine's top military officials have begun pondering. "The Russians will not sign any agreements with Ukraine ... this scenario is very likely here," Kyrylo Budanov, head of the Main Intelligence Directorate (HUR), said, drawing parallels with Japan and Russia's unresolved territorial issues since 1945. "Since 1945, they have never signed a peace treaty concerning the northern islands (referred to by Russia as the Kuril Islands). This territorial issue has persisted for more than 70 years," he added.
With the notable exception of Ukraine, support for peace talks that would see Ukraine cede territory to Russia appears to be a growing trend in public opinion worldwide, even among Kyiv's allies. However, with the opposing sides continuing to envision irreconcilable versions of a peace deal, what an eventual negotiated end to the conflict may look like remains an open and complex question. 
Footnotes
The Russian Field pollster said it questioned 1,600 Russians on Oct. 21-29, 2023.
As usual with polls in Russia, at least two mitigating factors are important to note: the power of state-run propaganda and respondents' wariness about speaking with pollsters, both heightened by increasingly harsh laws restricting freedom of speech and punishing dissent. In 2016, for example, the Levada Center found that 26% of respondents do not want to answer pollsters' questions about the country's state of affairs for fear of negative consequences. That said, Levada sociologists still believe that the views respondents are willing to share in public reflect an important picture of where society stands.
In fact, this trend has persisted since Levada began measuring Russians' opinions on war and peace with Ukraine in September 2022, with one exception in May 2023.
This September-October 2023 ECFR poll has also revealed that majorities in China, Russia, Saudi Arabia and Turkey believe the U.S. and Russia are at war.
It should be noted that Ukrainian President Volodymyr Zelensky has signed a decree banning peace talks with Russia.
Simon Saradzhyan is the founding director of Russia Matters. Angelina Flood is the assistant editor of Russia Matters.
The opinions expressed herein are solely those of the authors. Photo free for use under the Pixabay Content License.