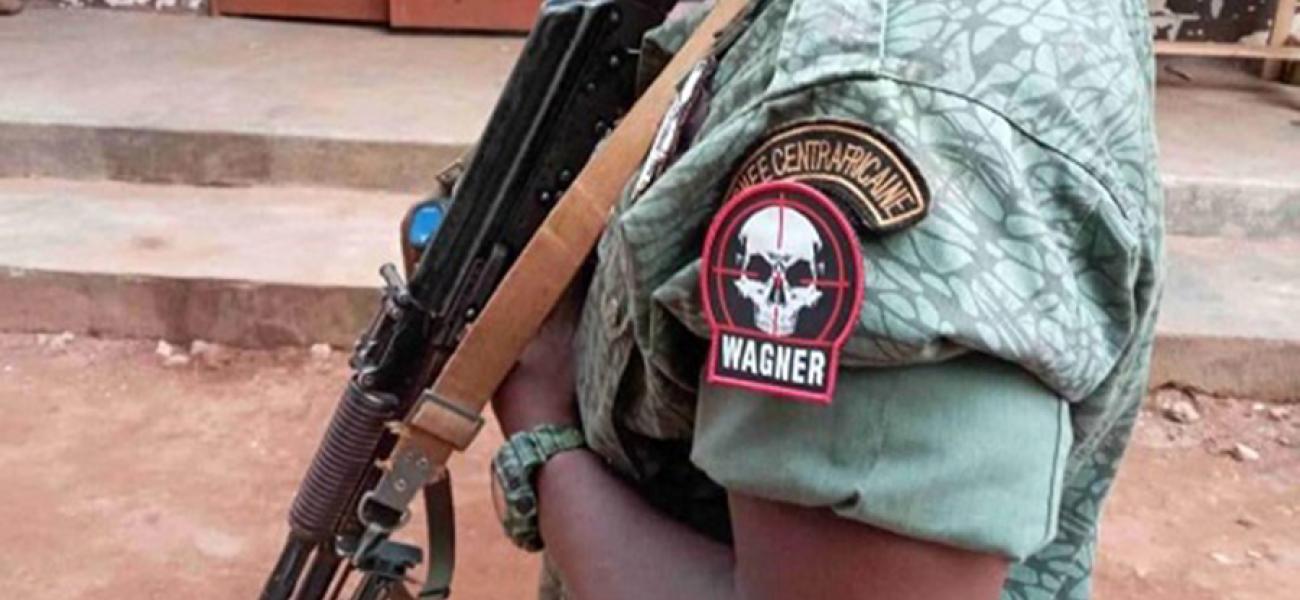 Why the Wagner Group Cannot Be Easily Absorbed by the Russian Military—and What That Means for the West
September 01, 2023
Kimberly Marten
Many have been speculating about what will happen to Russia's paramilitary Wagner Group going forward, now that its main recruiter and contractor, Yevgeny Prigozhin, has been confirmed dead and buried following his attempted mutiny in late June. One possibility raised by U.S. officials is that the group will be put directly under the control either of Russia's Defense Ministry, or its military intelligence agency, the Main Directorate of the General Staff of the Russian armed forces, known by its former Russian-language acronym, the GRU.1 But this would involve major costs for Russia, and would be difficult to manage. Below I first describe the existing relationship between the Russian military and the Wagner Group, and then outline the costs to Russia of making major changes to its management structure. I conclude with some conjectures about how this might impact the interests of the U.S. and its allies in the Middle East and Africa.
Although often called a private military company or mercenary group, Wagner has operated only at the behest of the Russian state and with its diplomatic and financial support (the financial angle was confirmed by Putin in the wake of the mutiny). Indeed PMCs remain illegal in Russia, as President Vladimir Putin made clear in a reported meeting with Wagner Group commanders in July. The group has only operated because he has allowed it to do so in spite of its illegality. The General Staff may have originally spawned the idea for the Wagner Group, and it has always been associated with the General Staff's GRU. Satellite data indicates that beginning in 2015, Wagner Group forces trained next door to the GRU's special forces (spetsnaz) 10th Special Mission Brigade, based at Molkino in the southern Russian province of Krasnodarsky Krai. The Bellingcat independent investigative team determined that at least some foreign passports issued to Wagner Group fighters came from the same office as those issued to GRU officers. Moreover, during Prigozhin's mutiny, then-first deputy head of the GRU Vladimir Alekseyev admitted that the GRU worked closely with Wagner.
Prigozhin claimed that he staged the June 23-24 mutiny because he objected to an order by Russian Defense Ministry Sergei Shoigu requiring all members of Russian paramilitary groups (there are many smaller groups besides Wagner) to sign contracts directly with the ministry. This followed years of conflict between Prigozhin and the ministry. The conflict began with lawsuits in 2017, when Prigozhin was accused of embezzling funds from Defense Ministry contracts and the Defense Ministry started withholding his funds. It likely continued with the puzzling events of February 2018 in Deir-al-Zour, Syria, when the Wagner Group suffered hundreds of casualties after attacking U.S. special forces assisting Kurdish fighters. Official Russian commanders in Syria denied to their U.S. counterparts that the attacking forces were theirs, and refused to come to their aid. The Wagner Group's conflict with the ministry came to a head as Prigozhin increasingly complained over the past year about the incompetence of Russian military command in Moscow's war in Ukraine, saying that his fighters were given too little ammunition.
At the time of the June mutiny, Reuters reported that Russian regular military forces stationed in Syria worked with Syrian officials to force the several hundred Wagner Group members on the ground there either to sign contracts with the Russian Defense Ministry or go home. Most apparently signed. In and of itself this may have few implications for the U.S. and its allies. The Wagner Group does not seem to have been used in combat in Syria since late 2021, and even then, it acted alongside regular Russian armed forces and not independently. Instead the Wagner Group in Syria has primarily been guarding oil and gas facilities associated with Prigozhin's Evro Polis businesses. The real significance of the signing may be that despite Prigozhin's bravado, it will not be all that difficult to get other Wagner Group units to also agree to sign.
But that raises the question of exactly what it means to sign a contract with the Defense Ministry. It is hard to believe that the Russian Defense Ministry has the desire or resources, especially given the centrality of the war in Ukraine to Russian military interests, to command and control commercial guard forces, or manage their contracts with foreign governments.
Something a bit different has been happening in Africa. Days before the plane crash that killed Prigozhin, the Wall Street Journal reported that the GRU had begun trying to take control over the Wagner Group's units in Africa, with the head of this military intelligence agency's covert operations, Andrey Averyanov, tapped for the role. A delegation from the Russian Defense Ministry visited Libya's eastern warlord Khalifa Haftar as well, who had been supported under contract by Prigozhin and the Wagner Group since 2018. During this visit, Russian officers apparently told Haftar that Russian military intelligence officers would be stationed onsite and that a new Russian PMC would replace Wagner.
Little of this recent information has been definitively confirmed, but if it turns out to be correct, what implications might this move have for the interests of the U.S. and its allies in the region?
First, it's not clear that this is the path the Kremlin will actually take. Even if it allowed the Russian state to better dominate and monitor Wagner Group fighters, placing them under military command would involve major costs for Russia. Prigozhin ran a complex business empire of hundreds of enterprises in association with Wagner Group activities, both in Syria and throughout Africa. Some of these businesses, such as his media and social media disinformation enterprises, would fit well with existing GRU strengths in operating political influence campaigns. But much like those in Syria, others involved contracts to guard foreign gold and diamond mines and oil and gas facilities, something no Russian military forces are known to do. In the Central African Republic (CAR), Wagner activities include timber exports as well as processing the gold that is mined, and from both CAR and Sudan, smuggling gold to the United Arab Emirates for sale. In CAR, Prigozhin's forces even forcibly took over ordinary businesses like breweries. Russian military officers likely lack the skills needed to manage such a diverse range of operations.
Putin may therefore choose to put one or more other oligarchs or trusted advisors in Prigozhin's place instead. This might have significant implications for those in the West who attempt to create sanctions policies that limit Russian commercial enterprises. It was already very difficult for Western policy makers to ferret out the complex web of Prigozhin's activities. Now this monitoring will be even harder as new faces come onboard, especially if Russia splits those responsibilities among multiple individuals and groups. 
Second, placing the Wagner Group under regular Russian military command would be a poor fit for the group's strengths. Russia's uniformed military forces are known for their top-down, centralized command, lacking the trust for lower-level units to make decisions in chaotic situations. This may be at least one reason why Russia's invasion of Ukraine has not gone as smoothly as might have been expected from a country of Russia's relative size and wealth.
But as noted above, the GRU oversees a set of spetsnaz (special forces) brigades. The GRU's 45th Airborne Spetsnaz Brigade, for example, is believed to have spearheaded Russia's takeover of Crimea from Ukraine in 2014. These spetsnaz forces are known for their flexibility and initiative, and indeed historically have carried out many of the same tasks as the Wagner Group. Since Soviet times, the GRU has been responsible for many aspects of Moscow's outreach to foreign military forces—something similar to what the Wagner Group has done in its training, combat advising and weapons supplies for CAR, Mali, Sudan and with Haftar's Libyan National Army in eastern Libya. It therefore seems much more likely that, if Russian decisions are rational, Wagner's combat units would be placed under the GRU (and hence the General Staff) rather than the Defense Ministry.
Yet depending on what this might mean, it could eliminate the cost savings that Russia has enjoyed from the group's foreign contracts and incur a huge administrative burden for an organization that (once again) is focused on the war in Ukraine. It would also risk making ordinary Russians more aware of the country's foreign casualties going forward, since the Wagner Group could no longer be portrayed at home as a band of profit-seeking adventurers.
Because of these costs, it is likely that some new semi-state version of the Wagner Group will continue to operate, even if under a different name. The Wagner Group, despite its horrible record of massacres and human rights violations, has expanded Moscow's geopolitical influence in the Middle East and Africa at relatively low cost, while absorbing combat casualties that would otherwise have been inflicted on regular Russian military forces. It made itself a necessary security pillar for maintaining authoritarian rule in CAR, Mali and Haftar's eastern Libya; helped Russia counter Iranian efforts to dominate the commercial and energy landscape of Syria; and brought new gold, diamond and timber profits back to Russia from Sudan and CAR to help the Kremlin withstand Western sanctions and pay for its war in Ukraine.
The Wagner Group has allowed Russia to compete against Western (and Chinese) influence in Africa in a new way, and we should not expect radical change. It is in the Kremlin's interests to do everything it can to assure its current Syrian and African partners of the reliability and continuity of its security support. Especially in the current environment in Africa, where coups seem to be spreading like a virus, Russia may in fact see even more opportunities for semi-state paramilitary forces like the Wagner Group to take advantage of instability, increasing Moscow's sway by contract.
Leaving something like the Wagner Group in place will keep Russia a formidable competitor against Western democratic and human rights interests in the region, even as its resources are drained away by its war in Ukraine. Since Moscow's goals are focused on propping up regimes, rather than truly vanquishing terrorist threats, the Kremlin's new habit of trying to drive Western security support out of Africa may also leave the world a more dangerous place.
Footnotes
"GRU" is the Russian-language abbreviation of glavnoye razvedyvatelnoye upravlenie (main intelligence directorate).
Author
Kimberly Marten
Kimberly Marten is a professor at Barnard College, Columbia University, specializing in international relations, international security, Russia and the global politics of climate change. She is a faculty member and executive committee member of Columbia's Harriman Institute for Russian, Eurasian and East European Studies, and Saltzman Institute of War and Peace Studies, and a member of the Council on Foreign Relations (CFR) and the International Institute for Strategic Studies.
Opinions expressed herein are solely those of the author, unless otherwise stated. Photo by Corbeau News Centrafrique, shared via a CC BY-SA 4.0 license.