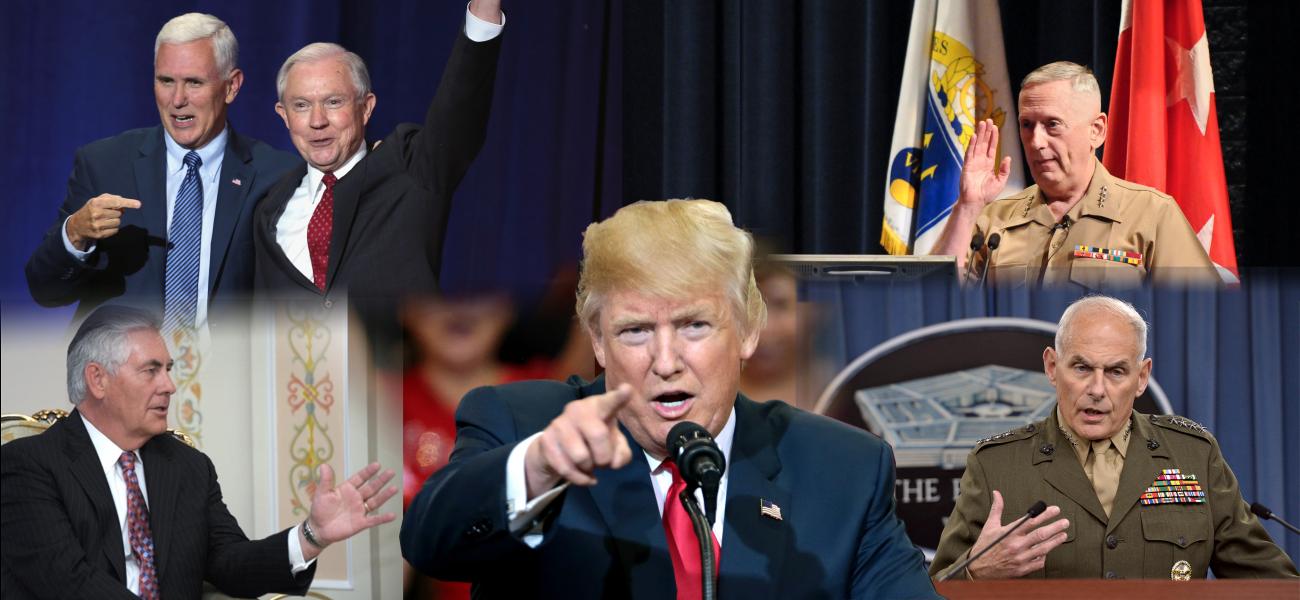 Team Trump on Russia: Words and Actions
March 02, 2017
RM Staff
Back when U.S. President Donald Trump was still president-elect, he picked his Cabinet members, other top officials and advisors. Here is a snapshot of their positions on and ties with Russia. This is an evolving publication. In our initial post on Jan. 9, 2017, we focused on Cabinet picks who have had direct dealings with Russia or a fair bit to say about the country. Since then there has been plenty to add.
VICE PRESIDENT
Mike Pence
Previous role/background: Socially conservative governor of Indiana.
Public position on Russia: More hawk than dove during campaign; since election, less clear.
Russia connections/comments: During the presidential campaign Pence expressed a markedly less positive view of Russia and its leadership than his running mate, Donald Trump. In October 2016 he said "there's no question that the evidence continues to point in … [the] direction" of Russia as a key force behind the email hacks aimed at Pence and Trump's Democratic rivals. Pence also took a hardline stance on countering Russia's actions in Syria during the campaign, saying the U.S. should use military force there if Russia kept up airstrikes in support of President Bashar al-Assad. At the time, Pence called Vladimir Putin a "small and bullying leader"—in contrast to Trump's many kind words about the Russian president—and said "the provocations by Russia need to be met by American strength." These statements fit Pence's image as a far more traditional Republican than Trump, which was a strategic asset during the presidential race. Since Trump's election victory, however, the new vice president's rhetoric has been more supportive of his boss's positions. In January Pence defended Trump's skepticism about Russia's hand in the hacking as "very sincere," "healthy" and justified "given some of the intelligence failures of recent years." He has also hewed closely to Trump's position after a recent briefing by intelligence officials on Russia's alleged actions, saying that the new U.S. administration will take "aggressive action … to combat cyber attacks" early on, but he did not explicitly identify Russia as the target of such action.
Rex Tillerson
Position: Secretary of State
Key dates: Sworn in Feb. 1.
Previous role/background: Stepped down from position as ExxonMobil's CEO at end of December 2016, after 41 years with the company, with an estimated net worth of $385 million.
Public position on Russia: Critic turned champion, reportedly, though sounded skeptical during initial confirmation hearings.
Russia connections/comments: Tillerson has nearly 20 years' experience working on energy projects in Russia. In 1998 he became responsible for Exxon's holdings there as vice president of Exxon Ventures (CIS) Inc. and a top official of Exxon Neftegas Limited, a subsidiary registered in the Bahamas. According to recent reporting by the New York Times, Tillerson's public attitude toward Russia changed dramatically between about 2008 and 2011, shifting from skepticism and criticism to praise and bonhomie, including what he himself has publicly described as "a very close relationship" with Russian President Vladimir Putin. The newspaper attributed the change to his realization "that the key to success in Russia, a country deeply important to Exxon's future, lay in establishing personal relationships with Mr. Putin and his friend and confidant, Igor Sechin, the powerful head of Rosneft," Russia's state-controlled oil giant. In 2011, under Tillerson's leadership, ExxonMobil clinched a multi-billion-dollar "strategic cooperation agreement" with Rosneft, including plans to explore for oil in the Arctic. In 2013 Putin awarded Tillerson Russia's Order of Friendship, the highest state honor possible for a foreigner, for what the Kremlin called his "big contribution to developing cooperation in the energy sector." The following year the deal was effectively mothballed because of U.S. sanctions imposed on Moscow for its actions in Ukraine. Speaking at ExxonMobil's 2014 shareholder meeting, Tillerson questioned the effectiveness of sanctions in general and warned that they can cause "very broad collateral damage." In June 2016 he showed up at Putin's so-called Russian Davos economic forum despite the U.S. State Department's explicit recommendation that Americans not attend. Trump's pick of Tillerson won praise from at least three pro-Kremlin Russian officials, with one of them calling him "some kind of Christmas gift from the American people to the Russian people." In meetings with senators ahead of his confirmation hearings Tillerson tried to "to project a clear-eyed and tough message about how he views Vladimir Putin's Russia, without committing to any specific policies the Trump administration might pursue," according to The Washington Post. As expected, Tillerson's relationship with Russia and Putin personally came under scrutiny during the Senate hearings.
James "Mad Dog" Mattis
Position: Defense Secretary
Key dates: Sworn in Jan. 20.
Previous role/background: Retired general who left the military in 2013 after more than 40 years in the Marine Corps.
Russia connections/comments: Mattis has expressed a deep wariness about Russian intentions, saying in 2015 that President Vladimir Putin wants "to break NATO apart" and calling Russia possibly the "most dangerous" near-term threat faced by the U.S. During the same speech Mattis said "Putin goes to bed at night knowing he can break all the rules and the West will try to follow all the rules," which "is a very dangerous dichotomy in the way the world is being run." During a Senate hearing in January 2015 he expressed support for U.S. aid to Ukraine in fighting against Russia-backed insurgents, stating that as long as Russia is willing to continue the war the United States needs to ask whether "we are willing to support the Ukrainian people who want to defend themselves. And on that one, I'm pretty one-way about it. Of course, we support them." At the same hearing he suggested that although sending weapons to Ukraine could increase levels of violence there, it may also turn the country into "a fulcrum on which his [Putin's] foreign policy is now hammered back in line with the international order of respect for state boundaries and that sort of thing as he starts having a higher physical cost, more troops coming home dead from this sort of thing." Mattis did also acknowledge, however, that Russians "can take a lot more stoic view" on various hardships. In a speech last April, Mattis warned about an Iranian- or Russian-controlled Middle East, saying that "vacuums left" there tend to be filled by "terrorists, or by Iran, or by their surrogates, or Russia."
Jeff Sessions
Position: Attorney General
Key dates: Sworn in Feb. 9.
Previous role/background: Republican Senator from Alabama whose 1986 nomination for a federal judgeship fell through after allegations of racism.
Public position on Russia: Hawkish until as recently as 2015; more conciliatory after becoming an advisor to candidate Trump in March 2016.
Russia connections/comments: Sessions has long talked tough about the threat Russia poses to the U.S. and its allies in Europe, but his position grew milder after he became an advisor to Donald Trump in March 2016. USA Today noted

 

that Sessions had a "19-year Senate record of calling Russia an untrustworthy adversary to be dealt with via massive military strength, not negotiation," and that he had "pointed to Russia's record [on the international arena] as justification for a robust missile defense system, which has deep roots in … Alabama," his home state. In 2010, Sessions voted against the New START nuclear arms-reduction treaty with Russia, saying

it gave Moscow "what it wanted" without making the U.S. safer. In March 2014 he called for Russia's ouster from the G-8 and for intense sanctions to punish Moscow's actions in Georgia and Ukraine, saying that

a "systematic effort" should be undertaken so that "Russia feels pain for this. ... Because if you don't act now to make some sanctions against Russia, then why will they believe in the future that we're going to impose sanctions or do anything aggressive if they move forward to take all of Ukraine, all of Georgia?" In March 2015 Sessions stuck to his guns, saying that

Russia needs to know "there will be a high price to pay" if it continues its "overreach" and "that Europe and the United States would have to unify and push back more firmly" against Moscow if the Minsk agreements fail to end the war in eastern Ukraine. During the presidential campaign, however, within weeks after he was appointed

Trump's advisor on national security and foreign policy, Sessions began calling for improved relations with Russia: "I think an argument can be made there is no reason for the U.S. and Russia to be at this loggerheads. Somehow, some way we ought to be able to break that logjam," Sessions said in March 2016. "Strategically it's not justified for either country. It may not work. Putin may not be able to be dealt with, but I don't condemn his instincts that we ought to attempt to do that." He made the same point in July on CNN: "This whole problem with Russia is really disastrous for America, for Russia and for the world. Donald Trump is right. We need to figure out a way to end this cycle of hostility that's putting this country at risk, costing us billions of dollars in defense, and creating hostilities." On March 1, 2017, Sessions became a central figure in the unfolding controversy over alleged ties between Donald Trump and Russia: Unnamed Justice Department officials told The Washington Post that Sessions had spoken twice in person with Russian Ambassador Sergey Kislyak while an advisor to the Trump campaign, including one meeting at the senator's office; Sessions, meanwhile, had said during his confirmation hearings: "I have been called a surrogate at a time or two in that [Trump] campaign and I did not have communications with the Russians." Sessions also denied having any contacts with Russian officials "about the 2016 election" in writing in January 2017, according to the Post report; he reiterated that denial on March 1 saying he "never met with any Russian officials to discuss issues of the campaign." Both the justice officials and Sessions's spokeswoman told the Post that his meetings with the Russian ambassador were in his capacity as a member of the Armed Services Committee. However, according to the newspaper, Sessions's July conversation with Kislyak took place on the sidelines of the Republican National Convention. On March 2, Sessions suggested he would be willing to recuse himself from an investigation of Russian involvement in the U.S. presidential campaign if it's "appropriate."
Wilbur Ross
Position: Commerce Secretary
Key dates: Confirmed on Feb. 27.
Previous role/background:  Billionaire investor who made his fortune acquiring and restructuring troubled companies.
Russia connections/comments: Ross has various indirect business connections to Russia, going back at least to the 1990s when he was a board member of the U.S.-Russia Investment Fund under President Bill Clinton. Since 2014, Ross has been connected to some of Russia's richest so-called oligarchs through a major financial project involving the Bank of Cyprus, which Ross and other investors took over in a billion-euro deal that year. (At the time, many of the bank's clients were Russian, drawn to Cyprus as a tax shelter for those who wanted to reinvest "back home"; by the end of 2013 Cyprus was the biggest source of foreign investment in Russia, with $69 billion, and the second-biggest destination for Russian investment, at $33 billion.) Soon after the Ross-led takeover, the bank announced that its second-largest shareholder had become the Renova Group headed by Russian billionaire Viktor Vekselberg. In October 2014 Ross proposed a new board of directors for the bank, including himself, Renova executive Maksim Goldman and Vladimir Strzhalkovskiy, a former board member who, according to the Kremlin-funded RT news outlet, had served with Vladimir Putin in the KGB in the 1990s (or in the 1980s, according to Bloomberg). Ross and Vekselberg also recruited Josef Ackermann, a Renova manager who had regularly attended Putin's annual "Russian Davos" in St. Petersburg as head of Deutsche Bank. The Bank of Cyprus currently lists Ackermann as chairman of the board and Ross and Goldman as vice chairmen; Strzhalkovskiy left his post as vice chairman in May 2015. After Ross was tapped for commerce secretary, Strzhalkovskiy said through a spokesperson that the two had been friendly during their time on the board together and that Ross's attitude toward Russia had always been positive, without any noticeable biases against the country or its business community. One long-time Russian shareholder in the Bank of Cyprus is fertilizer magnate Dmitry Rybolovlev, who used to control nearly 10% of the bank, which presumably got diluted to a smaller share after the bank's 2013 "bail-in," and now reportedly holds 0.5% of the bank's shares in his own name; Rybolovlev is the same Russian billionaire who bought a Palm Beach mansion from Donald Trump in 2008 for some $95 million—more than double the price Trump had paid for it four years earlier. During Ross's confirmation at least three Democratic senators, including one who voted in favor of Ross, expressed indignation that the White House had not disclosed written answers Ross had reportedly provided about his connections to Russian businesspeople.
John Kelly
Position: Homeland Security Secretary
Key dates: Sworn in Jan. 20.
Previous role/background: Retired four-star Marine general whose son was killed in combat in Afghanistan.
Russia connections/comments: During a 2015 Senate hearing Kelly, as head of the U.S. Southern Command responsible for Latin America, reported that "Russian activities in the region are more concerning" than Chinese inroads there. He said that under President Vladimir Putin "we have seen a clear return to Cold War tactics," with Russia using power projection in an attempt to "erode U.S. leadership and challenge U.S. influence in the Western Hemisphere." Since 2008, he said, Russia had pursued an "increased presence" in Latin America through propaganda, military arms and equipment sales, counterdrug agreements and trade. In 2014, a Russian intelligence ship docked in Havana "multiple times conducting operations in the Gulf of Mexico and along the East Coast of the United States," he said. Kelly also mentioned that Russia has courted Cuba, Venezuela and Nicaragua to "gain access to air bases and ports for resupply of Russian naval assets and strategic bombers operating in the Western Hemisphere." To support these claims Kelly cited Russian media reports announcing that the country would begin sending long-range strategic bombers to patrol the Caribbean Sea and the Gulf of Mexico to "monitor foreign powers' military activities and maritime communications," but did not indicate whether the U.S. had evidence that such flights had begun. Kelly concluded his statement by stating that Russia's activities in the Western hemisphere do not pose an "immediate threat" but "underscore the importance of remaining engaged with our partners" in Latin America.
Andrew Puzder
Position: Labor Secretary
Key dates: Withdrew candidacy Feb. 15.
Previous role/background: Chief executive of CKE Restaurants since 1997; major donor to the Trump campaign.
Russia connections/comments: Puzder's restaurant chain has been doing business in Russia for at least the past decade. In 2013 CKE Restaurants celebrated the opening of its 500th international restaurant in St. Petersburg. The company opened its first two restaurants there in 2006, a part of a plan to open 50 across Russia over the coming 8 years.
Ryan Zinke
Position: Interior Secretary
Key dates: Reported favorably to full Senate on Jan. 31.
Previous role/background: Freshman representative from Montana; former Navy SEAL.
Russia connections/comments: In September 2016, Zinke called Russian President Vladimir Putin a "tyrant" with whom he "absolutely" does not agree: "Russia has been an aggressor and is not operating in our best interest. They are operating in Russia's interest," Zinke said. In the same set of comments he agreed with Donald Trump that Putin was a better leader than President Barack Obama: "There is no doubt that for the Russian people Vladimir Putin is a more effective leader than our president is for the American people," he said, citing as examples of Putin's successes his annexation of Crimea, spread of Russian influence in Ukraine and planting the Russian flag at the North Pole, claiming sovereignty over a large portion of the Arctic Ocean.
Mike Pompeo
Position: CIA Director
Key dates: Sworn in Jan. 24.
Previous role/background: Retired army officer and third-term Congressional representative (R-Kan.).
Public position on Russia: Hawkish.
Russia connections/comments: Pompeo, who spent time "patrolling the Iron Curtain" as a cavalry officer in the second half of the 1980s, has been a vocal critic of Moscow's foreign and domestic policies and President Vladimir Putin personally. As Politico reported recently: Within the past few years Pompeo has called Russia's cooperation with Iran "troubling & potentially dangerous"; he has strongly supported sanctions against Russia for its actions in Ukraine, "to keep him [Putin] in his box," and has criticized the U.S. response to those actions as "far too weak"; and he has admonished Russia for its lack of press freedom, once sarcastically calling it a "beacon of First Amendment freedoms." In 2013 he wrote in an op-ed that "Russia continues to side with … rogue states and terrorist organizations, following Vladimir Putin's pattern of gratuitous and unpunished affronts to U.S. interests." Pompeo, who serves on the House Intelligence Committee, as well as Energy and Commerce, has also scoffed at the idea that Russia is trying to defeat ISIS in Syria, as Moscow contends: "That is a fundamentally false narrative," he said in October 2015, suggesting instead that Russia aims to get a foothold in the eastern Mediterranean and criticizing the Obama administration's attempts at dialogue and at de-conflicting airspace as inadequate. Putin is "heck bent on changing the geopolitical future," Pompeo said at the time. "Our secretary of state calls a meeting to de-conflict airspace when the Russians attack in the Middle East. That's a remarkable change from … consistent U.S. policy—Democrat and Republican presidents alike—that said that the Soviets and now Russians will not have a foothold [in the region]." Pompeo maintained those positions during his first Senate confirmation hearing on Jan. 12, saying that "Russia has reasserted itself aggressively, invading and occupying Ukraine, threatening Europe and doing nothing to aid in the destruction and defeat of ISIS." He described the alleged hacking by Russia as outlined in a U.S. intelligence report earlier this month as "an aggressive action taken by senior leadership inside of Russia," saying he believed the U.S. intelligence community's assessment was "sound" and that generating skepticism about American democracy had been one of Putin's objectives. Asked about the greatest security threat to the U.S., Pompeo, according to the BBC, "cited terrorism foremost and lumped Russia in behind North Korea and China."
Herbert Raymond McMaster  
Position: National Security Adviser
Key dates: Appointed Feb. 20, 2017, following the resignation of Michael Flynn.
Previous role/background: Active-duty lieutenant general.
Public position on Russia: Wary.
Russia connections/comments: McMaster has voiced wariness of Russia's actions in recent years and seems to see Russia as a threat to the U.S. and to global stability more generally. After Moscow's military intervention in eastern Ukraine and its annexation of Crimea McMaster led a high-level U.S. government study to determine how the American military must adapt to Russia's tactics and strategies. In May 2016 he said Moscow's overall goal is to "collapse the post-Cold War security, economic and political order in Europe and replace that order with something that is more sympathetic to Russian interests." In the same speech, he noted that Russia's actions vis-à-vis Ukraine came "at zero cost" from the international community. In his position as director of the Army Capabilities Integration Center, McMaster has focused in particular on ways to counter the Russian tactics and weapons used in Ukraine and has said America's potential advantage over Russia in land warfare is waning. In April 2016 he told the Senate Armed Services Committee: "It is clear that while our Army was engaged in Afghanistan and Iraq, Russia studied U.S. capabilities and vulnerabilities and embarked on an ambitious and largely successful modernization effort," which manifested itself in Ukraine with "a high degree of technological sophistication" such as "unmanned aerial systems and offensive cyber and advanced electronic warfare." McMaster shares President Trump's belief that the U.S. military needs to be expanded and modernized and his candidacy for the post of national security adviser received support from conservatives who have leaned hawkish on Russia.
Author
RM Staff
These profiles have been compiled by Russia Matters Project director Simon Saradzhyan, student associate Sarah Vansickle and editor Natasha Yefimova-Trilling.
The opinions expressed in this commentary are solely those of the author.