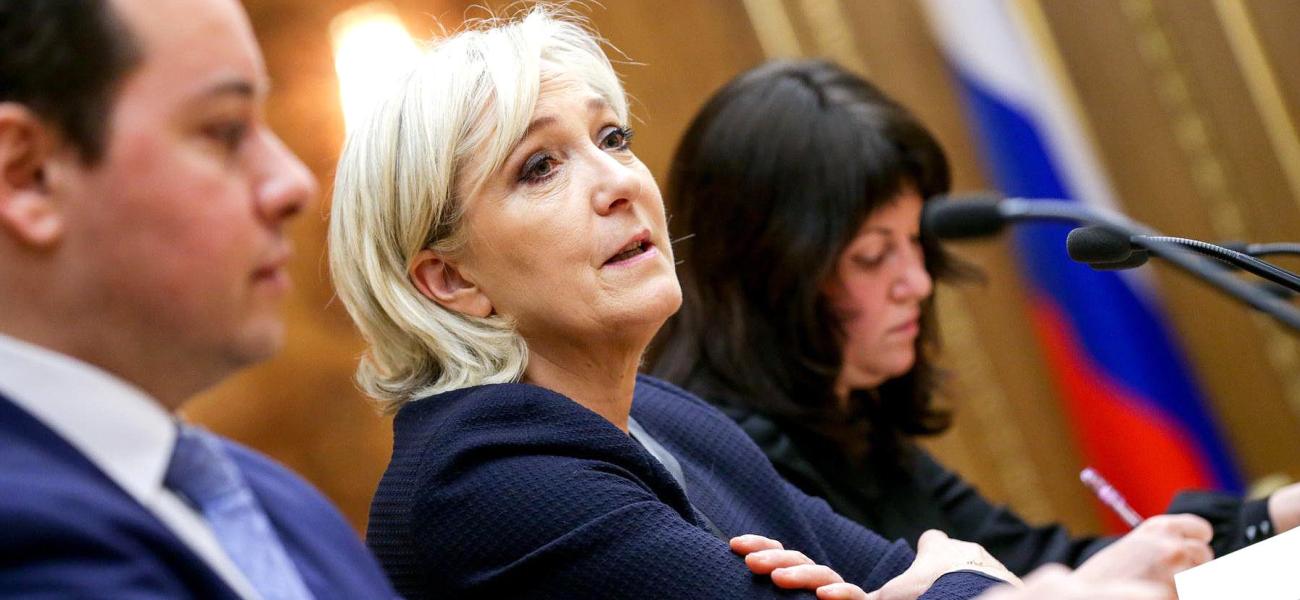 Survey: What Would a Le Pen Presidency Mean for France's Policy Toward Russia?
April 20, 2022
RM Staff
Deemed highly unlikely only a few months ago, a Marine Le Pen presidency had started to look like a distinct possibility in France even before the first round of the country's presidential elections. The nationalist leader campaigned hard to capitalize on cost of living fears harbored by French voters, many of whom have also been unimpressed by incumbent Emmanuel Macron's reluctance to divert his attention from the Ukraine crisis to the elections. Macron's 11th hour effort helped him to reverse some of these losses. As a result, the incumbent won 27.85% of the votes cast in the first round of the French presidential elections on April 10, while Le Pen collected 23.15%, paving the way for their upcoming face-off in the second round on April 24. Some of the latest polls show Macron winning 55 percent of votes or more in that second round, but there is still a chance that Le Pen, a nationalist firebrand who has "put water in her vodka,"  considerably toning down her anti-EU rhetoric, can still win on April 24.
Le Pen has been aiming for the Élysée Palace since she replaced her father as the leader of the National Front party in 2015. Since then, she has been known for cultivating warm ties with Vladimir Putin's Russia, and has also repeatedly proposed that France turn away from the U.S. Additionally, French investigative outlet Mediapart reported that Le Pen's National Rally party received 11 million euros in financing from Russia between 2014 and 2015. More recently, her 2017 presidential campaign was partially funded through a loan from a Russian bank, according to media reports.
Following the invasion of Ukraine, however, Le Pen has sought to distance herself from Putin. A day after Russian forces launched a multi-pronged offensive she said: "I think that everybody has a form of admiration for Mr. Putin, but frankly, I consider that what he's done is highly reprehensible." Le Pen—whose team has thrown out over a million leaflets featuring a smiling Le Pen shaking hands with Putin—now says she supports Ukraine in the war and does not support lifting EU sanctions against Moscow. However, she still promises to seek a "strategic rapprochement" between NATO and Russia once the war in Ukraine is over, and plans to pull France out of NATO's military command. Additionally, she has said she would engage Moscow to keep Russia from an alliance with China. "Allowing Russia to create a superpower with China is the worst idea," according to Le Pen, who has "never been so close to winning France's highest office," according to an April 19 analysis in The Economist.
Given that her chances of beating Macron have risen, we thought it important to preview what a Le Pen presidency would entail for French, EU and NATO approaches toward Russia and the rest of post-Soviet Eurasia, as viewed by some of the West's leading commentators on these subjects (in alphabetical order):
Photo by duma.gov.ru shared under a Creative Commons license.