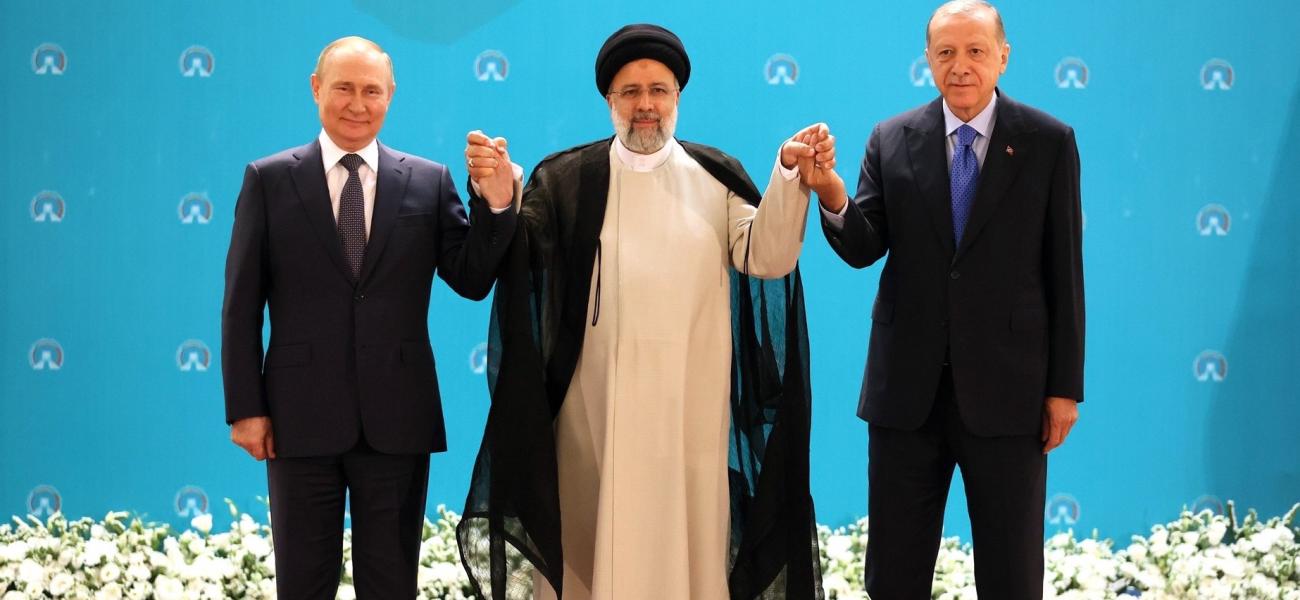 Russia and Iran Get Closer While Still Competing, Amid Balancing Act With Turkey
August 03, 2022
Nicole Grajewski
The recent tripartite summit among the presidents of Russia, Iran and Turkey yielded few tangible results, but it underscored both the growing strength of ties between Moscow and Tehran and the tricky balancing act all three countries must maintain in cooperating amid their competing interests and security concerns.
Here's what Vladimir Putin's meetings with Iranian counterpart Ebrahim Raisi, Iran's supreme leader Ayatollah Ali Khamenei and Turkish President Recep Tayyip Erdogan highlighted:
The Russia-Iran relationship is growing stronger, with Khamenei endorsing Russia's war in Ukraine—which has arguably given Tehran more leverage in the bilateral relationship—and both countries trying to jointly weather Western sanctions.

Nonetheless, Russia's ties with Iran remain complex

, characterized by areas of cooperation, stalled plans and competition across various domains.

Russia's help mitigating the looming global food crisis was a priority for both

Iran and Turkey

—because of their need for food security and

Ankara's high-profile role in brokering an agreement to safeguard Ukrainian grain exports.

In Syria,

the three countries' interests and security concerns still diverge.

Russia and Iran refused to green-light Turkey's hoped-for offensive against Kurdish groups in the north, with an emboldened Iran opposing the move more forcefully than Moscow.
In greater detail:
Russian-Iranian ties growing stronger: The strengthening of Russia and Iran's partnership results in part from a heightened need for one another amid their strategic isolation from the West—dramatically deepened in Russia's case by the response to its Feb. 24 invasion of Ukraine. This year has seen unprecedentedly frequent meetings between senior Russian and Iranian officials. Putin's trip to the July 19 summit in Tehran—his first to a foreign country outside the former Soviet Union since the start of the Ukraine war—marked the fifth high-level visit and second presidential summit between Russia and Iran in 2022.
Russian-Iranian military cooperation intensifying? Days before Putin's visit, American intelligence unveiled reports about Russia seeking Iranian combat drones for its war in Ukraine. Despite Iranian denials, unconfirmed Ukrainian media reports claim Iran may have already transferred Shahed-129 drones to Russia via the Caspian Sea. If verified, the shipments would mark a significant intensification of bilateral military ties. During the summit, Iranian media reportedly mentioned the prospect of trilateral war games with China. Regarding Iran's nuclear program, also discussed in Tehran, Putin stressed that Russia has a "very significant" role to play in reviving Iran's cooperation with the IAEA.
Iran offers support for Russia's war in Ukraine: In Tehran Russia received the most vocal support for the war from Iran to date. During his meeting with Putin, Khamenei highlighted the need for cooperation between Tehran and Moscow against the West's "deceitful" policies and offered a strongly worded endorsement of Russia's confronting NATO. Khamenei described the Western alliance as a "dangerous creature" that opposes a strong and independent Russia, suggesting that, had Moscow refrained from action, NATO would have launched a war "under the pretext of Crimea."
Ukraine war has given Iran a stronger hand (in Syria and elsewhere): Tehran opposed the planned Turkish campaign more forcefully than Moscow, asserting the greater leverage it has gained in Syria thanks to the strain placed on Moscow's resources by the war in Ukraine. Another example of Iran's elevated profile was Syrian President Bashar al-Assad's visit to Tehran in May. But Iran still faces acute problems in Syria, including the presence of U.S. troops on the Syrian-Iraqi border—Khamenei called for U.S. forces to bе pushed away from the oil-rich regions "east of the Euphrates"—and Israeli air strikes on Syrian territory.
Bottom line on Russia-Iran relationship: The summit highlighted its nature—a complex partnership characterized by some common threats, growing military cooperation and barriers to economic development. Russia's war in Ukraine has provided incentives for further cooperation as both countries face common adversaries in the West; however, the existing challenges and areas of competition suggest that the two countries are a way's away from a genuine strategic partnership. Nevertheless, analyses that overstate the obstacles obscure the unprecedented developments in Moscow's ties to Tehran that appear to have tempered the so-called historic distrust that has long tainted relations.
Russia and Iran seek to evade sanctions, pursue alternative transport projects: The Ukraine war has given renewed impetus to existing areas for bilateral cooperation, despite growing Russian-Iranian competition on oil markets. Primarily, Iran can offer Moscow sanctions-busting transit corridors for exports across its territory. One such priority for Russia seems to be improving the International North-South Transit Corridor, which saw its first successful Russia-to-India shipment in June-July. Tehran and Moscow discussed infrastructure projects to speed up the corridor during Raisi's January visit to Moscow, including Iran's proposal on constructing the 90-mile Rasht-Astara railway, which was on the agenda in Tehran as well; Putin discussed financing for the railway with Azerbaijan's President Ilham Aliyev in June. Additionally, Iran and Russia have signed a memorandum increasing passenger flights between them to 35 a week and allowing cargo flights "without capacity restrictions," according to Iran's Mehr news agency; transportation officials also agreed to sign a deal under which Iran could service Russian aircraft and supply parts and equipment, the agency said.
Obstacles to closer Iran-Russia ties remain, many of them economic: Grandiloquent statements from Russian and Iranian officials belie the chronic setbacks in years-long projects and ambitions.
These include the

long-standing aspiration to replace the dollar with national currencies for trade, which has made little progress despite mutual efforts touted at the summit.

Projects such as the North-South Corridor

have been stymied for years by sanctions, bureaucratic hurdles

and business challenges.

Other big ideas that haven't got far include the construction of the Sirik thermal power plant, the conclusion of a permanent agreement on a free-trade zone between Iran and the Moscow-led Eurasian Economic Union and the signing of a comprehensive, long-term strategic agreement between Moscow and Tehran.

As noted above, Russia and Iran continue to

compete on the oil market

, with Moscow's discounted oil sales to China reportedly undercutting Tehran: The New York Times reported last month that Iran's oil exports to China had fallen to one-third of pre-war levels and to Asia more generally to about half the volumes Tehran had counted on when planning its annual budget. From late March to late May, the paper said, Iran earned only 37% of its projected revenues for the period, according to figures from Iran's Supreme Audit Center.
Iran's food security depends on Russian grain: The export of Russian agricultural products is emerging as a vital aspect of Iran's food security. As Nadereh Chamlou and Mark N. Katz have observed, Tehran wants "to secure a critical economic lifeline in expectation of wheat and bread shortages that could potentially upend the regime." In Tehran, Russian and Iranian officials condemned international sanctions, blaming them for rising oil prices and global food insecurity, with Putin accusing the U.S. of exploiting the dollar to "loot other countries."
Turkey needs Russian support for its military campaign and grain diplomacy: Russia remains crucial for Turkey's hoped-for military campaign because the two Kurdish-held cities to be targeted, Tel Rifaat and Manbij, lie west of the Euphrates River where Russia controls the airspace. The grain stuck in Ukrainian ports was also high on the agenda during the Russia-Turkey bilateral meeting, as Ankara treasures its role—on par with the U.N.'s—as an intermediary between Russia and Ukraine over grain shipments and also wants to prevent potentially destabilizing food insecurity in the greater Middle East.
Competing interests in Syria, with Turkey on one side and Russia and Iran on the other: This story is not new. High on the trilateral agenda was a long-planned Turkish incursion into northern Syria, which Moscow and Tehran have strongly opposed as it risks escalating into military clashes with their ally, the regime in Damascus. Turkish control of Tel Rifaat and Manbij could also undermine the Syrian regime's hold on Aleppo, another point of concern for Russia and Iran.
Author
Nicole Grajewski
Nicole Grajewski is a Stanton nuclear security postdoctoral fellow with the Belfer Center for Science & International Affair's Project on Managing the Atom at Harvard's Kennedy School. 
The opinions expressed herein are solely those of the author. 
Photo from Kremlin.ru.
Due to technical problems, this article was posted only on Sept. 21, 2022; the content dates from Aug. 3, as indicated above.