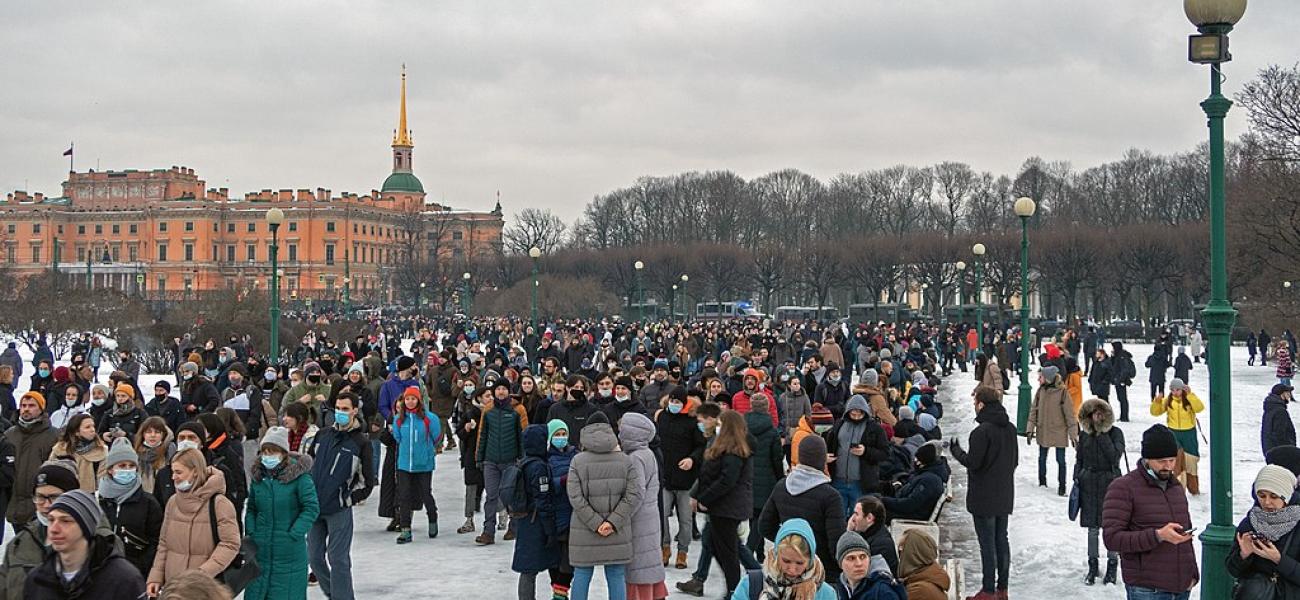 Navalny's Bravery Is Unlikely to Shift Putin's Entrenched Power
January 25, 2021
Jeff Hawn
While acknowledging the scale of the mass demonstrations held all across Russia on Jan. 23 following the return of Alexei Navalny from Germany, Jeff Hawn, a PhD candidate at the London School of Economics and Political Science's Department of International History, argues that we should not "expect a street revolution or the end of Putinism anytime soon." Navalny's return to Russia following his poisoning with Novichok five months prior was a brave act that will be "sufficient to further diminish the popularity" of Russian President Vladimir Putin and the ruling United Russia party, especially when combined with the video that Navalny released on Putin's "palace" outside the southern Russian city of Gelendzhik and Navalny's immediate arrest upon arrival on trumped-up charges. However, Hawn believes that while Navalny is "popular among a substantial number of Russians," he has essentially no support from local, regional or national elites.
Hawn compares Russia's Navalny-organized demonstrations with the two successful "color revolutions" in Georgia and Ukraine. In Georgia, the 2003 Rose Revolution was the "culmination of a multiyear erosion of then-President Eduard Shevardnadze's hold on power," and the protesters were greatly aided by members of Shevardnadze's party defecting to their side. Similarly, in 2013-2014 in Ukraine, protesters were aided by the fact that then-President Viktor Yanukovych's rule was "already tenuous due to the political divisions among the Ukrainian elite." In Russia, there is no such dynamic: Putin has a much better hold on power than either Shevardnadze or Yanukovych did, and as of now, there is no real threat of elites defecting to Navalny.
To support his argument, Hawn argues that Putin's political party "dominates the government at all levels, and the endemic corruption in Russia means that private enterprise large and small continues to be predicated on the goodwill of the Putin political machine, leading employers to pressure their employees to stay out of politics." Even when Putin does eventually relinquish power, according to Hawn, the transition "will ensure that those already in Putin's circle will continue to maintain their positions and see their interests looked after" and will not lead to a Navalny-led government.
Hawn does argue that Navalny's actions "are not wholly in vain," as they "will undermine an already unpopular regime heading into parliamentary elections in September and continue to mobilize a new generation of young Russians who have only ever known Putin and now are imagining a world without him." However, Hawn concludes that ultimately, the protests will not have much of a true effect on the Russian political order, as unless "substantial figures within the current regime begin to defect to Navalny's cause, the chance of street protest alone provoking a change of government is dubious."
Read the full article at Foreign Policy.
Author
Jeff Hawn
Jeff Hawn is a Ph.D. candidate at the London School of Economics and Political Science's Department of International History. His research focuses on the 1993 Russian constitutional crisis and the post-Cold War international order.
Photo from Wikimedia Commons shared by a Creative Commons license.