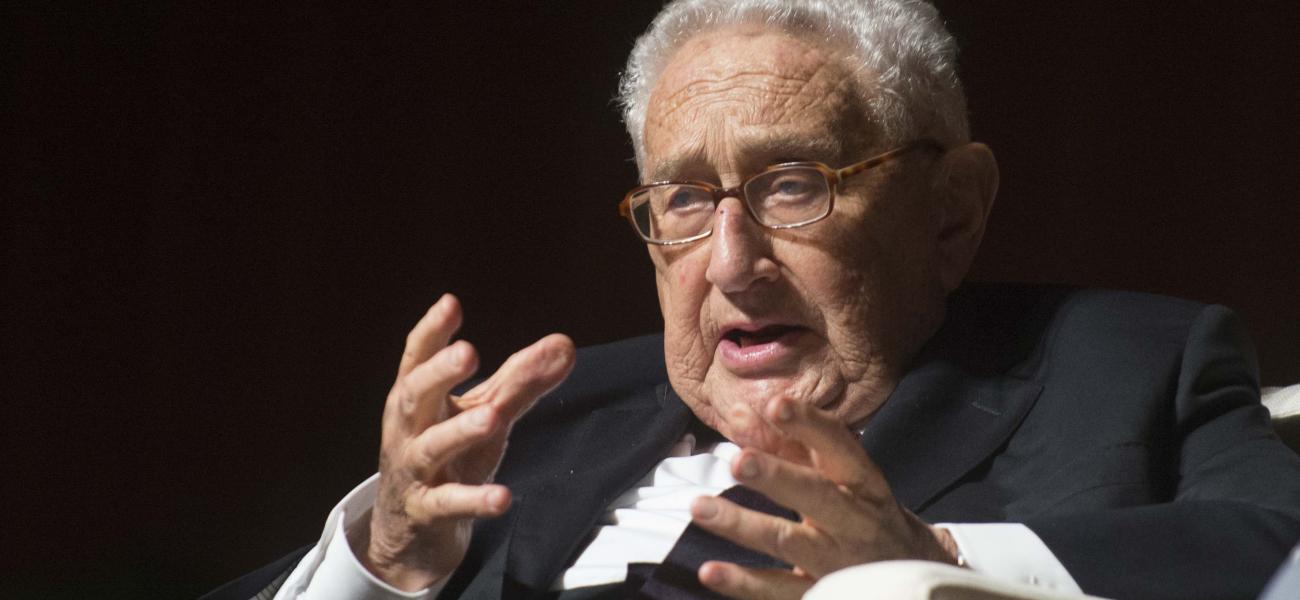 Kissinger on Russia: Insights and Recommendations
July 07, 2017
RM Staff
Originally published March 8, 2017. Last updated Feb. 6, 2018. 
This evolving compilation of observations and policy ideas about Russia by eminent U.S. statesman Henry Kissinger is the first in Russia Matters' new series "Competing Views," where we share America's most prominent thinkers' alternative takes on U.S.-Russian relations, Russia itself and America's policies toward this country.
Mr. Kissinger served as assistant to the president for national security affairs in 1969-1975 and as secretary of state in 1973-1977. He has been awarded the Nobel Peace Prize and the Presidential Medal of Honor. He has held various government advisory positions and is chairman of Kissinger Associates, an international consulting firm.
Mr. Kissinger—who has the ear of both President Trump and President Putin—advocates the normalization of the U.S.-Russian relationship, believing that "the goal should be to find a diplomacy to integrate Russia into a world order which leaves scope for cooperation."
The quotes below are divided into categories similar to those in Russia Matters' news and analysis digests, reflecting the most pertinent topic areas for U.S.-Russian relations broadly and for drivers of the two countries' policies toward one another.
Bulleted text that is not italicized, bracketed or in parentheses is a direct quote from Mr. Kissinger. All sections may be updated with both new statements and continued research into past statements.
I. U.S. and Russian priorities for the bilateral agenda
Nuclear security:
At the end of the Cold War … many on both sides understood that the fates of Russia and the U.S. remained tightly intertwined. Maintaining strategic stability and preventing the spread of weapons of mass destruction became a growing necessity, as did the building of a security system for Eurasia, especially along Russia's long periphery. (Kissinger's speech in Moscow, 02.04.16)
Iran's nuclear program and related issues:
On the nuclear deal brokered by the U.S. and Russia with Iran: I would not have made [the agreement], but we will not get a great deal out of ending it now. … We have already made most of the concessions that we have to make. [With the agreement in place] the Iranians have to at least stay within [its] technical limits. I think ending the agreement now would enable the Iranians to do more than us. (The Algemeiner, 11.11.16)
Negotiations that began [in 2003] … as an international effort to prevent an Iranian capability to develop a nuclear arsenal are ending with an agreement that concedes this very capability, albeit short of its full capacity in the first 10 years. (The Wall Street Journal, op-ed co-authored with George Shultz, 04.07.15)
See also the missile defense section.
New and original Cold Wars:
Military issues, including NATO-Russia relations:
If we treat Russia seriously as a great power, we need at an early stage to determine whether their concerns can be reconciled with our necessities. We should explore the possibilities of a status of nonmilitary grouping on the territory between Russia and the existing frontiers of NATO. (The National Interest, 08.19.15)
Russia should not be regarded as an incipient NATO country; such a goal would simply move to the Manchurian border the crises we now face on the Ukrainian one. The goal should be to find a diplomacy to integrate Russia into a world order which leaves scope for cooperation. (The Atlantic, 11.10.16)
There has been a tendency to think of Russia as if it were a potential NATO country and that it should be like other NATO countries, democratic and so on. But Russia has had a completely different history. When we had the Enlightenment in the West, Moscow was under Mongolian domination. So much of Russian history has been a fight against a hostile environment that came from all directions. And now they have had a huge upheaval of losing much of their position in Central and Western Europe. So the challenge is whether it is possible to have a relationship with Russia in which we recognize their special characteristics but they also understand our necessities. We should not be in permanent confrontation with them and they should permit countries on their borders to have an autonomous existence. But the relationship in which we should respect their own individual character, and I believe it's possible, but we shouldn't deal with it in a mechanical way of putting every territory that is abandoned into military arrangements. (CBS's "Face the Nation," 12.18.16)
Advocates of NATO expansion say that Russia should not be concerned, that NATO has no intention of attacking Moscow. Historical experience obliges Russian leaders to assess the capabilities of their neighbors. … [Successful negotiations cannot] be achieved by walking into the Kremlin and declaring, "Here is our plan." Like all dealings with Moscow, it would require an understanding of the Russian spirit and an appreciation of Russian history, as well as sufficient military power to squelch any temptations. (The Atlantic, 11.10.16)
See also section on Ukraine below.
Missile defense:
I favor developing a joint missile defense with Russia against Iran. But the U.S. also needs missile defenses controlled by the United States against strategic attack from other directions. So, let's cooperate with Russia on Iran, but we cannot relinquish missile defenses aimed at other threats—especially unauthorized launches and accidental launches. (The Christian Science Monitor, 04.20.10)
Nuclear arms control:
On alleged Russian violations of the INF Treaty: The western border is the least threatened border of Russia, paradoxically, but it has a long border with China with a huge inequality of populations, and a long border with the jihadist regions of the world. So, the [Russian] motivation [for developing this weapon] is to undoubtedly use nuclear weapons to balance the numerical inferiority of Russian forces along many of its borders. But to the extent that it is incompatible with signed agreements, the United States, even if it theoretically understands the motivation, cannot accept that nuclear arms control treaties are violated because a new strategic opportunity develops. So I believe that we have to be very firm in insisting on carrying out these agreements. (C-SPAN, 01.30.15)
Counter-terrorism:
This spreading power vacuum [arising from the disintegration of state power and the growing number of ungoverned territories in the world] cannot be dealt with by any state, no matter how powerful on an exclusively national basis. It requires sustained cooperation between the United States and Russia, and other major powers. (Kissinger's speech in Moscow, 02.04.16)
Conflict in Syria:
Cyber security:
Regarding allegations of Russian hacking: Yes, undoubtedly hacking [took place] but the use that was allegedly made of this hacking isn't clear to me. (CBS's "Face the Nation," 12.18.16)
We haven't done enough internationally to constrain hacking. It will have to be addressed as a problem. But it is very difficult to communicate about it because nobody wants to admit the scope of what they are doing and I don't doubt that the Russians are hacking us, and I hope that we are doing some hacking there. Then what use do you make [of it]? Whether it is a hostile use—that then becomes an international problem. (CBS's "Face the Nation," 12.18.16)
Clearly if the Soviets or if the Russians harass us with hacking we should retaliate and it should be understood that we will, but I wouldn't do that as a one-shot operation. (CBS's "Face the Nation," 12.18.16)
Energy exports from CIS:
Bilateral economic ties:
U.S. general policies toward Russia and other bilateral issues:
II. Russia's domestic developments, history and personalities
Russia's domestic developments:
Russian history:
Russian personalities:
III. Foreign affairs, trade and investment
Russia's general foreign policy and relations with "far abroad" countries:
Russia has evolved to what amounts to a definition of absolute security [and] absolute insecurity for some of its neighbors. Russia wants to be accepted by Europe and transcend it simultaneously. Also added that Putin's view of international politics is reminiscent of 1930's European nationalist authoritarianism. (AP, 06.27.17)
In the contemporary period, Russia will be important in overcoming radical Islam, partly because it is home to some 20 million Muslims, particularly in the Caucasus and along Russia's southern border. Russia will also be a factor in the equilibrium of Asia. (The Atlantic, 11.10.16)
EU:
Germany can and should play an important role in the construction of European and international order. But it is not the ideal principal negotiating partner about the security of Europe on a border that is two hundred miles from Stalingrad. (The National Interest, 08.19.15)
China:
In response to the question, "How greatly do you rate the chances of a real Sino-Russian rapprochement?": It's not in either of their natures, I think. (The National Interest, 08.19.15)
In response to the question, "Is China pushing for a more Sinocentric world or can it be integrated into some sort of Westphalian framework?": That's the open question. It's our task. We're not good at it, because we don't understand their history and culture. I think that their basic thinking is Sinocentric. But it may produce consequences that are global in impact. Therefore, the challenge of China is a much subtler problem than that of the Soviet Union. The Soviet problem was largely strategic. This is a cultural issue: Can two civilizations that do not, at least as yet, think alike come to a coexistence formula that produces world order? (The National Interest, 08.19.15)
In response to interviewer's observation that Russian "clearly would like … a much closer relationship" with China: But partly because we've given them no choice. (The National Interest, 08.19.15)
Ukraine:
Russia's other post-Soviet neighbors:
IV. Miscellaneous
To be updated.
Author
RM Staff
These quotations have been compiled by Russia Matters Project director Simon Saradzhyan, student associate Sarah Vansickle and editor Natasha Yefimova-Trilling.