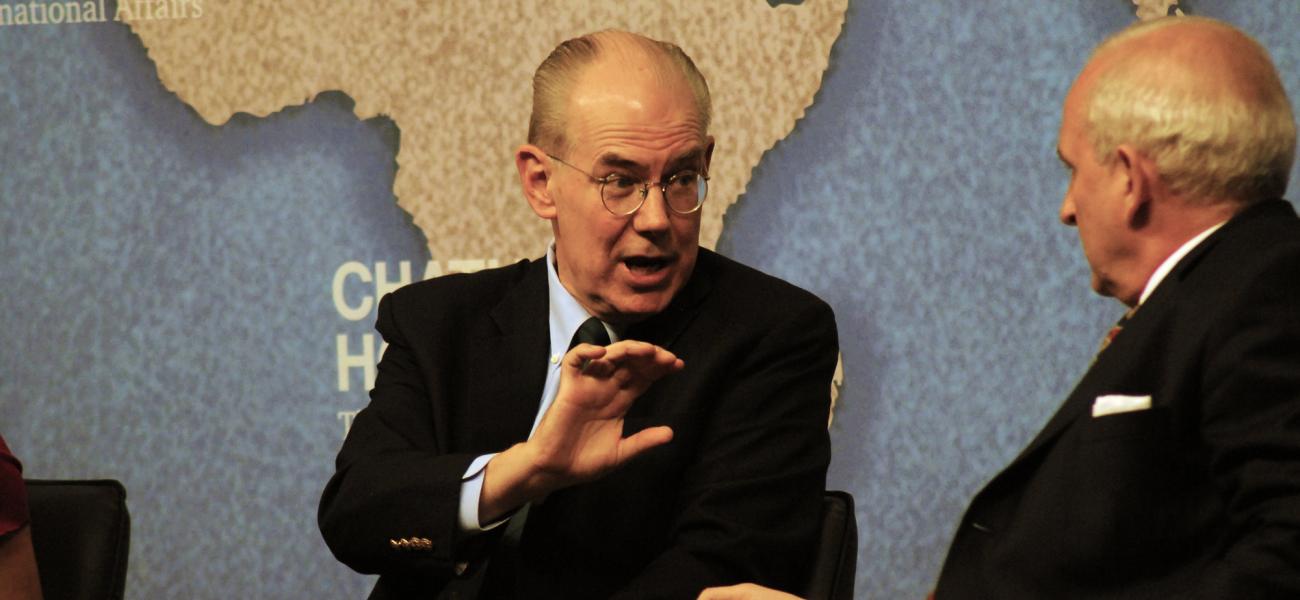 John Mearsheimer on Russia: Insights and Recommendations
September 26, 2019
Thomas Schaffner
This compilation of observations and policy ideas related to Russia by John Mearsheimer is part of Russia Matters' "Competing Views" rubric, where we share prominent American thinkers' takes on issues pertaining to Russia, U.S.-Russian relations and broader U.S. policies affecting Russia.  
John Mearsheimer is a leading American international relations scholar and one of the foremost living proponents of an offensive realist model of international relations. According to Mearsheimer, this model posits that states strive to maximize their power in the world and seek hegemony, at least in a given region, to protect themselves against the intrinsic anarchy of the international system. Mearsheimer is the R. Wendell Harrison Distinguished Service Professor of Political Science and the co-director of the Program on International Security Policy at the University of Chicago. In his most recent book, "The Great Delusion: Liberal Dreams and International Realities" (2018), he argues that American policy based on the idealistic proselytizing of liberal democratic values has clashed with the national-interest-oriented foreign policies of states like Russia. He has published five other books: "Why Leaders Lie: The Truth about Lying in International Politics" (2011), The Israel Lobby and U.S. Foreign Policy (2007), "The Tragedy of Great Power Politics" (2001), "Liddell Hart and the Weight of History" (1988) and "Conventional Deterrence" (1983), as well as major articles on the former Soviet Union, including "Why the Ukraine Crisis Is the West's Fault: The Liberal Delusions That Provoked Putin" and "The Case for a Ukrainian Nuclear Deterrent." He is also a frequent contributor to The National Interest and peer-reviewed journals.
This compilation is meant as a sampling of Prof. Mearsheimer's views. All sections may be updated with new or past statements. The quotes below are divided into categories similar to those in Russia Matters' news and analysis digests, reflecting the most pertinent topic areas for U.S.-Russian relations broadly and for drivers of the two countries' policies toward one another.
Bulleted text that is not italicized, bracketed or in parentheses is a direct quote from Prof. Mearsheimer.
I. U.S. and Russian priorities for the bilateral agenda
Nuclear security and safety:
Political turmoil in a nuclear-armed state could in theory allow terrorists to grab a loose nuclear weapon, but the United States already has detailed plans to deal with that highly unlikely contingency. Terrorists might also try to acquire fissile material and build their own bomb. But that scenario is extremely unlikely as well: there are significant obstacles to getting enough material and even bigger obstacles to building a bomb and then delivering it. More generally, virtually every country has a profound interest in making sure no terrorist group acquires a nuclear weapon, because they cannot be sure they will not be the target of a nuclear attack, either by the terrorists or another country the terrorists strike. Nuclear terrorism, in short, is not a serious threat. And to the extent that we should worry about it, the main remedy is to encourage and help other states to place nuclear materials in highly secure custody. (

The National Interest

, 01.01.14)
North Korea's nuclear and missile programs:
North Korea is not going to give up its nuclear weapons and China will not push North Koreans to do so. The reason is that in international politics, you could never trust anybody because you cannot be certain of what their intentions are.  (

Yonhap News Agency

, 03.20.18)
Iran's nuclear program and related issues:
Obama and his advisers—including the military—see things differently [than Israeli Prime Minister Benjamin Netanyahu]. They do not want Iran to obtain nuclear weapons, but they do not believe a nuclear-armed Iran would pose an existential threat to Israel. After all, Israel has its own nuclear arsenal, and could obliterate Iran if attacked. U.S. intelligence is also confident Tehran has not yet decided to build nuclear weapons. Indeed, U.S. leaders worry that, no matter who does it, an attack would convince Iran it needs its own nuclear deterrent. They are correct. (co-author,

The Financial Times

, 03.05.12)
New Cold War/saber rattling:
One might wonder whether Russia is likely to pose a future challenge to the United States, even if China does not. America's three principal great power rivals from the twentieth century—Germany, Japan, and Russia—are all depopulating and the United States is likely to become increasingly powerful relative to each of them over the next few decades.

("The Great Delusion: Liberal Dreams and International Realities,"

2018)

It seems clear to me that the Trump administration has its gunsights on both China and Russia and will devote an enormous amount of defense resources to dealing with those two countries. Over time, I think this will mean a fundamental change in our foreign policy, and we will end up focusing more on East Asia and less on the greater Middle

East. (Interview with LobLog, 01.23.18)
The fact that we're moving toward a multipolar world, where China and Russia are rival great powers, is cause for great concern... In a unipolar world there is no possibility of great power war—the most dangerous form of war one can imagine—because there is only one great power. (Interview with LobLog, 01.23.18)
Military issues, including NATO-Russia relations:
Missile defense:
PGMs [precision-guided munitions] and missile defense were around when I first started writing about conventional deterrence. Indeed, the first article I ever published was on PGMs and how they affect conventional war. When it comes to weaponry, militaries operate in a very dynamic environment, and the particular constellation of weapons that states have at their disposal at any particular point in time affects the military calculations that underpin deterrence in important ways. What is crucial, however, is how militaries employ the different weapons in their arsenals. Doctrine and strategy matter greatly for both deterrence and war fighting. This has always been the case and always will be. (

Strategic Studies Quarterly

, 10.01.18)
Nuclear arms control:
One might argue that nuclear weapons greatly diminish the importance of land power, either by rendering great power war obsolete or by making the nuclear balance the essential component of military power in a competitive world. There is no question that great power war is less likely in a nuclear world, but great powers still compete for security even under the nuclear shadow.

(

"

The Tragedy of Great Power Politic

s

,"

2001)

Nuclear proliferation does not axiomatically promote peace and can in some cases even cause war. For example, smaller European powers might lack the resources needed to make their nuclear force survivable, and vulnerable nuclear forces would invite a first strike in a crisis. Moreover, widespread proliferation would increase the number of fingers on the nuclear trigger, which in turn would increase the likelihood that nuclear weapons could be fired due to accident, unauthorized use, terrorist seizure or irrational decision making. Nevertheless, nuclear proliferation sometimes promotes peace. Overall, the best formula for maintaining stability in post-Cold War Europe is for all the great powers—including Germany and Ukraine—to have secure nuclear deterrents and for all the minor powers to be non-nuclear. (

Foreign Affairs

, 06.01.93)

Vilifying nuclear weapons is a fashionable sport in the West. Many believe they are a major source of tension between states and that their deterrent value is quite limited. Given these beliefs and the horrible consequences of nuclear war, it is hardly surprising that many people want to rid the world of these weapons. This view of nuclear weapons is simplistic and flies in the face of the inherent logic of nuclear deterrence, as well as the history of the Cold War. In fact, nuclear weapons often diminish international violence, and Ukrainian nuclear weapons would be an effective deterrent against a Russian conventional attack or nuclear blackmail. (

Foreign Affairs

, 06.01.93)
Counterterrorism:
Interfering in countries like Egypt and Syria and turning the world into one big battlefield has significant costs for the United States. The strategic costs are actually not great precisely because the United States is such an extraordinarily secure country. It can pursue foolish policies and still remain the most powerful state on the planet. (This is not to deny that America's interventionist policies are the main cause of its terrorism problem. Nevertheless, terrorism is a minor threat, which is why Washington is free to continue pursuing the policies that helped cause the problem in the first place.) (The National Interest, 01.01.14) 
Am I overlooking the obvious threat that strikes fear into the hearts of so many Americans, which is terrorism? Not at all. Sure, the United States has a terrorism problem. But it is a minor threat. There is no question we fell victim to a spectacular attack on Sept. 11, but it did not cripple the United States in any meaningful way and another attack of that magnitude is highly unlikely in the foreseeable future. Indeed, there has not been a single instance over the past 12 years of a terrorist organization exploding a primitive bomb on American soil, much less striking a major blow. Terrorism—most of it arising from domestic groups—was a much bigger problem in the United States during the 1970s than it has been since the Twin Towers were toppled. (The National Interest, 01.01.14)
Conflict in Syria:
The Syrian government is not likely to fall … because Russia, Iran and Hezbollah have directly intervened to keep [Bashar al-]Assad in power. The civil war will probably drag on for several years, wreaking more havoc and destruction. ("

The Great Delusion: Liberal Dreams and International Realities

,"

2018)

In Syria, the United States should let Russia take the lead. A Syria stabilized under Assad's control, or divided into competing ministates, would pose little danger to U.S. interests. Both Democratic and Republican presidents have a rich history of working with the Assad regime, and a divided and weak Syria would not threaten the regional balance of power. If the civil war continues, it will be largely Moscow's problem, although Washington should be willing to help broker a political settlement. (

Foreign Affairs

, 08.01.16

)

Given these significant costs, and given that the United States has no vital interests at stake in Egypt and Syria, let alone the capacity for fixing the problems afflicting those countries, it should adopt a hands-off policy toward them. American leaders would do well to honor the principle of self-determination when dealing with Cairo and Damascus, and with many other countries around the world as well.

(The National Interest, 02.01.14)
Cyber security:
It seems likely … that two large armies facing off against each other in a crisis will be heavily dependent on communications networks that are vulnerable to cyberattacks. Does this create a situation where the side that strikes first wins because it effectively paralyzes the other side's armies, thus weakening conventional deterrence? Or does it create a situation where it does not matter who strikes first, because the victim will retain the capability to wreck the attacker's command and control? Thus, there is no difference between first strike and second strike, which strengthens deterrence. … [Q]uestions of this sort are of central importance for understanding conventional deterrence in the contemporary world. (

Strategic Studies Quarterly

, 10.01.18)
Elections interference:
Americans abhor the idea of foreign interference in their politics, as the huge controversy about Russian involvement in the 2016 U.S. presidential election makes clear. When they find themselves the target nation, Americans become deeply committed to the principle of self-determination. Not surprisingly, so do the Russians.

("

The Great Delusion: Liberal Dreams and International Realities

,"

2018)
Energy exports:
Bilateral economic ties:
Other bilateral issues:
II. Russia's domestic news
Politics, economy and energy:
We came to find out that not everyone in the world likes democracy. You and I may think that it is the best system, but the fact is that there are all sorts of other people in the world, especially if you go to a place like Russia today, who would prefer an alternative system, and in this case, it is soft authoritarianism. (Interview with "Between the Lines", 06.20.19)

Russia's strong preference for order over rights and democracy today is hardly surprising given what happened there in the 1990s, when its attempt to embrace Western style democracy failed miserably, creating corruption and disorder on a grand scale. Since the early 2000s, Russia has become steadily more authoritarian, largely restoring order in the process. A March 2014 poll conducted by the All Russian Public Opinion Center showed that "71 percent of Russians say they are ready to sacrifice civil freedoms to maintain stability, order and personal well-being." ("

The Great Delusion: Liberal Dreams and International Realities

,"

2018)

[The failure of sanctions as a tool of coercion is caused

by] nationalism, which invariably causes the people in the targeted state to rally around their leaders, not to revolt against them. Britain and the United States discovered this in World War II, when their bombing campaigns against German and Japanese cities failed to spur uprisings by the target populations.  It is no surprise that the Russian people have responded to the West's sanctions on Russia over the Ukraine crisis by rallying around Vladimir Putin. ("

The Great Delusion: Liberal Dreams and International Realities

,"

2018)
Defense and aerospace:
Security, law-enforcement and justice:
Russian history:
III. Foreign affairs, trade and investment
Russia's general foreign policy and relations with "far abroad" countries:
China:
On the possibility of a Sino-Russian alliance

: The Russians can ally themselves with China, and given the state of relations between Russia and China today, one might think that that's where we're headed... Russia can ally itself with the United States, and join the balancing coalition that we're already beginning to put together... Russia can try to remain neutral just to sit on the sidelines. My view is that with the passage of time, assuming that China continues to grow economically, it will become a serious enough threat to the Russians that the Russians and Americans will find themselves allies. (Interview with Valdai Discussion Club

, 01.18.17)

[I]f China continues to grow economically, it will attempt to dominate Asia the way the United States dominates the Western Hemisphere. The United States, however, will go to enormous lengths to prevent China from achieving regional hegemony. Most of Beijing's neighbors, including India, Japan, Singapore, South Korea, Russia and Vietnam, will join with the United States to contain Chinese power. The result will be an intense security competition with considerable potential for war. In short, China's rise is unlikely to be tranquil. ("The Tragedy of Great Power Politics," 2014 edition)
Ukraine:
Russia's other post-Soviet neighbors:
Washington vigorously promoted so called color revolutions in Georgia (Rose Revolution), Ukraine (Orange Revolution) and elsewhere, in the hope of turning them into liberal democracies. Those countries, of course, are of great strategic importance to Moscow because they share borders with Russia. The United States has also hinted that it would like to encourage a color revolution in Russia itself. ("

The Great Delusion: Liberal Dreams and International Realities

,"

2018)

Any doubts about Russia's determination to prevent Ukraine and Georgia from joining NATO should have been dispelled by the Russia-Georgia war in August 2008. Georgian President Mikheil Saakashvili, who was deeply committed to bringing his country into NATO, decided after the Budapest summit to reincorporate two separatist regions, Abkhazia and South Ossetia, which together make up about 20 percent of Georgia's territory. NATO membership required that these outstanding territorial disputes be resolved, but Putin was not about to let that happen. He preferred to keep Georgia weak and divided and decided to humiliate Saakashvili. ("

The Great Delusion: Liberal Dreams and International Realities

," 2018)

See also "Other bilateral issues" above.
Author
Thomas Schaffner
Thomas Schaffner is a student web assistant with Russia Matters and a graduate of American University.