In the Thick of It
A blog on the U.S.-Russia relationship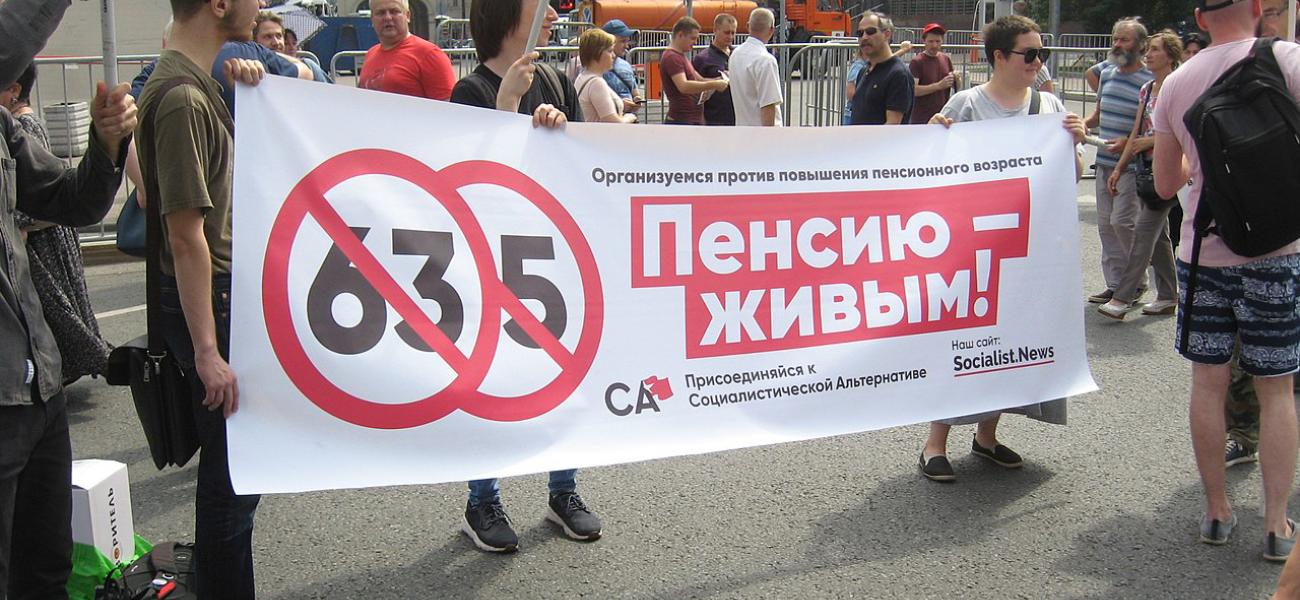 Will Pension Protests 'Take Down' Putin?
August 02, 2018
Simon Saradzhyan
This summer's polls have not been kind to Vladimir Putin and for good reason. The Russian authorities' drive to raise the country's pension age has sparked a public backlash. Some analysts have warned of "internal rupture," while one headline even called the protests a "crisis that could take down Putin's presidency." I doubt the latter; Putin has survived worse. But if opposition to the measures grows more intense, the Russian leader could be expected to offer concessions (if only temporary) rather than double-down and risk a further surge in protest against his rule. 
A state-owned pollster, the Russian Public Opinion Research Center (VTsIOM), published a poll on July 22 that showed Russians' confidence in Putin had fallen to 38 percent, the lowest level since December 2011. A poll published the same day by the Public Opinion Foundation—which is not state-run, but which the Kremlin regularly relies on for gauging public sentiment—showed that fewer than half of Russians would vote for Putin if a presidential election were held now, compared to more than 60 percent in October 2017-May 2018. An even lower share of Russians approve of the government's performance, according to Russia's sole truly independent national pollster, the Levada Center—only 37 percent as of July 2018 compared to 47 percent in April and 49 percent a year ago. The Russian parliament's approval rating is a bit lower (33 percent in July and 41 percent in April). Moreover, some 40 percent of Russians thought their country was headed in the wrong direction as of July compared to 29 percent one year ago, according to Levada.
While it is natural for an incumbent's ratings to creep down after re-election, which is preceded by massive promotional efforts during the campaign period, the decline in Putin's popularity seems too steep for that. (Recall that the Kremlin's reported target was to have Putin win at least 70 percent of the vote in March, and he did). The most immediate driver behind the summer slump in Putin's popularity is the authorities' plan to increase the retirement age from 60 to 65 for men and from 55 to 63 for women in hopes of raising money needed to reach the ambitious economic, social and demographic targets that Putin set in May. As many as 90 percent of Russians disapprove of the increase, according to Levada. Moreover, the share of Russians who are willing to participate in political protests reached 23 percent in July—the highest level since such measurements began in August 2009, according to the pollster. Some 37 percent of Levada's July 2018 poll respondents specifically said they were willing to protest the increase in pension age and tens of thousands are doing so already.
The protests do pose a risk for the Kremlin, but I very much doubt they will topple Russia's president. Here are the reasons why.
First, while Russians' confidence in Putin has dropped to 38 percent, his overall approval rating remains above 60 percent. According to Levada, 67 percent of Russians approved of Putin's work as president in July 2018, which is 12 percentage points lower than in May, but much higher than his fellow strongman Erdogan's pre-election approval rating of 49.8 percent, or the ratings of his democratic peers, such as Angela Merkel's 48 percent, Donald Trump's 45 percent and Emmanuel Macron's 36.3 percent.
Second, as with other unpopular reforms, Putin has been trying to make sure he is not personally seen as fathering this idea and that it can be rolled back if protests rise to a critical level. Putin had Prime Minister Dmitry Medvedev's government draft and submit the bill on the pension age to the State Duma on June 19. The Duma then passed it in a first reading on July 19 only to see protests erupt across Russia and the popularity of the majority United Russia party sink to 37.1 percent, again the lowest since 2011. Seeing the backlash, Putin broke his silence on the issue on July 20, assuring the Russian public that the decision to raise the pension age is not final. My guess is, should the protests surge to a level that could threaten Putin's grip on power, he can either soften the bill, perhaps by reducing the increase for women to 60 during the Duma's second reading this fall, or have lawmakers put it on the back burner indefinitely.
So far the protests have not reached the scale of 2005, when tens of thousands of pensioners rallied across Russia, blocking highways, to protest reforms to the social-welfare system, or of fall 2011/winter 2012, when hundreds of thousands protested Putin's pending return to the Kremlin and alleged fraud in parliamentary elections—a wave of discontent that some Russia watchers prematurely described as a "Snow Revolution." In both those cases Putin eventually offered concessions, however small, raising pensions and suggesting more leeway for small opposition parties. We are likely to see the same tactic again: His is a semi-authoritarian regime, but not without some sensitivity to public opinion, and Putin has demonstrated in the past that he is adaptive to significant changes in that opinion.
However, while Russians' current anger over the pension reform is unlikely to topple Putin, he still faces longer-term challenges that both he and his successors will have to grapple with. On Russia's current trajectory its share of the global population will decline by 31 percent by 2050, while its share in global economic output will drop by 23 percent, according to the U.N. and PricewaterhouseCoopers, respectively. Though all long-term forecasts should be taken with a grain of salt, Russian leaders will need to figure out how to implement structural reforms to cope with these challenges without alienating the Russian public in dangerous ways.
Photo by Andrew.Filin shared under a CC0 1.0 license. 
The opinions expressed in this blog post are solely those of the author.