In the Thick of It
A blog on the U.S.-Russia relationship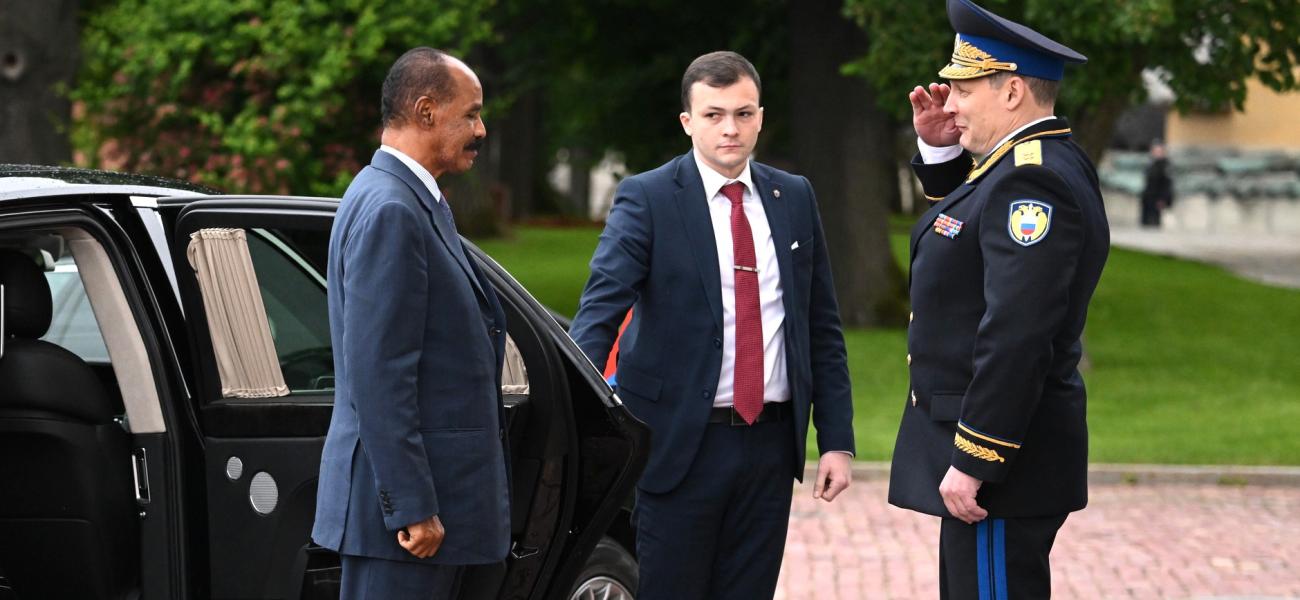 Uptick in Russian-African Diplomacy Moscow's Evolving Geopolitical Plans
June 02, 2023
Simon Saradzhyan
Vladimir Putin's hosting of Eritrean President Isaias Afwerki in Moscow and Sergei Lavrov's trip to Africa this week are the latest in a flurry of recent initiatives aimed at advancing Russian interests vis-à-vis the continent. In the short term, these diplomatic efforts aim to foil the ongoing campaign by Western powers to isolate Russia over its war against Ukraine. In the medium to long term, they may enable Russia to position itself to benefit from the continent's rapid growth forecast.
Lavrov's trip — his third to Africa this year alone,— has included stops in Kenya, Burundi, Mozambique and South Africa, where he is participating in a gathering of BRICS foreign ministers June 1-2. And Russia's veteran foreign minister will likely be back on the continent at least once more this summer, provided that Putin attends the Aug. 22-24 BRICS summit in Johannesburg in person. (South African authorities have floated the possibility that they would grant the Russian leader immunity from an arrest warrant issued recently by the International Criminal Court — whose jurisdiction Johannesburg recognizes — though they may alternatively end up asking either China or Mozambique to host the summit in their stead.) Regardless of whether or where the BRICS summit takes place, both Putin and Lavrov can also be expected to meet their African counterparts again when they host the second Russia-Africa summit in St. Petersburg on July 26-29.
This spate of high-level diplomatic gatherings demonstrates that the Russian leadership remains keen to implement a strategy of expansion, rather than merely sustainment, of its relations with the rising Africa, which already accounts for more than 15% of the world's population and 5.1% of global GDP (measured in PPP).
So far, the economic dimensions of that strategy have been underwhelming. The volume of Russia's trade with Africa grew from $11.1 billion in 2015 to $17.7 billion in 2021 (see Figure 1), but Russia and Africa are still far from being each other's largest trading partners. In fact, in 2020 Africa's trade with Russia accounted for only 2% of the continent's total trade volume, while a recent estimate put Africa's share in Russian exports and imports at merely 3% and 1%, respectively. The Kremlin is well aware of Russia's diminutive share in African trade and is working to position the country to benefit from the further growth that Africa is expected to undergo over the next two decades. Africa's GDP (measured in PPP) is predicted to surge from less than $5 trillion circa 2023 to almost $15 trillion circa 2050, while the population of sub-Saharan Africa alone is expected to double by 2050.
In addition to hopes of reaping the economic and industrial benefits of Africa's projected growth, Russia is seeking geopolitical rewards on the continent, whose "establishment as a distinctive and influential center of world development" it supports, per its latest foreign policy doctrine. As the United States and its allies scramble to isolate Russia over its ongoing war against Ukraine, Moscow has tried to counter those efforts through burgeoning alliances in Africa. The success of this diplomatic push isn't yet entirely clear, but Moscow certainly has room for maneuver as demonstrated by African nations' voting patterns at the U.N. For instance, when the U.N. General Assembly voted on Nov. 15, 2022, on a resolution "related to remedies/reparations for Russian aggression against Ukraine," 15 African nations cast votes in favor, but 38 did not (5 voted against, 26 abstained and 7 didn't vote at all, see Table 2). 
In addition to economic ties with African nations, Russia is also busy developing military and security ties throughout the continent. Moscow's efforts in that domain have paid off, literally: Russia's defense industry, which is one of few high-tech sectors in Russia's energy-dominated economy, was Africa's main arms supplier between 2018 and 2022, accounting for 40% of African imports of major arms during that period, according to SIPRI. In advancing Russia's military and security, the Kremlin delegates part of the job to Russian private military companies (PMCs). The largest of these companies, the Wagner Group, has helped Russia-friendly African regimes tackle security threats by providing fighters and expertise in exchange for opportunities to generate profits in these countries, as well as to reportedly funnel weapons for its combat operations in Ukraine.[1]
The Russian-African relationship is not a one-way street, of course: African leaders are seeking opportunities to advance their own economic, defense and security interests as well. One such project is an African peace initiative that aims to bring an end to the Russian-Ukrainian war, in a move that at least some of its African participants hope will ease or end Western constraints on Russia's ability to export fertilizers and staple food products to Africa while also expanding Ukraine's grain exports via the Black Sea. (Russia and Ukraine jointly accounted for 44% of Africa's wheat imports in 2018-2020.) As part of this initiative, leaders from Egypt, Senegal, the Republic of Congo, South Africa, Zambia and Uganda are reportedly planning to meet with Putin and Ukraine's Volodymyr Zelensky as early this month.  Both Putin and Zelensky have apparently agreed to meet with them, but the initiative is unlikely to end the war given Africa's lack of leverage with either Russia or Ukraine, which, at least for now, appear focused on resolving their dispute over Russia's aggression on the battlefield rather than at the negotiating table.
[1] Wagner's African operations are currently most active in the Central African Republic, Libya, Mali and Sudan, according to the Council on Foreign Relations. Wagner was expected to reap profits of nearly $1 billion in CAR alone following the expansion of its mining operations there in 2022, Politico reported, citing a Western official and a leaked U.S. diplomatic cable.
Table 1.

Russia's largest trading partners in Africa, in 2021 (USD, billions) 
Table 2. How African nations have voted on Ukraine-related UNGA resolutions since the launch of Russia's invasion of Ukraine on Feb. 24, 2022
The opinions expressed herein are those of the individuals quoted, directly or indirectly, and do not necessarily reflect RM editorial views.
Photo shared by the Russian presidential press service (Kremlin.ru) under a CC BY 4.0 license. Ingrid Burke Friedman and Russia Matters student associate Mikael Pir-Budagyan contributed research for this post.