In the Thick of It
A blog on the U.S.-Russia relationship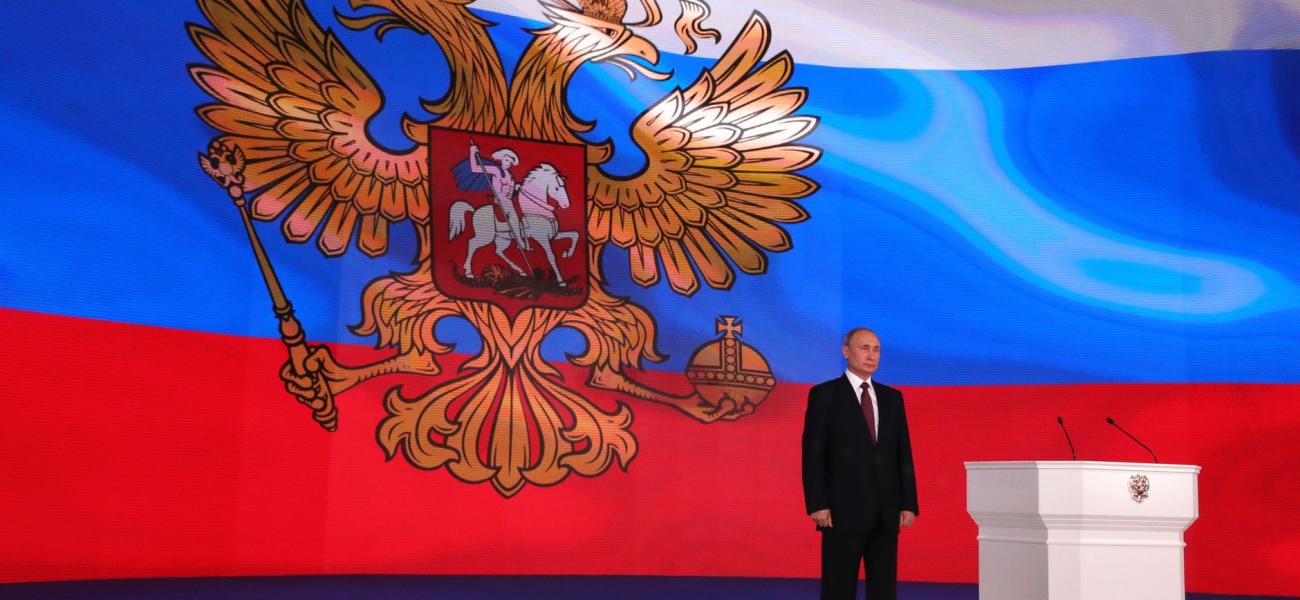 Putin's Saber-Rattling Bodes Ill for Strategic Stability
March 01, 2018
Simon Saradzhyan
Of all the annual addresses Vladimir Putin has delivered to the Russian Federal Assembly since becoming president of Russia in Dec. 1999, his most recent speech, on March 1, has proven to be the most militarized. Although the Russian leader began by focusing on the need to modernize the Russian economy and reduce poverty, most of the speech and accompanying videos were devoted to guns rather than butter. While the parliamentarians warmly welcomed Putin's showcasing of Russia's new military might—offering frequent applause—the rest of the world felt a distinct Cold War chill. While his warning that Russia would respond to a nuclear attack on an ally with a nuclear counter-strike is consistent with the language of Russia's current military doctrine, many of his other statements broke new ground in post-Soviet Russia's belligerency toward the U.S. and its allies. His tedious listing of Russia's new and not-so-new R&D in the strategic attack systems domain were reminiscent of Nikita Khrushchev's claim that Soviet Russia was producing rockets like sausages, which the Soviet leader made at the height of the Cold War. Putin's repeated emphasis on the superiority of the newly-developed systems over those of competitors comes as no surprise. The Russian leader—who once remarked to former President George W. Bush that his dog "was bigger, stronger and faster than" his Scottish terrier Barney—is a born competitor. So it was only a matter of time before Putin responded to President Donald Trump's touting of U.S. military might in what feminists might describe as a missile envy contest.
While it may be reactive, Putin's loudest saber-rattling thus far is also clearly designed to achieve several objectives. One is to stoke the patriotic mood in Russia to ensure more people show up and vote for Putin in the March 18 elections, with the goal of meeting the reported target of 70 percent turnout and 70 percent of the vote for the incumbent. Prioritizing defense spending has also been explained by some Russian insiders as a way for the Kremlin to help increase GDP. More importantly, the bellicose speech may be intended to not only deter the West from interfering in Russia's affairs before and after the March 18 elections, but also to respond to Trump's planned increases in military procurement and the recent release of a batch of strategic documents that shift the U.S. focus from counterterrorism to countering Russia and China. It may be that this saber-rattling is a ploy to convince the U.S. to enter substantive negotiations on various aspects of strategic stability between Moscow and Washington, which have now gone the longest period of time without substantive arms control talks since the height of the Cold War. If this is the case, however, I doubt that the U.S. would respond by elevating a half-hearted dialogue on strategic stability into full-blown arms control negotiations. If anything, Putin's belligerence would only provide extra ammunition to those pushing for sharper increases in the scale and scope of strategic systems the Pentagon plans to procure. Putin's speech confirms that, after having seen its attempt last year to reset U.S.-Russian relations fail, the Kremlin is now settling in for a period of protracted confrontation with the U.S.—and that's bad news not only for the two nuclear superpowers, but for international stability as a whole.
What follows below are selected points from Putin's nearly two-hour address, compiled by RM staff.
Highlights of Vladimir Putin's March 1 Address to the Russian Parliament
I. U.S. and Russian priorities for the bilateral agenda
Nuclear security and safety:
Vladimir Putin cited the fact that the U.S.-Russian Cooperative Threat Reduction programs enabled U.S. personnel to visit Russia's nuclear enterprises in the 1990s as an example of how weak Russia was at the time. "There was a way underway in (Russia's North) Caucasus, while American inspectors were sitting at our leading uranium-enrichment enterprises," he said in his address to the parliament. (Russia Matters, 03.01.18)
Sabre-rattling/New Cold War:
Putin said Moscow would regard a nuclear attack on its allies as a nuclear attack on Russia itself and would immediately respond. This statement is consistent with the language of Russia's current military doctrine, which says the Russian Federation "reserves the right" to use nuclear arms if either Russia or its allies are subjected to aggression with nuclear weapons or other weapons of mass destruction.  He also singled out a new U.S. nuclear-strategy document as threatening to lower the threshold for using the weapons, and he delivered a stern warning to the U.S. that Russia has a series of new high-technology nuclear weapons that he said can overcome any defenses. "No one has managed to restrain Russia," Putin said in the nearly two-hour address, which he illustrated with video clips of the new arms that he said were developed since the collapse of the Soviet Union. The Russian president devoted nearly thirty minutes of his two-hour long address to discussing and showing off Russia's newly improved military capabilities. (Bloomberg, 03.01.18, The Moscow Times, Bloomberg, 03.01.18, Kremlin.ru, 03.01.18) Among the systems developed since the collapse of the Soviet Union were:

The Sarmat multiple-warhead ICBM, which will be equipped with a broad range of powerful nuclear warheads, including hypersonic warheads. He claimed that Sarmat practically had no range restrictions and it could attack targets both via the North and South Poles. Putin said the liquid-fuel missile is being mass-produced. (Russia Matters, 03.01.18)

A miniature nuclear propulsion unit that can be installed on Russia's air-to-surface Kh-101 missiles that can carry nuclear warheads. He claimed that installation of that unit turns the Kh-101 "into a low-flying stealth missile carrying a nuclear warhead, with almost an unlimited range, unpredictable trajectory and ability to bypass interception boundaries." Putin said the nuclear-powered missile, which has not been previously reported in open sources, was tested in 2017 and that can bypass existing missile defenses, rendering them "useless." (Russia Matters, 03.01.18)

A high-speed underwater drone that was tested in 2017 and that has "intercontinental" range and is capable of carrying a nuclear warhead that could target both aircraft carriers and coastal facilities. He said it has "very big" operational depth and a speed that is at least 10 times faster than any other vessel, which would make it immune to enemy intercept. A computer video showed the drone being launched by a submarine, cruising over the seabed, hitting an aircraft carrier and also exploding near the shore. Russia has been previously reported to have been working on a Status-6 underwater nuclear attack drone.  (AP, 01.03.18, Bloomberg, 03.01.18, Russia Matters, 03.01.18)

The Avangard strategic missile system with fundamentally new combat equipment—a gliding wing unit, which has also been successfully tested. This system, development of which has been previously reported, is capable of intercontinental flight at supersonic speeds in excess of Mach 20, according to Putin. "It flies to its target like a meteorite, like a ball of fire," he said. (Russia Matters, 03.01.18)

A high-precision hypersonic aircraft missile system that can fly at 10 times the speed of sound and that can maneuver during all phases of its flight trajectory, Putin said. The Kinzhal (Dagger) system is carried by Soviet-designed MiG-31 interceptors and it has a range of more than 2,000 kilometers, according to chief of Russia's aerospace forces, Sergei Surovikin. (Bloomberg, 03.01.18, Financial Times, 03.01.18, Russia Matters, 03.01.18)
A new laser weapon was shown on video preparing for operation, and Putin said Russian troops have been "armed with laser weapons" since 2017. (Bloomberg, 03.01.18, Russia Matters, 03.01.18)
Missile defense:
"I hope what was said today will sober any potential aggressor or unfriendly gestures towards Russia, like the deployment of an ABM system and the development of NATO infrastructure close to our borders. That should be seen from the military point of view as inefficient, financially costly and simply useless. Nobody listened to us before. Listen to us now," he said. (Bloomberg, 03.01.18)
Other bilateral issues:
"We are interested in normal and constructive cooperation with the United States and the European Union. We hope that common sense will prevail and our partners will opt for honest and equal work together," Putin said. (Kremlin.ru, 03.01.18)
II. Russia's domestic news
Politics, economy and energy:
Defense and Aerospace:
"The operation in Syria has proved the increased capabilities of the Russian Armed Forces. In recent years, a great deal has been done to improve the Army and the Navy the Armed Forces now have 3.7 times more modern weapons. Over 300 new units of equipment were put into service," Putin said. (Kremlin.ru, 03.01.18)

No significant developments.
Security, law-enforcement and justice:
No significant developments.
III. Foreign affairs, trade and investment
Russia's general foreign policy and relations with "far abroad" countries:
"Our policies will never be based on claims to exceptionalism. We protect our interests and respect the interests of other countries. We observe international law and believe in the inviolable central role of the UN. These are the principles and approaches that allow us to build strong, friendly and equal relations with the absolute majority of countries. Our comprehensive strategic partnership with the People's Republic of China is one example… We will also continue to work on a greater Eurasian partnership," Putin said.  (Kremlin.ru, 03.01.18)
Photo credit: Russian Presidential Press Office
The opinions expressed in this blog post are solely those of the author.