In the Thick of It
A blog on the U.S.-Russia relationship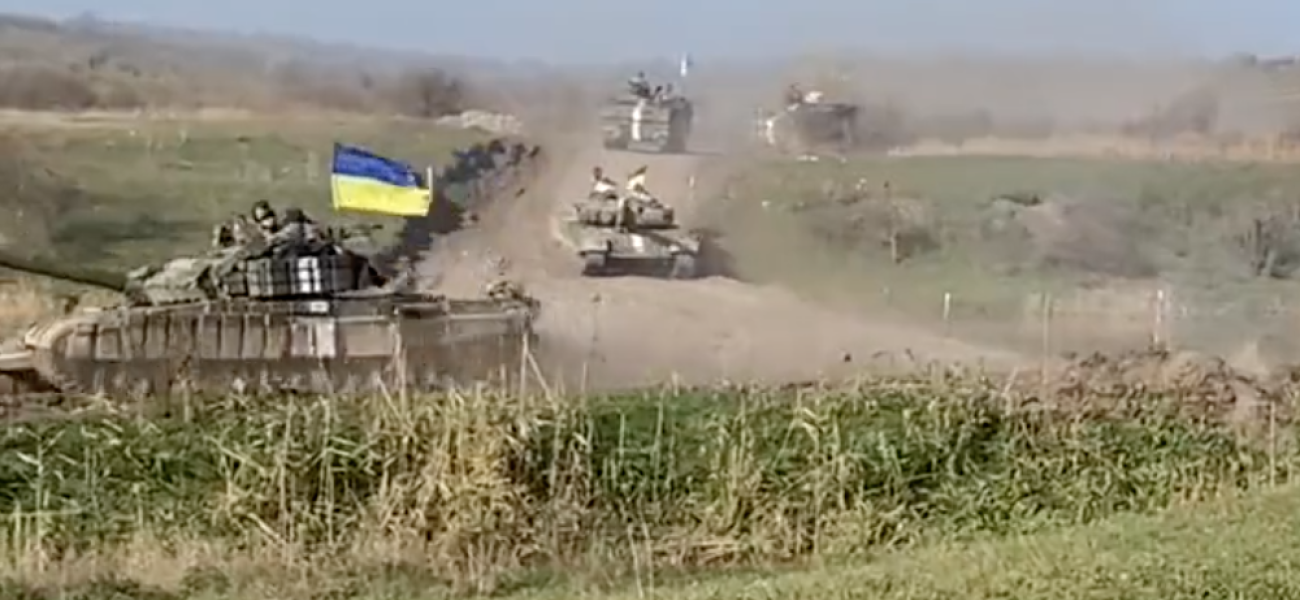 Can Weather Predict Operational Tempo in Ukraine This Winter?
September 29, 2023
Kate Davidson, Angelina Flood and Simon Saradzhyan
Speaking to BBC on Sept. 10, 2023, America's outgoing chairman of the Joint Chiefs of Staff (JCS) Mark Milley predicted that the weather will continue to favor fighting in Ukraine until about Oct. 10-25. "There's still a reasonable amount of time, probably about 30 to 45 days' worth of fighting weather left, so the Ukrainians aren't done," the general said. Milley, whose JCS role ends Oct. 1, could have a plausible weather forecast we do not have access to. Or he could be speaking from the experience of watching (and advising on one side) the Russian and Ukrainian forces as they battled each other last fall and winter. If so, does this very recent history (October 2022-February 2023) support the proposition that "Generals Mud and Frost" may force the Ukrainian and Russian forces to scale down combat and enter a seasonal stalemate? Here is what we have learned.
We have conducted measurements of changes in territorial control using data collected by Kate Davidson as part of her research for the Belfer Russia-Ukraine War Task Force. These measurements indicate no significant territorial change during Winter 2022.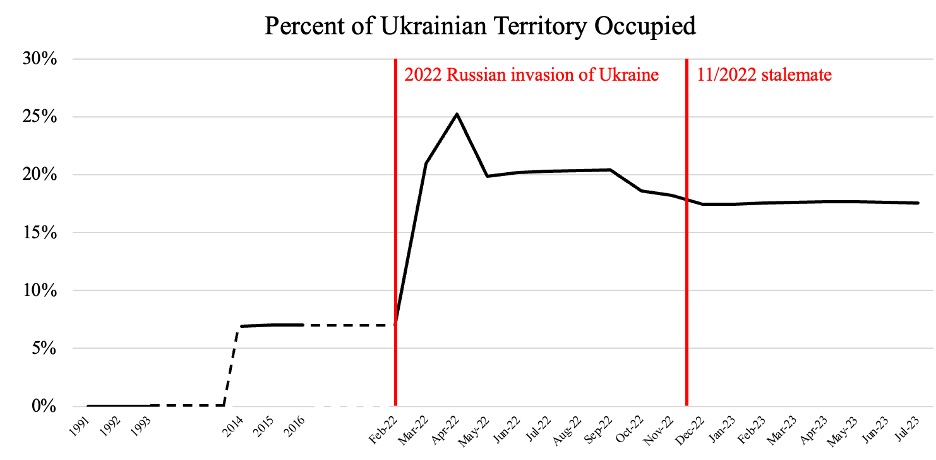 In addition, we have compared monthly time lapse maps from the Institute for the Study of War (ISW). These comparisons indicate that the volume of land net gains subsided after Ukraine completed recapturing large swaths of territory in mid-November 2022, including territories in the south and east and lands from which Russian troops withdrew preemptively. However, the period of December 2022-February 2023 still saw several hundreds of square kilometers change hands. Russia made a net gain of approximately +113 km2 in December 2022, 248 km2 in January 2023 and 289 km2 in February 2023, adding up to 650 km2 (which is an area that is larger than that of Makiivka, which is Ukraine's second largest city by area, occupying 425 km2  according to one Russian language resource). These changes can qualify as a relative stalemate, as previous, successful Russian and Ukrainian offensives captured thousands of square kilometers monthly in comparison.
We have also obtained data from ISW's staff, who kindly agreed to provide it. Our analysis of that data indicates that the period following Ukraine's recapture of large swaths of territories in mid-November was followed by a small gain by Russia, in what could be described as a stalemate compared to November 2022.1
We have also analyzed data from the Armed Conflict Location & Event Data Project, which indicates a significant reduction in the frequency of instances when territories changed hands in the winter of 2022-2023 after the withdrawal of Russian forces from Kherson was completed on Nov. 11, 2022. According to the ACLED, the daily rate of events during which each side's forces overtook territory declined from 2.3 events to 0.54 events following completion of that withdrawal. From Nov. 12, 2022, to March 1, 2023, a period of 109 days, there was a total of 59 events during which either side's forces overtook territory, so 0.54 events per day. In comparison, in the preceding 109 days (July 25, 2022-Nov. 11, 2022), there were 251 such events, so 2.3 events per day. Thus, the daily rate of events during which each side's forces overtook territory declined, in what can be described as a stalemate.
Moving beyond measurements of territorial control, we have also explored the rate of artillery fire and measured casualties in winter 2022. Both Ukrainian and U.S. officials estimated artillery fire peaked in November 2022 and dropped over 50% by January 2023. As for the fatality rate, our measurements of ACLED data on Ukraine through Sept. 22, 2023, indicate that there was a significant drop after Ukraine liberated Kherson in mid-November 2022. The reported daily fatality rate dropped about 30% during periods of territorial stalemate, compared to during Russia's and Ukraine's 2022 offensives.

The five metrics analyzed above—the percent of Ukraine's territory occupied, monthly change in territorial control, number of daily territorial change reports, fatality rate and artillery fire—support the proposition that there was a relative stalemate in winter of 2022.
However, the metrics also indicate that the stalemate continued through spring and summer, despite the improved weather. Thus, weather doesn't necessarily dictate when forces are done with active combat operations. In fact, some of the past major combat developments in Ukraine occurred during the relatively cold and rainy seasons of fall and winter. For instance,  the Debaltseve cauldron occurred in January-February 2015 and the recapture of Kupyansk occurred in September 2022. In addition, offensive operations in the Zaporizhzhia region, where Ukraine claims to have breached Russia's main defensive line earlier this month, are less affected by rainy periods because the sandy, well-aerated soil in that southern region dries quickly in contrast to the chernozem in the north.
As important, territorial stalemate doesn't necessarily mean the sides are fighting less intensely. Russians spent much of last winter trying to fulfill Putin's wish that they seize Bakhmut in the Donetsk region (even though the control of the town was not a game-changer) and suffering casualties. Though the fatality rate decreased somewhat, it remained the same order of magnitude, a sign that the intensity of fighting did not subside significantly even if a territorial stalemate had set in.
If anything, the dynamics of hostilities in Ukraine indicate that multiple factors, not just weather forecasts, need to be factored in when predicting when the opposing forces will be "done" with active combat operations.
Footnotes
ISW's own assessment of the events of winter-spring 2023 is that there was no stalemate and that both forces engaged in active combat during that period.
Photo is a screenshot of Ukrainian tanks in Kherson from a Ukrainian Defense Ministry video, Nov. 11, 2022, shared in the public domain.