In the Thick of It
A blog on the U.S.-Russia relationship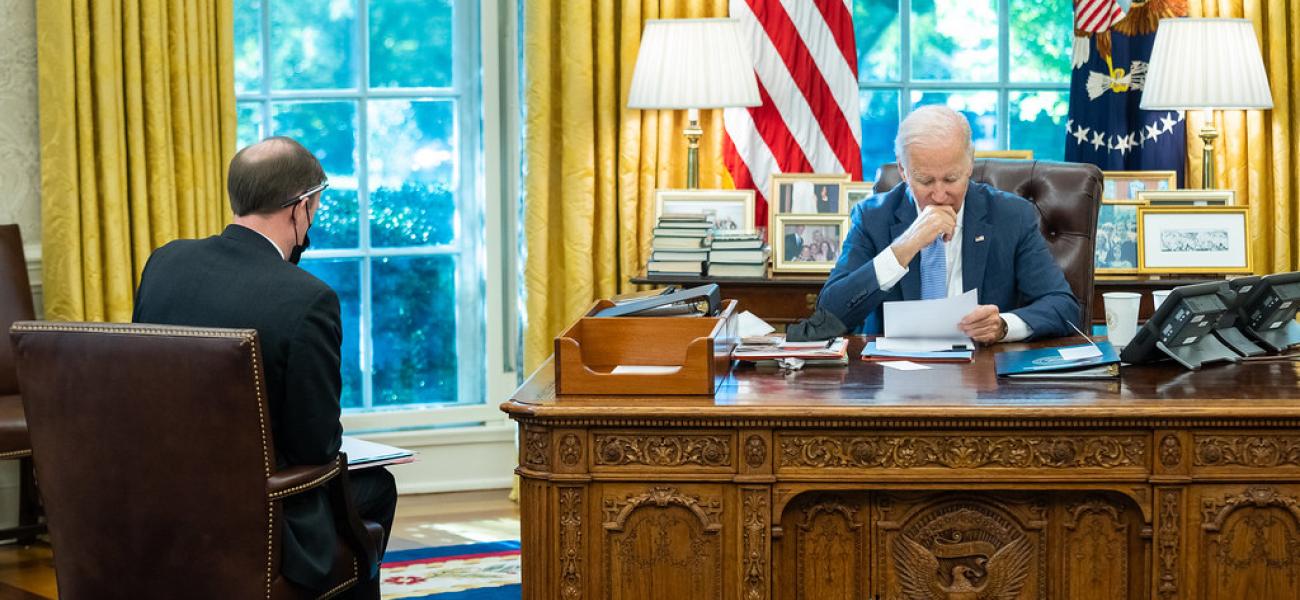 Biden-Putin Chat Buoys Hopes for Easing US-Russian Tensions This Month
January 05, 2022
RM Staff
The Dec. 30 phone conversation between presidents Joe Biden and Vladimir Putin, the second in less than a month, produced no major breakthroughs, at least judging by the information publicly available in its immediate wake. But it did preserve hope that of three upcoming dialogues on Russia's demands for security guarantees—U.S.-Russian, NATO-Russian and intra-OSCE, set to begin in mid-January—at least the U.S.-Russian talks may eventually produce enough compromises to ease the dangerously high tensions between the two nuclear superpowers.
From what we know about the 50-minute conversation, which Putin initiated, we can deduce that the two leaders may have tried to narrow down what theorists of negotiations would describe as each other's BATNAs—best alternatives to negotiated agreements. First, according to Putin foreign policy aide Yuri Ushakov's description of the negotiations as reported by Russia's Kommersant daily, Biden told Putin that large-scale sanctions would be imposed on Russia if the Kremlin continued to escalate1 along the Russia-Ukraine border. Such a conditionality would mean the West could sanction Russia severely even if no (more) Russian troops cross into Ukraine. If that is indeed what Biden said or implied, it could explain why Putin, upon hearing him, made a counter-warning to narrow Biden's BATNA in response: Putin reportedly told Biden that if such large-scale sanctions were imposed that might lead to a full rupture of Russian-U.S. relations. This would basically entail abandoning many, if not most, of the remaining written and unwritten rules in the bilateral competition, at least on the Russian side. (As far as we can recall, Georgia is the only country with which Russia's diplomatic relations remain ruptured, but that rupture was initiated by Georgia and is not complete: The two continue to trade).
It should be noted that neither Biden's comments about the conversation in the following days nor the brief summary presented by his spokesperson Jen Psaki right after the call made any mention of escalation along the border as a specific trigger of sanctions. Rather, Biden told reporters on Dec. 31 that he "made it clear" that Russia "cannot invade Ukraine" without incurring "severe sanctions"; and on Jan. 2 he told Ukraine's president that the U.S. and its allies will "respond decisively" if Russia invades. Psaki likewise described Biden as warning Putin that "the United States and its allies and partners will respond decisively if Russia further invades Ukraine."  The absence of a public U.S. ultimatum about pulling Russian troops away from the Ukrainian border makes sanctions seem less likely in the absence of overt or covert military intervention by Russia into Ukraine. This preserves hope for U.S./West-Russian de-escalation, in contrast to a conditioning of new sanctions on continued troop presence or build-up along the border.
It should also be noted that U.S. and Russian officials have differed in their framing of Biden's statement allaying Russia's concerns that U.S. attack systems may appear Ukraine. In Ushakov's telling, Biden informed Putin "that the United States does not intend to deploy offensive strike weapons in Ukraine." According to a U.S. official, however, Biden merely reiterated an earlier position: "Consistent with the longstanding U.S. approach, President Biden made clear that the U.S. is continuing to provide defensive security assistance to Ukraine and is not introducing offensive strike weapons. This was not a new commitment; it was a restatement."
Regardless of whose interpretation of Biden's statement on strike systems is more accurate, those who hope that the U.S.-Russian negotiations will lead to an easing of dangerously high bilateral tensions can, perhaps, take heart from Ushakov's version. After all, it demonstrates that the Russian side is trying to create an impression that the U.S.-Russian dialogue has begun to produce concrete benefits in the wake of Putin's call for security guarantees for Russia. That means Putin and his team continue to hope that his contacts with the U.S. leader could yield results that, although quite modest compared with the demands Moscow outlined earlier this month in its draft agreements with the U.S. and NATO, would still be sufficiently positive for Russia in the eyes of Putin and his constituencies. Had the Russian side wanted to accuse the U.S. of ignoring Putin's calls for security guarantees—so that it could then resort to non-diplomatic methods of guaranteeing its security—Ushakov probably would not have mentioned Biden's commitment about offensive weapons (referred to as a "pledge" by Kremlin-funded media). Nor would Ushakov have described the talks as "substantive."
It is also notable that the penultimate paragraph in the Kremlin readout of the Dec. 30 conversation tells us that "the presidents exchanged New Year's greetings and best wishes" as this, too, shows the Kremlin's desire to demonstrate that the talks may have not produced much so far, but at least the atmosphere of the Putin-Biden "phone summit" was not hostile. Such a desire could be rooted in the Kremlin's belief that Biden's personal involvement in crafting the West's response to Putin's call for wide-ranging security guarantees represents the Russian leader's best chance to have at least parts of his demands accommodated. As Jacob Heilbrunn of The National Interest recently explained in his take on the Dec. 30 call: "The Russians believe that absent Biden's personal involvement any potential progress would likely be sabotaged by the State Department bureaucracy, which is highly sympathetic to Ukraine."
Finally, not just Russians but also Americans and, in fact, all people on this planet can take heart from reports that during the call Biden reiterated the Reagan/Gorbachev formula that "a nuclear war cannot be won and must never be fought," which he and Putin had reaffirmed during their June 2021 summit and all members of the U.N. Security Council supported in January 2022. We'd argue that despite all the saber-rattling on both sides, Putin continues to agree with Biden on that notion.
Whether the two sides can de-escalate tensions to restore a semblance of stability and predictability in the bilateral relationship—also something Biden has called for as part of a "détente-lite"—will probably be clearer after the aforementioned high-level U.S.-Russian, NATO-Russian and OSCE talks in mid-January. The outcome of these talks will play an important role in shaping Putin's assessment of whether he has exhausted non-military ways of attaining some of his desired security guarantees. That means Russia will most probably make no major military move on the Donbas/eastern Ukraine chessboard in the meantime (unless it comes as a response to a first military move by the Ukrainian side).
Footnote:
1. According to Kommersant, Ushakov said Biden hadn't specified what actions would constitute such escalation.
This blog post reflects the collective work of its authors, not an editorial position of Russia Matters as a whole. White House photo shared in the public domain.