In the Thick of It
A blog on the U.S.-Russia relationship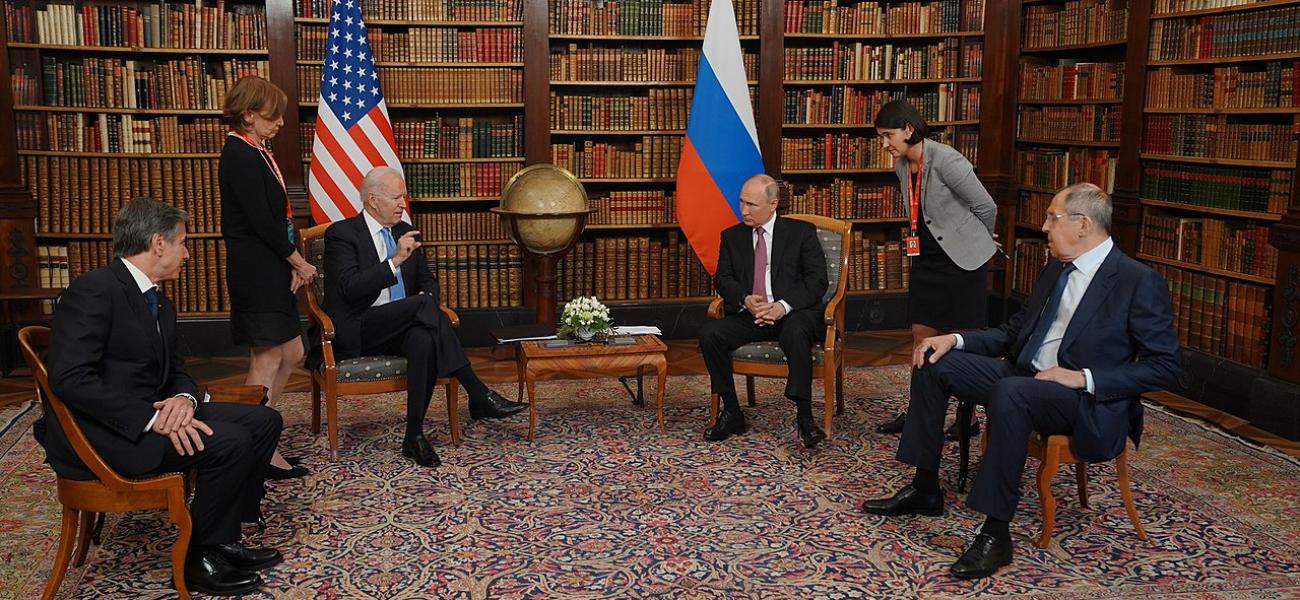 6 Months On: Does the Biden-Putin Summit Get a Passing Grade?
December 01, 2021
Simon Saradzhyan
One of the few things America's Joe Biden and Russia's Vladimir Putin had agreed upon prior to their first summit almost half a year ago was that they would not hold a joint press conference after their June 16 huddle at an 18th century villa in Geneva. The two presidents' decision to talk to press separately came as no surprise, given how many major issues they publicly disagreed on at the time. Moreover, while Biden reportedly acted to delay a missile test that could have raised tensions with Russia prior to the summit, the U.S. president asserted publicly that he did not view the meeting as an end in itself: Whatever he and his Russian counterpart agreed on during the four-hour sit-down had to be implemented if U.S.-Russian relations were to move away from hyper-tension during his presidency, Biden said. He even set a deadline for taking stock of progress: "What is going to happen next is we're going to be able to look back … in three to six months and say, 'Did the things we agreed to sit down and try to work out, did it work?  … [A]re we closer to a major strategic stability talks and progress? Are we further along in terms of…'—and go down the line. That's going to be the test," Biden told his post-summit press conference. "This is not about trust; this is about self-interest and verification of self-interest," he added.
As Biden's self-imposed deadline of Dec. 16 nears, I have decided to comb through open sources to review the two leaders' agreements and offer a mostly subjective assessment of their implementation, if only to try to gauge whether or not Biden will give up on Putin (and vice versa), as most of his recent predecessors eventually did. The outcome of my research is not unequivocal (see table below). An optimist would interpret the results as encouraging enough to continue the U.S.-Russian summitry in hopes of first stabilizing the relationship and then, perhaps, attaining tangible positive results on issues of mutual interest, such as stabilizing Afghanistan and preventing a resurgence of jihadist terrorism. A pessimist, in contrast, would see a lining that is not silver enough to move beyond deconfliction.
Agreements or understandings reached by Biden and Putin on June 16, 2021

Implementation as of Nov. 29, 2021

1. Resumption of cyber security talks

Implementation in progress  

Biden and Putin agreed that their governments' experts will hold talks on cybersecurity.

In addition to agreeing with Putin to resume cyber security talks Biden also told the Russian leader at the summit that  "16 specific entities, 16 defined as critical infrastructure under U.S. policy, from the energy sector to our water systems" should be "off-limits" to cyberattacks. (Putin was not reported to have publicly responded to this.)

 

Anne Neuberger, Biden's deputy national security adviser for cyber technology, said in October of U.S.-Russia cybersecurity talks: "We have had an open, direct and candid dialogue—…a number of discussions—to outline our expectations in that area, to pass information regarding individual criminal activity. And there have been some initial steps." The U.S., she added, was "really looking for continued, real action and to continue this direct and candid discussion" with Russia. Specifically, the U.S. government was reported to be waiting, as of October, to see if the Russian authorities would act on intelligence provided by the Americans about suspected cyber criminals operating out of Russia. Meanwhile, White House National Cyber Director Chris Inglis testified in November that there had been a "discernible decrease" in the number of cyberattacks against U.S. companies traced back to Russia, but cautioned that it was "too soon to tell whether that is because of the material efforts undertaken by the Russians."

That said, it remains unclear whether Putin has met Biden's demand, in part because some of the so-called Section 9 entities are classified. (Some analysts have also argued that, in the U.S. at least, "the term 'critical infrastructure' has grown so large that it has lost any meaningful specificity" and needs to be refined.)

On the Russian side, Ambassador to the U.S. Anatoly Antonov recently observed that the U.S.-Russian cyber dialogue has produced "positive sprouts."

In October, the U.S. and Russia reportedly drafted a joint U.N. General Assembly resolution on basic principles for rules of the road in the cyber security domain, building on earlier diplomatic successes.
However, Russia was not invited to a 30-country, U.S.-led meeting on fighting ransomware and cybercrime.

2. Resumption of strategic stability talks

Implementation in progress 

Biden and Putin agreed to resume the U.S.-Russian dialogue on strategic stability, which was suspended toward the end of Trump's presidency. At the summit, Biden and Putin signed a statement reaffirming the key principle that "a nuclear war cannot be won and must never be fought" and pledged to "embark together on an integrated bilateral Strategic Stability Dialogue in the near future that will be deliberate and robust."

Two rounds of talks have been held since the summit, with the U.S. side led by Deputy Secretary of State Wendy Sherman and the Russian side by Sergei Ryabkov, a deputy foreign minister. The talks, which Sherman has referred to as a "bright spot" in the bilateral relationship, have produced two working groups, on "Principles and Objectives for Future Arms Control" and on "Capabilities and Actions With Strategic Effects." Ryabkov said in late October that this bilateral dialogue on arms control—already described as the deepest in years—would be intensified. On Nov. 21, Russia's respected Kommersant daily reported that the two working groups would meet in Geneva in December and, in addition to diplomats, would include representatives of both countries' defense ministries and officials from other specialized departments.

3. Return of ambassadors

Implemented

Biden and Putin agreed at the summit to have U.S. and Russian ambassadors return  to Moscow and Washington, respectively.

Russian Ambassador to the U.S. Anatoly Antonov returned to Washington on June 20; U.S. Ambassador John Sullivan returned to Moscow on June 24, 2021.

4. Continuation of efforts to resolve the Ukraine conflict on the basis of the Minsk agreements

Largely unimplemented

"We [Biden and Putin] agreed to pursue diplomacy related to the Minsk Agreement," Biden said after the summit, while Putin said, "as far as I understood President Biden, he agreed that the Minsk agreements should be the basis for a settlement in southeastern Ukraine."

While the U.S. has expressed willingness to join the so-called Normandy Format—an effort by Russia, France, Germany and Ukraine to resolve the Ukraine conflict, including by advancing implementation of the so-called Minsk-2 agreement—it has not, and the four participating countries' leaders have not met since 2019. It has also been a while since the foreign ministers of the quartet have met—a setback that France, Germany and Ukraine blame on Russia's intransigence. Moreover, it is far from clear whether the conflict will remain frozen and, if so, for how long, given the recent escalation of tensions, which the West and Ukraine believe could culminate in a Russian invasion.

5. "Solving the problem" of constraints on each others' diplomatic missions

Not implemented

During the summit, Biden and Putin reportedly discussed the possibility of issuing more visas to each other's diplomats, agreeing, according to Kommersant, to "solve the problem" created by the constraints the countries had imposed on each other's diplomatic representation.

No progress has been publicly reported on this issue. Moreover, the U.S. Embassy in Moscow had to lay off all its local staff less than two months after the summit per Russia's demands and then warned that it may stop performing its diplomatic functions altogether. "We're going to confront the situation—not next month, but sometime next year—where it's just difficult for us to continue with anything other than a caretaker presence at the embassy," a senior U.S. diplomat said in late October. On Nov. 28, Russia's Ambassador Antonov said that 54 Russian diplomats will have to leave the U.S. in January-June 2022 because of the continuing visa row, and Russia on Dec. 1 announced a tit-for-tat expulsion.

6. Preserving humanitarian corridors to Syria

Partially implemented

Biden and Putin reportedly agreed to "work together" to "preserve and reopen the humanitarian corridors in Syria so that we can get food—just simple food and basic necessities to people who are starving to death,"  Biden said after the summit.

According to a July 9, 2021, U.N. press release, "The Security Council—acting in a rare moment of unanimity on the complex, decade-long Syrian conflict—today adopted a compromise resolution extending the use of the Bab al-Hawa border crossing for the delivery of humanitarian aid for six months, with the expectation of a subsequent renewal for another six months, until 10 July 2022." The resolution was passed unanimously with both U.S. and Russia supporting it, but Moscow got criticized by Western media and international NGOs for refusing to authorize additional humanitarian corridors, which is something the U.S. had advocated.
As the table above demonstrates, Biden and Putin reportedly agreed to implement six items during their June 16 summit: (1) resumption of cyber security talks; (2) resumption of strategic stability talks; (3) return of ambassadors; (4) continuation of efforts to resolve the Ukraine conflict on the basis of the Minsk agreements; (5) "solving the problem" of constraints on each other's diplomatic missions; and (6) preserving humanitarian corridors in Syria. Of these items, four (1, 2, 3, and 6) have been either fully or partially implemented, while two (4 and 5) have not. That's a solid B, I'd say, and I suspect Biden would give it a passing grade too.1 Otherwise, his team would not reportedly be discussing the possibility of organizing the two leaders' first virtual conference this year, and then an in-person meeting in 2022. (Senior Russian diplomats have confirmed such discussions, while The Washington Post quoted  "people familiar with the matter" as saying that "Washington has also floated the possibility of an in-person summit between Biden and Putin in the first half of 2022," with the Wall Street Journal reporting that the two countries' top diplomats, Antony Blinken and Sergei Lavrov, are expected to meet on Dec. 2 in Stockholm "to lay the groundwork for a future call or virtual meeting" between the presidents.)
I should note that, in addition to the items listed above, Biden and Putin also discussed Iran's nuclear program and the Arctic; however, neither leader specified in his post-summit press conference whether they had agreed on any deliverables, so I chose not to include these two items in the table. Nor have I included the potential exchange of prisoners between the U.S. and Russia, for the same reason. While the two leaders did reportedly agree at the summit that their governments would explore the possibility of such an exchange, they are not known to have agreed on anything concrete on the issue, which remains deadlocked. While U.S. diplomats continue to call for the release of Americans held in Russian prisons, and Russian diplomats do the same for their compatriots in U.S. jails, the sides disagree on what would constitute an adequate exchange. The Russian side reportedly wants to exchange ex-U.S. Marine Paul Whelan for arms dealer Viktor Bout and/or drug smuggler Konstantin Yaroshenko, while the U.S. reportedly wants Russia to return Whelan in exchange for a Russian hacker and a Russian businessman. 
If Biden does give the outcome of the June 16 summit a passing grade and agrees to another bilateral summit, the two leaders could, perhaps, pick some of the lower-hanging fruit. This could include suspending, if not reversing, the aforementioned plans to compel more of each other's diplomats to leave next year, as well as exchanging prisoners. Further down the road, other elements of a win-win agenda could include preventing Afghanistan's slide into a failed state, combined with preventing the reappearance of bases of international terrorist networks there and elsewhere in Central Asia, as well as in the Middle East. In addition, Biden and Putin could fairly easily agree on further coordination of U.S. and Russian efforts within the framework of the P5+1 to bring Iran into compliance with the Joint Comprehensive Plan of Action, especially if reports of Iran's push toward enrichment of uranium to weapons grade are true.
That said, there are still two weeks left before Biden's self-imposed deadline for assessing implementation of the summit's agreements and there are quite a few things that could go wrong between now and then. Some of them could derail attempts at stabilizing the bilateral relationship for long, if not for good. For instance, the U.S. may conclude that the Havana Syndrome is not psychogenic but induced by external sources and Russia is to blame, in spite of its strong denials. Alternatively, Russia could initiate force against Ukraine per multiple predictions made by Ukrainian and Western officials, even though I personally believe such a move is unlikely until Putin exhausts diplomatic options with Biden. Moreover, a major disruption in bilateral interaction could occur as a result of accidents or deliberate steps taken by external players acting beyond both leaders' control.  For instance, opportunistic factions concerned about the negative impact of a normalized U.S.-Russian relationship on their fortunes could try to provoke the resumption of fighting in eastern Ukraine. If no black swans appear, however, then, perhaps, we will continue to see an incremental stabilization of the relationship between the two nuclear superpowers—able to destroy each other and the rest of humanity—per Biden's wish that this relationship be "stable and predictable."
Footnotes:
In contrast, an informal polling of my Belfer colleagues on an earlier version of the table, which did not include the Syria item, revealed that all of them would grade progress on the summit's deliverables as "incomplete."
Simon Saradzhyan is the founding director of the Russia Matters Project.
Photo from Kremlin.ru shared under a Creative Commons license. The opinions expressed herein are solely those of the author.