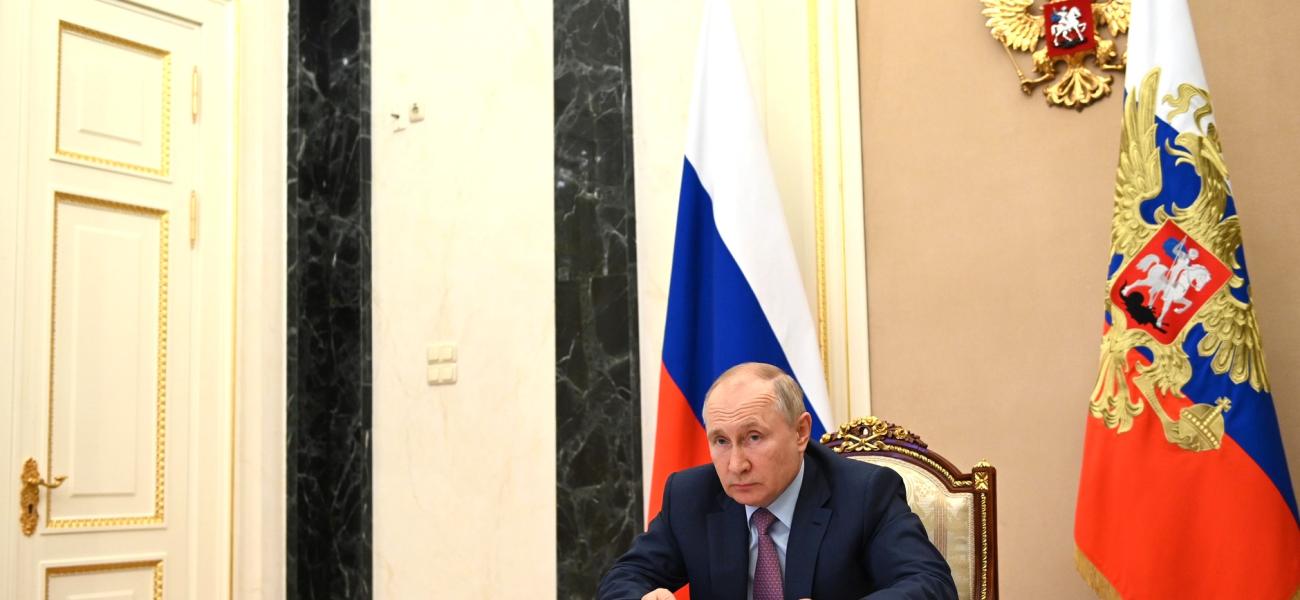 Will Russian Behavior Toward the US/West 'Improve' When Putin Is Gone?
August 11, 2021
Aleksandra Srdanovic
For many years, political scientists and other experts on Russia—from the United States, Europe and Russia itself—have disagreed on the prospects for Russia's policies toward the United States, and the West more broadly, after Vladimir Putin is no longer president. Views in this simmering debate run the gamut: Yale's Thomas Graham believes Putin's "departure might lead to a change in style, but it will have little impact on the substance of Russian foreign policy"; former U.S. Ambassador to Russia Michael McFaul, now back at Stanford, thinks "a new leader in Russia might change Russia's path." Where American policymakers fall on this issue will matter greatly to the approach they choose in building relations with Moscow: If they believe that Washington has "a Putin problem," to borrow Graham's terminology, rather than "a Russia problem," they may decide that trying to improve the relationship while Putin is in office is time wasted. Below, we have compiled a broad range of comments on this topic from some of the most prominent American, European and Russian researchers of Russian policy and politics (ordered alphabetically). We invite our readers to use this as a starting point for further investigation.
Anders Aslund, Senior Fellow, Atlantic Council, and Leonid Gozman, Russian Politician and Political Commentator
Robert E. Berls, Jr., Senior Advisor for Russia and Eurasia, Nuclear Threat Initiative
Janusz Bugajski, Senior Fellow, Jamestown Foundation
Paul M. Carter, Jr., State Department Senior Fellow at the U.S. Institute of Peace; Former Consul General in Yekaterinburg, Russia (2017-2019)
Samuel Charap, Senior Political Scientist, RAND Corporation
Luke Coffey, Director, Douglas & Sarah Allison Center for Foreign Policy
Joseph J. Collins, Director, Center for Complex Operations, National Defense University; Former Deputy Assistant Secretary of Defense (2001-2004)
Elias Götz, Stipendiat, Institute for Russian and Eurasian Studies, Sweden, and Camille-Renaud Merlen, Research Student, School of Politics and International Relations, University of Kent
Jakub Grygiel, Associate Professor, Catholic University of America
Timothy Frye, Marshall D. Shulman Professor of Post-Soviet Foreign Policy, Columbia University
Thomas Graham, Senior Advisor, Kissinger Associates; Co-Founder, Russian, East European and Eurasian Studies Program, Yale University
Vladislav Inozemtsev, Russian Economist, Founder of the Center for Post-Industrial Studies, Russia
Ivan Krastev, Chair, Center for Liberal Strategies, Bulgaria, and Gleb Pavlovsky, Russian Political Analyst
Richard J. Krickus, Distinguished Professor Emeritus, University of Mary Washington
John Lloyd, Co-Founder, Reuters Institute for the Study of Journalism, University of Oxford; Contributing Editor, Financial Times
Bobo Lo, Nonresident Fellow, Lowy Institute
Michael Kimmage, Professor of History, Catholic University of America, and Matthew Rojansky, Director, Wilson Center's Kennan Institute
Michael McFaul, Director, Freeman Spogli Institute for International Studies, Stanford University
Olga Oliker, Director, Europe and Central Asia Program, International Crisis Group
Nikolai Petrov, Senior Research Fellow, Russia and Eurasia Program, Chatham House; Professor of Political Science, Higher School of Economics, Moscow
Eugene Rumer, Director, Russia and Eurasia Program, Carnegie Endowment for International Peace; Former National Intelligence Officer for Russia and Eurasia, U.S. National Intelligence Council
Eugene Rumer and Richard Sokolsky, Nonresident Senior Fellow, Russia and Eurasia Program, Carnegie Endowment for International Peace
Andrei Soldatov, Russian Investigative Journalist
Paul Starobin, U.S. Author and Journalist
Brian Taylor, Professor of Political Science, Maxwell School of Citizenship and Public Affairs, Syracuse University
Dmitry Trenin, Director, Carnegie Moscow Center
Andrew Wood, Associate Fellow, Russia and Eurasia Program, Chatham House; Former British Ambassador to Moscow
This is an evolving draft, compiled by Russia Matters student associate Aleksandra Srdanovic, and readers are encouraged to send their proposals for additional entries to RussiaMatter[email protected] with "additional entries" in the subject line.
Photo shared by Kremlin.ru. The opinions expressed herein are solely those of the individuals quoted.