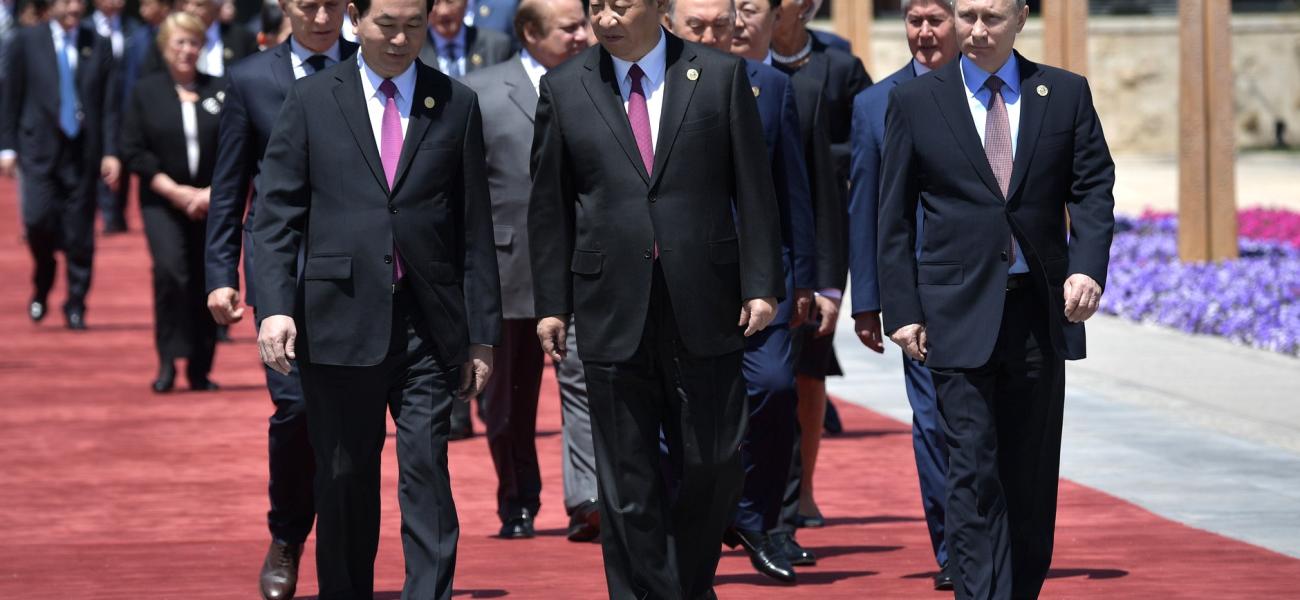 Why Forecasts of a Chinese Takeover of the Russian Far East Are Just Dramatic Myth
July 14, 2017
Alexander Gabuev and Maria Repnikova
Despite signs of growing camaraderie between Beijing and Moscow – including drills in the Baltic and South China seas, and sales of advanced Russian-made missile defense systems to the PLA – Western media and decision-makers remain highly skeptical of their forming a meaningful partnership.
Sensationalist arguments about inherent tensions point to the China-Russia border. The 4,200km-stretch shows population and wealth disparities in favor of China, that some claim can trigger the extension of Beijing's regional power into the Russian Far East and Siberia. The attraction of Russia's vast empty lands for China's resource-hungry and over-populated empire seems obvious.
This discourse, however, is not rooted in ground realities but on faulty assumptions about China-Russia relations. The analyses predicting China's inevitable takeover of the Russian Far East draw on sparse factual data. While the population disparity along the border is real – 6.3 million in the Far East face 38.3 million in Heilongjiang alone – what remains contested is the number of Chinese on Russian soil.
Most Western media refer to alarming figures, some concluding there are two million Chinese, set to reach 10 million by 2050. The latest Russian national census in 2010, however, projected the number of Chinese residents at 30,000. Regional official and academic data we uncovered, in several research trips to the Far East since 2010, estimates the number of Chinese migrants as between 400,000 and 550,000. More than half are in the European part of Russia, where the labor market is bigger and more dynamic than in the east of the Urals. The most Chinese-populated Russian city is Moscow, not Vladivostok or Khabarovsk.
Moreover, after the collapse of oil prices and ruble depreciation, more Chinese workers are choosing to leave Russia. Most Chinese migrants are temporary workers, not permanent settlers. They work in trade, construction and agriculture, and send most of their earnings back to their families. In the past two years, their average income has collapsed by 50 per cent. In 2016, the average monthly salary in Heilongjiang was US$667, while in Primorye, the most populated part of the Far East just across the border, it was US$563.
As the economic incentives to work in Russia evaporate, Chinese migrants are starting to seek out other options, including returning home. Local scholars and officials in the Far East say migrants from the former Soviet republics in Central Asia and the South Caucasus are arriving in much larger numbers than Chinese migrants ever have.
For most Chinese migrants, Russia was neither the top nor final destination, but rather a patchwork solution to make money to help their families. When asked about the possibility of settling in Russia back in 2010, Chinese laborers were not enthusiastic, pointing to language and cultural barriers, as well as discrimination and loneliness. Fieldwork data from the Russian Far East is supported by studies of migration patterns in China's northwest: between going to Russia or to rich inland provinces of China, the workers as a rule choose the latter.
Shifting demographics in China may turn the reversed flow of its migrant workers into a long-term phenomenon. While China has scrapped the one-child policy to stop the labor force from shrinking, many experts say this has come too late. Most Chinese couples are unwilling to have more children, which means competition for workers will worsen, producing hikes in salaries. If the Chinese can make more money at home, they are likely to further fall out of love with the Russian Far East.
The only scenario in which Chinese could arrive in the Far East in larger numbers in the near future, is if China's rising investments in the Far East bring more of its workers to carry out joint projects. So far, however, China's slowing economic growth and the collapse of commodity prices, as well as the Far East's hostile investment climate, have prompted a cautious strategy on the part of Chinese investors. Despite physical proximity and the complementary structure of their economies, China has never been among the top five investors in the Far East region.
Also, even if Chinese investment in the Far East rises dramatically, it is not certain that workers will stay on. The most likely scenario is a continuation of current migration trends on a larger scale, with the Chinese coming to Russia and leaving once they complete their obligations and receive their pay. Big infrastructure projects in Vladivostok ahead of the 2012 Apec summit illustrate this dynamics. These construction projects attracted up to 3,000 Chinese workers, but few remained after the job was done.
Buying into dramatic myths about Chinese demographic expansion into Siberia and the Far East risks producing a misconstrued picture of Sino-Russian relations. While there are underlying tensions in the partnership, China's potential conquest of the Far East is not one of them.
Author
Alexander Gabuev
Alexander Gabuev is a senior fellow and the chair of the Russia in the Asia-Pacific Program at the Carnegie Moscow Center.
Author
Maria Repnikova
Maria Repnikova is an assistant professor at Georgia State University.
Photo credit: Wikimedia Commons photo by Russian Presidential Press and Information Office shared under CC-BY-4.0 license.