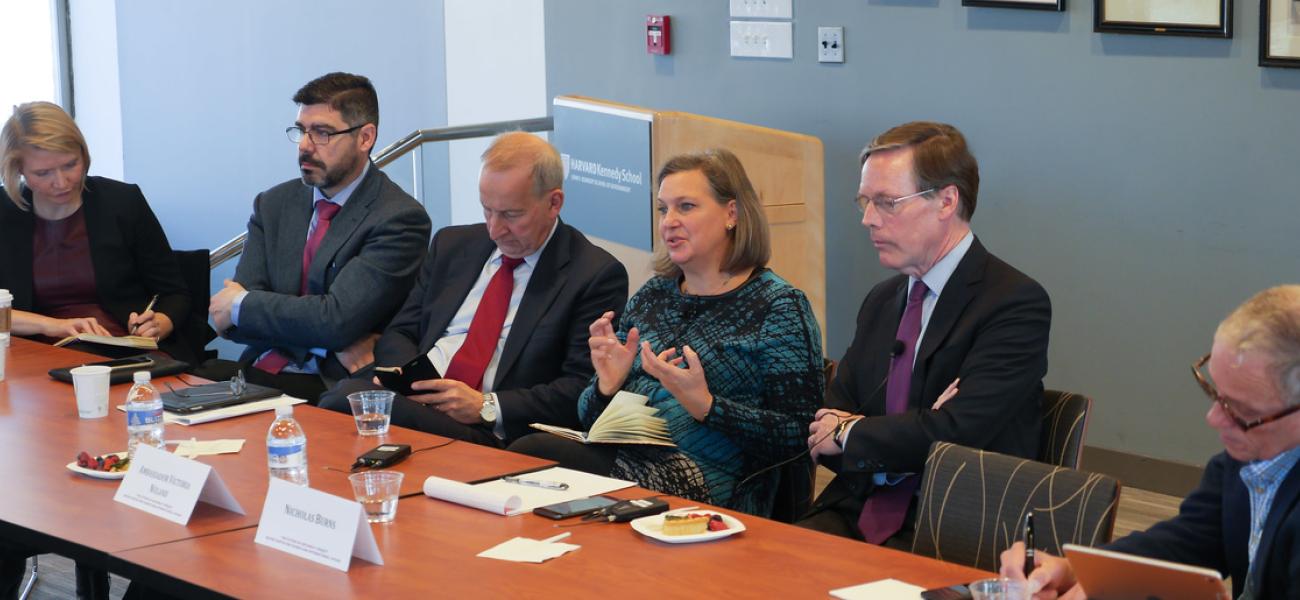 Victoria Nuland on Russia
February 03, 2021
Daniel Shapiro
This compilation of observations and policy ideas related to Russia by Victoria Nuland is part of Russia Matters' "Competing Views" rubric, where we share prominent American thinkers' takes on issues pertaining to Russia, U.S.-Russian relations and broader U.S. policies affecting Russia.
On Jan. 16, then-U.S. President-elect Joe Biden selected Victoria Nuland to serve as undersecretary of state for political affairs. Prior to her appointment to this position—effectively the third-ranking U.S. diplomatic position—Nuland served in a number of diplomatic roles, including as deputy national security adviser to then-Vice President Dick Cheney from 2003 to 2005 and as chief of staff to the deputy secretary of state from 1993 to 1996. Nuland also has held a number of positions related to the post-Soviet space, including as assistant secretary of state for European and Eurasian affairs and as the lead person on the U.S. side for the 2013-2014 Ukraine crisis.
This compilation is meant as a sampling of Nuland's views. All sections may be updated with new or past statements. The quotes below are divided into categories similar to those in Russia Matters' news and analysis digests, reflecting the most pertinent topic areas for U.S.-Russian relations broadly and for drivers of the two countries' policies toward one another.
I. U.S. and Russian priorities for the bilateral agenda
Nuclear security:
Even as we push back against Russian aggression and support neighbors under pressure, the United States will continue to look for areas where our interests and Moscow's align, and we can work together to tackle global challenges, including nonproliferation, nuclear and other WMD security, preventing atrocities and humanitarian crises, and combating violent extremism and terrorism. (

Testimony at Senate Foreign Relations Committee Hearing

, 06.07.16)
North Korea's nuclear and missile programs:
I don't have a problem with the fact that the president [Donald Trump] started these negotiations by meeting with Kim Jong Un. I think the problem is that he continues to praise Kim Jong Un when really nothing has happened since, and the economic pressure is also beginning to weaken, particularly as we get into other spats with China, which make them less interested in cooperating with us on North Korea. (

MSNBC

, 11.13.18)

The DPRK announcement talks about a satellite launch. However, as we know, it requires the use of missile technology to launch a satellite. And it's the use of the missile technology that is an explicit violation of U.N. Security Council Resolution 1874. So it's a matter of semantics whether you call it—I mean, they say they're launching a satellite. We say you're launching it with ballistic missile technology, which the U.N. Security Council resolutions have explicitly precluded. (

State Department Briefing

, 03.16.12)
Iran and its nuclear program:
I don't think that anybody—including the architects of the deal—would claim that the nuclear deal with Iran was perfect. First of all, it only attacked the nuclear sins of Iran; it didn't attack their support for terrorism, their acquisition of territory in Syria and other places, their terrorism support, etc. And even within the nuclear realm it wasn't infinite; it didn't speak about what happened at the end of the period of the agreement, and they got a lot of cash up front, which they used for nefarious purposes. But I still don't understand why you would want to throw out an imperfect nuclear agreement and end up with no nuclear agreement. (

RBC Capital Markets

, 10.28.20)
New Cold War/saber rattling:
Washington and its allies have forgotten the statecraft that won the Cold War and continued to yield results for many years after. That strategy required consistent U.S. leadership at the presidential level, unity with democratic allies and partners, and a shared resolve to deter and roll back dangerous behavior by the Kremlin. It also included incentives for Moscow to cooperate and, at times, direct appeals to the Russian people about the benefits of a better relationship. Yet that approach has fallen into disuse, even as Russia's threat to the liberal world has grown. (

Foreign Affairs

, July/August 2020)

The challenge for the United States in 2021 will be to lead the democracies of the world in crafting a more effective approach to Russia—one that builds on their strengths and puts stress on Putin where he is vulnerable, including among his own citizens. To call this "great-power competition" or "a new Cold War" would be to give Putin too much credit: today's Russia pales in comparison to the Soviet adversary. Depicting Putin's Russia as a peer or an invincible enemy denigrates the United States' ability to deter and resist dangerous Kremlin policy. But the United States should not take this on alone. As in the past, it must mobilize its global alliances, shore up their internal defenses and work jointly with others to rebuff Russian encroachments in hot spots around the world. (

Foreign Affairs

, July/August 2020)

In reference to Russia's plans to deploy 40 new intercontinental ballistic missiles in 2015:

Those kinds of announcements when made publicly like that obviously have a rattling effect. When we look at what is actually happening inside Russia it is far less dramatic. (

Reuters

, 06.18.20)
NATO-Russia relations:
Missile defense:
The Bush team later sought to rectify the mistake by offering transparency and collaboration in missile defense development to meet the growing threats from Tehran and Pyongyang, but Putin rejected the offer. He had already knit the U.S. withdrawal from the ABM Treaty into a narrative of grievance against Washington. (

Foreign Affairs

, July/August 2020)
Arms control:
He [Putin] is eager to extend the 2010 New START treaty, which limits U.S. and Russian long-range nuclear weapons systems and is set to expire in 2021. Washington should use Putin's sense of urgency to tie discussions over New START to wider negotiations on all aspects of military power—nuclear and conventional, space and cyberspace. To allow time for those talks, the treaty could be provisionally extended for a year or two, but Washington should not grant Moscow what it wants most: a free rollover of New START without any negotiations to address Russia's recent investments in short- and medium-range nuclear weapons systems and new conventional weapons. (

Foreign Affairs

, July/August 2020)

With regard to the Russia threat, as I say, they are playing a weak and cheap hand very successfully because we are not as well-coordinated as we should be—with the exception of the work that we're doing right along the eastern border, particularly with regard to arms control; the fact that with the end of the Intermediate Nuclear Forces in Europe Treaty, Russia is now building nuclear-tip missiles that can hit Berlin and France. We need a far stronger set of countermeasures and we need to be standing together in terms of the next stage of negotiation on arms control issues with the Russians. (

Foreign Policy/Brookings

, 10.14.19)

We have worked with Russia to remove Syria's declared chemical weapons, to prevent Iran from acquiring nuclear weapons, to contain the nuclear threat emanating from the DPRK, and to negotiate and implement the New START Treaty. (

Testimony at Senate Foreign Relations Committee Hearing

, 06.07.16)
Counter-terrorism:
I agree with those who say that the first disappointment was that he thought after 9/11 that the U.S. and Russia together would be holy warriors against this evil of al-Qaida. But we were also disappointed because we didn't feel that the Russian intelligence services, after we were quite forthcoming about what we were seeing, shared much. (

Interview with PBS

, 06.14.17)
Conflict in Syria:
Cyber security:
We have a lot of experience, right? We have the Estonian incursion in 2010. We have aggressive use of cyber in many forms throughout the Ukraine conflict. We have the attack on the State Department in the fall of 2015, which was up close and personal for me. I won't go any further than that. So it [elections interference] was not surprising to me. I learned, in the winter of—before Christmas of 2015, that the Russians were into the DNC, or at least that the DNC had been hacked, and it bore a lot of the fingerprints of Russia. (

Interview with PBS

, 06.14.17)

We must make investments that align with future threats. Russia's own investments in hybrid tactics, electronic and cyber capabilities, disinformation and violations of the Intermediate-range Nuclear Force (INF) Treaty illustrate where we need to respond. (

Testimony at Senate Foreign Relations Committee Hearing

, 06.07.16)
Elections interference:
Energy exports from CIS:
Russia has been a big gas station with very little else in terms of output or export for a long, long time, and as the world increasingly moves away from carbon-based energy, that's getting more and more old-fashioned. And it's getting less and less economical. So it is another failure of leadership that in 20 years in power, he hasn't diversified that economy and he hasn't tapped into the prodigious brains of the Russian people to do what he promised. (

RBC Capital Markets

, 10.28.20)

My biggest concern about using the sanctions tool on Nord Stream 2 is not that we've applied it, but that we've applied it unilaterally and it hits German companies and Northern European companies equally to hitting the Russians. And I would have rather … continued the approach that we were on, which was to try to have the U.S. work extensively with Germany and the EU to propose alternative sources of energy for Europe, rather than becoming more dependent on Russia. (

RBC Capital Markets

, 10.28.20)

Energy diversification also continues to be a key component of our strategy, and we have seen progress on this front across Europe. Ukraine has now broken its dependence on Russian gas, ended costly household energy subsidies and is making real strides in introducing full market standards across the sector. In the Baltics and Central Europe, critical projects and actions have reduced energy vulnerability, including the opening of Lithuania's and Poland's new LNG terminals, and the construction of electricity grid connections between the Baltic countries and their EU partners. (

Testimony at Senate Foreign Relations Committee Hearing

, 06.07.16)
U.S.-Russian economic ties:
U.S.-Russian relations in general:
II. Russia's domestic policies
Domestic politics, economy and energy:
Defense and aerospace:
Security, law-enforcement and justice:
Our programs and advisors [in post-Soviet Eurasia] focus on improving governance, squeezing out graft and fraud, strengthening justice systems, improving election standards, hardening border security and homeland defense and building energy independence.

(

Testimony at Senate Foreign Relations Committee Hearing

, 06.07.16)
III. Russia's relations with other countries
Russia's general foreign policy and relations with "far abroad" countries:
On Russian interference in France's elections:

The French actually had really good success in the context of [President Emmanuel] Macron's election in deterring Putin by doing exactly what we had the option to do and didn't do at the time, which was to go public with what they were up to, expose it, educate our news entities, educate our public. Because sunshine is the best disinfectant. It had the effect in France of virtually neutralizing any impact that the Russians were going to have. (

The Harvard Gazette

, 10.30.19)

When Putin comes in and gives his view of the world, and it is not only completely zero-sum, your model is expansionist and aggressive vis-à-vis Russia and vis-à-vis states like ours, but also indicting of this notion of a big community of democratic states, and goes back to a definition of multipolarity that was really very 19th-century checks and balances. (

Interview with PBS

, 06.14.17)
China-Russia: Allied or Aligned?
The adversarial relationship that he's [Putin] taken to Europe in particular has really closed off market opportunities for Russia. So now they're left at the mercy of China, which is … pretty rapacious in its trade deals. So the Russians aren't necessarily getting the best deal. So in the longer term, I think it's going to bring Russia to grief. (

RBC Capital Markets

, 10.28.20)

On New START extension:

Nor should it [a new arms treaty] insist on including China in the talks right away, as the current administration advocates. If the United States and Russia reach an agreement, they can jointly pressure China to negotiate, but the United States should not sacrifice its immediate security needs in the hope that China will someday agree to trilateral talks. Doing so would just give Putin more time to build new weapons. (

Foreign Affairs

, July/August 2020)

Other countries and malign actors are now adapting and improving on Russia's methodology, notably including China which now runs disinformation campaigns and influence operations in Taiwan, Australia and other neighboring countries and is working to acquire information technology assets and data sets across Asia, Europe and the United States. (

Testimony before the Senate Intelligence Committee

, 06.22.18)
Ukraine:
Russia's other post-Soviet neighbors:
Putin has always understood that a belt of increasingly democratic, prosperous states around Russia would pose a direct challenge to his leadership model and risk reinfecting his own people with democratic aspirations. This is why Putin was never going to take a "live and let live" approach to former Soviet lands and satellite states. (

Foreign Affairs

, July/August 2020)

I think that Russia made its first serious military probes into new space with the Georgian War in 2008. … I think that in the Georgian context, they [Russia] stopped short of putting full military power, but I do think it was a learning experience for Putin and his military in terms of how they'd do it next time, including with more deniability. (

Foreign Policy/Brookings

, 10.14.19)

I think Putin wakes up around the same time we wake up, which is in the fall of 2013. We realize what a great opportunity this is going to be in terms of need for countries like Moldova, Georgia and Ukraine to have more markets that they were going to get in Europe, for their people to become more comfortable with democratic processes and with the West through more travel, that sort of knitting together this EU association offers. For Putin, it's a direct challenge by them to his leadership model, because these countries were looking for increasingly competitive relationships, competitive elections. They were looking for markets other than Russia. (

Interview with PBS

, 06.14.17)
IV. Quoteworthy
Abroad, Putin has played a weak hand well because the United States and its allies have let him, allowing Russia to violate arms control treaties, international law, the sovereignty of its neighbors and the integrity of elections in the United States and Europe. (

Foreign Affairs

, July/August 2020)
Photo by Benn Craig/the Belfer Center.
Author
Daniel Shapiro
Daniel Shapiro is a recent graduate of Harvard University and a current associate with Russia Matters.