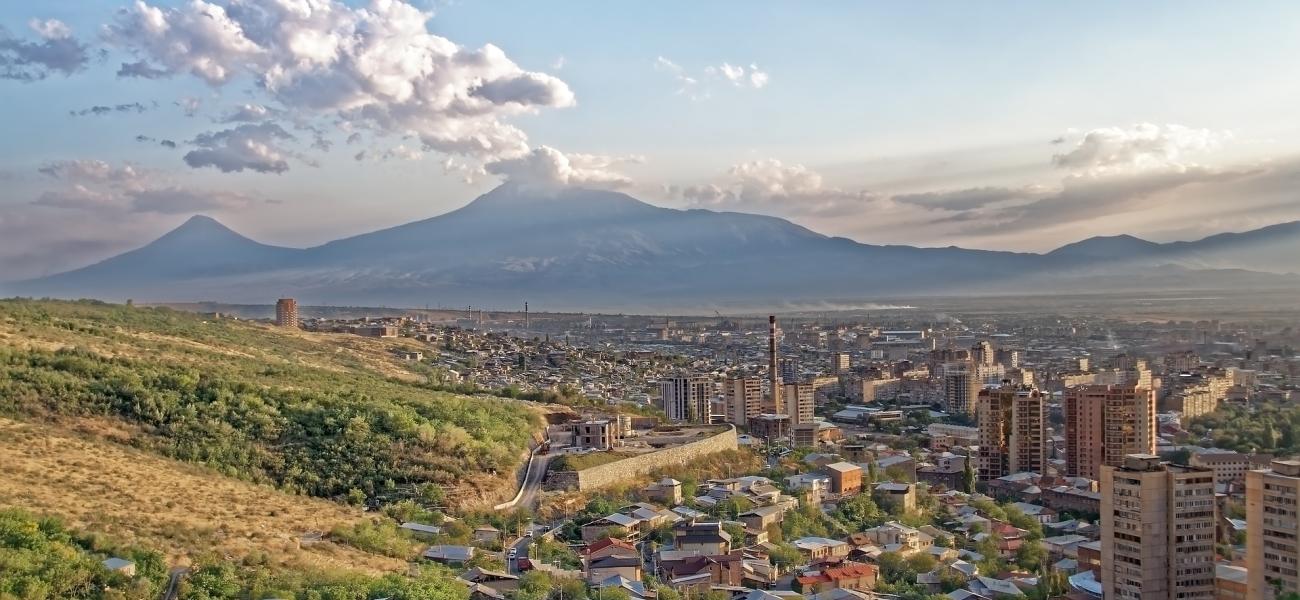 US Should Keep an Eye on Rising Chinese Investment in the South Caucasus
October 01, 2020
Daniel Shapiro
In the age of attention deficit disorder politics, this week's flare-up of hostilities between Armenia and Azerbaijan has ensured that great powers have turned their attention to the South Caucasus. Once hostilities subside, however, this attention will inevitably turn to newer, shinier objects. Not all great power leaders will do so, however. As the emerging great power rivalry keeps the U.S. preoccupied with competing with China in Southeast Asia, the Middle Kingdom has been making inroads into the South Caucasus, which can impact U.S. energy security and other important interests. I expect this process to continue.
Over the past few years, China's economic presence has grown in all three South Caucasus states (Armenia, Azerbaijan and Georgia), paving the way for an increase in Beijing's geopolitical influence in the region. U.S. policymakers should watch Beijing's moves in the South Caucasus to ensure they do not undermine the fragile political, security and economic stability in this strategically sensitive region, which is also contested by Russia, Turkey and Iran.
Broad Trends in Regional Trade and Investment Dynamics
China's presence in the South Caucasus has been increasing for some time. According to World Bank data, since 2005, Chinese trade turnover with Armenia, Azerbaijan and Georgia increased around 2,070 percent, 380 percent and 1,885 percent, respectively. Compared to these countries' analogous dynamics with the U.S. (35 percent, 365 percent and 197 percent, respectively), these numbers are quite significant. Since 2013 alone (the start of the Belt and Road Initiative), trade turnover has increased around 70 percent in Armenia, 100 percent in Azerbaijan and 60 percent in Georgia. Figure 1 shows these patterns.
Figure 1: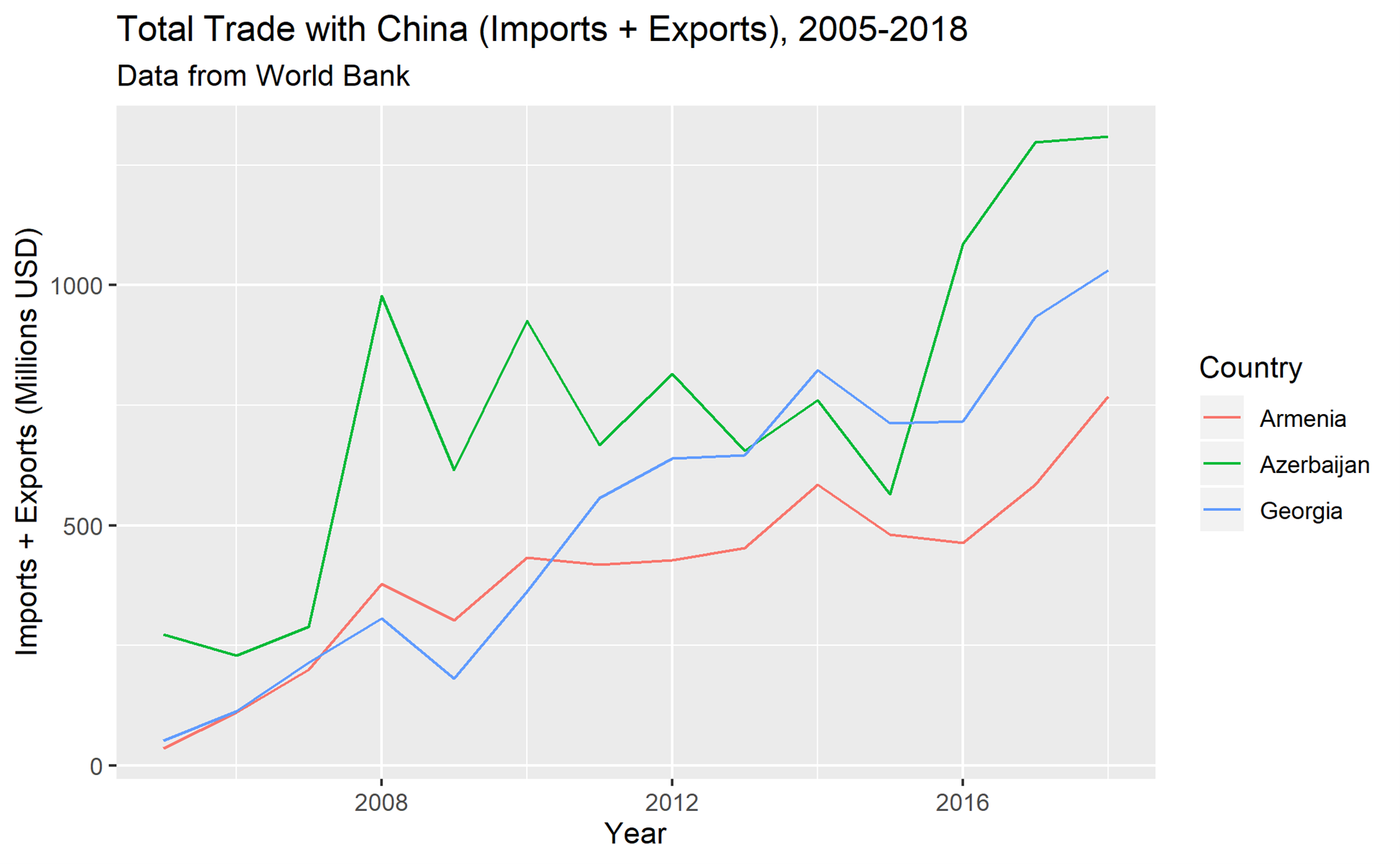 Investment has grown as well, mainly through the involvement of Chinese banks and funds in the region. Logically, given BRI's emphasis on infrastructure development, one heavy investor is the Asian Infrastructure Investment Bank (AIIB). Other financial institutions, such as the China Development Bank, Exim Bank of China, Bank of China and Industrial and Commercial Bank of China (ICBC), have also played influential roles in investment projects in the South Caucasus, as have various Chinese private companies.
Chinese investment in the region is by no means uniform. Each country has its own areas in which Chinese organizations have made their presence felt. The amount of Chinese investment is also not equally spread out across the region: Azerbaijan and Georgia have attracted more investment, while Armenia has lagged behind. China's FDI stock in South Caucasus countries varies widely, as shown in Figure 2. Finally, different countries present investment statistics differently: Georgia's National Statistics Office reports its bilateral FDI inflow and outflow statistics, while Armenia's and Azerbaijan's do not.
Figure 2: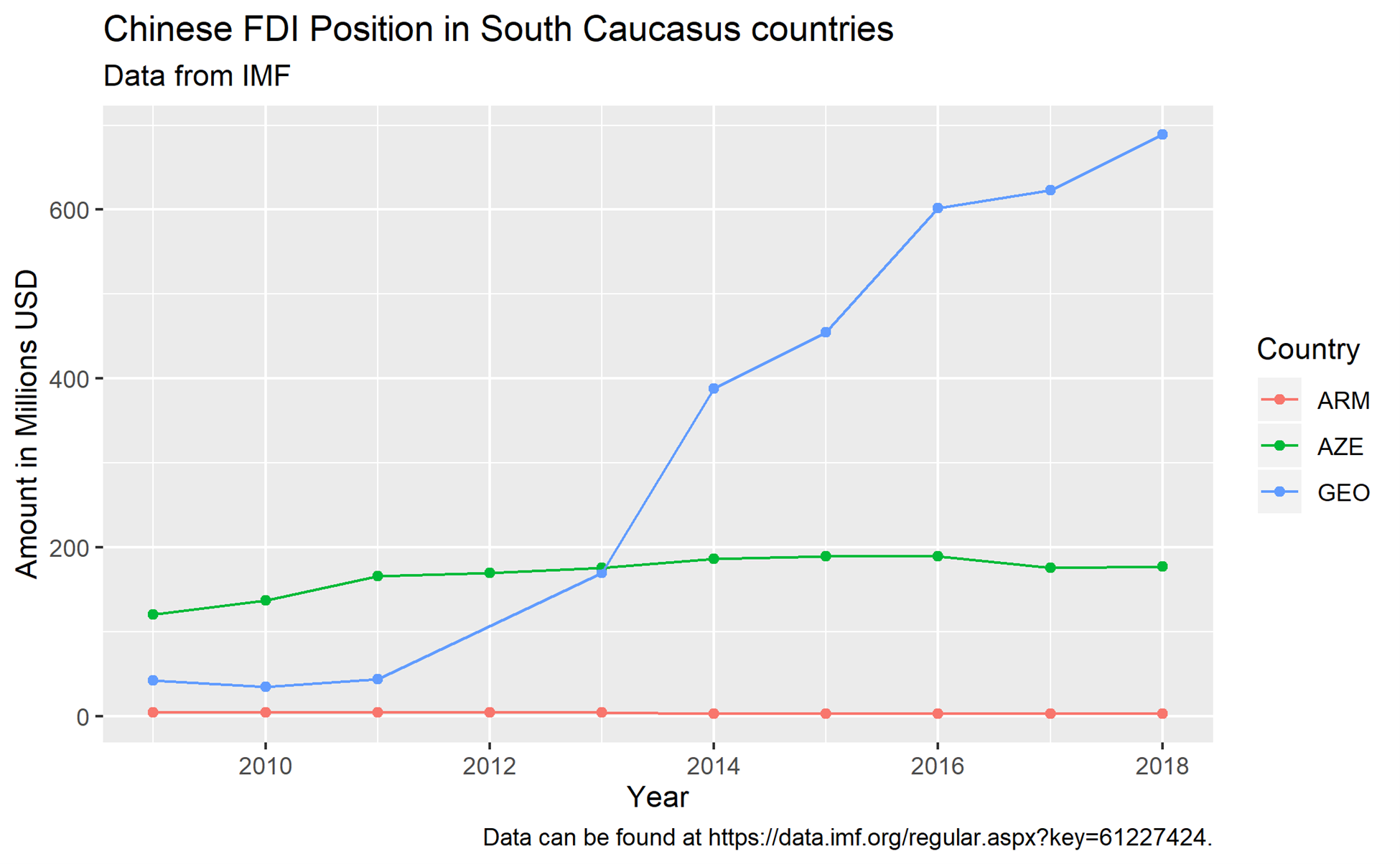 The following sections lay out some specifics of Chinese investment in each South Caucasus country.
Georgia: Diversified Investment
Of the three South Caucasus states, Georgia has attracted by far the most Chinese investment. As Georgia's economic competitiveness is heavily based on its capacity as a transit country, it is naturally of interest to China. As is typical of China's investment patterns, most Chinese investment in Georgia has been in infrastructure.
One sector of Georgia's infrastructure in which China has sunk a significant amount of money is hydropower. In the mid-2000s, China funded the construction of the Khadori Hydropower Plant (also known as the Khudoni Hydropower Plant) in Georgia's Pankisi Gorge. This project, the first foreign-funded power station in Georgia, has housed Chinese workers and provides power to many residents of northwestern Kakheti. Additionally, through the AIIB, China has shown interest in the Nenskra hydropower plant. The AIIB is considering investing $100 million in this controversial project, which would provide significant additional power to Georgia, albeit at the potential expense of local communities and ecosystems in upper Svaneti.
China has also invested in ground transportation development in Georgia. In 2017, the AIIB offered Georgia $114 million to build a bypass around the city of Batumi, easing international transit around the major Black Sea resort. In total, according to former Chinese Ambassador to Georgia Ji Yanchi, by 2017, Chinese companies had built 82.1 kilometers of roads and 40.6 kilometers of railroads in Georgia. With the completion of the Baku-Tbilisi-Kars railroad, China's footprint on Georgia's transportation infrastructure will continue to rise.
Georgia has also attracted Chinese investment in other large infrastructure projects through the Hualing Group, a private Chinese company that has developed several ambitious projects throughout Georgia. Hualing is in the process of developing a massive area on the southwest side of the Tbilisi Sea, having completed the Tbilisi Sea Plaza shopping mall and accompanying hotels. Hualing is also in the process of completing a large housing development in the area as well. In addition to development in Tbilisi, Hualing has also funded a Free Industrial Zone in Kutaisi. Opened in 2015, this project is marketed as an "excellent logistical hub for expansion to Caucasus, EU and Central Asian markets in the heart of New Silk Road." Hualing has been involved in forestry in Georgia as well, obtaining a wood processing license for 20 years to annually produce 88,000 cubic meters of wood. Hualing's footprint in Georgia is large and diversified.
Overall, China's presence in Georgia is large in comparison to other South Caucasus countries, and there is no indication that this will change. China's Foreign Minister made an official visit to Tbilisi in May 2019, and announced that his visit would help the two countries explore new avenues for bilateral cooperation. These new avenues have shown themselves during this year's coronavirus pandemic, as the AIIB loaned Georgia around $100 million at the end of May for COVID-19 relief. Georgia's trade with China continues to grow as well, with total trade turnover increasing steadily from around $646 million in 2013 to over $1 billion in 2018. Since 2013, Georgia has imported a diverse range of goods from China, with machinery and electronics the most popular imports every year, measuring from 31 to 39 percent of total yearly imports. Georgia's exports to China are much less diverse, as the country predominantly has exported minerals to the tune of 74 to 88 percent of total yearly exports since 2014.1 And while trade between Georgia and the U.S. continues to grow as well, trade turnover between the U.S. and Georgia only measures about half the trade turnover between the U.S. and China, the latter of which has and continues to grow rapidly. As China continues its development projects in the region, these general patterns in investment and trade should continue to rise.
Azerbaijan: Initial Reluctance, Increasing Investment
Of the three South Caucasus countries, Azerbaijan has the highest trade volume with China. It also attracts a significant amount of investment, mainly relating to natural resources, infrastructure and transit. In May 2019, Azerbaijan's then-Minister of Economics Shahin Mustafayev announced that Chinese companies made investments worth over $800 million in the Azerbaijani economy and were looking to expand their presence in the country. 
Azerbaijan, like Georgia, is a member of the AIIB. Through this institution, Beijing has invested in several large projects involving Azerbaijan. One, in conjunction with other large banks, is the Trans Anatolian Natural Gas Pipeline Project (TANAP), a project which sends Azerbaijani gas across Georgia and Turkey to Southern Europe. Anar Valiyev of Baku's ADA University reports that in 2016, a year after Beijing and Baku "began to intensify their political relations," the AIIB approved a $600 million loan for the construction of a portion of TANAP. The AIIB also invested $300 million in a tire factory in Sumgayit as part of an $821 million package of deals between Azerbaijan and China in 2018.
China has also invested in other large projects involving Azerbaijani transport infrastructure. Azerbaijan, according to Bai Lianlei of the China Institute of International Studies, is "the pivotal country" in China's China-Central Asia-West Asia Economic Corridor (CCAWEC), part of the Belt and Road Initiative. The International Crisis Group reports that China has emphasized the development of a trade route from China via Kazakhstan that crosses the Caspian from the Kazakh port of Aktau to Baku. This route competes with a similar route that sends goods from Turkmenistan's Turkmenbashi port to Baku, thereby strengthening Baku's position as a transport hub. Additionally, due to China's elevated interest in Azerbaijan, Azerbaijan has poured money into upgrading its International Sea Trade Port and has secured $70 million worth of grants and equipment worth an additional $2 million from China to help with the process. Thanks to the 2017 opening of the Baku-Tbilisi-Kars Railroad, which will take Chinese goods west from Baku toward Europe, Azerbaijan looks to benefit from increased transit of Chinese goods. 
China has also shown interest in providing weapons to Azerbaijan. The Polonez Multiple Launch Rocket System, sent to Azerbaijan from Belarus, was developed in conjunction with China. Azerbaijan has also purchased the Qasirga T-300 system, which is produced in Turkey with a Chinese license, and China has offered several systems to the Azerbaijani military as well. In 2019, Azerbaijan and China signed a document on mutual military aid and the purchase of Chinese arms.
Azerbaijan has long been wary of allowing certain Chinese companies into Azerbaijani markets. But after signing a Memorandum of Understanding on China's Silk Road project in 2015, Azerbaijan's trade and investment relationship with China has taken off, and Azerbaijan's trade with China has risen steadily since 2015. Azerbaijani fuel sales to China jumped after 2015; from 2016-2018, 67 to 94 percent of Azerbaijan's yearly exports were in the fuel sector. Additionally, like Georgia, Azerbaijan imports mainly machinery and electronics from China.
Interestingly, Azerbaijan is the only South Caucasus country where trade with the U.S. has risen at about the same rate as trade with China. However, future trends nonetheless seem more likely to favor China than the U.S. For one, China/Azerbaijan trade turnover was about 53 percent higher than U.S./Azerbaijan trade in 2018. Additionally, China's trade turnover with Azerbaijan has been trending sharply upward over the last few years, whereas the U.S.'s has fallen: from 2013 to 2018, trade turnover between the U.S. and Azerbaijan fell 37 percent, while China's rose around 100 percent. Azerbaijan's role as a transit hub between China, Central Asia and Europe has given it a privileged position in China's initiatives, and this role will likely continue to increase as China expands its activities in the region.
Armenia: Some Investment, but Lagging Behind
Armenia attracts the least investment from China of the three South Caucasian countries. Armenia's isolation due to a lack of relations with Turkey and Azerbaijan makes it a less than ideal location for Chinese investment. Only about 16.8 percent of Armenia's international borders are open, and the road system between Armenia's two open borders (Iran and Georgia) is underdeveloped. China has invested some in Armenia, but projects are limited, and Azerbaijan and Georgia have been much more successful in attracting large-scale investment.
China's main goal in its Belt and Road Initiative is to develop infrastructure, and Armenia is no exception. But while plans to build a transport corridor from Iran through Armenia to Georgia have been discussed, there has been little progress on the ground. Iran and Armenia agreed on the construction of a rail link in 2009 and Armenia granted Razia FZE, a United Arab Emirates-based company, a concession to build and manage the railroad in 2012. China has shown interest in the project; in 2013, Razia FZE appointed the China Communications Construction Company to lead development of the project, and the Chinese Civil Engineering Construction Corporation in 2018 announced its interest in the project as well. But the project is quite expensive—projections put the total cost at around $3.5 billion, almost equivalent to Armenia's entire yearly budget—and has a long way to go before completion.
Cooperation between Armenia and China has progressed somewhat further on the road corridor. China, through its state-owned hydropower engineering and construction company, is actively working on road construction in Armenia. However, Ashot Hakobyan, Armenia's Minister of Transport, has expressed dissatisfaction with the pace of construction and estimated in 2019 that the corridor may take another five to 10 years to complete. While China has begun work on infrastructure initiatives in Armenia, progress is slow.
Another area where China has invested in Armenia is in metals and heavy industry. China has long been a key destination for Armenia's copper exports, and in 2011, China announced that it would invest around $500 million in Armenian iron production as well. Additionally, the Armenia-based Orbeli Analytics Research Center reports that China carried out 80 percent of the repair and reconstruction work of the fifth unit of Armenia's Hrazdan thermal power station and plans to invest in a production zone that will produce aluminum. Given that 88 percent of Armenia's exports to China in 2018 were from the minerals sector, China's investment in metals is logical.
Beijing has also invested in cultural and humanitarian endeavors in Armenia. In 2009, China opened its only Confucius Institute in Armenia at Yerevan Brusov State Linguistic University. More recently, in 2018, China opened a Chinese-Armenian Friendship School in Yerevan, investing over $12 million to build and equip the school. Beijing has also reportedly donated hundreds of public buses and ambulance vehicles to Armenia.
Finally, China has committed to providing Armenia with weaponry, signing pledges worth $1.5 billion in 2018. China values stability and security along its trade routes, and the South Caucasus is no exception. In the same vein, Chinese Foreign Minister Wang Yi has expressed his support for a peaceful end to the conflict in Nagorno-Karabakh, and in the current round of hostilities over Nagorno-Karabakh, China has called for a halt to the conflict as well. While this form of aid is not directly considered Chinese "investment," China's interest in selling weapons to both Armenia and Azerbaijan is directly tied to China's desire to protect its investments in the region.
Armenia's minimal exports to China are almost entirely in minerals (88 to 99 percent of yearly exports from 2013 to 2018), and while overall trade is rising, exports remain heavily dependent on an individual industrial sector. Nonetheless, however, Armenia's trade with China has risen in comparison to its trade with America: Armenia's trade turnover with China in 2018 was over three times what it was with the U.S., and while American trade with Armenia has risen 35 percent from 2005, Chinese trade with Armenia has increased over 2,000 percent over that same time period. Clearly, while China's economic presence is Armenia is relatively low, it is nonetheless greater and rising faster than that of the U.S.
What could the future look like for Sino-Armenian relations? According to Mher Sahakyan, director of the China‑Eurasia Council for Political and Strategic Research Foundation at Nanjing University, Armenia could attract more Chinese investment in the future. Armenia could join the AIIB, attract more investment for its transport corridor, and work to develop cooperation in the military-industrial field, financial-banking sector, agriculture and other areas. In a major step, on Aug. 6, China announced that it would build a $10-15 billion "smart city" in Armenia. However, overall, Armenia remains well behind Azerbaijan and Georgia in its attraction of Chinese investment and has a way to go to catch up.
Partially-Recognized Entities: Some Interest, Little Action
Chinese investment in partially-recognized states in the South Caucasus is minimal. However, China has shown some interest and has sent representatives to these entities. In 2009, representatives from the Chinese Beifa Group came to South Ossetia to assess potential for investment, raising the ire of Georgia. However, the greatest Chinese impact on the region is through Chinese relations with North Ossetia, such as the agreement that was signed between North Ossetia and the Chinese region of Szechuan that would bring jobs to North and South Ossetians, as well.
In 2007, China sent a delegation to Abkhazia to get acquainted with the region's economic potential. Another delegation traveled to Sukhumi in 2019. Chinese investors are reportedly interested in wine exports, tomatoes, oranges and tobacco products in the area. According to the same report, China has also expressed interest in buying land in Abkhazia and settling 3,000 workers to "renew infrastructures which would link with the new Silk Road Economic Belt." But such initiatives were blocked by Abkhaz authorities "afraid of Chinese influence." Chinese entities are also skittish; while there is some interest in Abkhazia, the potential consequences for the relationship with Georgia may make further Chinese attention toward Abkhazia too risky to be worth it.
China's presence in Nagorno-Karabakh is small as well. China had no presence in Karabakh before 2005, but after 2005, Chinese imports to Karabakh began to steadily grow. According to an interview with Nagorno-Karabakh's economic minister at the time, these imports are mostly in the area of construction technology, stone processing and hydroenergy.
Importance of the South Caucasus
While China's relationships with South Caucasus countries are probably not among China's top foreign policy priorities, its economic presence in the South Caucasus has nonetheless grown exponentially in recent years and it could be only a matter of time before this growth translates into political influence. Located between European and East Asian markets, South Caucasus countries present transit routes for Chinese and European goods that could greatly aid China's economy. Investing in the region provides China with a foothold in the area. All three South Caucasus countries signed documents with China in 2015 related to their involvement in the BRI, and China's foreign minister has made trips to all three countries.
But China's interests in the region are not only economic. Sergey Markedonov of Russia's Institute for Political and Military Analysis argues that the South Caucasus is important to China geopolitically as well: China worries about jihadism in Xinjiang, and the South Caucasus's proximity to jihadist hotspots in the Middle East is "important in the context of combatting this threat." Additionally, according to a 2014 article in the Yale Journal of International Affairs by David Babayan, China has employed a "cluster approach" to the South Caucasus, as it has developed relations with all countries in the region instead of taking a side in regional conflicts. This allows China to continue growing its presence in all countries of the region, a process that, according to Babayan, notably still coincides with Russia's and Iran's interest in pushing the region away from the West.
The United States and the West as a whole should thus pay attention to this increasing Chinese activity in the region. While the South Caucasus has lost some economic relevance to U.S. policymakers due to the U.S. shale revolution and the resulting downturn in demand for the region's oil and gas, China's activities in the South Caucasus threaten several U.S. vital interests, as defined by the Commission on America's National Interests, in my view:
Maintain a balance of power in Europe and Asia that promotes peace and stability with a continuing U.S. leadership role:

Situated in a key location between Europe and Asia,  two major rivals (Russia and Iran), conflict zones (Iraq and Syria) and an increasingly unpredictable Turkey, the South Caucasus is an area in which maintaining a U.S. leadership role should be a priority, as should be maintaining the South Caucasus countries' cooperation with U.S.-led alliances, such as NATO. Georgia, for example, provided the third-largest contingent of troops for the war in Iraq behind only the U.S. and Great Britain and was the

largest

non-NATO troop contributor to the war in Afghanistan. Armenia, meanwhile,

sent

peacekeepers and a demining battalion to Iraq. An influx of Chinese money could disrupt these partnerships and American influence in the region.

Ensure the viability and stability of major global systems (trade, financial markets, supplies of energy, and the environment):

Regardless of whether or not the U.S. needs to import South Caucasian oil, which accounts for only around .03 percent of the world's oil reserves, or gas, which accounts for around .05 percent, disruptions of supplies of energy from and via this region can impact global prices that would then impact the U.S. Moreover, our European allies do consume around

66 percent

of the oil that Azerbaijan (

99 percent

of the region's oil production) either exports or transits. Promoting European access to non-Russian energy should be a priority for the United States. Should South Caucasian energy resources be redirected to China, the U.S. could be forced to deal with a Europe more heavily dependent on Russia than before and an energy market thrown into flux. Figure 3 shows existing pipeline infrastructure that sends South Caucasian oil and gas west:
Figure 3:2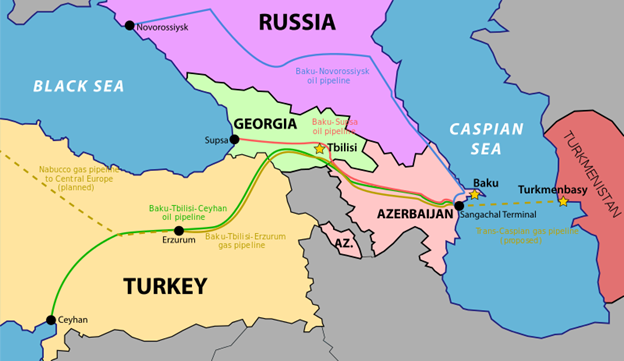 Ensure U.S. allies' survival and their active cooperation with the U.S. in shaping an international system in which the U.S. can thrive:

Creating and maintaining an international democratic order is and will continue to be a U.S. foreign policy priority. Countries such as Georgia and Armenia are relatively

free

societies in an otherwise non-democratic region of the world. The addition of investment and interest from China could damage freedom and transparency in the region, thereby potentially undermining their cooperation with the U.S. in building more democratic institutions worldwide. Additionally, China's interest and increased presence in the South Caucasus points to the overall depth of China's geoeconomic aspirations. The fact that countries in the South Caucasus are turning more toward China for money highlights China's global aspirations, again undermining America's vision of an ideal international system.
For now, the South Caucasus remains largely on the back burner for American policymakers. The region was not mentioned in Trump's National Security Strategy, and apart from visits by then-Secretary of State Hillary Clinton to each country during the Obama Administration, official American interest in the region has been tepid except for when hostilities flare up there. However, all of the above factors make monitoring Chinese investment in the South Caucasus important for American policymakers and thinkers now and—as relations between China and the South Caucasus warm while Sino-American relations cool—in the coming years as well. Although China's interests appear largely economic for now, they could turn more overtly political very quickly as Chinese influence rises in the region. Such developments could prove detrimental for the U.S. in the U.S.-China great power competition.
Footnotes
The World Bank lists "metals" as Georgia's main export to China in 2013, comprising over 85 percent of the country's exports to China.
Photo from Wikimedia Commons shared through a Creative Commons Attribution-Share Alike 3.0 Unported license.
Author
Daniel Shapiro
Daniel Shapiro is a recent graduate of Harvard University and a current associate with Russia Matters.
Photo shared under a Pixabay license. 
The opinions expressed herein are solely those of the author.