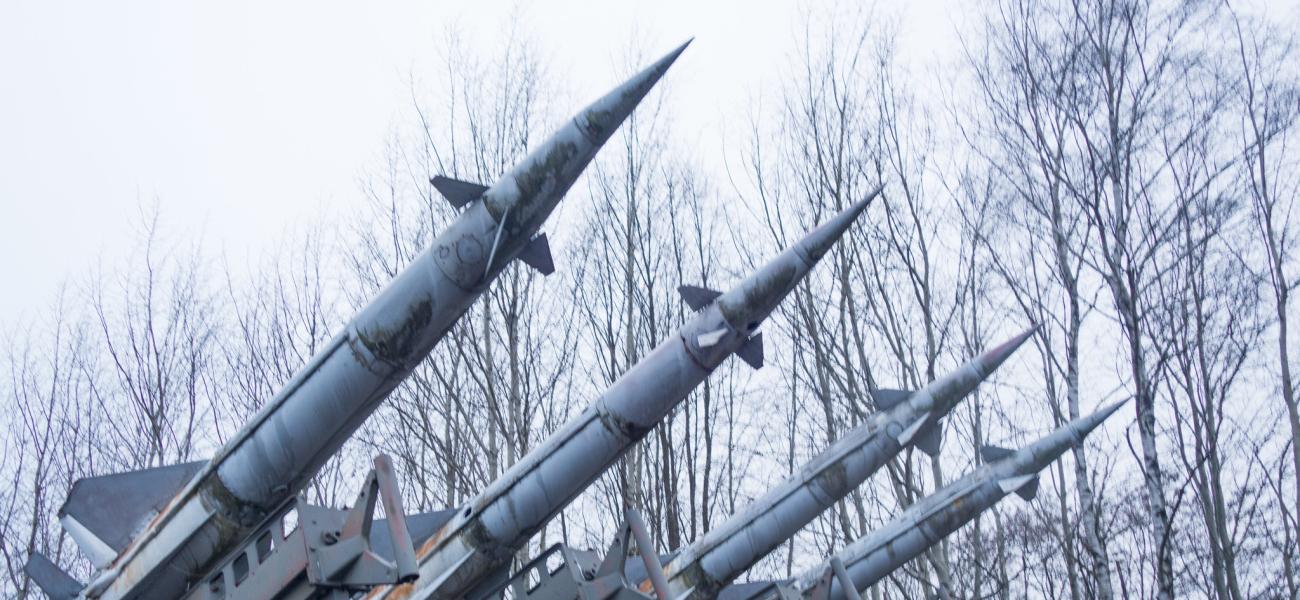 US-Russia Strategic Stability Dialogue: Purpose, Progress, Challenges and Opportunities
December 15, 2021
Leonor Tomero
As the two countries that possess 90% of nuclear weapons worldwide and have come perilously close to nuclear war several times over the last six decades, the United States and Russia bear a particular responsibility to maintain and enhance strategic stability. Strategic stability means arms race stability—whereby neither side has an incentive to seek or establish primacy (or break-out capability) regardless of technological advances. It also consists of crisis stability, whereby neither side has an incentive to escalate a crisis and risks of miscalculation are reduced. The latest Russian military build-up on the Ukrainian border, following Russia's 2014 annexation of Crimea and other hostile actions toward Ukraine, undermines regional and strategic stability. This looming danger to international security makes the U.S.-Russia Strategic Stability Dialogue (SSD) both more difficult and more important.
A War That 'Must Never Be Fought': Purpose of Strategic Stability Dialogue
The SSD's primary purpose is to prevent nuclear war, which, as presidents Joe Biden and Vladimir Putin reiterated at their June summit, "cannot be won and must never be fought." Over the past 60 years, the United States has buttressed nuclear deterrence with strategic stability through arms control negotiations. These talks have delivered transformational benefit to U.S. national defense by limiting—and in time reducing—the Soviet/Russian nuclear threat. This powerful defense tool is embodied today by the SSD, which the two presidents touched on in their Dec. 7 meeting via video.
Progress Under the Biden Administration
Biden took office in January 2021 focused on pursuing arms control and reducing nuclear risks as a key contribution to national security. One of his first decisions after his inauguration was to seek a five-year extension of the U.S.-Russian New START treaty, the maximum allowed under the terms of the agreement. A rapid exchange of letters with Russia and the approval of its lower house of parliament, the State Duma, led to extension on Feb. 3—just two days before the treaty's expiration.
This early win set the tone for Biden's nuclear weapons policy. Secretary of State Antony Blinken said at the time that "the New START Treaty extension is only the beginning of our efforts to address 21st century security challenges" and that the U.S. would use the five years provided by the extension "to pursue with the Russian Federation, in consultation with Congress and U.S. allies and partners, arms control that addresses all of its nuclear weapons." National Security Advisor Jake Sullivan took a broader view, calling the treaty's extension "the beginning of … serious, sustained negotiations around a whole set of nuclear challenges and threats that fall outside of the New START agreement, as well as other emerging security challenges."
The Joint Statement by the presidents in June has allowed Washington and Moscow to begin discussions to reduce the risk of armed conflicts and the threat of nuclear war, including laying the groundwork for future arms control and risk reduction measures. The SSD includes regular discussions not only on nuclear deterrence but also on the risks of emerging technologies such as space and cyber technologies that could affect arms race or crisis stability and thereby increase the risk of escalation and conflict leading to nuclear war. SSD talks were held in July and September. Both meetings reflected the seriousness of the U.S. and Russian commitment to dialogue and reducing nuclear risks, with delegations led by senior officials on both sides—Deputy Secretary of State Wendy Sherman for the U.S. and Deputy Foreign Minister Sergei Ryabkov for Russia.
The September meeting resulted in agreement to create two working groups, on Principles and Objectives for Future Arms Control and on Capabilities and Actions with Strategic Effects. According to Russia's Kommersant daily, another meeting is to be held in Geneva this month.1
Challenges and Opportunities
The way forward is difficult and complex. Here are just some of the hard challenges ahead, some of which are long-standing problems, while other more recent developments pose new challenges to strategic stability:
Russia's international aggression—both in Ukraine and in Georgia—and history of

arms control violations

remain major obstacles.

Alignment with U.S. allies, particularly NATO allies and partners, is vital to meeting U.S. SSD objectives. A U.S.-Russia conflict would directly impact regional security, and European allies have generally been strong supporters of effective arms control and confidence-building measures that hold Russia accountable and reduce the risk of nuclear conflict.  In addition, Russia's large stockpile of non-strategic nuclear weapons and its new nuclear ground-launched nuclear cruise missile deployed in violation of the now-defunct Intermediate-range Nuclear Forces (INF Treaty) threaten NATO allies in Europe.  Further,

on Dec. 10,

Ryabkov noted

that, for Russia, one set of "actions with strategic effects" that should be on the SSD's agenda is, in TASS's translation, "security guarantees for Russia through the non-advancement of NATO to the east."
The Trump Administration's withdrawal from the Open Skies and Intermediate-Range Nuclear Forces treaties further politicized and complicated prospects for nuclear arms control.2 The decisions have exacerbated the difficult task of achieving a two-thirds majority in the Senate (required for bilateral treaties) and nuclear arms control as an important national security tool has lost strong bipartisan champions.
The U.S. Senate has made clear it expects arms control progress to include weapons outside the scope of New START, including Russia's non-strategic nuclear weapons. Further, Russia is developing and deploying

novel nuclear systems

. These include new heavy ICBMs, long-range hypersonic nuclear weapons, and development of systems that would not be constrained by New START limits such as nuclear cruise missiles and an undersea torpedo.

China's significant increase of its number of nuclear weapons complicates U.S.-Russian strategic stability. As revealed in

open-source

analysis and imagery

, China is pursuing a rapid acceleration and increase in its number of nuclear weapon silos, in addition to investing in more survivable nuclear platforms, including

mobile ICBMs

and

ballistic missile submarines

.

U.S. missile defense remains a key concern for Russia due to the perceived impact on strategic stability and remains a politically difficult issue in the United States. Missile defense, particularly any future constraints, has long been a politically complex issue even as the New START preamble recognized the interrelationship between offensive and defensive forces.
Addressing some of these challenges, U.S. Under Secretary for Arms Control and International Security Bonnie Jenkins in September outlined "several key concepts" for addressing "evolving threats" with Russia: "First, we will look to capture new kinds of intercontinental-range nuclear delivery systems. Second, we will seek to address all nuclear warheads, including those which have not been limited previously, like so-called non-strategic nuclear weapons. Third, we will seek to retain limits on Russian intercontinental-range ballistic missile, submarine-launched ballistic missiles and heavy bombers equipped for nuclear armaments after New START expires in 2026."
Technological changes can exacerbate the risk of strategic instability and require focused dialogue. These include emerging long-range hypersonic weapons that can reach strategic targets, possible cyberattacks against strategic assets or with strategic implications and weapons that threaten space assets—including some that produce space debris, further threatening other space assets or the use of certain orbits. Following Russia's Nov. 15 antisatellite test, which created at least 1,500 pieces of trackable debris, U.S. Space Command chief Gen. James Dickinson warned that "Russia continues to pursue counterspace weapon systems that undermine strategic stability." Many of these threats are complicated, particularly in the cyber and space domains, by difficulties of attribution, as well as reversible versus irreversible attacks, increasing the risk of miscalculation or misperception.
A serious and good-faith dialogue with Russia about these risks to strategic stability (as well as dialogue with our allies and China) is necessary to understand the changing nature of those risks and the direction new arms races may take and to reduce the risk of unintended escalation.
SSD success will require complementary measures for effective arms control and risk reduction. Sustained investment in technological innovation at the national laboratories—as well as novel, resilient and cost-effective applications of commercial technologies—can play a key role in enhancing strategic stability. Innovation for deterrence resilience is a necessary complement to nuclear force modernization. In addition, application of new capabilities and architectures can add resilience to the nuclear enterprise, make nuclear forces more survivable and increase decision time in a crisis. As another example, increased investment in the national laboratories and use of block chain for inventory control could result in new, reliable verification mechanisms for follow-on arms control agreements. Use of big data analytics for rapid change detection and use of commercial space capabilities provide new opportunities for earlier detection and time for resolving potential problems ahead of a crisis or conflict.
Biden said after the June summit, "we'll find out within the next six months to a year whether or not we actually have a strategic dialogue that matters." The SSD meetings have demonstrated a clear commitment from both sides to constructively broach these difficult issues.
Time is short, and progress in reducing these increasing risks is essential.
Footnotes
Kommersant reported that the groups would be headed, on the Russian side, by Vladimir Leontyev, deputy director of the Department for Nonproliferation and Arms Control of the Russian Foreign Ministry, and Vasily Boryak, deputy director of the ministry's North America Department, and, on the U.S. side, by Senior Bureau Official Alexandra Bell of the State Department's Bureau of Arms Control, Verification and Compliance and Eric Desautels, identified as the bureau's acting deputy assistant secretary.
Russia responded by withdrawing from both treaties as well.
Author
Leonor Tomero
Leonor Tomero is a former Deputy Assistant Secretary of Defense for Nuclear and Missile Defense Policy, and served for over a decade as Counsel and Staff Lead of the Strategic Forces Subcommittee of the House Armed Services Committee.
Photo by Thomas Quine shared under a Creative Commons license. The opinions expressed herein are solely those of the author.