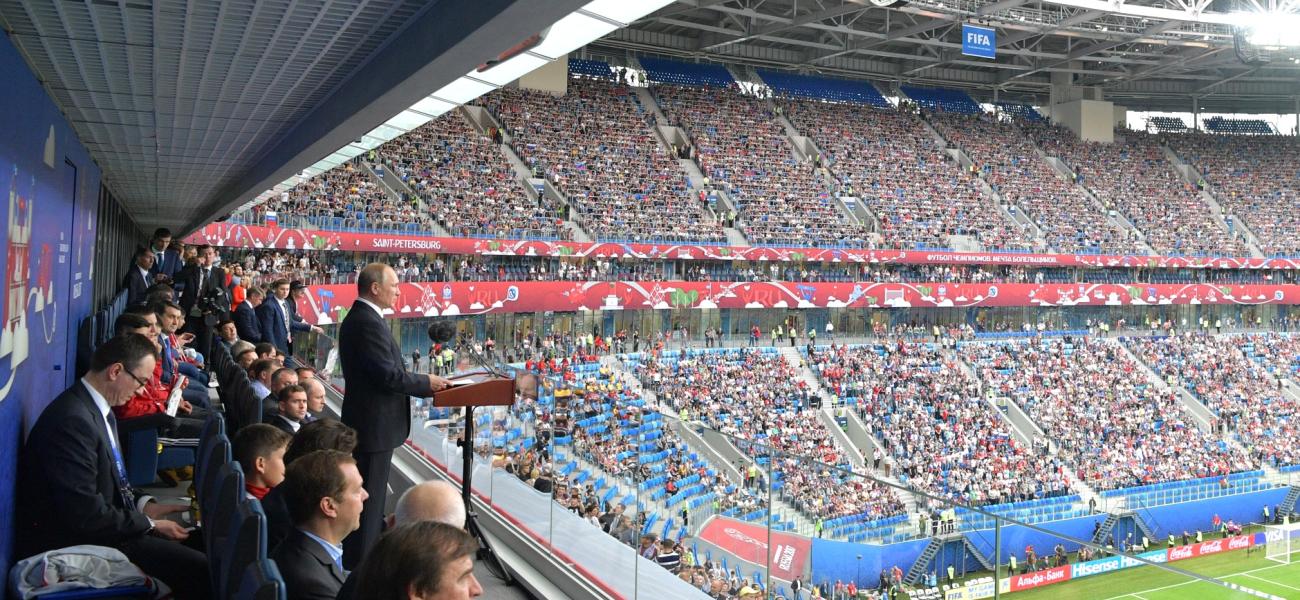 Terror Threat from Russian-Speaking Jihadists Won't End with World Cup, and the West Should Care
June 13, 2018
Jean-François Ratelle
As Russia gears up to host the month-long World Cup soccer tournament beginning June 14, security experts—from scholars and analysts to German police—have been warning of possible terrorist attacks, primarily by jihadists returning to Russia from abroad and by local groups or lone actors inspired by militant Islamist ideology. Indeed, in recent months, the Islamic State has used its social media channels and an encrypted messaging app to post threats of violence against the World Cup and other sporting events. The soccer championship certainly represents a high-value, "aspirational" target for terror groups as thousands of Western citizens—including somewhere between 35,000 and 80,000 Americans—plan on attending. While attacks with crude weapons by individuals or small groups are certainly possible, Russia has been heavy-handed against militants on its soil, discouraging many would-be returnees. As such, the threats to the games should not be exaggerated. What policymakers and officials worldwide should be monitoring closely, however, are the longer-term security risks posed by the hundreds of Russian-speaking militants fleeing Syria and Iraq. With many of them unable to return home, other states—particularly Ukraine, Turkey and potentially some EU countries—are slowly becoming sanctuaries for ex-fighters. Dealing with them will be a major international counterterrorism challenge in coming years, and some measure of cross-border cooperation will be indispensable, as difficult as that may be.
Militants Fanning Out
In recent years, the war in Syria and the subsequent territorial collapse of the Islamic State (IS) have drastically changed the landscape of extremist and terrorist activities in Eurasia—transforming Russian-speaking extremist groups from a localized threat, mainly based in Russia's North Caucasus region, into transnational networks spanning the Middle East, Turkey, the European Union, Ukraine and the Balkans, with security implications for the U.S. and its allies. As extremist groups like IS and al-Qaida gained footholds in Iraq and Syria, Russian-speaking militants, including seasoned combatants from Russia's two Chechen wars, expanded into those countries, gradually becoming one of the largest foreign-fighter contingents there and playing a major role in Syria's civil war. In March 2016 Russia's Interior Ministry announced that 3,417 Russian citizens had travelled to "take part in fighting in areas of IS activity" in Syria, Iraq and other countries (an unnamed security source reportedly told the Meduza news website that the number was closer to 5,000, but almost a year later President Vladimir Putin put the number at "nearly 4,000"). In addition to the Russian contingent, the Soufan Center estimated in a 2017 report that 5,000 more fighters—many of them Russian speakers—had come from Central Asia and other former Soviet republics, including Azerbaijan and Georgia. With last year's de facto defeat of the Islamic State, and the noose tightening around rebel-held Idlib, many Russian-speaking militants—both Russian nationals and Central Asians—are looking for new options, including returning home or fighting on other jihadist fronts. Recent reports have underlined the presence of Russian-speaking former fighters in Georgia, Ukraine and Egypt, while others seem to be tapping into immigrant networks in Europe. This transnational phenomenon could pose a threat to U.S. and European security. For example, militants unable to return to Russia might choose to develop terrorist cells in transit countries like Ukraine, threatening American and Russian interests abroad, or to join existing homegrown terrorist networks in Western Europe. Cross-fertilization between different subgroups of extremist actors also has the potential to multiply their capacities and extend their jihadist careers. Meanwhile, seasoned jihadists can act as hubs of radicalization inside host countries or merge with criminal organizations.  
Returning foreign fighters are usually seen as a security threat to their home countries, only marginally affecting other states. But this is not the case with Russian-speaking militants leaving Syria and Iraq—in part because Russia has adopted heavy-handed methods against returnees, tracking and prosecuting them, with a small number reportedly killed by security services. As a result, the return rate remains relatively low compared to European countries. While the Russian government does not provide detailed statistics about returnees, the Soufan Center report estimated the number at 400, or about 11 percent, versus roughly 24 percent for the European Union. In the absence of rehabilitation and social support, former fighters hoping to disengage from their erstwhile comrades in arms—including returnees hiding in Europe and elsewhere—are increasingly at risk of resuming militant activities. Others have openly vouched to bring their jihad to Russia, but have repeatedly failed to access Russian territory.
Moscow's unwillingness to reintegrate former fighters, plus the size of the overall Russian-speaking contingent and the cooperative potential provided by a common language have led to expanded international security challenges. In response to Moscow's policies, militant groups have adapted their strategies and are working to extend their networks in Europe and Turkey. For example, both Turkey and Ukraine, with their extensive diasporas of people from the North Caucasus, have become sanctuaries for Russian-speaking militants. These former fighters are increasingly developing links with local criminal groups in order to gain access to weapons, funding and illegal travel documents, potentially increasing the risks of future terrorist attacks launched from these two countries. Turkish authorities have said that the 2016 attack on Istanbul's main international airport—reportedly carried out by one citizen of Russia (hailing from Dagestan) and two from ex-Soviet republics in Central Asia (Kyrgyzstan and Uzbekistan)—was organized by an IS fighter from Chechnya. With Turkey cracking down on North Caucasian and Russian-speaking communities suspected of ties with extremist groups, ex-fighters hailing from the North Caucasus, including Chechens and Dagestanis, are also turning to Europe as a new potential safe haven.
New Networks, Shared Threats
Several types of overlapping relationship networks have increased the possibility that fighters from the Caucasus could travel to Western Europe, whether through porous borders in neighboring regions or amid the flow of refugees from Syria. According to informal discussions with European law-enforcement agents, the large North Caucasus diasporas in Belgium, France, Germany and Austria provide an attractive milieu for fighters from the region who are not willing to stay in Turkey or Ukraine. Some of the Chechen communities in Europe already have existing extremist networks. Moreover, based on social media accounts and my discussions with extremists themselves, Russian-speaking militants, mainly from Russia, have networked with European jihadists in Syria, including Chechen refugees who travelled to the Middle East to join the fight against the Assad regime. Such relationships can facilitate ex-fighters' entry to Western Europe. Although individuals identified by Interpol red notices can be biometrically flagged at EU borders, certain points of illegal entry for Russian nationals—like the Balkans and Ukraine—continue to pose serious risks, in part due to weak international cooperation, as discussed below.
In order to circumvent their inability to fight in Russia proper, some Russian-speaking militants abroad are also turning to encrypted communications to plot potential terrorist attacks inside the country and recruit local Muslims to carry them out. Such efforts capitalize on the spread of extremist activities inside Muslim communities in Russia's Far North, Volga region and Urals—driven both by Moscow's repressive policies against "non-traditional" Islam and by IS propaganda. Motivated by their hostility toward Moscow and its involvement in Syria, North Caucasian fighters inside the Islamic State have sought to inspire lone-actor attacks. Recent attacks of this sort have involved the use of knives targeting Russian police and civilians in the Moscow suburb of Balashikha (2016), the Siberian city of Surgut (2017) and Chechnya's capital, Grozny (2018). A May 2018 report from Jane's Terrorism and Insurgency Center predicts that "potentially successful attacks" during the World Cup would probably be "low-capability, involving vehicles, knives or crude IEDs." At the same time, the most recent terrorist attacks in St. Petersburg (April 2017) and Nizhny Novgorod (October 2016)—cities that will host World Cup matches—underline that homegrown terrorists do have some access to explosives and firearms, potentially increasing the lethality of any attacks against the soccer tournament.
That said, while Western teams and fans at the World Cup might become collateral damage in the struggle between militants and the Russian government, the threat posed by extremist networks to the tournament should not be exaggerated. The insurgency in the North Caucasus has been wiped out, limiting the availability of weapons and explosives for returning fighters and other terrorist actors. During the Sochi Olympic Games in 2014 Russian authorities arguably faced a much bigger threat, due to the relative strength and proximity of the North Caucasus insurgency, but the country's security services were able to fully secure the Games' venues, participants and spectators. It is worth noting, however, the World Cup poses a more diffuse and extended threat, as matches will be held in 11 cities—including two near the North Caucasus—and several others will be hosting foreign teams (including Chechnya's mostly pacified capital, Grozny). To combat the threat, Moscow has reportedly deployed anti-drone technologies around all the venues, as well as monitoring and screening individuals transiting from the North Caucasus and other at-risk regions.
Potential for Counterterrorism Cooperation
The transnational spread of Russian-speaking fighters leaving the battlefields of Iraq and Syria is increasingly becoming a shared problem for Russia and the West, and major international events like the World Cup highlight the fact that counterterrorism cooperation could benefit everyone. Indeed, the 32 countries taking part in the tournament have sent police officers to Russia to help with security. However, mistrust and strained relations between Moscow and Europe and, even more so, between Moscow and Washington have largely limited such cooperation to a case-by-case basis, while longer-term, strategic intelligence sharing has been elusive. Since the sources of bilateral tensions promise to be long-term—the war in eastern Ukraine, Russian interference in the 2016 American presidential election, the conflict in Syria, the erosion of arms control—deep, substantive counterterrorism cooperation remains unlikely. In a debate hosted on these pages a few months ago, RAND analyst Colin Clarke argued that Moscow has proven to be an unreliable and none-too-valuable counterterrorism partner in Syria, and in my view nothing augurs a drastic difference in the Eurasian context. (Clarke's opponent, former CIA officer George Beebe, argued that the obstacles were surmountable and that working with Russia would make America safer.)
In addition to heavy-handed tactics, one problem is that Moscow has too often appeared to use counterterrorist operations for political purposes, rather than engaging in a multilateral, long-term counter-extremist strategy; this, in turn, has engendered skepticism among its would-be partners. For example, Moscow has abused the Interpol system to target political opponents abroad, including refugee communities in Europe, as exemplified by the case of Akhmed Zakayev. Although Interpol can be a useful tool to combat terrorism and monitor the outflow of Russian fighters from Syria and Iraq, its effectiveness is stymied by a perception that the system is being gamed, with Western countries struggling to positively identify foreign terrorists without prejudice toward Russia's political opponents. An even deeper lack of trust between Russia and Ukraine has already led to a dangerous lack of cooperation: Reuters recently reported on a former IS fighter from Russia who has settled in Ukraine, seemingly undetected by authorities, because of the two countries' current military conflict and the attendant politicization of their counterterrorism efforts; how many more such fighters there may be is unclear for now.
Furthermore, Russia has become less transparent than it used to be about the details of its counterterrorism efforts, spurring further doubts about their legitimacy. In the last two years, Moscow has ratcheted up the number of counterterrorist operations allegedly aimed at dismantling IS cells across the country. However, as recently illustrated in a tally of cases by the Novaya Gazeta newspaper, and confirmed by a handful of researchers, the details and outcomes of those operations can often be difficult to verify. While the government claims to have eliminated large IS cells, few particulars and names are provided by security forces and few prosecutions follow. When prosecutions do occur, little evidence is provided to support claims linking local individuals to transnational terrorist networks. This assertion is not meant to minimize the terrorist threat on Russian territory, but to point out that counterterrorist operations can be used both against extremist networks and against non-violent religious radicals such as apolitical Salafis. Such religious repression has been extensively documented by researchers, emphasizing once again that Moscow's counterterrorist activities are often misguided, ineffective and/or politically driven.
Both during the World Cup and in terms of the broader terrorism threat linked to Russian foreign fighters returning from Syria and Iraq, Western countries face a complicated situation. Moscow clearly sees the threat as real and shows a commitment to fighting it, but its efforts remain tainted with political opportunism and human rights abuses. In the foreseeable future, counterterrorism cooperation with Moscow will have to be approached with extreme professionalism and caution, operating on the principle of "trust but verify," and carefully navigating the shoals of politically sensitive environments, whether in Turkey, Ukraine or Europe's immigrant communities.
Author
Jean-François Ratelle
Jean-François Ratelle is an assistant professor at the University of Ottawa with an academic focus on insurgency in the North Caucasus.
Photo credit: Kremlin press office.
The opinions expressed in this article are solely those of the author.