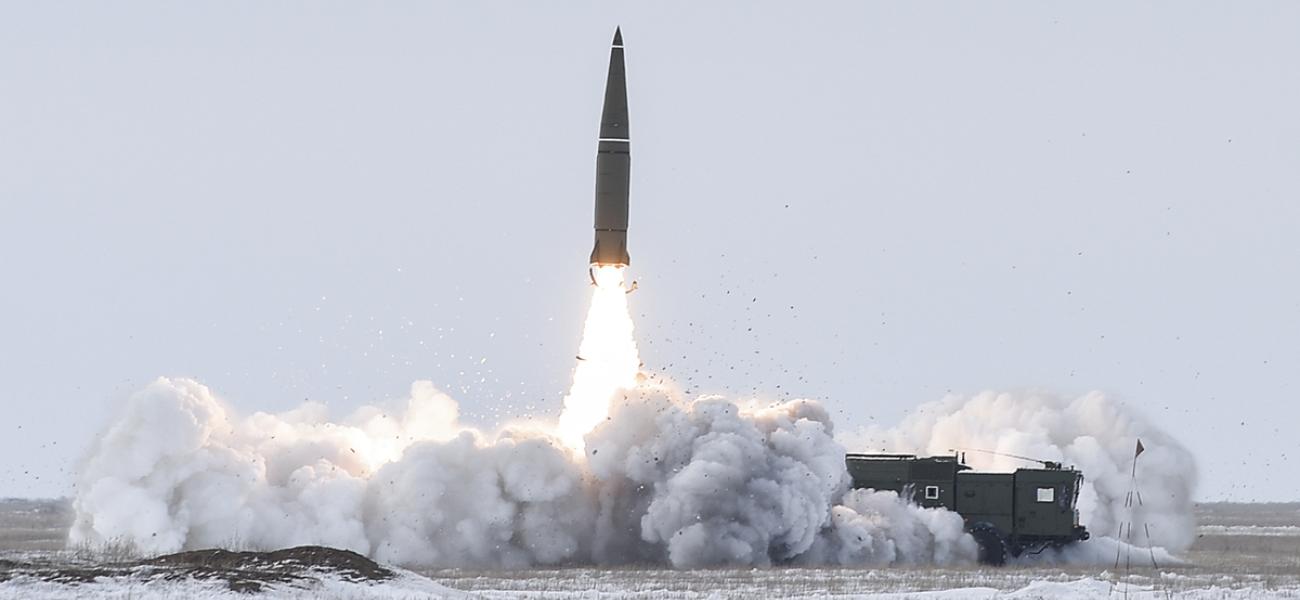 Nuclear Weapons in Belarus: History Repeats Itself
March 31, 2023
William Alberque
What Putin Said
On March 26, 2023, Russian President Vladimir Putin told Pavel Zarubin of the Rossiya-1 television network that Russia is preparing to deploy nuclear warheads on Belarusian territory. Putin made the statement as part of an appearance on the weekly show "Moscow. Kremlin. Putin." 
During the interview, Putin said that Russia's intention to move nuclear weapons to Belarus is in response to the U.K. supplying Ukraine with Challenger II tanks with rounds made with depleted uranium cores—a claim that is quite unusual considering the USSR and Russia's extensive experience with depleted uranium, as well as Russia's long-standing criticism of the U.S. and NATO for stationing nuclear weapons on the territories of European states. 
Putin said the move was also in response to Belarusian President Alexander Lukashenko, who had "long raised the question of deploying Russian tactical nuclear weapons on the territory of Belarus," citing the example of the United States having "long placed their tactical nuclear weapons on the territory of their allied countries," going on to list "Germany, Turkey, the Netherlands, Belgium, Italy and Greece." (It is widely known that NATO nuclear weapons are no longer stored in Greece.) The announcement coincided with Freedom Day, which is recognized by Belarusian dissidents as an alternative day of independence. The Belarusian Foreign Ministry, for its part, claimed on March 28 that it "is taking forced response actions to strengthen its own security and defense capability" in response to "unprecedented political, economic and informational pressure from the United States, Great Britain and their NATO allies, as well as the member states of the European Union."
Putin committed during the interview to complete preparations at a site in Belarus to store nuclear weapons by July 1, leaving open the question of whether this work has already begun.  He said that Russia will not transfer control of the warheads to Belarus, but they are intended for the Iskander-M ground-launched ballistic missiles (NATO name: RS-SS-26 Stone)—an unknown number of which have already been transferred to Belarus—and 10 Belarusian aircraft that he said Russia has upgraded to be able to deliver nuclear weapons. "We have already helped our Belarusian colleagues to equip their aircraft, aircraft of the Belarusian Air Force. Ten aircraft are ready to use this type of weapon," he said. Putin further declared that training for the Belarusian pilots will begin on April 3, and indicated that Russia will train Belarusian troops to prepare the systems and deliver the warheads, "without violating our obligations, I emphasize, without violating our international obligations on the nonproliferation of nuclear weapons."
This raises some immediate questions: Is Russia building a new nuclear storage facility in Belarus, or refurbishing a former Soviet storage facility? Will the two sides begin nuclear planning and jointly exercise nuclear use? Will the Russian 12th Main Directorate troops be stationed permanently in Belarus to guard the nuclear weapons storage facility? And, of course: How will Chinese President Xi Jinping react? How will the U.S. and NATO react? And will these changes have an impact on Russia's war on Ukraine?
Many of these questions remain unanswered as of the time of writing, but the question of why this matters is becoming increasingly clear.
Why It Matters
Basing nuclear weapons in Belarus opens new avenues of short-range nuclear attack on U.S. allies, including Slovakia, Hungary, Moldova and Ukraine, as well as providing additional coverage of the Baltics, Poland, Czech Republic and Finland, along with Russian Iskanders currently based in Kaliningrad and Pskov. This geographic shift also comes in the context of some Russian government officials issuing increasingly strident nuclear threats, in particular Deputy Chairman of the Russian Security Council (and former dovish President) Dmitry Medvedev. Russia's increasingly violent nuclear rhetoric, combined with the deployment of Russian nuclear weapons to Belarus' territory are developments to be condemned. However, these developments do not fundamentally alter the balance of power in Europe, nor do they significantly alter the risk of nuclear conflict. It also does not yet signal the return of nuclear artillery or landmines that ensured the Cold War would be so deadly for both sides. But it is widely accepted that Russia has at least 1,900 non-strategic nuclear warheads, with the actual number likely to be much higher—far outmatching the corresponding U.S. total (~200).
The deployment announcement also reverses years of Russian policy focused on gaining international support for its criticism of similar arrangements within NATO. It also may signal advances in Russia's efforts to absorb Belarus as a separate entity through its "Union State" Treaty—a long-standing project by Putin that Lukashenko has yet to fully embrace—and a shift in his nuclear posture in Central Europe.
Indeed, Russia has issued regular condemnation of the U.S. and NATO's nuclear sharing arrangements in the Nuclear Non-Proliferation Treaty (NPT) context since the 2015 NPT Preparatory Committee meeting, and has worked assiduously to gain other countries' support in condemning this practice in New York, Vienna and Geneva. As a matter of law, NATO's nuclear sharing arrangements are not a violation of the NPT Treaty—the original treaty was co-authored by the U.S. and the USSR, who worked together to ensure that the treaty text would accommodate NATO's nuclear sharing arrangements. It is also, therefore, compatible with Russia's announcement, so long as Russian nuclear weapons remain under the control of the Russian Federation until such time as they are released as part of a general war. During the Cold War, the USSR based nuclear weapons at more than 25 facilities across the territory of East Germany, Bulgaria, Czechoslovakia, Hungary and Poland, and a Hungarian report documents that Soviet nuclear sharing arrangements began with the states of the Warsaw Pact in the late 1960s. 
In addition, Putin's announcement directly contradicts the joint statement Putin made with China's Xi on March 21, five days before his interview on Russian television, as part of a lengthy joint statement: "All nuclear-weapon states should refrain from deploying nuclear weapons abroad and withdraw nuclear weapons deployed abroad." 
Xi may feel somewhat perplexed by this action. Indeed, there are those that claim that Putin did not warn Xi of the impending invasion of Ukraine when the two met on Feb. 4, 2022, on the sidelines of the Beijing Winter Olympics. Some analysts claim that Xi asked Putin not to invade until after the Olympics in their Dec. 15, 2021, phone call, and that Putin had agreed. Regardless, for Xi, this change in Russian policy undercuts his effort to prevent a return of U.S. nuclear weapons to East Asia. On Jan. 11, 2023, South Korean President Yoon Suk-yeol called for a strengthening of U.S. extended deterrence, to include more nuclear deployments, and hinted that South Korea could acquire its own if it felt insecure.  
Where Will the Nukes Go?
It is likely that Russia will refurbish one of the existing former Belarusian nuclear weapons storage facilities rather than create a new one. They were designed to be accessible by rail from central Russia, and while many have been left to neglect or sold for redevelopment, several have remained under military control and appear to be well maintained, probably repurposed for conventional munitions. During the Cold War, Belarus hosted Soviet SS-4, SS-20 and SS-25 missiles, as well as shorter-range nuclear forces and air-dropped bombs. 
It would make sense for Russia to upgrade the storage facilities at Belarusian air and missile bases, consistent with Soviet and Russian doctrine. That doctrine includes central warhead storage facilities with several associated air, missile or artillery bases where the warheads would be moved for deployment, then mounted on delivery systems and launched. Belarus' primary air bases are Baravonichi, Lida, and Babryusk, and each has storage areas that are candidates for the return of nuclear warheads. The Belarusian missile brigade with Iskanders is likely to be the 465th Missile Brigade near Osipovichi. Consistent with Soviet doctrine, it is unlikely Russia will build a central storage facility in Belarus, and instead likely will use warheads shipped from the Bryansk-18 Russian national-level storage facility, which is 50 miles from the now-Belarus-Russia border. 
How Did We Get Here?
While Putin's announcement was received with surprise in many quarters, some of these developments have been underway for a long time, while others are relatively recent. However, few if any can be said to have resulted entirely of Russia's war on Ukraine. The Union State project was initiated in 1999, and Russia has long sought permission from Belarus to station its aircraft and air defence systems on Belarusian territory. However, Lukashenko has resisted permanent stationing, instead insisting on rotational assignments and a series of large-scale exercises, including the quadrennial Zapad (West) and Shchit Soyuza (Union Shield), which occur on Russian and Belarusian territory (last in 2022 and 2019, respectively). In 2015, the two presidents seemed to agree to establish a joint military base in Belarus, but Lukashenko managed to disown this plan without significant consequences. Then in April 2021, Lukashenko relented to establishing joint air patrols and pilot training, but resisted permanent stationing of Russian forces.   
These developments were followed by Belarus' change to its constitution, a process that it initiated after a meeting between Putin and Lukashenko in Moscow on Sept. 9, 2021, to discuss how to advance "the integration processes within the Union State." After a further five phone calls between the two leaders, Lukashenko agreed to a new joint military doctrine on Nov. 4, and on Nov. 15, 2021, submitted his changes to the Belarusian Constitution to the Constitutional Commission. The changes, among others, removed the article that previously stated that Belarus would remain a nuclear-weapon free state. The old constitution read that: "The Republic of Belarus aims to make its territory a nuclear-free zone, and to make the state neutral." The same article in the new constitution now reads: 'The Republic of Belarus excludes military aggression against other states from its territory."  
Of course, Belarus is currently aiding Russia in its "military aggression" against Ukraine, so Belarus would appear to be in violation of its own constitution.  Following the proposed amendments to the Constitution, on Nov. 30, 2021, Lukashenko appeared on Russian television saying, "I will offer Putin [the opportunity] to return nuclear weapons to Belarus."
The next step was taken some seven months later. On June 25, 2022, in a widely-reported meeting, Lukashenko asked Putin for an increased deterrence presence in Belarus in response to NATO's changing military posture near his borders. Putin replied, promising to deliver an unknown number of Iskander missiles—making a point that they would be nuclear capable—as well as retrofitting Belarusian Su-25s to deliver nuclear weapons. This announcement surprised many, as the Su-25 is a 1970s-era ground attack aircraft, and is not particularly suited for nuclear roles. Lukashenko in that same conversation had asked for nuclear armaments for the Su-35 (which is not designed to deliver nuclear weapons). On Aug. 26, 2021, Lukashenko announced that Belarusian Su-24s had been upgraded by Russia to deliver nuclear weapons, adding to the confusion. The Su-24 would make more sense than the other airframes, as it was designed by the Soviets to deliver air-dropped nuclear bombs. Belarus had a small number of Su-24s in storage, possibly amounting to 10 viable airframes, further lending credence to this theory. 
On Dec. 19, during another face-to-face meeting with Putin,Lukashenko thanked him and said that he had "put on combat duty the S-400 complex, which you handed over to Belarus, and, most importantly, the Iskander complex, which you also, having promised it six months ago, handed over to us." On Dec. 25, 2022, Belarus repeated the claim that the aircraft had been upgraded to carry "special aviation ammunition" or "СпАБ," the Russian term for air-dropped nuclear bombs. Further, on Feb. 1, 2023, Col. Ruslan Chekov, head of the Belarusian Missile Troops and Artillery Forces, announced that Belarus had established "autonomous control" of their Iskanders, indicating that they can operate them without Russian support.
It should be noted, however, that, to date, Lukashenko has resisted the permanent stationing of any significant numbers of Russian troops on Belarusian territory, despite previous statements from Russia to that effect. The placement of Russian nuclear weapons on Belarusian territory would, in theory, require that the Russian 12th GUMO (the military unit in charge of nuclear weapon security and safety) accompany the weapons, as they did in the Cold War across the Warsaw Pact. It remains to be seen if nuclear weapons will be permanently stored in Belarus or only temporarily stored, and whether this development follows or precedes further political union between Belarus and Russia. Ominously, Russian Foreign Ministry spokesperson Maria Zakharova's comments from March 27 seem to imply that this deployment is part of the broader Russian-Belarussian "Union State" project, where Russia and Belarus form an ever-closer union. 
What Is to Be Done?
The U.S. and NATO have been cautious so far in their reactions. U.S. National Security Council spokesperson Adrienne Watson said on March 26 that "we have not seen any reason to adjust our own strategic nuclear posture, nor any indications Russia is preparing to use a nuclear weapon." State Department Deputy spokesperson Vedant Patel echoed the sentiment on March 27, adding that "this announcement is one that we condemn. This is the latest example of irresponsible nuclear rhetoric that we have seen from Russia." NATO spokesperson Oana Lungescu echoed these sentiments on March 26, tweeting that "Russia's nuclear rhetoric is dangerous and irresponsible," but that NATO has "not seen any changes in Russia's nuclear posture that would lead us to adjust our own." The European Union also replied in kind on March 26, with High Representative Josep Borrell tweeting that "Belarus hosting Russian nuclear weapons would mean an irresponsible escalation and threat to European security," and that "the EU stands ready to respond with further sanctions." However, Putin's spokesman Dmitry Peskov swiftly replied, saying that new sanctions cannot affect Russia's plans. The U.N. Security Council is set to meet on March 31 to address the issue at Ukrainian President Volodymyr Zelensky's urging.
Moving forward, there is no matter of treaty compliance here, unless Russia hands operational control of nuclear weapons in peacetime to Belarusian forces. Rather, the U.S. and NATO should continue to highlight the lack of responsible behaviour by Russian authorities, particularly in discussions with China about nuclear rhetoric, and mourn the increasing loss of Belarusian sovereignty. Economic sanctions also are likely to be of limited use, as there are fewer and fewer options remaining in the sanctions toolbox more than one year into Russia's war on Ukraine.
From a defence and deterrence point of view, these deployments do not change much. While it is not ideal that Russia is moving its short-range nuclear weapons closer to NATO's borders, NATO already needs to re-orient its missile defences toward the east, and improve its capabilities to detect and intercept cruise missiles. These efforts will become more urgent if NATO suspects that Russia deploys the longer-range 9M729 missile—the 2,000 km+ range ground-launched cruise missile that ended the INF Treaty—to Belarus. Taken together, all of these changes will further incentivize the Central European NATO allies to work toward the goal of establishing a more robust architecture of better-integrated air and missile defenses along the NATO-Belarus and NATO-Russian borders. Such a re-orientation poses huge technological, financial and strategic challenges, but these challenges preceded Russia's changed nuclear posture. Russia's moves certainly will help overcome the problem of political will.
Author
William Alberque
William Alberque is the director of Strategy, Technology and Arms Control at the International Institute for Strategic Studies, based in Berlin. He previously has worked on the Cooperative Threat Reduction Program, worked for the Pentagon on arms control policy, compliance and implementation, and served as the director of NATO's WMD Center.
The opinions expressed herein are solely those of the author. Photo by Mil.ru shared under a Creative Commons license.