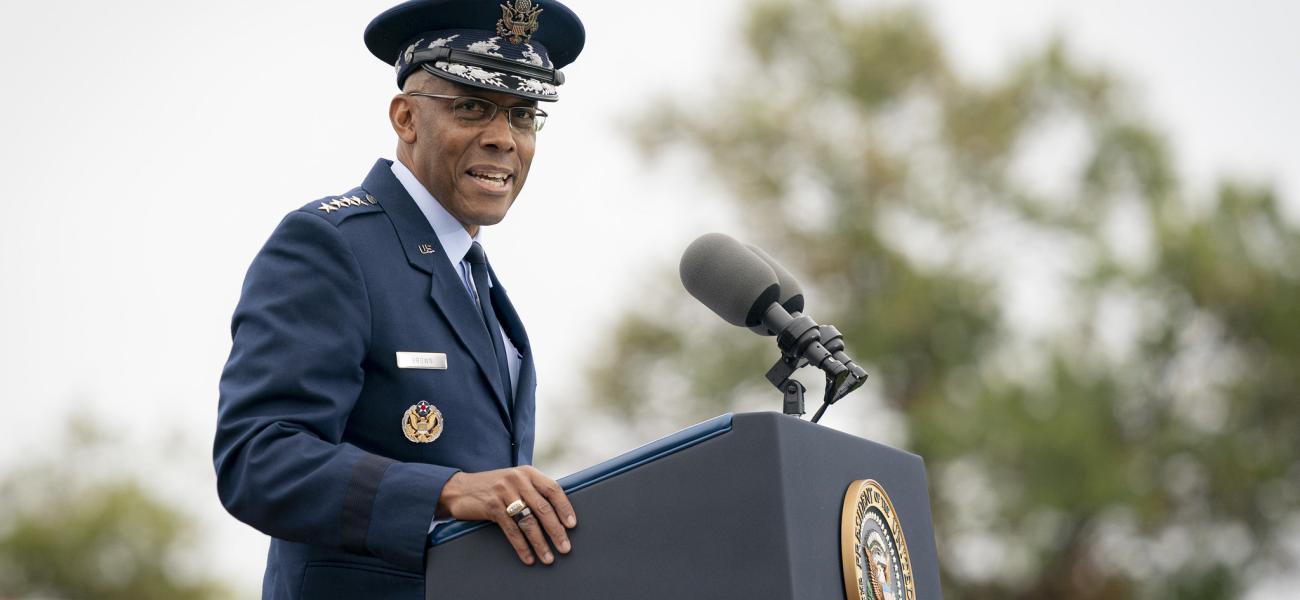 New Chairman of the Joint Chiefs of Staff Gen. Charles Q. Brown on Russia
October 06, 2023
Conor Cunningham, Mikael Pir-Budagyan and RM Staff
On May 25, U.S. President Joe Biden nominated Gen. Charles Q. (CQ) Brown to serve as the 21st chairman of the Joint Chiefs of Staff. The Senate approved his nomination on Sept. 20, and he began his term on Oct. 1. A graduate of Texas Tech University, he was commissioned in 1984 as graduate of the university's ROTC program. Brown has served in a number of commanding roles in the U.S. Air Force before becoming its 22nd Chief of Staff in 2020. 
During his pre-JCS service, Brown has categorized Russia as a significant and acute threat, underscoring its reliance on nuclear coercion. More recently he described China and Russia as the "greatest security risk we face." Brown has also warned that China's nuclear trajectory means the U.S. will soon find itself "with two nuclear peer adversaries," China and Russia. However, Brown takes a skeptical view of the strength of the Russia-China relationship, saying that he thinks the two would "be hard-pressed to have a strategic relationship." As for the war in Ukraine, he has recently noted the advancements in Ukraine's air defenses and their role in stymieing Russian airpower. 
This compilation is meant as a sampling of Brown's views. It is part of Russia Matters' "Competing Views" rubric, where we share prominent American thinkers' takes on issues pertaining to Russia, U.S.-Russian relations and broader U.S. policies affecting Russia. The quotes below are divided into categories similar to those in Russia Matters' news and analysis digests, reflecting the most pertinent topic areas for U.S.-Russian relations broadly and for drivers of the two countries' policies toward one another. All sections may be updated with new or past statements.
I. U.S. and Russian priorities for the bilateral agenda
Nuclear security and safety:
North Korea's nuclear and missile programs:
We are … working on strengthening trilateral cooperation between the United States, Japan, and Republic of Korea to better deal with the challenges posed by North Korea's growing nuclear weapons and missile programs. (U.S. Senate Committee on Armed Services, 07.11.23)

As North Korean ballistic missile threats to the U.S. homeland continue to evolve, the United States is committed to, and I support improving the capability and reliability of the Ground-based Midcourse Defense system. … [T]he United States will leverage and improve its full spectrum of passive and active missile defeat capabilities, complemented by the credible threat of direct cost imposition through nuclear and non-nuclear means, to continue to counter North Korean missile threats to the homeland. 

(U.S. Senate Committee on Armed Services, 07.11.23)

We recognize growing concerns about nuclear and missile developments in the PRC, North Korea and Russia, and are committed to strengthening deterrence in ways that are responsive to changes in the regional security environment. Toward that end, we will work with allies and partners to ensure an effective mix of capabilities, concepts, deployments, exercises and tailored options to deter and, if necessary, respond to coercion and aggression. 

(U.S. Senate Committee on Armed Services, 07.11.23)
Iran and its nuclear program:
Iran destabilizes the Middle East, threatening regional security through its proxy forces and desire to obtain nuclear weapons. We must maintain an adequate level of U.S. military presence to decrease threats against the U.S. homeland and U.S. interests and to help build indigenous security capability of our regional partners. (U.S. Senate Committee on Armed Services, 07.11.23)

Through an approach of "integrated deterrence" and growing relations with our allies and partners, the Joint Force maintains a posture adequate to deter and respond to Iranian aggression. Our strength in the region is built on our partnerships, expanding those partnerships, and our ability to move forces rapidly in a time of crisis. (

U.S. Senate Committee on Armed Services

, 07.11.23)

While Russia continues to build a burgeoning relationship with the Iranian regime, the U.S. has opportunities to strengthen the capacity of our partners to limit susceptibility to Russia's predatory practices. (

U.S. Senate Committee on Armed Services

, 07.11.23)
Humanitarian impact of the Ukraine conflict:
Military aspects of the Ukraine conflict and their impacts:
Punitive measures related to Russia's war against Ukraine and their impact globally:
Ukraine-related negotiations:
Great Power rivalry/new Cold War/NATO-Russia relations:
The Department of the Air Force must improve to reorient itself for great power competition:

The greatest security risk we face in is the military modernization and strategic breakout of our pacing challenge—China and the acute threat of Russia. (DARPA, 02.03.23)

In EUCOM, I will continue to build and lead the coalition of allies and partners supporting Ukraine while working alongside our NATO Allies to deter, defend and build resilience against further Russian military aggression. 

(U.S. Senate Committee on Armed Services, 07.11.23)

The U.S. Forces in EUCOM, reinforced by CONUS-based troops and alongside NATO, are prepared to … defend the Alliance against Russian aggression, should the situation dictate. However, there is no scenario in which the U.S. would act alone. The situation in Ukraine has been the greatest test of NATO cohesion and the Alliance has shown remarkable unity and resolve, a message that has resonated around the world with friends and adversaries alike. 

(U.S. Senate Committee on Armed Services, 07.11.23)

To maintain the necessary capabilities in sufficient capacity, we must continue to assess the threat posed by Russia, continue to update NATO defense plans and continue to modernize force structure across the alliance. 

(U.S. Senate Committee on Armed Services, 07.11.23)

We continually assess our global force posture to ensure we have appropriate capabilities in place to address the current and projected situation. I believe the systems and processes we have in place are ensuring our force posture in Europe is sufficient to achieve our current national and alliance security objectives in the theater. 

(U.S. Senate Committee on Armed Services, 07.11.23)

Russia's war on Ukraine has shown the criticality of alliances and partnerships, both within Europe and globally. Investing in alliance and partnerships now pays dividends when events call for a coordinated, international response, to address violation of national sovereignty in violation of the United Nations Charter, as Russia has in Ukraine. We must continue to work with allies and partners to deepen and strengthen our cooperation, which we have always done in areas of mutual interest and in a spirit of mutual respect. (

U.S. Senate Committee on Armed Services

, 07.11.23)

Putin thought he would defeat Ukraine quickly and expected his war would undermine NATO. The opposite occurred. NATO is stronger, more united, and better prepared. NATO's strength is our mutual trust, commitment and cohesion to collectively deter threats or respond to attacks. (

U.S. Senate Committee on Armed Services

, 07.11.23)

Getting commissioned during the Cold War and watching what's happened since and then … where we are today vis-a-vis Russia, it's those collective alliances that are important to protect those of our … shared interest and Russia has put that at risk. (Channel 4 News, 07.15.23)
China will remain the most consequential strategic competitor for the immediate future, while Russia, as a major nuclear power, still constitutes an acute threat. Our greatest risk, however, is our ability to continue to address the current strategic environment at a level needed to deter aggression while preparing for an uncertain future. (U.S. Senate Committee on Armed Services, 07.11.23)
China-Russia: Allied or Aligned?
Missile defense:
Nuclear arms/nuclear arms control: 
Counterterrorism: 
Conflict in Syria: 
One year into this coalition effort to rid the world of these [ISIL] terrorists, the team can be proud of what they've accomplished. Their hard work and sacrifice have already saved countless lives and we will not stop until we have defeated this barbaric enemy. (

U.S. Central Command

, 08.07.15)

The U.S. military mission in Syria remains the enduring defeat of ISIS and we continue to work by, with, and through our partners and allies. The current administration has identified four policy priorities to meet the U.S. objective for a political settlement to the conflict as envisioned in UNSC Resolution 2254: 

Sustaining the U.S. and coalition campaign against the Islamic State. 

Supporting local ceasefires. 

Expanding humanitarian access. 

Pressing for accountability and respect for international law while promoting human rights and nonproliferation, including through targeted sanctions imposition. (

U.S. Senate Committee on Armed Services

, 07.11.23)

The operational environment in Syria remains uncertain and dynamic. U.S. forces have drawn down to a residual presence in Syria to maintain counterterrorism and security operations. If confirmed, any potential future troop level or capabilities changes would have to be assessed based on numerous variables to include regional security objectives, the existing and projected security environment, and sustaining the necessary relationships and partner force capabilities to prevent an ISIS resurgence and secure our enemy's enduring defeat. (

U.S. Senate Committee on Armed Services

, 07.11.23)
Cyber security/AI:
Elections interference:
Russia has conducted ambitious and aggressive cyber-enabled information operations against the United States and our European allies aimed at influencing election outcomes, and undermining democracy and collective security. Following the 2016 election, the U.S. election system and networks have been designated as critical infrastructure. (

U.S. Senate Committee on Armed Services

, 07.11.23)
Energy exports from CIS:
Climate change: 
U.S.-Russian economic ties:
U.S.-Russian relations in general:
II. Russia's domestic policies
Domestic politics, economy and energy:
Defense and aerospace:
I don't know that, for me personally, it's [seeing Russian military capabilities in Ukraine] really changed my perspective. We will learn more and more … to really make an assessment of how we need to think about the Russians in the future. (

Air Force Times

, 03.15.23)
Security, law-enforcement and justice:
III. Russia's relations with other countries
Russia's general foreign policy and relations with "far abroad" countries:
Significant shifts in geopolitics and technology are converging with efforts by China and Russia to contest the post-World War II international order. Our alliances endure but are subject to stress and pressures catalyzed by intensifying and accelerating trends. The Joint Force, along with our allies and partners must now rapidly build appropriate capabilities and capacities to deter, and if necessary, prevail in great power conflict. 

(U.S. Senate Committee on Armed Services, 07.11.23)

Russia continues to rely on its few allies in the region like Cuba, Nicaragua and Venezuela for influence and access. Both China and Russia have influential conventional and social media outlets in the AOR [area of responsibility] which allow them to spread their propaganda effectively to wide audiences. Additionally, if the U.S. is not investing in the region, countries will look for other sources of investment. (

U.S. Senate Committee on Armed Services

, 07.11.23)

The current U.S. strategy [in Africa] focuses on building our partners, working toward shared objectives, operating transparently, promoting good governance and respecting human rights, while highlighting that Russian and Chinese projects do not adhere to high standards and can come with unseen, sometimes negative, consequences. Our competitive edge lies in the quality of the equipment, training, and other security assistance we provide, and our commitment to relationships based on true collaboration with our African partners, which neither China nor Russia currently supplies. Increasing the speed of delivery for commonly sought-after equipment, demonstrating our commitment and prioritization of African needs at a high level, and developing positive messaging that will resonate with African leaders' aspirations. I look forward to working with Congress to achieve these goals. (

U.S. Senate Committee on Armed Services

, 07.11.23)
Russia's other post-Soviet neighbors:
Author
Conor Cunningham
Conor Cunningham is a graduate student at Harvard University and a student associate with Russia Matters.
Author
Mikael Pir-Budagyan
Mikael Pir-Budagyan is a graduate student at Georgetown University and a student associate with Russia Matters.
DoD photo by Benjamin Applebaum in the public domain.