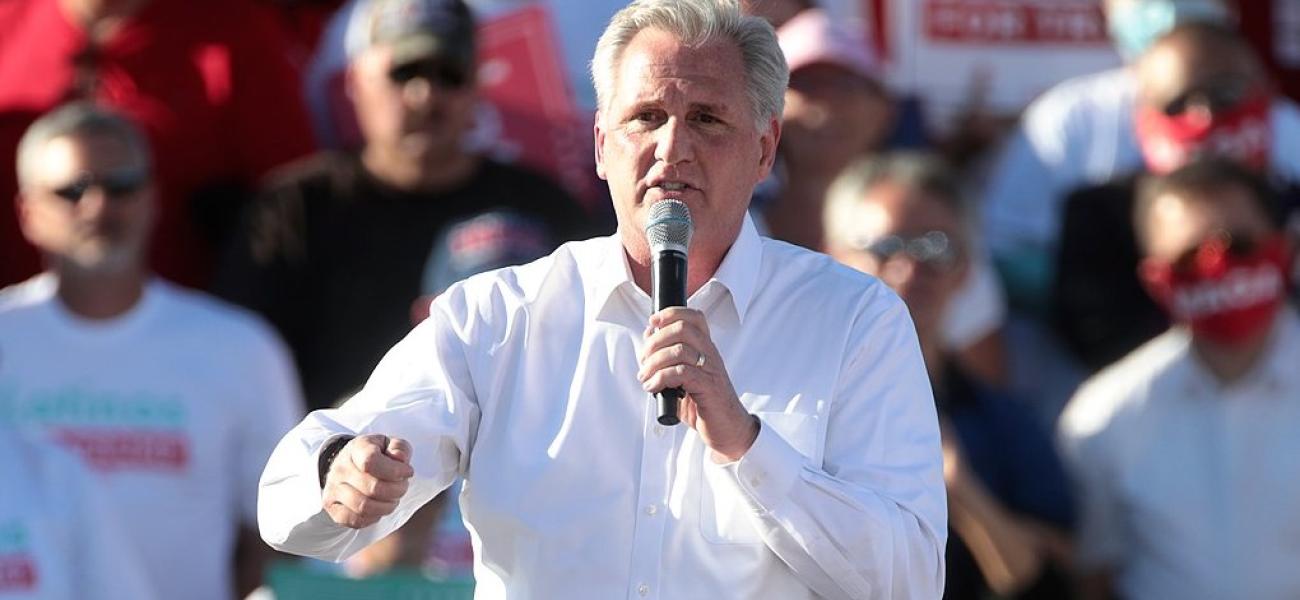 Kevin McCarthy on Russia, Ukraine and US Interests
January 13, 2023
RM Staff
When it comes to views on post-Soviet Eurasia, GOP congressman Kevin McCarthy is perhaps best known for his October 2022 assertion that there will be "no blank check" for Ukraine if his party takes control of the House of Representatives in the November 2022 mid-term elections. The "red wave" GOP leaders had hoped for in the mid-terms never materialized, but the Republicans did manage to get a narrow majority in the lower chamber and then elect McCarthy speaker (if only after 15 rounds of voting). This makes the 57-year-old California legislator much more consequential for U.S. domestic and foreign policies, including its approach toward Russia's war against Ukraine.
Other than opposing blank checks for Kyiv in its war against Moscow, what are McCarthy's views on the challenges emanating from the post-Soviet neighborhood that impact U.S. vital interests? We have sought to answer that question by combing through McCarthy's website, tweets and other resources. The results of our search are presented below with McCarthy's quotes1 divided into categories that are generally similar to those in Russia Matters' news and analysis digests, reflecting the most pertinent topic areas for U.S.-Russian relations broadly and for drivers of the two countries' policies toward one another.
I. U.S. and Russian priorities for the bilateral agenda
Nuclear issues (other than weapons):
Nuclear must be a significant part of America's clean energy profile. We must prevent the premature shutdown of our current nuclear fleet and stay ahead of the technological curve in developing new advanced reactors. (Twitter, 04.19.21)
North Korea's nuclear and missile programs:
The possibility that North Korea launches an attack on our homeland or on one of our allies is increasing. We must act decisively to contain North Korea and the threat the Kim regime poses. (Speaker.gov, 04.03.17)

Strategic patience—the long-practiced policy towards North Korea—has allowed the Kim regime to vastly improve its nuclear and missile programs, and it's only a matter of time until it gains the ability to reliably strike even the United States. Stopping this from happening isn't a choice; it's a necessity for our national security and the peace of the world. … Our vote today demonstrates that America will use every tool at our disposal to end the threat North Korea is posing. We must increase the pressure on the Kim regime and use all points of leverage to achieve lasting stability and peace. (

Press release

, 05.04.17)
Iran and its nuclear program:
Humanitarian impact of the Ukraine conflict:
Devastating news of American deaths in Ukraine: journalist Brent Renaud and Fox News cameraman Pierre Zakrzewski. An entire nation grieves with their families. We also pray for the recovery of Fox News' Benjamin Hall, who suffered serious injuries while covering the war. (Twitter, 03.15.22)
Zelensky's determination to save his country is unwavering⁠—and the brave people of Ukraine share his iron will to triumph over Putin's brutality. We must not waver in our commitment to helping the people of Ukraine fight back against these atrocities. (Twitter, 03.16.22)
Military aspects of the Ukraine conflict and their impacts:
Punitive measures related to Russia's war against Ukraine and their impact globally:
Upon introducing legislation to reinstate congressionally imposed restrictions on the purchase of Russian RD-180 rocket engines for military space launches: Placing such a critical aspect of our future in the hands of a country that names the United States as a threat is not only foolish, it undermines the ingenuity happening across the country. (Press release, 01.28.16)
I do not believe that Putin is afraid of sanctions. He's lived with them for years; he knows how to get around them. What he really needs is a deterrent. (Fox News, 02.27.22)
Vladimir Putin has invaded a sovereign nation and terrorized its civilians. His aggression will not stop with Ukraine. The Biden administration must take immediate action to keep military aid flowing to Ukraine, displace Russian oil and gas and regain global energy leadership. (Twitter, 03.02.22)
Ukraine-related negotiations:
Great Power rivalry/new Cold War/NATO-Russia relations:
China-Russia: Allied or aligned?
Missile defense:
Letter to then Secretary of Defense Robert Gates, arguing against funding cuts for the Airborne Laser (ABL) Program:

Today, outside of Russia, China and our Western allies, there are 3,000 ballistic missiles around the world. That number is continuing to grow every year. As threats proliferate around the globe, the relevance and importance of the ABL as the nation's only fully designed boost-phase missile defense system will continue to increase. (

Press release

, 03.23.09)
Nuclear arms:
The INF treaty is a treaty of two with one who hasn't complied with it for years. It makes no sense to unilaterally constrain ourselves. Russia must know there will be accountability for going back on its word. (Twitter, 12.04.18)
The U.S. and 28 other countries of NATO all agree: Russia has been blatantly disregarding the INF treaty for years. (Twitter, 12.04.18)
Counterterrorism:
We are still a nation fighting to protect our way of life from the same terrorist threats that killed thousands of innocent Americans on Sept. 11, 2001. We know that al- Qaeda does not discriminate; they have attacked freedom

-

loving people throughout the world—from the attacks in Madrid, Spain on March 11, 2003, to the attacks on British soil earlier this year. With the help of our friends throughout the world, we fight on. (Press release, 09.11.07)
Last week the world was sadly reminded of the existential threat ISIS poses to democracy and religious freedom. And we know now that innocent Americans lost their lives in the cowardly attack in Brussels. These latest attacks offer a reality check on the current strategy to defeat ISIS. (Press release, 04.01.16)
Afghanistan is increasingly unstable and the Taliban and al-Qaeda are gaining ground. (Press release, 05.17.16)
Conflict in Syria:
I commend our troops for their professionalism in carrying out these strikes. Assad has made his disregard for innocent human life and longstanding norms against chemical weapons use crystal clear. Tonight's strikes show these evil actions carry consequences. (Press release, 04.06.17)
President Trump's decision to both strike Assad's regime following the use of chemical weapons and target an ISIS network in Afghanistan with significant military might recognizes that in a world of growing threats, we need strong assets. That requires substantive support and investment in military readiness. (Military Times, 04.24.17)
Cyber security:
I introduced legislation to hold COVID hackers accountable. America's researchers are the brightest minds in the world, and we are developing a Victory Vaccine faster than ever. We cannot allow our innovation to be exploited by China, Russia or anyone else. (Twitter, 07.21.20)
Remember when President Biden gave Putin a list of things that were supposed to be off-limits for cyberattacks? What he SHOULD have said is that ALL American targets are off-limits. Biden is soft on crime and weak against Putin. (Twitter, 07.03.21)
Energy exports from CIS:
Climate change:
Democrat politicians claim American energy must stay in the ground because of climate change. But the truth is American natural gas is 41% cleaner than Russian natural gas. If you're concerned about the environment, like I am, you should support an America First energy policy. (Twitter, 03.01.22)
U.S.-Russian economic ties:
U.S.-Russian relations in general:
There's two people I think Putin pays: [then Congress member Dana] Rohrabacher and Trump. (WP, 05.17.17)
President Biden should have used yesterday's summit to show that the United States will hold Russia accountable for its long list of transgressions. Instead, he gave Vladimir Putin a pass. We need real leadership that puts the American people first again. (Twitter, 06.17.21)
"Merchant of Death"—That's the nickname of the prisoner Biden returned to Putin. He was convicted of conspiring to kill American law enforcement. This is a gift to Vladimir Putin, and it endangers American lives. Leaving Paul Whelan behind for this is unconscionable. (Twitter, 12.08.22)
II. Russia's domestic policies
Domestic politics, economy and energy:
Stalin purged Russians and starved the nation of Ukraine. He was praised by a Pulitzer Prize winning journalist. (Press release, 03.14.16)
Describing Putin: Reckless, evil and dangerous. (Fox News, 02.27.22)
I do not think anything's savvy or genius about Putin. I think Putin is evil. He's a dictator. And I think he's murdering people right now. (WP, 03.09.22)
Defense and aerospace:
Upon introducing the legislation to reinstate congressionally imposed restrictions on purchases of Russian-made RD-180 rocket engines: Securing access to space is a national security priority and essential to leading in a 21st century economy. … Our policies should facilitate a competitive environment that provides the incentive to scale each component required to access space. This was achieved in the fiscal year 2016 [NDAA, but] … in a last-minute maneuver, a provision was tucked into an unrelated spending bill that provides an indefinite lifeline to Russian rocket engines to power American space launches. Placing such a critical aspect of our future in the hands of a country that names the United States as a threat is not only foolish, it undermines the ingenuity happening across the country. (Press release, 01.28.16)
I believe securing access to space is a national security priority and it is strategically foolish to ask American taxpayers to subsidize Russia's military industrial base. American taxpayer dollars should not be wasted on Putin, who has destabilized Ukraine, continues to harbor and support the Assad regime and is supplying weapons to Iran. (Bakersfield Observed, 02.06.16)
Security, law-enforcement and justice:
Upon the release of Trevor Reed, a U.S. Marine Corps veteran, after three years in Russian custody: The inhumane treatment perpetrated toward Trevor by the Russian judicial system is despicable, and serves as a further reminder during this time that not only can Putin not be trusted, but that he must be held accountable to his actions. (Press release, 04.27.22)
III. Russia's relations with other countries
Russia's general foreign policy and relations with "far abroad" countries:
Russia's clear violation of British sovereignty was dangerous and wrong as was its use of a military-grade nerve agent. America stands fully behind the U.K. against these Russian provocations. (Twitter, 03.15.18)
Ukraine:
Joe Biden's family members profited in foreign regions where he had influence as vice president. Hunter Biden sat on the board of a Ukrainian company in an industry in which he had no experience. His only qualification was that his father ran point on U.S. Ukraine policy. (Twitter, 10.08.22)
Russia's other post-Soviet neighbors:
This compilation is meant as a sampling of McCarthy's views. All sections may be updated with new or past statements.
Footnotes
Bulleted text that is not italicized, bracketed or in parentheses is a direct quote from McCarthy.
Photo by Gage Skidmore, shared under a CC BY-SA 2.0 license.