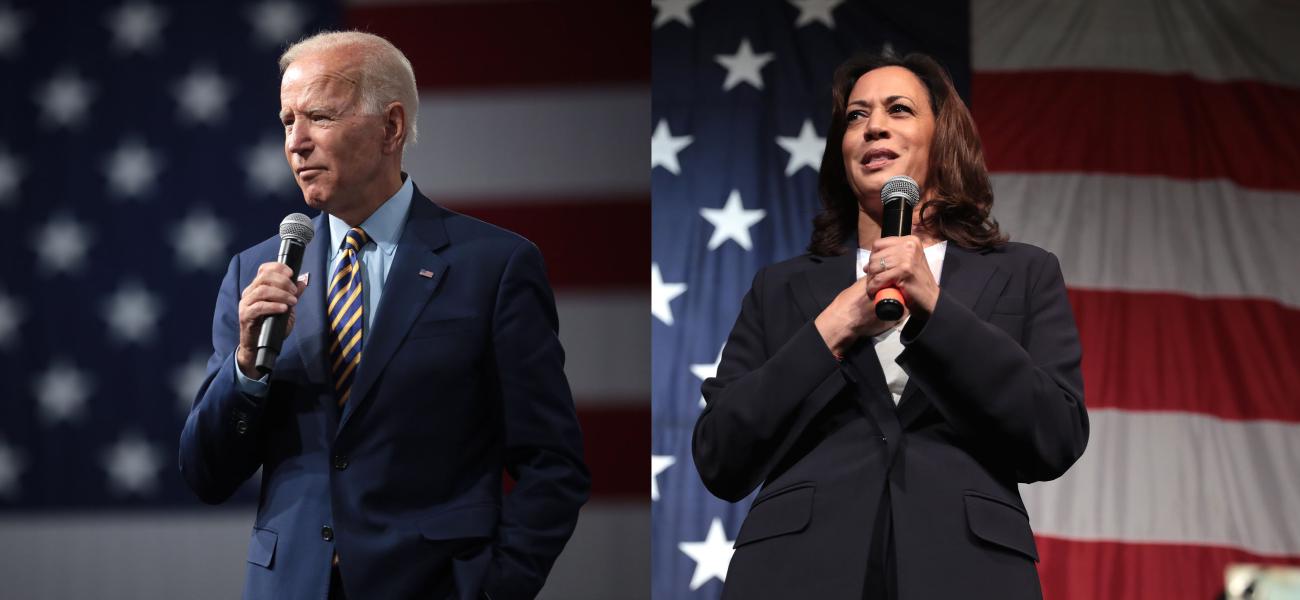 Joe Biden and Kamala Harris on Russia
November 09, 2020
RM Staff
Originally published Aug. 13, 2020. Updated Nov. 9, 2020.
On Nov. 7, after several tense days of vote counting closely watched by the world, U.S. media declared Joe Biden the winner of the 2020 U.S. presidential election, while anticipating legal challenges from incumbent Donald Trump. Biden's running mate, Sen. Kamala Harris, will not only be the first female U.S. vice president but also the first Black American and first South Asian American to hold that office. These are more firsts in Harris's illustrative career. In 2017, Harris joined the U.S. Senate as the second Black woman and first South Asian-American senator in U.S. history. As a senator, she has served on the Homeland Security and Governmental Affairs Committee, the Select Committee on Intelligence and the Committee on the Judiciary, among others. Prior to that, she served as the first female attorney general for California. Given her professional experience, Harris does not hesitate to weigh in on key U.S. domestic issues. But where does the first woman of color to be nominated for national office by a major political party stand on the important foreign policy issue of U.S.-Russian relations?
As for Biden—who, when a vice president himself, made headlines by proclaiming the Obama administration's intention to "press the reset button" in U.S.-Russian relations—have there recently been any significant changes in his own views on Russia? Below is a sampling of Biden's and Harris's statements on what U.S. policies they advocate on key Russia-related issues, as well as their views on Russia itself, as expressed since U.S. President Donald Trump's election in November 2016, not an exhaustive record. The quotes are divided into categories similar to those in Russia Matters' news and analysis digests. The current president's views on Russia were published in an earlier compilation. 
I. U.S. and Russian priorities for the bilateral agenda
Nuclear security and safety:
Joe Biden: 

"When I was vice president, the secretaries of defense and energy certified annually that the stockpile continued to be safe and reliable without the need for nuclear testing. By all accounts that remains true today. And the scientists who lead our national nuclear laboratories have regularly affirmed that we have learned more about the weapons in the two plus decades of the Stockpile Stewardship program—the means by which we assess the reliability of the weapons—than we did during four decades of weapons testing." (

Statement

, 05.29.20)

Biden:

 "Yet nuclear weapons—the proliferation of this deadly knowledge to more nations, and the possibility of a terrorist obtaining nuclear materials—remain among our most pressing security challenges.  Even one nuclear bomb can still cause hideous damage." (

Remarks

, 01.12.17) 

Kamala Harris with Sens. Bernie Sanders, Elizabeth Warren (D-Mass.), Cory Booker (D-N.J.) and Kirsten Gillibrand (D-N.Y.) writing in response to the Trump administration's Nuclear Posture Review: 

"Our review reportedly pays only superficial attention to the substantial threat posed by nuclear terrorism and nuclear proliferation. These efforts are just as important as deterring existing nuclear weapons states." (

Letter to President Trump

, 01.29.18)
North Korea's nuclear and missile programs:
Iran and its nuclear program:
New Cold War/competition among great powers:
Biden [on whether or not he agrees with the Trump administration's decision to shift foreign policy focus from the Middle East to 'revisionist' superpowers Russia and China]

: "Yes, but Russia and China pose different types of threats, and there are a number of other important priorities, including climate change, nuclear proliferation, ensuring that the global economy works for the American middle class, and contending with the challenges posed by emerging technologies like artificial intelligence." (

New York Times

, 02.06.20)
NATO-Russia relations:
Nuclear arms control:
Counterterrorism:
Biden: 

"The U.S. intelligence community has assessed that a Russia military intelligence unit … has been offering bounties to extremist groups in Afghanistan to kill U.S. troops. There is no bottom to the depth of Vladimir Putin and the Kremlin's depravity." (

NBC

, 06.27.20)

Biden:

 "As I have long argued, we should bring the vast majority of our troops home from the wars in Afghanistan and the Middle East and narrowly define our mission as defeating al Qaeda and the Islamic State (or ISIS). We should also end our support for the Saudi-led war in Yemen." (

Foreign Affairs

, 01.23.20)

Harris

 [on Russian bounties for U.S. soldiers in Afghanistan]: "Is the intelligence in doubt? I would say during my three plus years of being on the Senate intelligence committee and therefore being in receipt of classified information about threats to our national security ...  I have come to highly respect the intelligence community for their professionalism, the detail and precision with which they work … It is well known and understood that part of the responsibility of the president of the United States is to concern himself or herself with the well-being of our service members … It would be wonderful to have a president who actually cares about those men and women and expresses some level of concern about their wellbeing but we don't see that with Donald Trump in any meaningful way." (

The Washington Post

, 07.02.20)
Conflict in Syria:
Biden:

 "What is happening in Iraq is going to—I mean, excuse me, in Afghanistan, as well as all the way over to Syria, we have ISIS that's going to come here. They are going to, in fact, damage the United States of America. That's why we got involved in the first place and not ceded the whole area to Assad and to the Russians." (

Democratic debate transcript

, 10.15.19)

Harris:

 "What has happened in Syria is yet again Donald Trump selling folks out. And in this case, he sold out the Kurds, who, yes, fought with us and thousands died in our fight against ISIS. And let's be clear. What Donald Trump has done, because of that phone call with Erdogan, is basically giving 10,000 ISIS fighters a 'get out of jail free' card. And you know who the winner is in this? There are four: Russia, Iran, Assad and ISIS." (

Democratic debate transcript

, 10.16.19)

Harris:

 "Syrian President Bashar al-Assad viciously attacked innocent civilians, including scores of children, who suffocated to death from chemical weapons. This attack reinforces the clear fact that President Assad is not only a ruthless dictator brutalizing his own people—he is a war criminal the international community cannot ignore. President Trump must consult with Congress to address the administration's lack of clear objectives in Syria and articulate a detailed strategy and path forward in partnership with our allies." (

Statement

, 04.06.17)
Cyber security:
Biden

: "Deterring malicious cyber activities directed against the United States is an important component of a comprehensive cyber strategy. However, engaging with adversaries in cyberspace can have unintended consequences outside of the cyber domain. As such, I would ensure that the strategy of 'persistent engagement' undergoes appropriate review." (

New York Times

, 02.06.20)

Biden: 

"While foreign funding of campaigns is prohibited by federal statute, the body that enforces campaign finance laws—the Federal Election Commission (FEC)—lacks both teeth and resources. Sophisticated adversaries like Russia and China know how to bypass the ban on foreign funding by exploiting loopholes in the system and using layers of proxies to mask their activities, making it difficult for the FEC, the FBI and the Treasury Department's Financial Crimes Enforcement Network to follow the money." (

Politico

, 11.27.18)

Harris:

 "[W]e must act urgently to bolster our country's defenses like our election infrastructure and cybersecurity, a bipartisan issue that we have been working on in a bipartisan way." (

Senate Select Committee on Intelligence

, 08.01.18)
Elections interference:
Energy exports:
Biden: 

"The Russian economy is utterly dependent on hydrocarbon exports, so its health is tied to the price of oil and gas; as those prices have plummeted in recent years, the state-owned gas giant Gazprom's market capitalization has shrunk, from about $368 billion in 2008 to around $52 billion today." (

Foreign Policy

, 01.02.18)

Biden: 

"The manipulation of energy markets is another important tool that Russia uses for coercion and influence peddling. … In addition to using energy to coerce its neighbors, the Kremlin is adept at using energy deals to curry influence with European political and business leaders." (

Foreign Policy

, 01.02.18)
U.S.-Russian economic ties:
Biden: 

"The scope of Russian corrupt influence is exceptionally wide, particularly since Russian oligarchs who made vast sums of money over the last several decades have parked much of this wealth in the West, including in luxury real estate markets in London, Miami, and New York. These billions of dollars of investments have been used in many cases to secure access to Western political and business elites. They also serve as a ready source of financing for the Kremlin's influence operations abroad." (

Foreign Policy

, 01.02.18)
U.S.-Russian relations in general:
II. Russia's relations with other countries
Russia's general foreign policy and relations with "far abroad" countries:
Biden

: "Putin wants to tell himself, and anyone else he can dupe into believing him, that the liberal idea is 'obsolete.' But he does so because he is afraid of its power. No army on earth can match the way the electric idea of liberty passes freely from person to person, jumps borders, transcends languages and cultures and supercharges communities of ordinary citizens into activists and organizers and change agents." (

Foreign Affairs

, 01.23.20)

Biden: "

There is ample evidence of dark money penetrating other democracies, and no reason to believe we are immune from this risk. In 2004, for example, Lithuania's president was impeached after the media disclosed that a Russian oligarch who contributed to his campaign later received Lithuanian citizenship. Just this past January, in Montenegro, a local politician was charged with laundering Russian funds to support a pro-Russian political party." (

Politico

, 11.27.18)

Biden: 

"Today, the Russian government is brazenly assaulting the foundations of Western democracy around the world. Under President Vladimir Putin, the Kremlin has launched a coordinated attack across many domains—military, political, economic, informational—using a variety of overt and covert means. … By attacking the West, the Kremlin shifts attention away from corruption and economic malaise at home, activates nationalist passions to stifle internal dissent, and keeps Western democracies on the defensive and preoccupied with internal divisions." (

Foreign Policy

, 01.02.18)
China:
Biden: 

"On every relevant metric since Trump took office, Beijing's position is stronger and America's is weaker. The United States needs a president who has a record of standing up to Beijing and getting results. … I'll rally our allies to set the rules of the road and push back on Beijing's aggressive and predatory behavior." (

Statement

, 08.05.20)

Biden: 

"The Russians are still engaged in trying to delegitimize our electoral process. Fact. … China and others are engaged as well in activities designed for us to lose confidence in the outcome." (

Speech at fundraiser

, 07.17.20)
Ukraine:
Russia's other post-Soviet neighbors:
Biden: 

"After suffering systematic repression for the past 26 years under the authoritarian regime of President Alexander Lukashenko, the people of Belarus are demanding their voices be heard. After a presidential election marred by electoral fraud, citizens peacefully protesting to demand an accurate vote count are now being met with riot police using stun grenades, tear gas and rubber bullets. The Lukashenko regime has cut internet access, arrested protesters and independent journalists and tried to muzzle foreign observers. These are not the actions of a political leader confident that he has won a fairly conducted election." (

Statement

, 08.10.20)

Biden: 

"Democratic transformation in Russia's neighborhood would serve as a powerful counterexample to Moscow's kleptocratic and authoritarian rule and would delegitimize its authority over the long run. So Russia waged wars against Georgia in 2008 and against Ukraine in 2014 in order to undermine governments determined to pursue further integration with NATO and the EU." (

Foreign Policy

, 01.02.18)
Belarus:
Biden:

"No leader who tortures his own people can ever claim legitimacy. That is why the international community should significantly expand its sanctions on Lukashenko's henchmen and freeze the offshore accounts where they keep their stolen wealth. As President, I will also work with our European partners and allies to lay out a plan of economic support for a truly sovereign, democratic Belarus. Until then, I will continue to join Svetlana Tikhanovskaya and the people of Belarus in calling for the peaceful transfer of power, the release of all political prisoners, and free and fair elections so the Belarusian people are finally able to exercise the democratic rights for which they have sacrificed so much." (Official Campaign Website, 10.27.20)
War in Karabakh:
Biden

: "The Trump Administration must tell Azerbaijan that it will not tolerate its efforts to impose a military solution to this conflict. It must make clear to Armenia that regions surrounding Nagorno-Karabakh cannot be occupied indefinitely and that credible negotiations on a lasting resolution of the conflict must commence immediately once a ceasefire is concluded. Finally, it must stop coddling Ankara and tell both Turkey and Iran to stay out of this conflict. Turkey's provision of arms to Azerbaijan and bellicose rhetoric encouraging a military solution are irresponsible. A diplomatic resolution will not be easy to achieve, but the Trump Administration has an obligation to try. It should do so urgently before more lives are lost and the conflict expands." (Official Campaign Website, 10.13.20)
III. Russia's domestic policies
Domestic politics, economy and energy:
Security, law-enforcement and justice: