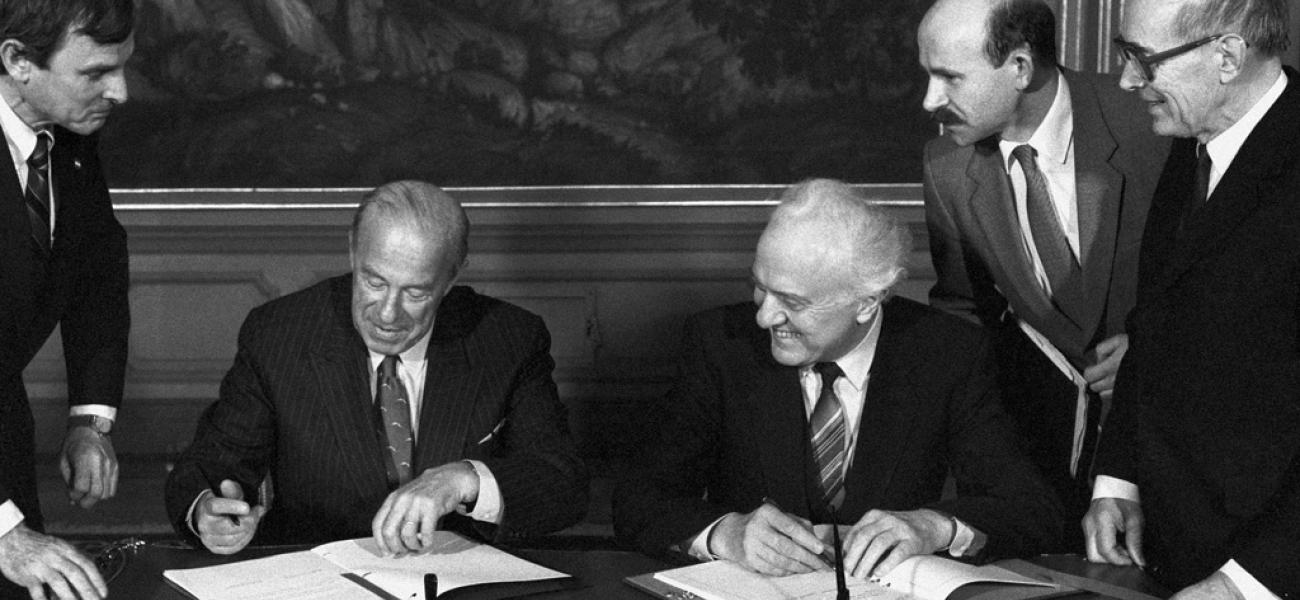 George Shultz on Russia: Insights and Recommendations
February 11, 2021
RM Staff
This compilation of observations and policy ideas related to Russia by George Shultz is part of Russia Matters' "Competing Views" rubric, where we share prominent American thinkers' takes on issues pertaining to Russia, U.S.-Russian relations and broader U.S. policies affecting Russia.
George Shultz, an accomplished diplomat, economist and businessman, died on Feb. 7 at the age of 100. Shultz is one of only two people to have held four different cabinet-level posts, including as secretary of state in the Reagan administration from 1982 to 1989. Shultz is well known for working effectively with his Soviet counterparts to advance bilateral arms control. Reagan's vision of a world free of nuclear weapons was initially rejected by most of the American establishment as naïve and dangerous. In the past decade, however, four of the bluest chips from the American Cold War establishment—George Shultz, Henry Kissinger, Bill Perry and Sam Nunn—have put this back on the American strategic agenda.
While Shultz has won plaudits for his championing of arms control with Moscow, it is less known that as an economist, he sought to convince Soviet leadership to give the market economy a chance, as the section on domestic politics below shows. Former Soviet premier Mikhail Gorbachev expressed his condolences at Shultz's passing, describing the diplomat as a major figure of global politics. Russian President Vladimir Putin, meanwhile, has made no comment on Shultz's passing as of the date of this publication.
This compilation is meant as a sampling of Shultz's views. All sections may be updated. The quotes below are divided into categories similar to those in Russia Matters' news and analysis digests, reflecting the most pertinent topic areas for U.S.-Russian relations broadly and for drivers of the two countries' policies toward one another.
I. U.S. and Russian priorities for the bilateral agenda 
Nuclear security: 
North Korea's recent nuclear test and Iran's refusal to stop its program to enrich uranium—potentially to weapons grade—highlight the fact that the world is now on the precipice of a new and dangerous nuclear era. Most alarmingly, the likelihood that non-state terrorists will get their hands on nuclear weaponry is increasing. In today's war waged on world order by terrorists, nuclear weapons are the ultimate means of mass devastation. And non-state terrorist groups with nuclear weapons are conceptually outside the bounds of a deterrent strategy and present difficult new security challenges. (Wall Street Journal, 01.04.07)
North Korea's nuclear and missile programs: 
This is much better than where we were a couple of months ago, where we were talking about throwing our nuclear weapons around. That would be devastating. But there seems to be a different attitude; we'll have to see. And you go and you test and I think that the administration has been right to say "we'll keep our sanctions in place until something happens." Not that they agree to something—that they do something. For instance, on the three American hostages, I think that's getting around to saying "let them be free before the meeting takes place." (Bloomberg, 05.06.18)
North Korea is a small, poor country and it has some awesome power. So we're trying to deal with that. And we also have a situation on the Korean Peninsula where the Korean people have been divided for all these years and they don't like it. And I think they would rather be one. And we ought to be trying to help that happen. (Bloomberg, 05.06.18)
In response to North Korea disclosing details of its nuclear program and destroying the cooling tower at its nuclear facility in Yongbyon: This is a good first step. It's not the end of the road; it's the beginning of the road, and there's lots of verification to be done and further things to be done. But it's encouraging to have a step taken that's in a positive direction … and of course you have to go on; there are further facilities—apparently there are enrichment facilities—and there are weapons. And these need to be declared, identified and dealt with. (Stanford News Service, 07.09.08)
Iran and its nuclear program: 
If you apply the Reagan formula to Iran, you'd say, Okay, we're going to negotiate with Iran, let's be realistic. What are they? They're the biggest state sponsor of terrorism. Number two: They want to get ballistic missiles. Why do they want ballistic missiles? Number three: They have a (repressive) method of internal government. Number four: They want nuclear weapons. So you don't just negotiate on the nuclear weapons. You negotiate the whole thing. People would say, they wouldn't do it. Well, then we won't negotiate. (Interview with Times of Israel, 02.21.16)
I'm not happy about the Iran deal. Probably has postponed their acquisition of nuclear weapons. Postponed is the word. They have a lot more money now. They're sitting there with the Russians. I'm puzzled by how the Russians are going to pull this off. They've aligned themselves with the Shiite-Iranian network to dominate the Middle East. Their own restive Islamic population is Sunni. Any rate, it's a tough deal. (Interview with Times of Israel, 02.21.16)
Iran is a country that has been ruled very poorly from the standpoint of the population. They just haven't had good governance. And so there's a lot of pressure there, but I think anybody that thinks they aren't trying to get a nuclear weapon must have holes in their head—that's what they're going for. And I think that would be a calamity as you have proliferation of weaponry taking place. And we have to prevent it. … Here's something that I think we should do different with Iran. Iran is a very aggressive country—does constantly things that are out killing people, including Americans. …  I think that there is something between sanctions and an all-out war that we're not exercising. And I might say, from the standpoint of international law, if you want to think of such a thing, if you take the kind of actions I'm describing, it's in self-defense, which completely is OK. … But containment of Iran? Give me a break. (Council on Foreign Relations, 01.29.13)
New Cold War/saber rattling: 
NATO-Russia relations:
I believe the turning point was the deployment of Pershing missiles in Germany in late 1983. … The deployment—a magnificent display of the strength, determination and cohesion of NATO—in turn made possible the diplomacy that followed and, in the end, tore down that wall. By containing the Soviets—by making it clear that we would not permit them to isolate Berlin—NATO established the conditions in which brave people throughout the Warsaw Pact countries could bring the Cold War to a peaceful end. (The Foreign Service Journal, December 2011)
NATO is a similarly complicated issue. After the cold war ended, Russia was invited to NATO meetings with the idea that the country would eventually become an integral part of European security discussions. The idea was good, but the execution failed. NATO has acted as if Russia's role is that of an observer with no say in decisions; Russia has acted as if it should have veto power. Neither outlook is viable. But if NATO moves from consensus decisions to super-majority decisions in its governing structure, as has been considered, it would be possible to include Russia's vote as an effective way of resolving European security issues of common interest. (New York Times, 04.11.10)
The United States, I knew, had no hope of dealing successfully with the Soviet Union and the turmoil around the world unless there was solidarity in that NATO alliance. (From "Turmoil and Triumph: My Years as Secretary of State

,"

1993)
Missile defense: 
Let's begin with missile defense. Future arms talks should make a serious exploration of a joint United States-Russia program that would provide a bulwark against Iranian missiles. We should also consider situating parts of the joint system in Russia, which in many ways offers an ideal strategic location for these defenses. Such an effort would not only improve our security, it would also further cooperation in dealing with the Iranian nuclear threat, including the imposition of consequential sanctions when appropriate. (New York Times, 04.11.10)
The Pershing IIs, they [President Reagan, the secretary of defense and the Joint Chiefs of Staff] felt, were the elements in our deployments most feared by the Soviets, and therefore we should not give them up prematurely through an agreement that allowed the Soviets to retain intermediate-range ballistic missiles while we had only our slower-moving cruise missiles. (From "Turmoil and Triumph: My Years as Secretary of State

,"

1993)
Arms control: 
Counter-terrorism: 
Then we have terrorism and sort of the random violence. We have paid a very heavy price in this country in our response to it. Personally, I think much too heavy. We've got to rearrange our thinking and have a much more precise strategy for dealing with the areas it rises mostly from violent brand—some kind of brand of Islam. But it's there. It isn't going to go away, but we have to have a way of dealing with it that's—Iraq and Afghanistan can't be even close to the template for how we go about it. (Council on Foreign Relations, 01.29.13)
The threat posed by Islamic extremists using the weapon of terror is all too real. We have seen the face of terror in the Americas, in Asia, in Europe, in the Middle East—in every corner of the world. There are Islamists who would build a kind of wall of ideology in an effort to shut in vast multitudes of believers in Islam who wish for a better life consistent with the teachings of their religion. These radical jihadists promulgate a culture of hate and division. What lessons can we draw from our earlier experiences as we combat and seek to isolate these destructive forces of division? First, the notion of containment can work against terrorism as it did against the Soviet Union. If we can prevent the spread of hateful ideology, then we have taken the first essential step. (The Foreign Service Journal, December 2011)
Conflict in Syria: 
Russia has returned to the Middle East in collaboration with Iran, first in support of Bashar Assad's Syrian regime, but, no doubt, in a combined effort to extend Iranian reach as sanctions are lifted. The Middle East and ISIS present more difficult and complex issues, as we have already outlined. Nevertheless, these imperatives stand out. We must develop the strength to prevail militarily over ISIS. Of course, this means air power; but there must also be boots on the ground that are capable and effective. They will be more effective if they are mostly Arab boots. The challenge is to develop a force in the region that, in coordination with us, can be impactful. (Blueprint for America, 2016)
Although current circumstances make it difficult, we should not lose sight of areas of common interest where cooperation remains crucial to the security of Russia, Europe and the United States. This includes … destroying Syrian chemical stockpiles. (The Washington Post, 03.27.14)
Cybersecurity: 
The United States and Russia will have to invest the time and effort necessary to establish new verification methods. Other long-standing issues will need to be discussed in parallel, including ballistic-missile defense; weapons in space; precision-guided, long-range conventional arms; and emerging technologies, including cyber. (The Washington Post, 10.22.20)
Our grid is very vulnerable to cyberattack and to natural disasters. So we better learn how to produce energy closer to where we use it. (Council on Foreign Relations, 01.29.13)
Elections interference: 
No significant statements.
Energy exports from CIS: 
It's gradually dawning on people that we need to help the Baltic states so they're not a prisoner of Russian oil and gas. (Interview with Times of Israel, 02.21.16)
One of Russia's strengths is the dependence of many countries, particularly in Eastern Europe and the Baltic states, on it for supplies of oil and gas. Russia has demonstrated that it is willing to cut off supplies in the middle of winter, so the first step is to put in place a European energy initiative. The United States has recently developed an ability to produce oil and gas far beyond earlier times, so we should lift the export controls, develop LNG facilities, encourage the use of the new energy production and trade infrastructure in European countries that do have potential capacities, and put in place enough capacity in every country that the threat by Russia to cut off supplies is sharply weakened. (Blueprint for America, 2016)
Putin has demonstrated his willingness to cut off supplies of the large quantity of oil and gas Russia ships to Ukraine and the countries of Western Europe and to play games with prices. Russia has also developed important trading and financial dealings with Western countries, particularly Germany, Britain and France. … But these assets are also potential liabilities. The Russian economy depends on these trading and financial arrangements and on income from oil and gas sales that are now taking place at historically high prices. (The Washington Post, 03.27.14)
U.S.-Russian economic ties: 
Financial markets could be the source of tremendous leverage if access to Russia is denied and the ruble starts to lose value. Unlike Soviet interventions during the Cold War, the recent aggression will affect Russian markets, investments and the Russian people's standard of living. (The Washington Post, 03.27.14)
Well, of course they [the Soviets] bought a lot of grain. They did it artfully. They're not supposed to know about markets, but they want a little here and a little here and a little here and pretty soon people woke up, and we called it the great American grain robbery. And I subsequently had a long discussion with Mr. Kosygin, who was the number two person in the Soviet Union at the time, and we worked out conceptually how a market and controlled economy could interact. And the concept led to something called the long-term grain agreement, which was a way of managing that issue. But it was a bad time. (Interview with the Richard Nixon Oral History Program, 05.10.07)
"Former Secretary of State George Shultz … said that the grand bargain [of massive U.S. investment to aid the Soviet Union's central government], which he called 'the big-bucks approach,' would be 'a gigantic disservice' to the Soviet Union because it sends the wrong message. He said the Soviets should decide to adopt a market economy on grounds that it will be beneficial, not because the United States will give them money to make the transition." (The Washington Post, 06.21.91)
U.S.-Russian relations in general: 
II. Russia's domestic politics 
Domestic politics, economy and energy: 
Defense and aerospace: 
Gorbachev opened by giving President Reagan a firm line: the United States should not have illusions about being able to "bankrupt" the Soviet Union; neither could we gain military superiority over the Soviets. "Make no mistake," Gorbachev said, "we can match you, whatever you do." … Gorbachev replied that the war had left the USSR far behind and that they had caught up with the West. (From "Turmoil and Triumph: My Years as Secretary of State

,"

1993)
Security, law enforcement and justice: 
No significant statements.
III. Russia's relations with other countries 
Russia's general foreign policy and relations with "far abroad" countries: 
Russia is attempting to build and extend a sphere of influence beyond its borders. (Blueprint for America, 2016)
The world is best served when Russia proceeds as a respected and important player on the world stage. Russia has huge resources, outstanding music, art, literature and science, among other attributes, and can be a positive force when it keeps its commitments and respects international law. (The Washington Post, 03.27.14)
China-Russia: Allied or Aligned:
The Trump administration, meanwhile, has insisted on the inclusion of China, whose military programs are growing rapidly, in future nuclear negotiations. The goal is laudable, but China must be persuaded to join, not bullied by diplomatic stunts and threats. Beijing has made clear that it first needs to see substantial reductions in the stockpiles of both the United States and Russia, which far exceed its own. (The Washington Post, 10.22.20)
Russia shares a long border with China, with hardly anyone and large resources on one side and a lot of people on the other. (The Washington Post, 03.27.14)
Ukraine: 
Russia's other post-Soviet neighbors: 
The state system depends upon respect for the borders of countries, but borders are being softened or have recently been eradicated. Most visible are the actions of Vladimir Putin's Russia. He attacked Georgia in 2008 and wound up carving out two new territorial entities: Abkhazia and South Ossetia. (Blueprint for America, 2016)
Perceptions are important. Whatever his long-range intent, Vladimir Putin has Russia's neighbors fearing and many Russians believing that he has, in effect, announced his objective to bring the former Soviet space once again under Russian influence, if not incorporated into the Russian state. … The resentment and fear his moves have created in Ukraine and other neighbors will, over time, set in motion countermoves and activities that will diminish Russia's own security. (The Washington Post, 03.27.14)
Photo by Sergey Guneev shared under a Creative Commons license.