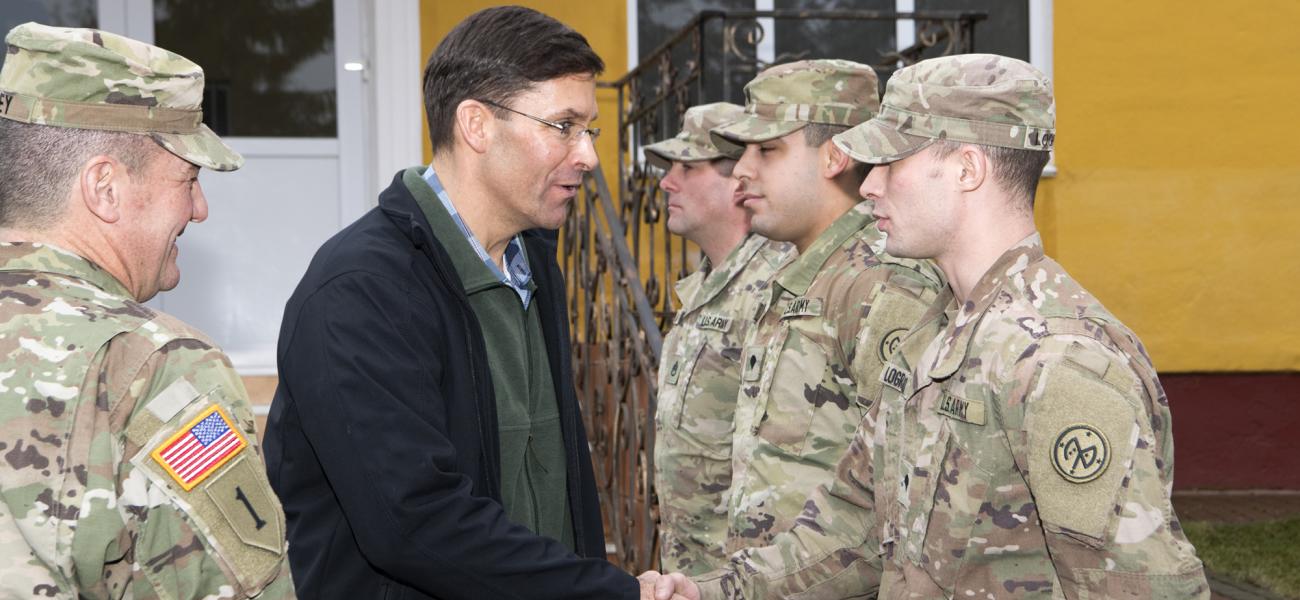 Esper on Russia: Pentagon Nominee Sees Moscow as 'Strategic Competitor,' 'Potential Adversary'
July 17, 2019
RM Staff
With senators questioning former Army Secretary Mark Esper for several hours on July 16 in hearings to confirm him as the new U.S. secretary of defense, we at Russia Matters are giving our readers an opportunity to familiarize themselves with his views on Russia. Esper became acting defense secretary last month, following the abrupt resignation of President Donald Trump's previous nominee, Patrick Shanahan. A final Senate vote on Esper's nomination is expected next week. 
In his public comments of recent years, Esper has cast Russia as a "strategic competitor" and "potential adversary," particularly in Central and Eastern Europe. He has visited U.S. troops training the Ukrainian military in its standoff with Moscow-backed separatists and has hewed closely to the 2018 National Defense Strategy, often pairing Russia with China in his remarks, classifying both among America's biggest security challenges.
As Army secretary, according to The Washington Post, Esper "largely steered clear of controversy, focusing on modernizing the service and establishing Army Futures Command, a new headquarters led by a four-star general looking for technological advantages." The newspaper also noted that Esper spent time on Capitol Hill "as a senior staff member for the Senate Foreign Relations Committee and the Senate Governmental Affairs Committee, and as an adviser to Sen. Chuck Hagel (R-Neb.) and then-Senate Majority Leader Bill Frist (R-Tenn.)."
According to his official biography on the Army's website, Esper holds degrees from West Point (where he was reportedly a classmate of Mike Pompeo's), Harvard Kennedy School and George Washington University. He served in the regular army for over a decade, in the 1980s and 90s. Prior to his swearing-in as Army secretary in November 2017, Esper spent seven years as vice president for government relations at Raytheon, a multi-billion-dollar defense company.
The Raytheon connection may have implications for Esper's ability to work on "a high-stakes negotiation with Turkey" over its purchase of Russia's S-400 missile defense system, Politico reported recently, because Raytheon produces an alternative U.S. system called Patriot that Washington has been persuading Turkey to buy instead. As Army secretary, Esper recused himself from all matters involving Raytheon, according to the Politico report, but the two-year recusal ends in November 2019. Asked during the confirmation hearings whether he was prepared to extend the recusal, Esper initially replied, "I am committed to living up to my ethics obligations, laws, regulations, my pledges"; when pressed later, he clarified, "on the advice of my ethics folks at the Pentagon, the career professionals, no, the recommendation is not to."  
This compilation is meant as a sampling of Esper's views on Russia, U.S.-Russian relations and related key issues. All sections may be updated with new or past statements. The quotes below are divided into categories similar to those in Russia Matters' news and analysis digests, reflecting the most pertinent topic areas for U.S.-Russian relations broadly and for drivers of the two countries' policies toward one another.
An earlier version of this post originally appeared June 21, 2019, after the New York Times reported that Trump would officially nominate Esper as his new Pentagon chief.
Bulleted text that is not italicized, bracketed or in parentheses is a direct quote from Esper.
I. U.S. and Russian priorities for the bilateral agenda
Nuclear security:
"The United States faces a series of threats to its homeland. These emerging challenges come from missile proliferation in rogue states; the potential use by terrorists of chemical, biological, radiological and nuclear (CBRN) devices; and various threats to the nation's critical information and economic infrastructure." (A report by Chemical, Biological, Radiological and Nuclear Terrorism Task Force, of which Esper was a member, 2001)
North Korea's nuclear and missile programs:
I think the biggest immediate challenge is North Korea. And then as we look in the out years, between 2025 and 2035, Russia. But the biggest challenge is clearly China, in the years 2035 and beyond.

(CNBC, 03.12.19)
Iran and its nuclear program:
New Cold War:
NEW!

We eventually won in the Cold War because Russia did not have the economic might to win at the end, and they were using force. They were compelling people to be in their orbit, to be part of the Warsaw Pact. China has great economic power and potential and are using it … to influence others. Either overtly or covertly if you will. They are taking advantage of countries, small countries who need capital, and they are … getting them into debt in a way they're able to capture strategic ports, critical minerals and resources, you name it. One of the biggest concerns is that they'll use their economic might. That it's only growing. It's just a matter of time before they match us and possibly surpass us. That they'll use that in a way that will pool even likely partners, if not our current ones, away from us. That's the big challenge that we face with China, that we didn't face with Russia. (Senate Confirmation Hearings, C-SPAN rush transcript, 07.16.19, 1:40:56)

NEW!

I believe in Ronald Reagan's dictum: peace through strength. (Senate Confirmation Hearings, C-SPAN rush transcript, 07.16.19, 1:46:51)
Military issues, including NATO-Russia relations:
NEW! I am an avid supporter of the National Defense Strategy and its clear-eyed assessment of the strategic environment we find ourselves in today. The growing threats posed by great power competitors such as China and Russia warrant a re-focus to high intensity conflict across all of the Military Services. This requires us to modernize our forces and capitalize on rapid technological advancements in fields such as artificial intelligence, robotics, directed energy and hypersonics. (Confirmation Hearing Opening Statement, 07.16.19)

NEW! The goal is to deter war, and this can only be done with a strong, modern and ready military that has overmatch in all domains. Our adversaries must see diplomacy as their best option because war with the United States will force them to bear enormous costs. (Confirmation Hearing Opening Statement, 07.16.19)

NEW! On the creation of a Space Force: We're trying to recognize that space is no longer a place from which we support combat operations or from which we look down upon the world and see what's happening. It's now a war-fighting domain. Not because we made it that way but because the Russians and Chinese are making it that way. What you want to do to make sure we're sufficiently robust in the space war-fighting domain is to ensure you have unity of command and unity of effort. … We have to realize it's a new domain of warfare now and requires a different construct and different way of thinking about it. (Senate Confirmation Hearings,

C-SPAN rush transcript

,

07.16.19,

2:11:14)
The National Defense Strategy tells us we're in an era of great power competition. That's correct, and so we need to be prepared to fight and win against strategic competitors. Russia and China could become adversaries in the future. What that means is I need to rebuild, build up my heavy forces, and we're doing that now. We're now converting two [infantry brigade combat teams] to [armored brigade combat teams]—another thing that changed. But we're putting back into these units high-end capabilities, artillery and in this case short-range air defenses. (Defense News, 01.28.19)
"The top civilian at the U.S. Army, Secretary Mark Esper, said the Army will reduce, eliminate or delay nearly 200 weapons programs and refocus the funds on investing in capabilities to beat emergent Russian and Chinese militaries": What we're looking at is 2028 and beyond, because we think it's time the Russians will be peaking. (Reuters, 02.26.19)

NEW! In response to Alaskan Sen. Dan Sullivan's concerns about Russia's new military installations in the Arctic, Esper committed to taking a close look at America's strategic and military interests in the Arctic and how best to protect them. (Senate Confirmation Hearings, C-SPAN rush transcript, 07.16.19, 1:58:57)

Q: Which place in the world, which area, could potentially become a new point of conflict of interests between the United States and Russia, in your opinion? A: Which points in the world? The most immediate? I think the eastern flank. We're probably concerned with our allies in the Baltics and Poland. … That would be one that would come to mind. Obviously, we have an ongoing conflict in Ukraine, and American forces, 'cause I've been there, actually training Ukrainians in western Ukraine, but it's probably that part. It's where the seam is between Russia and our alliance partners. Because we have an Article V commitment to defend our allies and we're committed to doing that. (Atlantic Council, 05.17.19, 52:20)
[T]he one virtue that we have as the United States going forward—because my job is to think about the future as we look at China and Russia as potential adversaries—the one unique advantage we have is we have allies. They don't. And I think that is an asset for us we need to cultivate and grow but that also means the NATO allies, all allies contributing and making sure that they help us with collective defense and security. (CNN, 06.09.19)
We have NATO partners throughout the Baltics who are working with our allies there and, so, I think our presence there has two missions. One is to reassure our allies and secondly, to deter any type of bad behavior; so we think about that. … Again, that regional role, that Russia's a strategic competitor, is called out by [the] National Defense Strategy, so that's one area where we're focused on. (The Brookings Institution, 06.05.18)
NEW! I've had the chance in the past two years as secretary of the army to visit our joint maneuver center in Germany where we train all of our allies together, fighting against a notional Russian threat if you will. We need to sustain those things. That was a big change from when I last served in Italy in the 1990s. (Senate Confirmation Hearings, C-SPAN rush transcript,

07.16.19,

2:06:03)
NEW! Turkey has been a longstanding and trusted [U.S. and NATO] partner and ally for many, many years. The pursuit of the S-400 undermines that. … If Turkey procures the S-400, it will mean they will not receive the F-35. … Acquisition of the S-400 fundamentally undermines the capabilities of the F-35 and our ability to maintain that overmatch in the skies going forward. (AP, 06.26.19, The Washington Post, 07.16.19, Senate Confirmation Hearings, C-SPAN rush transcript,

07.16.19,

1:42:48)
Q: How does the U.S. Army sort of rack and stack against the Russians? A: Well, first of all, it's important to note that the National Defense Strategy that was published earlier this year … tells us in the future we're going to need to be prepared for high-intensity conflict and that we should look at strategic competitors such as China and Russia as the ones to pace ourselves against. So, in that regard, I will say … we're ready for any type of threat today. And that readiness that we bring to the table, that lethality, it helps us ensure that we can assure our allies today and also deter any type of Russian bad behavior. In the meantime, as we implement our vision, we want to make sure that we can, across a number of fronts, ensure we have overmatch in a number of areas to make sure that we are capable of dealing with Russia and eventually China over that longer period of time. (Aspen Security Forum, 07.22.18)
I like to look at Russia in the context of the Army's strengths and when I look across a number of factors, I feel very good about where we are. So, first of all, people; I think man to man, woman to woman, we got far superior persons. They're smart, they're innovative, they're tough. They have all those types of skills and attributes that are critical in any type of battlefield. Second, I think that in terms of our equipment, our technologies we bring to bear, I'll put my money any day of the week on American business, on our defense companies, on our innovative industries, to provide our soldiers the tools, the weapons, the equipment they need to fight and win in that future conflict. And then, of course, we have great allies. They're capable. We have [a] far greater number than what Russia possesses. … But again, … when I look at the balance of factors here on both sides, … I like the hand we're playing right now. And I think our challenge, again, is to grow it, to expand it, to make sure that we're more lethal, more ready on those future battlefields. (Aspen Security Forum, 07.21.18)
[W]e [the Army] will be presenting to Congress a very bold budget that really reflects the shift for the Army into the National Defense Strategy that calls us to be prepared for high intensity conflict against countries like Russia and China. (CNBC, 03.12.19)
In this era of great power competition, we cannot risk falling behind. If left unchecked, Russia and China will only continue to erode the competitive advantage our military has held for decades. (The Hill, 03.12.19)
If we do not modernize the force now, we risk losing a future conflict against Russia or China. (Army News Service, 02.11.19)
We see Russia as our pacing threat, if you will. So, we look to them in terms of their formations, their tactics or equipment, those things that they would bring to bear against us. (Aspen Security Forum, 07.21.18)
Air and missile defenses:
NEW! Speaking at a meeting of NATO defense ministers about Russia's alleged violations of the INF Treaty and U.S. withdrawal: NATO, as an alliance, we need to discuss our options going ahead with regard to what we do. Missile defense would obviously be part of it. From the United States' perspective I can tell you that, while we have remained in compliance with the treaty, we have begun research and development on what would be INF-range missiles—conventional missiles, not nuclear, [but] conventional missiles—to help us deal with any threats. And obviously we need to build our missile defenses to deal with any type of Russian cruise missile threat. (Defense News, 06.28.19, 2:00)
We plan to modestly grow the Regular Army. ... This growth will allow the Army to fill critical gaps in the near term in cyber, air and missile defense. (Statement Before Senate Armed Services Committee, 03.26.19)
"Esper said he wants to shift some money away from vehicles and aircraft more suited for conflicts in Afghanistan and Iraq and into" what I need to penetrate Russian or Chinese air defenses. (Defense One, 04.16.19)
Nuclear arms control:
Counterterrorism:
NEW! We must be prepared to … [maintain] pressure on terrorist groups such as ISIS and al Qaeda. (Confirmation Hearing Opening Statement, 07.16.19)
Transnational terrorist organizations continue to pose a threat to our homeland and our interests, as well as our allies and partners. (Statement Before Senate Armed Services Committee, 03.26.19)
We cannot lose that focus on irregular warfare, because it will be with us for a very long time, and that's counterterrorism, that's COIN, that's peacekeeping and stability, all those things. We have to make sure we maintain those capabilities. (AEI, 11.08.18)
Conflict in Syria:
NEW! Moscow's military activities in the Middle East, in Venezuela and elsewhere prolong human suffering and provide cover to autocrats. (Defense News, 06.28.19, 1:43)
"Esper said the service's irregular warfare experience in the Mideast has helped prepare the service for Russian and Chinese proxy warfare, propaganda and other 'grey zone' tactics, where the crucial battlefield is not physical but the hearts and minds of the civilian population." (Breaking Defense, 05.20.19)
Cyber security:
Elections interference:
NEW! We of course have exceptional capabilities in Cyber Command. And maybe as important as capabilities, last year the administration put out a new NSPM [national security presidential memorandum] 13, which really put our cyber capabilities on a more offensive footing, allowing us to lean forward. I think for those reasons, that's why you saw in 2018 elections no issues. That's why I think we're more and more confident that 2020 elections will be unfettered, if you will. … But this is something we must stay on top of. Integrity of our elections, criticality of our democracy can't be threatened. We are committed to more than playing our fair share in that regard. (Senate Confirmation Hearings, C-SPAN rush transcript, 07.16.19, 45:54)

NEW! This [election interference] will be an ongoing threat for some time. Obviously Russia is the principal issue, but there are other countries that want to influence or change our elections. I think we need to be on guard and vigilant. I cannot attest that 2020 will be flawless, but I think we're in a better posture than 2018. We addressed the problem adequately. We will always have a lot of work to do. People want to influence our elections. (Senate Confirmation Hearings, C-SPAN rush transcript, 07.16.19, 58:03)
Energy exports from CIS:
No significant commentary.
U.S.-Russian economic ties:
No significant commentary.
U.S.-Russian relations in general:
NEW! [The] international rules-based order in the wake of World War II is the order that has ensured prosperity and security for 75 years. I am fully committed to that. I think that's one thing that's under threat from Russia. (Senate Confirmation Hearings, C-SPAN rush transcript, 07.16.19, 1:08:21)

[W]e are entering or have entered a new era of great-power competition, and with that [the National Defense Strategy] has identified clearly China and Russia as strategic competitors. (Center for Strategic and International Studies, 03.12.18)
Russia is likely to threaten our interests for the next 20 years as they attempt to regain control of historic spheres of influence and shape European economic and security structures in their favor. (Statement Before Senate Armed Services Committee, 03.26.19)
II. Russia's relations with other countries
Russia's general foreign policy and relations with "far abroad" countries:
NEW!

As we all know, the instigator of aggression in Europe today is Russia. Thirty years after the fall of the Berlin Wall Russia still seeks veto power over its neighbors and interferes in the sovereign democratic processes of other countries. (Defense News, 06.28.19, 1:20)
We have something that the Russians and Chinese don't have: good allies, very capable allies. (Atlantic Council, 05.17.19, 55:50)
China:
NEW! On Russia's relationship with China: In some places, they're coordinating. In some places cooperating. In other paces it's a consonance of interest. And in some areas, they are competing. We've talked about the Arctic. That's one area ... where Russia does not want China. Nor do we want China [there]... We need to work carefully with [our] allies and partners. There's some Arctic Council [members] who can help us in that way. We need to work with our partners to keep that out. Another country I'm very concerned about is Egypt. We see Egypt in some ways drifting off into that sphere. I want to make sure that we get them back. It's the largest land army in the Arab … region. And they are an influencer. So we have to be conscious of those facts. (Senate Confirmation Hearings,

C-SPAN rush transcript

, 1:30:47)
Russia and China continue to seek opportunities to expand their power and influence often at the expense of other sovereign states. In places like Ukraine and the South China Sea, we see this happening in real time. To enable their geopolitical aspiration Russia and China are rapidly modernizing their militaries and have been doing so for many years. Through investments in next-generation capabilities they are attempting to counter many of our long-held advantages. (Atlantic Council, 05.17.19, 08:35)
The army we are building to deal with Russia and China—we think that is the most dangerous threat as we would see it from a force posture. But we also know if you look around the world, many of the countries, look at North Korea, look at Iran in many ways, we find that in many cases when they are using equipment produced by a Russia or a China, they are employing the tactics developed by a Russia or a China. So, in many ways the force we intend to build, it will be well prepared to deal with conflicts against a Russia or, I'm sorry, against Iran or some other less-than-near-peer threat, if you will. (Atlantic Council, 05.17.19, 01:08:31)
See also

"North Korea's nuclear and missile programs" above.
Ukraine:
[I]n Ukraine, American forces, National Guard troops from the New York National Guard at the time, are training Ukrainians, training Ukrainian forces to deal with the Russians in the east. And you talk about a change. For somebody like myself who entered the service in 1982 and to the academy in 1986 and to the Army where the Soviet Union was our threat and the Cold War was the operating environment, that's a big change. And I'll tell you personally, … when we drove into the training area and I saw a BTR-60 or a BMP, going through a training course, it kind of catches your attention because that's what you grew up [with] as the threat. … And here it's American soldiers training Ukrainians to operate the vehicles. Who'd have thunk? (Center for Strategic and International Studies, 03.12.18)
Warfare is changing. We've talked about hybrid warfare we've seen the Russians present in Crimea, and we're adapting to that. I don't think it's changed as much as it's all starting to blur together. (Fort Polk Guardian, 08.06.18)
We took lessons from the Ukrainian conflict… We know that the Russians made good use of drones. They used them, again, not just for surveillance, but to

call in and direct fire

with devastating effect. We know that they have good electronic warfare capabilities and they can not just intercept, but jam our communications. (Center for a New American Security, 05.16.18, 22:57)
Russia's other post-Soviet neighbors:
No significant commentary.
III. Russia's domestic policies
Domestic politics, economy and energy:
No significant commentary.
Defense and aerospace:
Security, law-enforcement and justice:
No significant commentary.