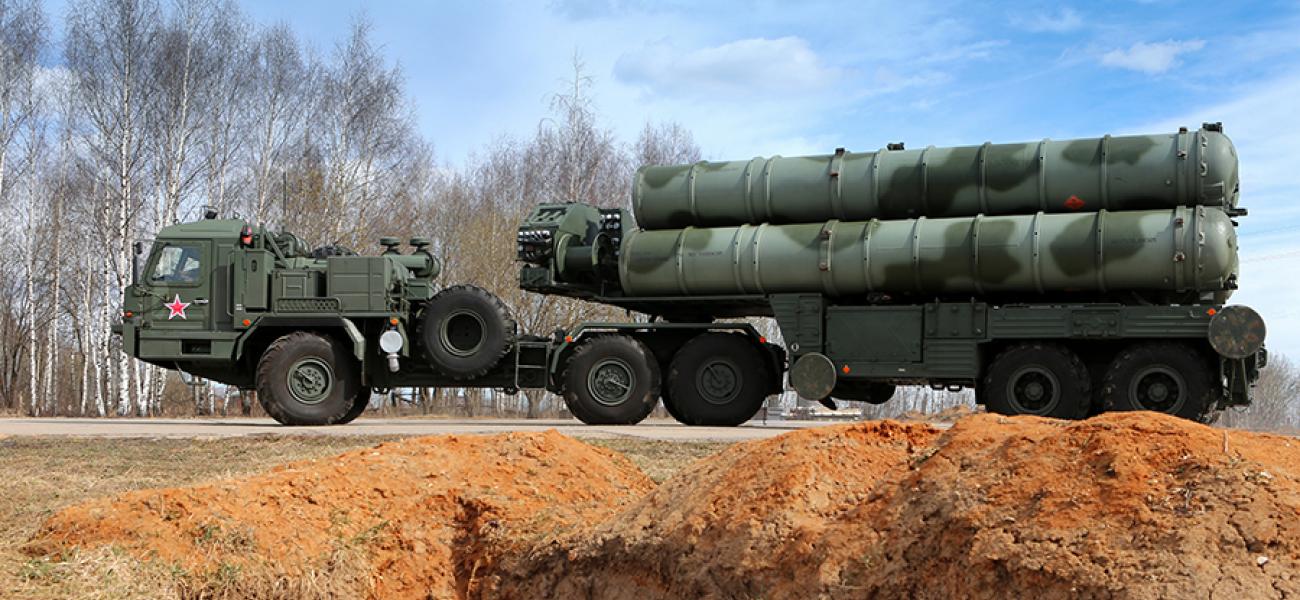 Beyond Arms Embargo, Obstacles Remain to Iran's Acquisition of Russian Weapons
October 15, 2020
Nicole Grajewski
On Oct. 18, the U.N. conventional arms embargo on Iran will expire despite the Trump administration's numerous attempts to extend the embargo and induce "snap back" provisions. Russia has made its categorical rejection of Washington's efforts to keep Iran from resuming arms exports crystal clear; however, opposition to the extension of the embargo should not be mistaken as an indication that Moscow will rush to sell weapons to Tehran. Even though Moscow may possess commercial interests in exporting arms to Tehran, numerous financial, technical and political obstacles complicate Iran's acquisition of Russian weapons and military equipment.
Moscow Unimpressed by Prospects of U.S. Sanctions as Iran Eyes Russian Systems
The state of U.S.-Russian relations suggests that Washington lacks the leverage or trust in Moscow to reach an understanding on limiting the sale of weapons to Tehran akin to previous instances of U.S.-Russian cooperation like the 1995 Gore-Chernomyrdin agreement or U.N. Resolution 1929 and the S-300.
Washington's preemptive formulation of unilateral sanctions under Executive Order 13949 to punish those who participate "in the supply, sale or transfer of conventional arms to or from Iran" has done little to dissuade Russia's open proclamations about its commitment to cooperating with Iran. Russian Foreign Minister Sergei Lavrov dismissed the threat of U.S. sanctions and expressed Moscow's intention to engage in arms sales and to continue close military cooperation with Tehran after the U.N. arms embargo expires on Oct. 18. Given existing U.S. sanctions on Russia's defense industry, Executive Order 13949 is "simply not a threat" to Russian enterprises such as state arms exporter Rosoboronexport. Moreover, Russian opposition to the Trump administration's efforts to extend the embargo also helps Moscow portray itself as a champion of international law amid increasing U.S. intransigence and unilateralism. In 2015, the Joint Comprehensive Plan of Action (JCPOA) included provisions that amended previous U.N. Security Council resolutions on Tehran as part of the agreement to limit Iran's nuclear program. Under the JCPOA, Resolution 2231 (2015) amended the conventional weapons ban on Iran to permit the sale of these weapons with U.N. Security Council approval for five years after the JCPOA adoption day, Oct. 18, 2015.
Following the expiration of the embargo, Iran will be able to purchase battle tanks, armored combat vehicles, caliber artillery systems, combat aircraft, warships and systems without the approval of the U.N. Security Council. In anticipation of the embargo's expiration, an oft-cited 2019 U.S. Defense Intelligence Agency (DIA) report speculated that Iran would purchase Su-30 fighters, Yak-130 trainers, T-90 tanks, S-400 surface to air missile defense systems and Bastion mobile coastal defense missile systems from Russia. Previously, there were reports that Iran provided Russia with a far more extensive list of weapons during then-Iranian Defense Minister Hossein Dehgan's visit to Moscow in 2016. Since then, periodic appearances by Iranian defense officials at Russian weapons expos have fueled speculation that Iran may seek to secure advanced weapons systems such as the S-400. Iran has frequently identified the Su-30 and S-400 as highly coveted acquisitions, consistent with the country's need to modernize its air force and strengthen its air defense capabilities. The Center for Strategic Research of Iran's Expediency Council and the Tabyin Center for Strategic Studies have called for the procurement of fighter jets like the Su-30s and the S-400 defense systems to combat potential U.S. or Israeli strikes. However, many of these analyses published by the Iranian press and think-tanks tend to underplay the challenges associated with its prospective arms imports after Oct. 18. As stated above, there are multiple reasons why Iranians will not receive an influx of Russian weapons.
First, we should keep in mind that Russia has previously been reluctant to supply Iran with high-tech systems and offensive weapons. In August 2017, Russia allegedly denied Iran's request for 24 Su-35 and Su-30SM fighters and, instead, offered the Su-27SM3 fighters over Moscow's concerns about sharing sensitive technologies with Tehran and Iran's inability to supply Russia with hard currency. Likewise, Russia apparently rebuffed Iran's request for the S-400 during Iranian Foreign Minister Javad Zarif's visit to Moscow in May 2019, which was linked to Russia's reservations about inflaming the wider tensions in the Persian Gulf between Iran and the Gulf Cooperation Council (GCC). Russia was quick to dismiss reports about its refusal to sell the S-400 to Iran and, more recently, Russia's ambassador to Iran, Levan Dzhagaryan, affirmed that while Moscow has "no problem" selling the S-400 to Iran, Russia and Iran have yet to commence negotiations on potential weapons sales. Given the complex history of Russian arms sales to Iran, there is little to suggest that negotiations will proceed rapidly. Furthermore, several factors will constrain Tehran's ability to purchase arms and other systems from Moscow, including the economic situation in Iran and Russia's reputational and political risks.
Second, Iran's domestic economic crisis poses a major impediment to its acquisition of large-scale arms from Russia, especially as Moscow has already declined Tehran's request to purchase weapons on credit. Iran lacks the funds to purchase extensive weapons and to weather the costs for maintaining advanced weapons systems, including training and spare parts. In fact, Iran's difficult economic situation remains the greatest obstacle to its procurement of large-scale, costly weapons. It is simply unfeasible for a country facing a crippling economic downturn to afford expensive weapons such as the S-400 or a squadron of fighter jets. For example, the initial costs of one squadron of 18-24 modern fighters can reach up to $2 billion. In addition, each new type of weaponry and military equipment requires specialized training of personnel, spare parts, maintenance and integration with existing command and control systems, which could cost more than the equipment itself. Iran also has one of the lowest defense budgets relative to GDP in the Middle East, which places significant constraints on the funds allocated for weapons procurement in comparison to Israel or Saudi Arabia. Whereas China may be more amenable to delivering weapons on credit, Russia is neither willing nor able to provide Tehran with weapons on credit due to Moscow's own economic situation.
Third, arms sales to Iran have clear implications for Russia's foreign policy in the Middle East, which has been contingent on maintaining close relations with Iran while concomitantly expanding its ties with Iran's adversaries including Israel, the United Arab Emirates (UAE) and Saudi Arabia. Russia's relations with these countries suggest that Moscow will remain circumspect over providing Iran with offensive weapons that could disrupt the regional balance of power and antagonize Tehran's neighbors. Moscow's reticence to supply Tehran with high-tech or offensive weapons is closely tied to Russian reservations about radically shifting the military balance in the region and exacerbating tensions in the Persian Gulf. As Anton Marasdov, an expert on the Russian military, correctly points out, "[t]here is an obvious tension between Moscow being interested in supplying Iran with defense equipment and Tehran's wish to purchase offensive arms," which would provoke staunch opposition amongst the UAE, Saudi Arabia and Israel. Moreover, Samuel Ramani, a researcher of Russian foreign policy at the University of Oxford, has argued that Russia's security cooperation with the UAE, which includes prospective joint fighter jet development projects, further provides a restraint on Moscow's security cooperation with Iran.
Kirill Semenov, a non-resident expert at the Russian International Affairs Council and a columnist for Al Monitor, also thinks Russia will exercise restraint in arms exports to Iran. He believes Moscow's relations with the Gulf and Israel mean that "Russia will refrain from supplying Iran with offensive weapons such as the Su-30 aircraft and the latest weapons such as the S-400." At the same time, Russia does not want to undermine its relationship with Iran. Arms sales may be limited to defensive weapons like the S-300 or the TOR-M1 air defense systems Iran has previously purchased from Russia. Semenov notes that Moscow will likely be willing to offer "new consignments of S-300 or TOR-M air defense systems" as well as "T-90 tanks, BMP-3 tanks, artillery systems and mortars." However, Iran's emphasis on developing its own armored industry suggests Tehran will be less interested in importing armored vehicles and artillery systems.
Arms Sales as the Art of the Possible
Given all these constraints, Russian and Iranian military cooperation will likely materialize in the form of limited arms sales which will be supplemented by an increase in regularized technical exchanges and military drills between the Russian and Iranian armed forces. Tehran can still benefit from military-technical cooperation with Moscow, even if that cooperation is limited. During his most recent visit to Moscow, Zarif stated that although Iran's armed forces seek to achieve self-sufficiency, Tehran can still benefit from military cooperation with Moscow. According to Vladimir Sazhin, a leading Russian expert on the Iranian military, Iran is likely to focus on the development of its defense industry through the acquisition of dual-use components, limited purchases of foreign military equipment and importing weapons technology. Likewise, Sina Azodi, a non-resident fellow at the Atlantic Council, believes that Iran will prioritize limited purchases of "air defense and anti-ship missile systems to deter future attacks" while pursuing agreements with Moscow on manufacturing licenses for Iran's indigenous production of Russian artillery and weapons systems.
Tehran may opt to purchase ground-based missile defense systems to provide Iran's nuclear, chemical and energy facilities with protection from U.S. or Israeli high-precision attacks. In the past, Iran's procurement of the short-range TOR-M1 and the more sophisticated, long-range S-300 from Russia was crucial for Iran's defensive air capabilities. Although Russian ground-based missile defense systems strengthen Tehran's air defense capabilities, the S-300, unlike the S-400, cannot sufficiently constrain Israeli F-35 Joint Strike Fighters. In terms of power projection and deterrence capabilities, the Iranian air force would clearly benefit from Russian fourth generation fighter jets. Yet, even if Iran manages to obtain the license for the production of a basic Su-30 variant without advanced technology, this cannot satisfy Iran's demands for a comprehensive modernization of its air force. Moscow and Tehran may also seek to increase military cooperation to enhance interoperability between the Russian and Iranian militaries at the tactical level. This could entail closer cooperation through Iran's participation in large scale Russian-led exercises like Kavkaz-2020 as well as an increase in regularized military-technical exchanges and drills between the Russian and Iranian armed forces.          
Conclusion
The expiration of the U.N. arms embargo on Iran will not culminate in extensive arms sales between Moscow and Tehran. Instead, Russian arms sales to Iran will be limited to defensive weapons like the S-300 or manufacturing licenses and technology transfers for Tehran's domestic defense industry. Iran lacks the resources to pay for advanced weapons, including the costs for maintenance and spare parts. Moreover, Russia will remain cautious about the weapons it agrees to sell out of concern over antagonizing Israel or the Gulf states. Even so, the clear improvement in Moscow's relationship with Tehran over the past several years will encourage the continued expansion of joint military cooperation and tactical interoperability between the Russian and Iranian armed forces.
Author
Nicole Grajewski
Nicole Grajewski is a fellow with the Belfer Center's International Security Program and a doctoral candidate at the University of Oxford, where she researches Russian-Iranian relations. 
Photo by the Russian Defense Ministry, shared under a CC BY 4.0 license.
The opinions expressed herein are solely those of the author.