Russia in Review, Sept. 22-29, 2023
4 Things to Know
I. U.S. and Russian priorities for the bilateral agenda
Nuclear security and safety:
The IAEA's annual General Conference on Sept. 28 adopted a resolution that calls for "the urgent withdrawal of all unauthorized military and other unauthorized personnel from Ukraine's ZNPP and for the plant to be immediately returned to the full control of the competent Ukrainian authorities." (DW, 09.28.23)

General Director of Rosatom Alexey Likhachev took part in the conference, according to the corporation's website. During the conference, Likhachev "highly appreciated the activities of the IAEA under the leadership of Rafael Grossi, including the Agency's efforts to prevent threats to the safety of the Zaporizhzhia Nuclear Power Plant," according to Rosatom's website. (RM, 09.29.23)
North Korea's nuclear and missile programs:
Iran and its nuclear program:
Iran's decision to bar some UN nuclear inspectors suggests it is not interested in being a responsible actor when it comes to its atomic program, U.S. Secretary of State Antony Blinken said on Sept. 22. On Sept. 23, the head of IAEA condemned Tehran's move to bar multiple inspectors assigned to the country. (Reuters, 09.23.23)
Humanitarian impact of the Ukraine conflict:
Military aspects of the Ukraine conflict and their impacts:
Punitive measures related to Russia's war against Ukraine and their impact globally:
Ukraine-related negotiations:
"Of course, we recognized the sovereignty of Ukraine back in 1991, on the basis of the Declaration of Independence. One of the main points for us in the declaration was that Ukraine would be a non-bloc, non-alliance country; it would not join any military alliances. In that version, on those conditions, we support Ukraine's territorial integrity," Foreign Minister Sergey Lavrov said during a press conference at UN. While at UN Lavrov also said Ukraine's proposed peace plan as well as the latest UN proposals to revive the Black Sea grain initiative were both "not realistic." (Mid.ru, 09.23.23, RFE/RL, 09.24.23)
Great Power rivalry/new Cold War/NATO-Russia relations:
China-Russia: Allied or aligned?
Missiles:
U.S. Naval Forces Europe, in conjunction with the Danish Defense Forces, conducted advanced convoy protection drills using the state-of-the-art, modular SM-6 missile launcher this week in Bornholm, Denmark. (Naval News, 09.21.23)

This deployment would have violated the INF treaty if it had still been functioning, according to Russia's Kommersant daily. Russian authorities, whom the U.S. had repeatedly accused of violating the INF by allegedly deploying 9М729 missiles, claimed earlier that they would not deploy missiles, which would violate the now-defunct treaty by having a range of between 500 and 5550 km, unless the U.S. did, according to Kommersant. (RM, 09.27.23)
Nuclear arms:
Head of Russia's leading nuclear research center said Russia should consider resumption of nuclear tests, claiming that even one such a test could compel Washington to enter negotiations with Russia. Director of the Kurchatov Center Mikhail Kovalchuk -- whose brother Yuri is Putin's long-time confidant who reportedly influenced the Russian leader's decision to reinvade Ukraine – claimed that Americans "immediately" entered negotiations with Soviets after USSR tested a 50-megaton thermonuclear bomb in  October 1961.  It was in August 1963 that US, UK and USSR signed the Treaty Banning Nuclear Weapon Tests in the Atmosphere, in Outer Space and Under Water.  "The situation is exactly the same now [as it was  in 1961]. It's enough to carry out tests on Novaya Zemlya... at least once. And everything will fall into place," the Kurchatov chief was quoted by RIA Novosti as saying on Sept. 28. Kovalchuk made his comments amid reports Russia has significantly increased construction at a the Arctic island of Novaya Zemply where it conducted nuclear tests in Soviet times. Mikhail Kovalchuk also said Russia's nuclear deterrence policy should be aligned with the geopolitical realities, which he said include West's increasingly aggressive attitude towards Russia. (RM, 09.29.23)
"To this day, the nuclear missile shield protects our country. And the very fact of its existence makes the dreams of some politicians in the West about the strategic defeat of Russia absolutely absurd," said Sergei Naryshkin, director of the Foreign Intelligence Service, on Sept. 28. (RIA Novosti, 09.28.23)
The U.S. Department of Energy said it's willing to prove its engineers aren't breaking a three-decade moratorium against testing nuclear weapons, in a bid to encourage China and Russia to be more transparent and defuse military tensions. (Bloomberg, 09.28.23)
Counterterrorism:
Kazakhstan's National Security Committee (KNB) said on Sept. 25 that a court in the central city of Satbayev had sentenced a local man to six years in prison earlier this month for joining the Islamic State (IS) group in Syria. (RFE/RL, 09.25.23)
Conflict in Syria:
No significant developments.
Cyber security/AI:
European Commission Vice President Vera Jourova has urged Google, Microsoft, Meta, and TikTok to do more to tackle what she called Russia's "multimillion-euro weapon of mass manipulation" ahead of elections in Europe. (Reuters, 09.26.23)
A mass cyberattack on Russia's air booking system Leonardo sparked flight delays among major carriers on Sept. 28. Russia's flagship airline Aeroflot said the denial-of-service attack resulted in delays of up to an hour for departures at Moscow's Sheremetyevo International Airport. Aeroflot's subsidiary Rossiya Airlines reported similar delays at Sheremetyevo, according to Interfax. (MT/AFP, 09.28.23)
Energy exports from CIS:
Climate change:
No significant developments.
U.S.-Russian economic ties:
No significant developments.
U.S.-Russian relations in general:
A bipartisan group of senators is introducing a resolution pressing Russia to release Wall Street Journal correspondent Evan Gershkovich. The resolution, led by Sen. Jim Risch (R-ID), the top Republican on the Senate Foreign Relations Committee, and Sen. Ben Cardin (D-MD), who is stepping in as temporary chairman of the panel, calls on Moscow to "immediately release" Gershkovich. (WSJ, 09.29.23)
The FBI's former top spy hunter in New York, who last month pleaded guilty to conspiring to violate U.S. penalties and launder funds for Russian billionaire Oleg Deripaska, whom he once investigated, pleaded guilty on Sept. 22 in a separate case charging him with hiding secret cash payments while overseeing highly sensitive cases. Charles F. McGonigal, 55, pleaded guilty to one count of concealing material facts, an offense punishable by up to five years in prison. (WP, 09.24.23)
Two Russian cosmonauts and an American astronaut landed back on Earth on Sept. 27 after spending a year at the International Space Station (ISS), Russia's Roscosmos space agency said. "Roscosmos cosmonauts Sergei Prokopyev and Dmitry Petelin and NASA astronaut Francisco Rubio, who spent a year on board the ISS, landed near the city of Jezkazgan in Kazakhstan," Roscosmos said. It said the Soyuz MS-23 spacecraft carrying them reached Earth at 11:17 GMT in a landing that took place in "normal mode." (MT/AFP, 09.27.23)
II. Russia's domestic policies
Domestic politics, economy and energy:
Defense and aerospace:
According to a Finance Ministry document published Sept. 28, defense spending is set to jump by over 68% year-on-year to almost 10.8 trillion rubles ($111.15 billion) in 2024."It is obvious that such an increase is necessary, absolutely necessary, because we are in a state of hybrid war, we are continuing the special military operation," Kremlin spokesman Dmitry Peskov said. (

MT/AFP

, 09.28.23)

Russia is spending heavily to fight the war in Ukraine. In the first quarter of this year, spending jumped 35%, increasing by nearly two trillion rubles, or some $20.7 billion, compared with a year earlier, according to Oxford Economics. (WSJ, 09.29.23)
Russian industries providing goods for the military are expected to increase their output by almost a third in 2023, according to government forecasts seen by Bloomberg News that cover the next three years. The output for products such as computers, electronics and optics are projected to grow by 34% compared to the previous year. The spike in output of these goods has been dramatic, rising 40%-65% in some months, Federal Statistics Service data show. (Bloomberg, 09.27.23)
Putin decreed to conduct the autumn conscription of Russian citizens for military service from Oct. 1, 2023, to Dec. 31, 2023, according to NVO. (RM, 09.29.23)

The Russian military will not mobilize reserves as it gears up for an annual call-up of young men for compulsory military service, Russia's Defense Ministry said Sept. 29. The fall military call-up will begin as scheduled ... and no conscripts will be sent to fight in Ukraine during their 12-month training period, he added. (MT/AFP, 09.29.23)

Also see section Military aspects of the Ukraine conflict and their impacts above.
Security, law-enforcement and justice:
Russian feminist and anti-war activist Anastasia Yemelyanova was found dead in Turkey, her colleagues said late Sept. 24. Yemelyanova's fiancé was detained on charges of murder in the eastern Turkish city of Erzurum. (MT/AFP, 09.25.23)
A jailed Russian oligarch is seeking almost $14 billion in damages in London's High Court from defendants including U.S. private equity group TPG over an alleged Kremlin-led conspiracy to seize his assets. Lawyers for Ziyavudin Magomedov claimed in filings made public this week that TPG founder David Bonderman was part of a conspiracy to sell a stake in Fesco, which controls the Pacific port of Vladivostok, that Magomedov was entitled to. (FT, 09.25.23)
III. Russia's relations with other countries
Russia's general foreign policy and relations with "far abroad" countries:
Ukraine:
Russia's other post-Soviet neighbors:
An exodus of ethnic Armenians from Nagorno-Karabakh continued 10 days after a lightning military offensive that gave Azerbaijan complete control over its breakaway region. A total of 97,700 out of Karabakh's 120,000-strong Armenian population had arrived in the Republic of Armenia as of the evening of Sept. 29. Armenian premier Pashinian has accused Azerbaijan of "ethnic cleansing" and warned that no Armenian will remain in the breakaway region in the following days. (RFE/RL, 09.29.23, WP, 09.29.23)
IV. Quotable and notable
V. Useful charts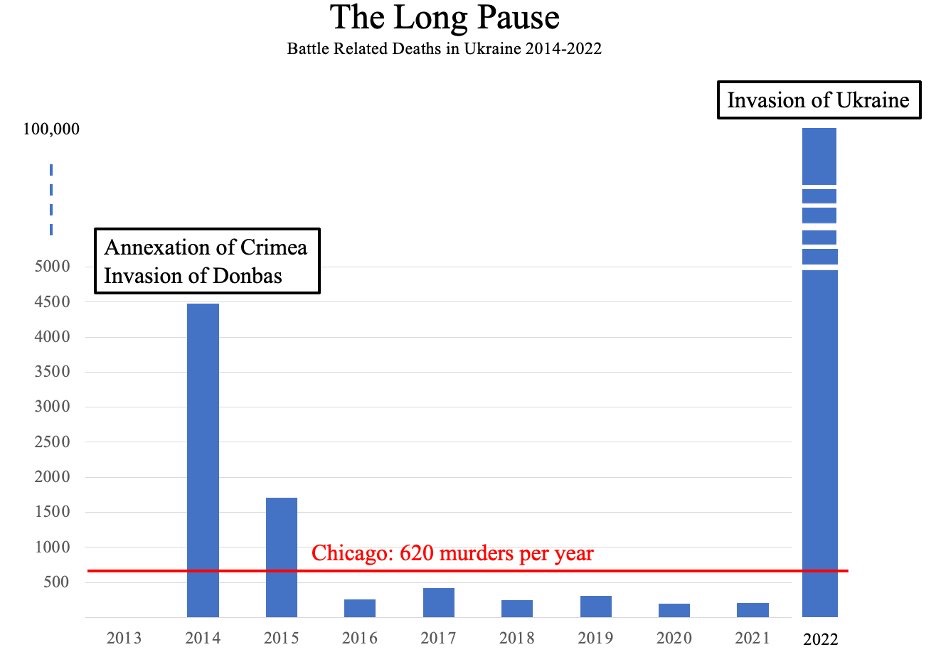 Source: https://twitter.com/GrahamTAllison/status/1706424689051214275/photo/1
| | | | | | |
| --- | --- | --- | --- | --- | --- |
|   | Jun-23 | Jul-23 | Aug-23 | Sep-23 | % change in Aug-Sep |
| Share of those who named Putin when asked by Levada to name several politicians that they trust most | 42 | 44 | 44 | 38 | 13.6% |
The cutoff for reports summarized in this product was 2:00pm Eastern Time on Sept. 29, 2023.
*Here and elsewhere, the italicized text indicates comments by RM staff and associates. These comments do not constitute RM editorial policy.
Slider photo shared by Angel X. via Wikimedia Commons, under a CC BY 4.0 license.