Russia in Review, Feb. 14-21, 2020
This Week's Highlights
I. U.S. and Russian priorities for the bilateral agenda
Nuclear security:
At the conclusion of the IAEA's International Conference on Nuclear Security on Feb. 14, countries announced or confirmed a total of more than $20 million to the IAEA Nuclear Security Fund, as they reaffirmed their commitment to sustaining and strengthening nuclear security globally. (IAEA, 02.17.20)
North Korea's nuclear and missile programs:
No significant developments.
Iran and its nuclear program:
No significant developments.
New Cold War/saber rattling:
"As for the nuclear status, I am not sure this should be written into the constitution because there is no question that we are a nuclear power today. What matters is for us to always be a step ahead with the latest arms systems. But these systems may not necessarily have to be nuclear … So the nuclear status is not forever," Russian President Vladimir Putin told the working group on drafting proposals for amendments to the Constitution of the Russian Federation. (Kremlin.ru, 02.13.20)
Mexican citizen Hector Alejandro Cabrera Fuentes has been arrested on suspicion of working for a Russian government official to track down the vehicle of a "U.S. government source" in the Miami area and informing the Russian of its whereabouts. (RFE/RL, 02.19.20)
NATO-Russia relations:
In a key speech at the Munich Security Conference (MSC), French President Emmanuel Macron called for dialogue among EU countries about what role the French nuclear deterrent could play as he called for a "surge" in European defense spending. "The issue is not for Europeans to know whether they must defend themselves with or without Washington," Macron said. "But our security derives also, inevitably, from a greater capacity by Europeans to act autonomously." (RFE/RL, 02.16.20)

NATO Secretary General Jens Stoltenberg dismissed calls by Macron to put France's nuclear deterrence at the center of European defense strategy, saying the U.S. and Britain already provide an effective security umbrella. (RFE/RL, 02.16.20)

Speaking at the MSC, Russian Foreign Minister Sergei Lavrov has accused NATO, and Europe more broadly, of stoking tensions on the continent, as he called on leaders to "abandon the phantom of the Russian threat." (RFE/RL, 02.15.20)
American military commanders doubted that the North Atlantic Council would authorize a military response to the Russian annexation of Crimea or that the U.S. government would be able to make a decision about how to respond before the event was over, according to Harvard Professor Graham Allison. (Foreign Affairs, 02.10.20

)
| | | | | |
| --- | --- | --- | --- | --- |
| Russians answer: How should Russia treat the West? |   |   |   |   |
|   | May 2016 | Jan. 2017 | June 2018 | Jan. 2020 |
| As an enemy | 7% | 8% | 5% | 3% |
| As a competitor | 24% | 31% | 16% | 16% |
| As a partner | 55% | 43% | 61% | 67% |
| As a friend | 4% | 7% | 8% | 11% |
| Difficult to say | 7% | 7% | 8% | 4% |
| Did not answer | 3% | 5% | 2% | 1% |
(Source: Levada Center)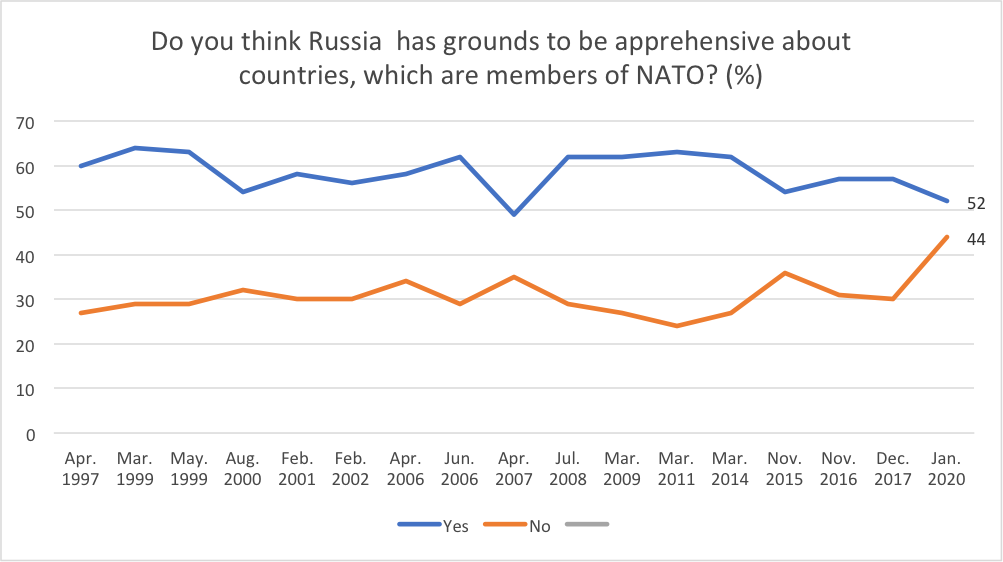 (Source: Levada Center)
Missile defense:
"Some experts abroad are working to make nuclear weapons pointless for their owners. For example, the missile defense system that you know was designed with this goal in mind, notably, to deactivate our nuclear potential, to make it useless. But after we developed hypersonic weapons, their attempts to do this became pointless," Putin told the working group on drafting proposals for amendments to the Russian Constitution. (Kremlin.ru, 02.13.20)
Nuclear arms control:
A senior administration official told reporters in a White House briefing on Feb. 14 that, as the New START treaty's expiration date nears, the U.S. might agree to extend New START to provide more time to include China in an agreement. (RFE/RL, 02.15.20)
Lavrov said after meeting U.S. Secretary of State Mike Pompeo last week that he had felt a more constructive approach from Washington when it came to the U.S.-Russia strategic dialogue. Lavrov said the two men had spoken about issues related to strategic dialogue between Russia and the United States and about arms control. (Reuters, 02.17.20)
The U.S. nuclear arsenal remained roughly unchanged in the last year, with the Defense Department maintaining an estimated stockpile of approximately 3,800 warheads. Of these, only 1,750 warheads are deployed, while approximately 2,050 are held in reserve. Additionally, approximately 2,000 retired warheads are waiting to be dismantled, leaving the U.S. with a total inventory of approximately 5,800 nuclear warheads. (The Bulletin of Atomic Scientists, 02.20.20)
Counter-terrorism:
Putin on Feb. 20 hailed the FBI for sharing information that helped thwart a terror attack by adherents of the Islamic State in St. Petersburg during the New Year holidays. (

AP

, 02.20.20) 
Conflict in Syria:
Fighting between Syrian government forces backed by Russian air power and Turkish forces and Syrian rebels is pulling Moscow and Ankara more into the country's civil war. A fierce battle for Idlib left 27 fighters dead on Feb. 20, the Syrian Observatory for Human Rights reported. At least 11 pro-government combatants and 14 on the pro-Turkey side were killed as well as two Turkish soldiers. The Russian air force carried out the strikes with Su-24 bombers. (RFE/RL, 02.20.20)
Turkey dispatched a delegation to Moscow on Feb. 17 for another round of talks aimed at forging a cease-fire agreement in Syria. Lavrov said that no agreements have been reached at these talks. Nevertheless, both Ankara and Moscow expected their presidents to "end the issue," Turkey's Defense Minister said. On Feb. 21, the Kremlin said it did not want to entertain the "worst case-scenario" of possible Russian-Turkish fighting in Idlib. (The Moscow Times, 02.21.20, RFE/RL, 02.19.20)
U.S. President Donald Trump spoke by phone with Turkish President Recep Tayyip Erdogan on Feb. 16 to call for Russia to end its support for the Syrian regime's "atrocities" and conveye the United States' "desire to see an end to Russia's support" for Syrian President Bashar al-Assad. Erdogan has threatened to launch a full-blown attack on the Assad regime if the offensive in Idlib did not stop. (Wall Street Journal, 02.18.20, RFE/RL, 02.17.20)
Cyber issues:

        
Georgia, the U.S. and U.K. have blamed Russia for a massive coordinated cyberattack that took thousands of Georgian websites offline in October. The U.K. and U.S. said on Feb. 20 that they believe the attacks were perpetrated by the Sandworm team, a unit operated by Russia's military intelligence service. This unit was responsible for the 2017 NotPetya attack on Ukraine. Cyber security companies have also accused Sandworm of attacks on the U.S. and French elections and the 2018 Winter Olympics in South Korea (RFE/RL, 02.20.20, Financial Times, 02.20.20)
Elections interference:
Energy exports from CIS:
Saudi Arabia is considering a break from its four-year oil production alliance with Russia, as China's coronavirus outbreak contributes to a drop in global oil demand. (Wall Street Journal, 02.21.20)
Speaking at the MSC, Pompeo announced $1 billion to bolster an energy project for Central European countries on the Baltic, Adriatic and Black Seas, an effort to blunt Russian energy projects like Nord Stream 2. (New York Times, 02.15.20

)
U.S.-Russian economic ties:
No significant developments.
U.S.-Russian relations in general:
Russia's state-owned oil producer Rosneft has said it will continue to do business with Venezuela despite the U.S. bringing sanctions against its trading arm for buying and selling the country's crude. Washington on Feb. 18 sanctioned Swiss-registered Rosneft Trading SA and the brokerage's president for trading Venezuela's oil, a measure designed to increase pressure on the regime of President Nicolás Maduro. (Financial Times, 02.20.20)
When asked by the New York Times if Russia continues on its current course in Ukraine and other former Soviet states, should the United States regard it as an adversary, or even an enemy, all Democratic presidential candidates answered in the affirmative. (Russia Matters, 02.18.20)At a Trump rally in Cleveland, two supporters came wearing shirts that read, "I'd rather be a Russian than a Democrat." (Psychology Today, 02.02.20)
An American cancer-medicine inventor has been arrested in Russia on suspicion of bribery. Gene Miron Spektor is accused of giving 4 million rubles ($64,000) in the form of two holiday packages to Thailand and the Dominican Republic to ex-Deputy Prime Minister Arkady Dvorkovich's former assistant Anastasiya Alexeyeva. (The Moscow Times, 02.21.20)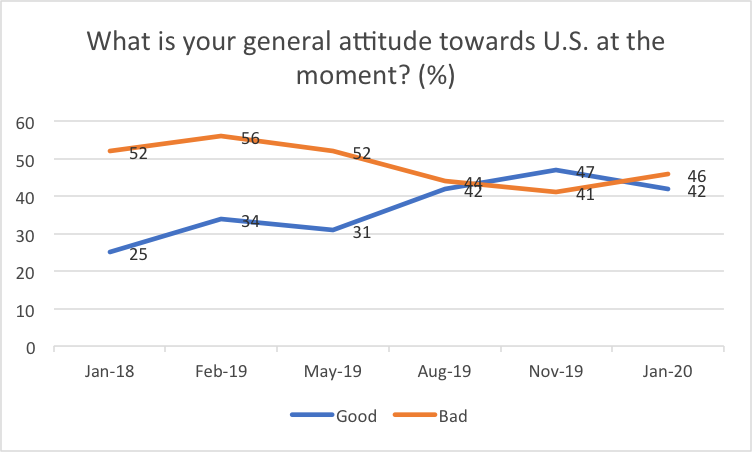 (Source: Levada Center)
II. Russia's domestic policies
Domestic politics, economy and energy:
Defense and aerospace:
The Russian military is studying whether to arm the Tu-160 bomber with the Kh-47M2 Kinzhal, a nuclear-capable missile with an estimated range of 1,200 miles and a speed of up to Mach 10. (The National Interest, 02.15.20)
Overall deaths in the Russian Armed Forces have decreased by 29 percent between 2015-2019, State Duma deputy Valery Rashkin told Interfax without providing figures for each cause of death. Around 12 percent of all crimes committed within the Russian military ranks in 2019 were related to hazing, he said, noting that these tend to be the most high-profile crimes. (The Moscow Times, 02.18.20)
Security, law-enforcement and judicial affairs:
III. Russia's relations with other countries
Russia's general foreign policy and relations with "far abroad" countries: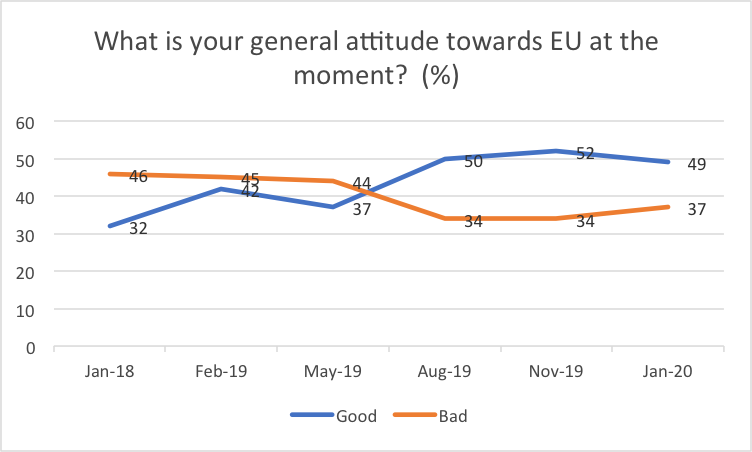 (Source: Levada Center)
China-Russia: Allied or Aligned?
Chinese visitors account for nearly 30 percent of Russia's total tourism, according to the World Without Borders travel association. Tour operators expect losses of roughly $43.7 million for January and February and fear that could climb to more than $468 million if the ban on visits by Chinese nationals to Russia due to coronavirus concerns is not lifted until summer, the Association of Tour Operators of Russia said. (The Washington Post, 02.21.20)
Around 2,500 people arriving in Moscow from China have been ordered to be placed under quarantine for the coronavirus and are being monitored by the Russian capital's facial-recognition technology, Moscow Mayor Sergei Sobyanin said Feb. 21. All drivers of buses, trams and trolley buses in the Russian capital have been instructed to stop their vehicles and make all passengers disembark if they suspect any of their passengers are from China. (RFE/RL, 02.20.20, The Moscow Times, 02.21.20)
Chinese diplomats were at a loss after Russia barred entry to Chinese citizens as a coronavirus prevention measure. "The decision was made at a time when the number of cases has declined, so it's not clear what logic guided the Russian authorities," an unnamed diplomatic source told Kommersant. (The Moscow Times, 02.19.20)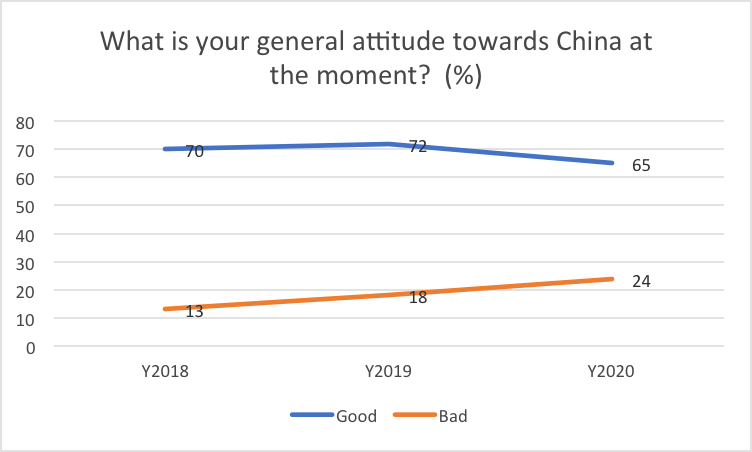 (Source: Levada Center)
Ukraine:
Almost twice as many foreign fighters have traveled to join the civil war in Ukraine than to Afghanistan in the 1980s, according to U.S. Congressman Max Rose and former FBI special agent Ali H. Soufan. (The Washington Post, 02.11.20)
Russian-backed separatists tried on Feb. 18 to break through a trench line in the Luhansk region of eastern Ukraine, killing one government soldier and wounding four others, the Ukrainian military said. (New York Times, 02.19.20)
Russia-backed separatists in eastern Ukraine's Donbas region have weaponized consumer drones to drop grenades on Ukrainian government trenches. (RFE/RL, 02.21.20)
Ukraine's Security Service on Feb. 17 said it had disrupted a network of "bot farms" and seized computer and telecommunications equipment that were supported by Russian online services in five Ukrainian cities. (RFE/RL, 02.18.20)
Putin has fired influential longtime aide Vladislav Surkov following weeks of speculation that the 55-year-old was leaving the Kremlin amid a change in its Ukraine policy. (RFE/RL, 02.18.20)
John C. Rood, the under secretary of defense for policy, is the latest member of Trump's national security team involved in the Ukraine matter to be ousted from the government. Rood was part of the team at the Defense Department that told Congress last year that Ukraine had made the necessary changes to justify sending the country $250 million in promised security assistance. (New York Times, 02.20.20)
Army Secretary Ryan McCarthy said that there is no investigation into Lt. Col. Alexander Vindman, who had been detailed to the White House National Security Council as Ukraine director and was due to return to the Army for a new assignment when Trump dismissed him early from the post last week. (The Washington Post, 02.16.20)
The U.S. Justice Department revealed Feb. 18 that law enforcement officials running Ukraine-related investigations must seek approval before expanding their inquiries. (The Washington Post, 02.19.20)
Former White House national security adviser John Bolton on Feb. 17 questioned whether it was "fair" that Trump has called him a liar on the subject of Ukraine, but "I can't talk about it." He said he viewed Ukraine and the impeachment "as sprinkles on the ice cream sundae" compared with other subjects he deals with in his book. (The Washington Post, 02.18.20)
U.S. Sens. Chris Murphy, Ron Johnson and John Barrasso were in Ukraine last week to meet with Ukrainian President Volodymyr Zelenskiy and reaffirm bipartisan support for continued strong relations between the two countries, despite an impeachment process that put Kyiv in the middle of a sensitive political situation. (RFE/RL, 02.14.20)
A medium-class Antarest rocket jointly developed by U.S. and Ukrainian specialists successfully launched from a NASA flight facility in Virginia on Feb. 15, carrying supplies to the International Space Station. (RFE/RL, 02.17.20)
The black box of a Ukrainian passenger airliner mistakenly shot down over Iran last month is damaged and Iran will not hand it over to another country despite pressure for access. (RFE/RL, 02.19.20)
Rinat Akhmetov, Ukraine's richest oligarch is angling to become a closer ally of Zelenskiy while weakening the influence of longtime rival Igor Kolomoisky. Akhmetov has noticeably been offering supportive television coverage to Zelenskiy. (Financial Times, 02.19.20)

China decisively supplanted Russia last year as Ukraine's top trading partner for goods, according to 2019 trade figures posted by the State Statistics Service. (Ukraine Business News, 02.20.20)

Violence erupted as the first group of Ukrainians evacuated from the Chinese city of Wuhan—the epicenter of the coronavirus outbreak—arrived in the town of Novi Sanzhary in the central region of Poltava. (RFE/RL, 02.21.20)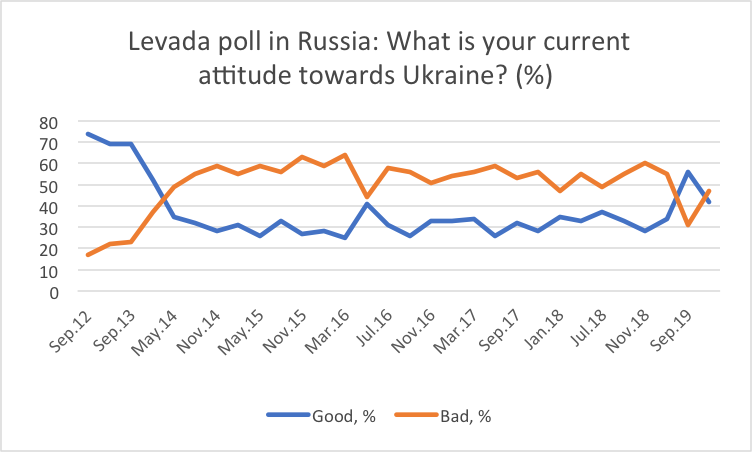 (Source: Levada Center)
Russia's other post-Soviet neighbors:
The presidents of Russia and Belarus discussed on Feb. 21 their continuing oil price dispute that disrupted steady supplies of oil from Russia to its neighboring ex-Soviet state. Belarusian President Alexander Lukashenko said Putin offered during a phone call Feb. 21 to pay Belarus compensation for energy-related losses that could amount to $300 million this year and suggested maintaining "last year's financial conditions on oil" supplies. (AP, 02.21.20)
IV. Quoteworthy
In a key speech at the MSC, Macron said: "To build the Europe of tomorrow, our norms can't be under American control. Our infrastructure, our ports and airports can't be controlled by Chinese capital, neither can our digital networks be under Russian pressure." (RFE/RL, 02.16.20)
"Russia doesn't carry on [the Soviet Union's legal system] in law, but replaces a state that was once created illegally, requiring it to reckon with the consequences of its activities, including political repression," Russian Constitutional Court judge Konstantin Aranovsky wrote as an addition to a December ruling that awarded restitution to the children of the victims of Stalin's repressions. "This makes succession—with the transfer of the Communist Soviet regime's commitments to repressive and terrorist acts to Russia—disputable," he continued. (The Moscow Times, 02.17.20)