Russia in Review, Dec. 9-16, 2022
6 Things to Know
NB: Next week's Russia in Review will appear on Thursday, Dec. 22, instead of Friday, Dec. 23, due to the Harvard University winter recess.
I. U.S. and Russian priorities for the bilateral agenda
Nuclear security and safety:
IAEA Director General Rafael Mariano Grossi and Ukraine's Prime Minister Denys Shmyhal have agreed that the IAEA will establish a continuous presence of nuclear safety and security experts at all of the country's NPPs as part of stepped-up efforts to help prevent a nuclear accident during the current armed conflict. (Neimagazine, 12.15.22)
French President Emmanuel Macron said on Dec. 13 that an agreement had been reached on removing heavy weapons from Ukraine's Zaporizhzhia NPP and that talks were under way on procedures for doing this. (RFE/RL, 12.13.22)

Grossi is to visit Moscow on Dec. 22 for talks on this NPP, according to Russia's pro-war Telegram channel Rybar. (RM, 12.16.22)
The

IAEA is going to establish a permanent presence at all operating nuclear power plants in Ukraine, as well as at Chernobyl. (WNN, 12.14.22)
North Korea's nuclear and missile programs:
Russia and North Korea appear to have resumed trade over a rail link that had been suspended for almost three years due COVID-19, according to satellite imagery. Goods were delivered from Russia to North Korea in late November and early December, 38 North said in report published Dec. 12. (Bloomberg, 12.13.22)
Iran and its nuclear program:
The U.S. alleged that Russia is providing Iran with "an unprecedented level of military and technical support" as Moscow's full-scale invasion of Ukraine draws the increasingly isolated countries closer together. Citing U.S. intelligence, National Security Council spokesperson John Kirby said Iran is set to receive stepped up military and technical support from Russia in exchange for supplying it with drones. The Biden administration is accusing Russia of moving to provide advanced military assistance to Iran, including air-defense systems, helicopters and fighter jets, as part of deepening cooperation. (FT, 12.09.22, AP, 12.10.22)
Humanitarian impact of the Ukraine conflict:
Ukraine announced that it had secured the release 64 Ukrainians and U.S. citizen Suedi Murekezi in its latest prisoner swap with Russian forces on Dec. 14. (AFP, 12.14.22)
Reporters Without Borders counts a total of 57 journalists and media workers that have been killed this year because of their job, including eight killed in Ukraine, the second most deadly location in the world after Mexico. (BNE, 12.15.22)
The city of Donetsk has been hit by the most intense wave of Ukrainian shelling since hostilities began eight years ago, its Moscow-installed mayor said. Separatist officials said on social media that one person was killed and nine more were injured. Mayor Alexei Kulemzin said 40 rockets fired by Grad multiple rocket launchers landed on residential buildings, a hospital, a kindergarten and other buildings including a church. (MT/AFP, 12.15.22)
Between January and September, there were 4.4 million applications by Ukrainians for temporary protection in the EU. (FT, 12.11.22)
Hungary got EU countries to lower the amount of a proposed funding freeze in exchange for Budapest lifting its veto on key items, including an aid package to Ukraine. Hungary had been on the cusp of losing €7.5 billion in EU payouts over concerns that the money may aid graft in the country. In protest, Budapest had been blocking both an €18 billion EU aid package for Ukraine and a minimum global corporate tax rate. (Politico, 12.13.22)
Dozens of countries on Dec. 13 pledged more than $1 billion in additional aid to Ukraine at a conference in Paris. More than $440 million of the total aid pledged is expected to be directed to Ukraine's energy network. Donor countries also pledged at least $67 million for Ukraine's water and food sectors, $18 million for health and $23 million for transportation networks. (WP, 12.13.22)
Ukrainian President Volodymyr Zelensky told the G-7 on Dec. 13 that Ukraine needed emergency aid for its energy sector totaling around 800 million euros to help his country survive Russia's bombing of its civilian infrastructure. (MT/AFP, 12.13.22)

Ukraine is reliant on $6.8 billion in foreign aid monthly to fund its government and war effort, and is likely to need $7.8 billion monthly in 2023, according to Belfer Center researcher Katherine Davidson's analysis of open sources. (RM, 12.15.22)

Turkish President Recep Tayyip Erdogan discussed ways to expand an agreement to safeguard global grain shipments with his Russian counterpart Vladimir Putin, according to a statement from Turkey's presidency. Erdogan in a phone call said different commodities and food products can be included in the grain corridor. (Bloomberg, 12.11.22)
Military aspects of the Ukraine conflict and their impacts:
EU foreign ministers agreed on Dec. 12 to put another 2 billion euros ($2.1 billion) into a fund that has been used to pay for military support for Ukraine. (RFE/RL, 12.12.22)
G-7 leaders promised on Dec. 12 to "continue to coordinate efforts to meet Ukraine's urgent requirements for military and defense equipment with an immediate focus on providing Ukraine with air defense systems and capabilities." (FT, 12.13.22)
Italian Prime Minister Giorgia Meloni said, "The possibility of a cease-fire seems very limited, and while we support efforts in that direction, in the meantime we need to continue to fully support Ukraine." (Bloomberg, 12.13.22)
Punitive measures related to Russia's war against Ukraine and their impact globally:
Ukraine-related negotiations:
Great Power rivalry/new Cold War/NATO-Russia relations:
"As a result of this war, Russia has lost the ability to threaten Europe with conventional attack, because it's been demonstrated that NATO can not only stop a conventional attack, but reverse it. And so the military position on which Russia has been able to count in the entire post-World War II period he has already lost. The whole border now between Russia and the West is a NATO border," Henry Kissinger told an interviewer. (Lowy Institute, 12.13.22, Spectator, 12.17.22)
"The preferred outcome for some is a Russia rendered impotent by the war. I disagree. For all its propensity to violence, Russia has made decisive contributions to the global equilibrium and to the balance of power for over half a millennium. Its historical role should not be degraded," Kissinger wrote in a commentary. (Spectator, 12.17.22)
China-Russia: Allied or aligned?
Missile defense:
No significant developments.
Nuclear arms:
Putin told a press conference in Kyrgyzstan on Dec. 9: "Our strategy talks about a retaliatory strike ... What is a retaliatory strike? That is a response strike. It is when our early warning system, the missile attack warning system, detects missiles launched toward Russian Federation territory. First, it detects the launches, and then response actions begin ... The United States has this theory of a preventive strike. ... They are developing a system for a disarming strike. ... Regarding a disarming strike, perhaps we should think about using the achievements of our U.S. partners and their ideas about how to ensure their own security. We are just thinking about this." (RM, 12.11.22)
Russia's ex-president Dmitry Medvedev said on Dec. 11 the country was ramping up production of new-generation weapons to protect itself from enemies in Europe, the United States and Australia. "We are increasing production of the most powerful means of destruction. Including those based on new principles," Medvedev said. (MT/AFP, 12.11.22)
A unit of Russia's Strategic Missile Forces in Bologovsky in the Tver region has put mobile Yars ICBMs on combat duty. (RG.ru, 12.16.22)
Counterterrorism:
No significant developments.
Conflict in Syria:
Erdogan told Putin on Dec. 11 that it was imperative the Kremlin "clear" Kurdish forces from northern Syria. Erdogan then said he wants a three-way meeting with Syria's Bashar Al-Assad and Putin, signaling a thaw with Damascus that could help end the war in Syria. (MT/AFP, 12.11.22, Bloomberg, 12.15.22)
Cyber security:
No significant developments.
Energy exports from CIS:
Climate change:
No significant developments.
U.S.-Russian economic ties:
Exports to Russia from the U.S. were down 85% in May compared with the same month the previous year, according to European Central Bank research. (FT, 12.14.22)
U.S.-Russian relations in general:
The U.S. government reportedly floated offers to send Russia two alleged cybercriminals alongside arms dealer Viktor Bout, as part of negotiations to free both WNBA star Brittney Griner and Marine Paul Whelan. Russia didn't take that part of the offer, leaving Alexander Vinnik and Roman Seleznev behind bars in the United States and Whelan in captivity in Russia, as Griner and Bout were swapped and returned to their home countries. (WP, 12.13.22)
Month after month, as American diplomats pushed for the release of Griner and Whelan from Russian prisons, they received the same, infuriating answer: If you want both prisoners, we want Vadim Krasikov as part of the deal. Krasikov is an assassin who murdered a Chechen fighter in a park in Berlin in broad daylight in 2019. (NYT, 12.12.22)
Roger Carsten, the U.S. special envoy who helped secure Griner's release, said he spoke to Whelan and assured him "we're coming to get you." (Bloomberg, 12.11.22)
Bout has joined Russia's ultranationalist Liberal Democratic Party. (RFE/RL, 12.12.22)
The share of Russians with a negative view of the U.S. increased from 71% to 73% in August-November, according to the Levada Center. The same period saw the share of Russians with a negative view of the EU and Ukraine increase from 65% to 68% and from 66% to 70%, respectively. (RM, 12.13.22)
II. Russia's domestic policies
Domestic politics, economy and energy:
Defense and aerospace:
The Russian Defense Ministry denied rumors on Dec. 11 that Gen. Valery Gerasimov resigned or was removed from his position as Chief of the General Staff. (ISW, 12.11.22)
Russian job sites are advertising trench- and fortification-digging jobs in occupied Ukrainian and nearby Russian regions, independent media reported Dec. 15. (MT/AFP, 12.16.22)
Moscow transportation authorities have removed city bus ads recruiting Central Asian nationals into the Russian military with promises of expedited citizenship. (MT/AFP, 12.12.22)
Russian and NASA engineers were assessing a coolant leak on Dec. 15 from a Soyuz crew capsule docked with the International Space Station that may have been caused by a micrometeorite strike. A space walk by Russian cosmonauts Sergei Prokopyev and Dmitry Petelin has been canceled because of the leak. (MT/AFP, 12.16.22, RFE/RL, 12.15.22)
The share of Russians who think every "real man" should serve in the army declined from 60% in 2019 to 49% in 2022, according to Levada

.

(RM, 12.11.22)

 See section Military aspects of the Ukraine conflict and their impacts above.
Security, law-enforcement and justice:
III. Russia's relations with other countries
Russia's general foreign policy and relations with "far abroad" countries:
Ukraine:
Russia's other post-Soviet neighbors:
IV. Quotable and notable
"Life will be simpler and there'll be less money. People will make do with less. There will be more paper in the sausage," says a Russian oligarch who is under sanctions. "It's going to be like this for 15-20 years, unless [President Vladimir Putin] dies. Fundamentally nothing will change." (FT, 12.14.22)
Tables
More than half of Russians still want Moscow to start peace negotiations as of November, according to surveys conducted by the Chicago Council on Global Affairs and the Moscow-based Levada Center. At the same time, 74% of Russians supported the "special military operation" as of that month, and 53% thought it was a success. More predictably, perhaps, Russians' attitudes toward the U.S., EU and Ukraine continued to deteriorate, according to Levada.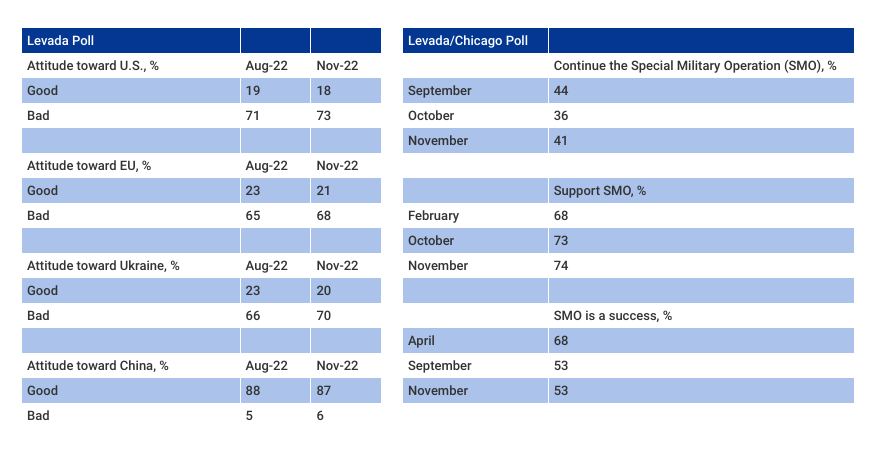 Footnotes
See RM's blog post on claims that Russia is running out of missiles.