Russia in Review, Dec. 16-22, 2022
4 Things to Know
Dear readers: Please be advised that Russia in Review will resume publication on Jan. 6 due to Harvard's winter recess. We wish you all happy holidays and the best in the New Year!
I. U.S. and Russian priorities for the bilateral agenda
Nuclear security and safety:
Alexei Likhachev, director general of Russia's Rosatom, and IAEA head Rafael Grossi held a new round of consultations in Moscow on Dec. 22 on cooperation in ensuring the safety of the Zaporizhzhia nuclear power plant. Rosatom described the talks on measures needed as "substantive, useful and frank." Grossi indicated that more negotiations were needed after "another round of necessary discussions." (ABC, 12.22.22, Xinhua, 12.22.22)
In his address to the annual meeting of the Russian Defense Ministry on Dec. 21 Sergei Shoigu claimed that Ukraine is preparing "a dirty bomb scenario," but provided no evidence to back his claim. Both Ukraine and Western countries have repeatedly dismissed Russia's dirty bomb claims. (RM, 12.21.22)
North Korea's nuclear and missile programs:
North Korea has delivered arms to Russia's Wagner mercenary group, the White House said Dec. 22, calling Wagner a "rival" to other ministries in Moscow for power in the Kremlin. (AFP, 12.22.22)
Iran and its nuclear program:
Humanitarian impact of the Ukraine conflict:
Military aspects of the Ukraine conflict and their impacts:
Punitive measures related to Russia's war against Ukraine and their impact globally:
The version of the omnibus spending bill, which the Senate passed on Dec. 22, allows the seizure of Russian assets to be used as Ukraine aid. (Politico, 12.22.22)
The Biden administration on Dec. 21 unveiled new curbs on technology exports to Russia's Wagner military group, in a bid to further choke off supplies to the contractor over its role in the Russian invasion of Ukraine. The U.S. government also added 10 more Russian companies to its blacklist on Dec. 22. (RFE/RL, 12.22.22, RM,12.22.22)
U.K. Business Secretary Grant Shapps ordered LetterOne Holdings, founded by billionaires Mikhail Fridman, Petr Aven and German Khan, to sell its entire stake in U.K. broadband company Upp Corp. (Bloomberg, 12.20.22)
Canada's government on Dec. 19 announced the start of a process to seize $26 million in assets from a company owned by sanctioned Russian oligarch Roman Abramovich. (MT/AFP, 12.19.22)
Despite Western sanctions imposed over the invasion of Ukraine, Russia and Belarus continue to ship timber to the EU by labeling the products as coming from Kazakhstan and Kyrgyzstan, a report by the Belarusian Investigative Center, Lithuanian Siena group and the OCCRP says. (RFE/RL, 12.21.22)
Bulgaria's state-owned nuclear power plant Kozloduy signed a deal with Westinghouse Electric Sweden on Dec. 22 to supply it with nuclear fuel for its 1,000 megawatt Russian-built Unit 5, a first step to diversify away from Russian supplies. (RFE/RL, 12.22.22)
Ukraine-related negotiations:
Zelensky told the U.S. Congress that he had presented Biden with a 10-point peace plan but did not disclose its contents. (RFE/RL, 12.22.22)
Putin claimed on Dec. 22 that "our goal is ... to end this war, and we will strive for that."  He also insisted that Russia is not refusing to hold peace talks with Ukraine. "All armed conflicts end with talks on the diplomatic track one way or another," he said. (Meduza, 12.22.22)
U.N. Secretary-General Antonio Guterres said he is "not optimistic" about the possibility of effective Ukraine peace talks in the immediate future and believes the military confrontation will go on. But the U.N. chief said he will not relent in pursuit of peace in Ukraine in line with international law and the U.N. Charter. (RFE/RL, 12.19.22)
Great Power rivalry/new Cold War/NATO-Russia relations:
British PM Rishi Sunak said Dec. 19 that the West should work to degrade "Russia's capability to regroup" as it continues its war of aggression in Ukraine, citing the drones that Iran has been providing to Moscow. (AP/RFE/RL, 12.19.22)
"It is well known that today the military potential and capabilities of almost all major NATO countries are being actively used against Russia," Putin told the annual meeting of the Russian Defense Ministry on Dec. 21, comparing Russian soldiers in his war to heroes of the 1812 war against Napoleon, WWI and WWII. (RM, 12.21.22)
China-Russia: Allied or aligned?
Chinese President Xi Jinping told visiting former Russian president Dmitry Medvedev in Beijing that China is willing to play a role to mediate with Russia to end the war in Ukraine. "China hopes relevant parties can stay rational and restrained, conduct comprehensive talks and resolve mutual concerns on security via political methods," Xi said. In his response, Medvedev said the Ukraine crisis "has its causes and is very complex," and that Russia is willing to resolve the problems it faces through peace talks. Xi also told Medvedev that their partnership was a "long-term strategic choice made by both sides," according to CCT. In his turn, Medvedev passed on a message from Putin to Xi, which discusses the two countries' strategic partnership, according to Xinhua. (SCMP, 12.21.22, Bloomberg, 12.21.22, TASS, 12.21.22, FT, 12.21.22, NYT, 12.21.22, Xinhua, 12.22.22)

Naval groups of the Russian Pacific Fleet and the Chinese navy met in the waters of the East China Sea to commence the Joint Sea 2022 naval maneuvers, Russia's Defense Ministry reported Dec. 22. The Russian warships participating in the exercise include the Pacific Fleet flagship, Order of Nakhimov Guards missile cruiser Varyag, the frigate Marshal Shaposhnikov, the Project 20380 corvettes Aldar Tsydenzhapov and Sovershenny. The Chinese naval taskforce is represented by the destroyers Jinan and Baotou, the frigates Binzhou and Yancheng, a comprehensive supply ship and a diesel submarine. (TASS, 12.22.22)

Putin on Dec. 21 inaugurated the Kovykta natural gas field of 1.8 trillion cubic meters of gas in eastern Siberia, which will allow Russia to increase its gas exports to China. (MT/AFP, 12.21.22)
Missile defense:
No significant developments.
Nuclear arms:
"We will continue to maintain the combat readiness and improve the combat readiness of the nuclear triad. This is the main guarantee of preserving our sovereignty and territorial integrity, strategic parity and the overall balance of power in the world. This year, the level of modern weapons in the strategic nuclear forces has already exceeded 91%," Putin told the annual meeting of the Russian Defense Ministry on Dec. 21. "We know our advantages: the nuclear triad, the space forces, the navy in separate segments and so on," he said. Putin also told the top brass that Russia will continue deploying missiles with the Avangard hypersonic glide vehicles as well as Yars and Sarmat ICBMs. (RM 12.21.22) See RM's timeline of Putin's statements on nuclear weapons here.

"Our nuclear triad is being maintained at a level that guarantees strategic deterrence, Shoigu told the annual meeting of the Russian Defense Ministry on Dec. 21. "Strategic nuclear forces have successfully practiced the task of delivering a massive nuclear strike in response to enemy use of weapons of mass destruction during a special exercise," he said. (RM, 12.21.22)
This year has seen the Russian defense ministry's construction projects focus on the development of infrastructure for the strategic nuclear forces, Shoigu told the annual meeting of the Russian Defense Ministry on Dec. 21. This year, 650 high-tech facilities have been built for these forces, including facilities for deployment of the Avangard, Yars and Sarmat missile systems, he said. The Russian armed forces plan to put 22 launchers with intercontinental ballistic missiles, including Yars, Sarmats and ICBMs with Avangard gliding vehicles; three Tu-160 strategic bombers; and a nuclear submarine of the Borey-A project on combat duty in 2023. In 2021, the Defense Ministry planned to put 21 ICBM launchers on combat duty in 2022. (RM, 12.21.22)

When hosting Putin in Belarus, Alexander Lukashenko hinted at potential deployment of new weaponry in his country. Belarus has been testing aircraft in Russia that are "capable of carrying special weapons." "We are now, together with the Russians, preparing crews capable of operating these aircraft, supporting specific armaments," he said. Putin said Moscow would continue to fulfill Lukashenko's proposal to train pilots who are able to operate planes carrying what he described as "a special warhead." (Bloomberg, 12.19.22, WSJ, 12.20.22) Hosting Lukashenko on June 25, Putin announced that Russia would help modernize some of Belarus's warplanes to enable them to carry nuclear weapons. Russian weapons specialists then reportedly did so in August.1 
See more details in the defense section below.
Counterterrorism:
No significant developments.
Conflict in Syria:
No significant developments.
Cyber security:
The Pentagon's Cyber National Mission Force has been supporting Ukraine's digital defense with daily consultations, a collaboration that has helped unearth thousands of warning indicators of potentially compromised Ukrainian computer networks, a top U.S. cybercommander said Dec. 19. The United States had a team of nearly 40 people from the force in Ukraine to help the country shore up its defenses before all U.S. troops were withdrawn from the country before the Russian invasion. (NYT, 12.20.22)
U.S. Cyber Command has begun to make routine use of offensive cyber actions to defend the nation, taking aim this fall at Russian and Iranian hackers before they had a chance to disrupt the midterm elections, according to three U.S. officials. (WP, 12.22.22)

Russia's war in Ukraine and anti-regime protests in Iran limited both Moscow and Tehran's ability to try to influence or interfere in the recent U.S. midterm elections, said U.S. Army Maj. Gen. William Hartman, who leads the U.S. Cyber National Mission Force. (WP, 12.19.22)
Energy exports from CIS:
Climate change:
No significant developments.
U.S.-Russian economic ties:
No significant developments.
U.S.-Russian relations in general:
Yiri Borisov, head of Russian space agency Roscosmos, praised Russia-U.S. cooperation at the International Space Station following a major coolant leak from a Soyuz crew capsule. "Say hello to the entire American team. They proved themselves to be very worthy in this situation and lent us a helping hand," Borisov said. (MT/AFP, 12.20.22)
The U.S. Senate has voted overwhelmingly to confirm Lynne M. Tracy as the new U.S. ambassador to Russia. Tracy is a career member of the Foreign Service who has previously served as ambassador to Armenia. (RFE/RL, 12.22.22)
Russian Deputy Foreign Minister Sergei Vershinin has accused the United States of holding more than 60 Russian citizens as "hostages." (MT/AFP, 12.20.22)
II. Russia's domestic policies
Domestic politics, economy and energy:
When asked why there would not be a presidential address to the federal parliament in 2022, Putin said on Dec. 22: "The dynamics of events is very large ... therefore it was difficult to fix the results and specific plans for the near future right at a particular moment in time. We will do it at the beginning of the year, of course." (RM, 12.22.22)
Putin said on Dec. 22 that he expects a 12% inflation rate in 2023. (RM, 12.22.22)
Russia's dollar-denominated RTS Index has now sunk 35% this year, making it the worst performing benchmark among 92 tracked globally by Bloomberg in local currency terms and third-worst in dollars. The MOEX Russia Index, priced in rubles, has plummeted 44%, on track for the steepest annual drop since 2008. (Bloomberg, 12.19.22) Does the dollar-denominated estimate account for the fact that the Russian ruble is no longer a freely traded currency?
A Russian court has ordered the seizure of the $1 billion Imeretinskiy hotel complex and marina in Sochi owned by billionaire Oleg Deripaska, one of the few oligarchs to have criticized Putin's war in Ukraine, in a sign of the pressure facing the country's tycoons since the invasion. (FT, 12.20.22)
Norilsk Nickel is considering cutting nickel output by about 10% next year as some European buyers shun Russian supplies and amid a potential surplus of the metal. The miner controls roughly a 10th of the global nickel market and had targeted producing 205,000 to 215,000 tons of the metal this year. (Bloomberg, 12.20.22)

According to Rosstat, Russia's birth rate continues to decline. The cumulative total for the first nine months of 2022 is 1.092 million children born, 77,800 (-6.2 %) less than during the same period in 2021. (R.Politik, 12.19.22)

The share of Russians who think Russia is headed in the right direction increased from 61% in November to 64% in December, according to the Levada Center's recent polls. The share of Russians who approve of Putin's presidential activities also increased, from 79% to 81% over the same period. (MT, 12.22.22)
The Russian Justice Ministry is seeking the closure of the country's oldest human rights watchdog, the Moscow Helsinki Group, amid a Kremlin campaign to muzzle criticism of the war in Ukraine. (RFE/RL, 12.20.22)
Russia has placed prominent art gallerist and former Kremlin adviser-turned-critic Marat Gelman on its wanted list. It does not specify the crime that Gelman is suspected of, according to RBC. (MT/AFP, 12.20.22)
Yuri Kovalchuk, a conservative physicist and banking magnate who befriended Putin in the 1990s, bragged last year that he had spent several months in 2020 with Putin at his residence on Lake Valdai, between St. Petersburg and Moscow, according to a person who met with him then. (NYT, 12.16.22)
Relatives of the Russian Minister of Education Sergei Kravtsov own four apartments in the Czech resort of Karlovy Vary. Three apartments belong to the minister's mother and father, Alla Kravtsova and Sergei Brown, and another one is jointly owned by his mother, father and alleged brother, Yuri Brown. (Istories, 12.22.22)
In a rare show of defiance toward the federal government in Moscow, regional politicians in Tatarstan Dec. 22 rejected a set of amendments to its constitution that would have, among other measures, demoted the republic's leader from "president" to "head." (MT, 12.22.22)
Defense and aerospace:
 See section Military aspects of the Ukraine conflict and their impacts above.
Security, law-enforcement and justice:
III. Russia's relations with other countries
Russia's general foreign policy and relations with "far abroad" countries:
Israel has bristled at accusations that it is failing to do enough to assist Ukraine, and has disputed that the Iron Dome could help Ukraine protect itself. Israeli officials have complained that they do not receive enough credit for taking in roughly 50,000 refugees from Ukraine and Russia, and providing more than $30 million in humanitarian assistance. In contrast, Estonia, for example, which has a bit more than 1/10th of Israel's population, has sent $300 million in military aid to Ukraine. (WP, 12.18.22)
Japan said Dec. 16 it would spend 43 trillion yen, currently around $322 billion, on defense over the next five years, including on deploying its first missiles that can hit military targets in other countries. (WSJ, 12.19.22)
Ukraine:
The European Union's 27 heads of state and government and Zelensky will hold a summit on Feb. 3. (Reuters, 12.22.22)
Explosions in a Russian-occupied city in eastern Ukraine killed two people and injured former deputy prime minister of Russia Dmitry Rogozin and Ivan Prikhodko, mayor of the Donetsk region town of Gorlovka,  in what Russian officials called a Ukrainian attack directed by informants. (WSJ, 12.22.22, RFE/RL, 12.22.22)
Russia's other post-Soviet neighbors:
The Russian exodus triggered by Putin's invasion of Ukraine has put the currencies of former Soviet republics at the top of global rankings this year. Armenia's dram has increased 22% against the dollar since the start of the year, the top gainer among currencies worldwide, data compiled by Bloomberg show. Georgia's lari and the Tajik somoni are stronger by more than 16% and 10%, respectively. (Bloomberg, 12.21.22)
The war explains the fivefold increase in remittances entering Georgia from Russia so far this year, equivalent to more than 60% of all transfers and exceeding $1.75 billion, according to the National Bank of Georgia. Money transfers to Armenia amounted to $2.8 billion in the first 10 months, a near-quadrupling compared with the same period of 2021. (Bloomberg, 12.21.22)
IV. Quotable and notable
Putin said on Dec. 22: "Nobody wants the unification of the [ethnic] Russian people, except us. But we are going to do it. And we will succeed." (Kommersant, 12.22.22)
Tables
Number of units Shoigu proposed to establish during his address to the annual meeting of the Russian Defense Ministry's top brass on Dec. 21: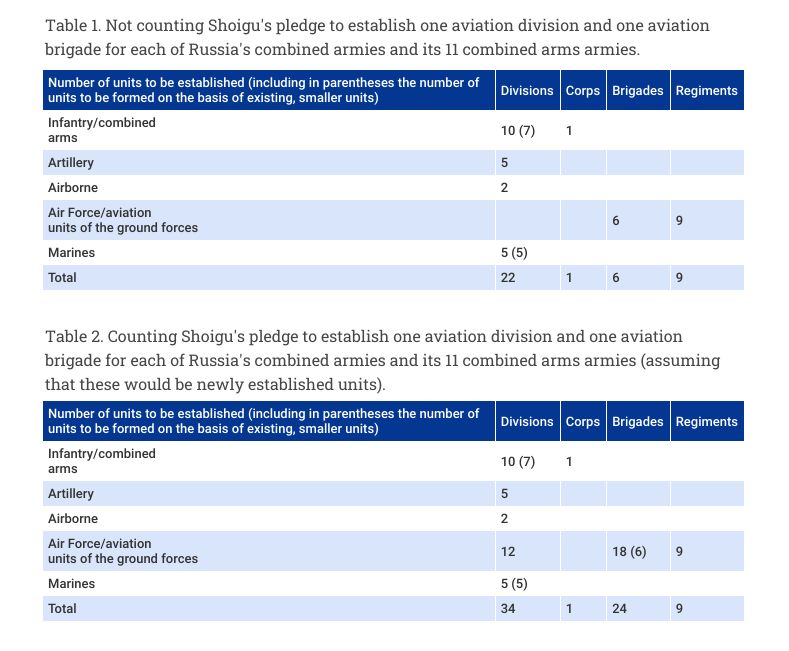 Footnotes
Here and elsewhere italicized text represents contextual commentary by RM staff.