In the Thick of It
A blog on the U.S.-Russia relationship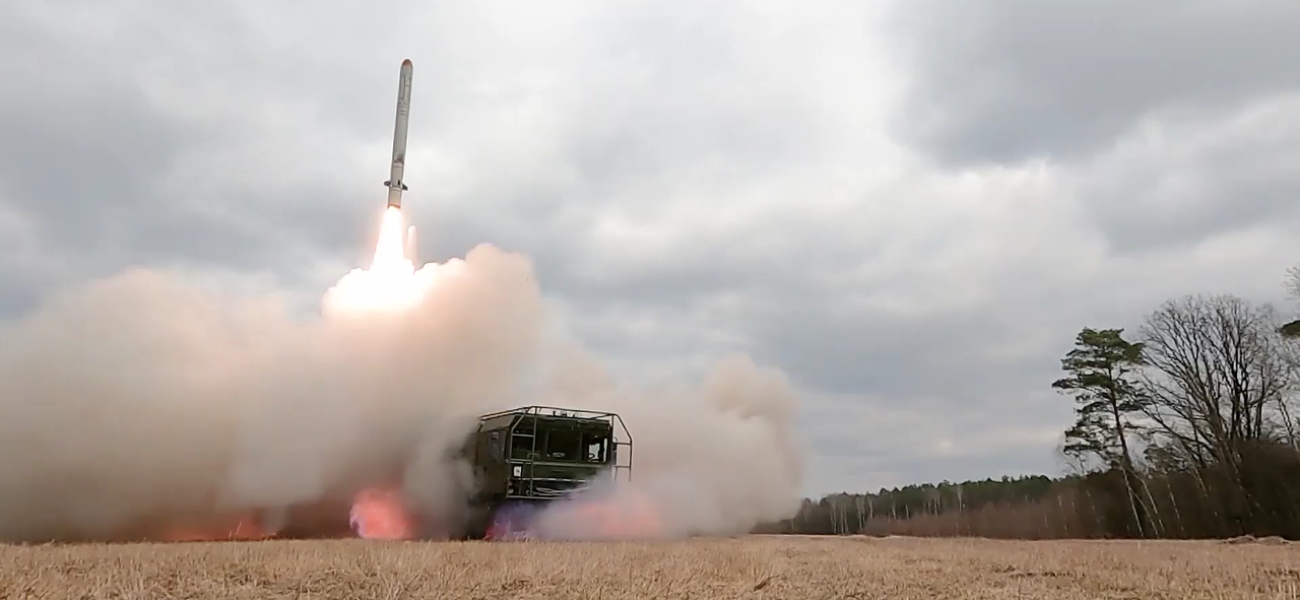 Russia Is Running Out of Missiles ... or Not
December 15, 2022
Simon Saradzhyan
Is Russia running out of precision munitions, such as missiles, in its war against Ukraine? That is the question I posed to some of my professional acquaintances and myself last month, hoping some of us would come up with an accurate answer. Three weeks later, I am still searching for that answer, but my efforts have not been completely in vain. What I have found is that, starting as early as the spring, multiple Western officials and experts have announced that Russia was running out of precision munitions, and yet Russia has continued to use scores of attack missiles, such as Kalibr missiles, well into winter. I have also found that most of these announcers did not specify the kinds of munitions Russia was close to depleting, with one proclaiming that Russia was "running low on everything." Nor have most of these announcers specified when the exhaustion of Russia's arsenals could occur. That didn't stop leading American and European media outlets from repeatedly quoting such announcements,  with most of the media reports I have come across showing no effort to either verify the forecaster's claims or put them into context (i.e. state whether there have been earlier claims of that kind and whether or not they proved to be correct).
One of the first, if not the first, claim that Russia was running out of precision means of attack was made exactly one month after Vladimir Putin launched the invasion of Ukraine on Feb. 24: Russia is running out of precision guided munitions, U.S. Under Secretary of Defense for Policy Colin Kahl was quoted as saying by Reuters on March 24. Kahl did not specify when Russia might fully run out of which precision munitions.
The next claim of Russia running out of precision missiles that I was able to find was published on April 29. FT quoted unspecified Western officials as saying that "Russia is running short of precision missiles." Unlike Kahl, some of these officials specified Kalibr missiles as one kind of precision missile Russia was running low on. However, like Kahl, these officials did not say when Russia might run out of these cruise missiles; meanwhile, the Russian military continued to fire scores of these missiles well into summer and fall, according to Ukrainian authorities.
Less than two weeks after the FT report, Britain's The Sun ran a story entitled "Now humiliated Putin is running out of missiles in desperate bid to defeat Ukraine, U.K. armed forces chief tells TalkTV." Adm. Sir Tony Radakin, who made the claim in the May 5 issue of this tabloid, did not specify whether he was expecting Russia to run out of all missiles or some particular model. Such assessments continued unabated into June. For instance, U.K. Defense Journal's George Allison reported on June 11, citing his country's Defense Ministry, that Russia was firing Soviet-designed nuclear-capable air-to-surface Kh-22 missiles because it was running out of "more modern missiles." Again, the report did not specify either the kinds of modern missiles or when Russia may run out of them.
Finally, RBC Ukraine added some details to these assessments, reporting on Aug. 27 that Ukrainian military intelligence estimated Russia had depleted 80% of its pre-war stocks of Iskander surface-to-surface ballistic missiles, while also experiencing "problems" with Kalibrs. Problems or not, Russia still continued to launch Kalibrs at targets in Ukraine well into fall and then winter—launches reported by the Ukrainian side. In just one day, on Dec. 5, Russia fired 22 Kalibrs along with 38 Kh-101 and Kh-555 missiles, three Kh-22, six Kh-59 and one Kh-31P air-launched missiles, according to an estimate by the Ukrainian air force cited in Forbes.ua and AP. As for Iskanders, the Russian side claimed to be firing them as recently as December.
Continued reports of attack missiles being used by Russia, often reported by the Ukrainian side, was perhaps one reason why some journalists covering the war began to wonder how repeated claims that Russia was running out of missiles could be reconciled with the continued use of such missiles by the Russian military against Ukraine. On Nov. 18, The New York Times (which had also on multiple occasions reported assessments that Russia was running out of precision missiles) published a story by Lara Jakes and Marc Santora entitled: "How Was Russia Able to Launch Its Biggest Aerial Attack on Ukraine? Western and Ukrainian officials have said Moscow's stockpile of missiles was dwindling. But the assaults this week raise questions about that." The journalists offered several potential explanations to their own question, including U.K. defense intelligence firm Jane's assessment that Russia might have stockpiled microchips and other technology necessary to build precision missiles before invading Ukraine in February, possibly starting years ago. Such stockpiling would explain why Russia continued to manufacture missiles like the Kh-101 as recently as October, according to Conflict Armament Research. Importantly, of all the articles I found when researching this blog post, only this Nov. 18 New York Times story said regarding assessments of missile stockpiles by Ukraine and Russia: "none of the figures could be independently verified."
Other media outlets, however, continued to stick to their guns on reporting Western officials' claims that Russia was running out of precision munitions in general and missiles in particular. For instance, the Wall Street Journal ran a story on Nov. 22  headlined "Russia's Munitions Shortages Raise Questions Over How Long It Can Continue Ukraine War" that said: "Western and Ukrainian officials and military analysts say there have been indications that Russian stocks of certain critical weapons systems, including precision missiles, are running low."1 The WSJ story noted that the U.K.'s Royal United Services Institute, using estimates by Ukrainian officials, assesses that Russia may have used 10% of its S-300 air defense systems' missiles and 50% of its Iskander missiles.
As demonstrated by RBC Ukraine's Aug. 27 report, Ukrainian officials did seek to introduce more precision to assessments of how many and what kinds of missiles Russia has expended. More recently, Interfax-Ukraine reported on Nov. 22, citing the Ukrainian defense ministry, that "the occupiers currently have only 119 Iskander missiles of 900 they had in stock at the beginning of the full-scale invasion and 48 were produced during this time (13%), 347 of 470 ZM55 Onyx missiles (74%) and 6,980 of 8,000 S-300 missiles (87%)." A more recent forecast was made by Gen. Vadym Skibitsky, Ukraine's deputy intelligence chief. "According to our calculations, they have missiles for another three to five waves of attacks," he was quoted by NYT as saying on Dec. 12. "This is if there are 80 to 90 rockets in one wave," he added, shortly before it was reported that Ukraine's own stockpiles of air defense missiles could be dwindling.
There is no doubt that if not replenished due to, for instance, the success of Western sanctions in denying Russia access to key components, Russia's precision missile stocks will be depleted. If reports of Russia using S-300 air defense systems to strike surface targets and launching Kh-55 missiles—originally designed to carry nuclear warheads—to make Ukraine expend more of its own air defense missiles are true, these could be signs that the Russian military's attack missile stockpiles are lower than they would like. Whether and when, however, these stockpiles run out  might be difficult even for Russia's military planners to know, given the multiplicity of factors shaping potential outcomes, such as the effectiveness of Western export controls and the number of air defense missiles Ukraine possesses. As we watch these various factors to play out, it is perhaps worth for journalists to consider specifying which of the claims they report were verified, as well as whether earlier claims of that nature had proved correct, if only for the benefit of readers who rely, to a great extent, on their reporting to form a picture of Ukraine's efforts to defend itself. As for the sources of these claims, they would perhaps do well to factor in the following assessment, which Oleksiy Melnyk, a former lieutenant colonel in the Ukrainian air force and now co-director of the Razumkov Center think-tank in Kyiv, shared with FT this week: "Trying to predict that Russia will one day run out of missiles is probably not a good strategy."
Footnotes:
The following day, U.S. Defense Secretary Lloyd Austin

asserted:

"We know that, based upon (inaudible) PGM, precision-guided munitions that they've used, that their stockage has been significantly reduced. They won't be able to rapidly reproduce PGM because of the trade restrictions they have on microchips and other types of things, so it'll be more difficult for them going forward."
Simon Saradzhyan is the founding director of Russia Matters.
The opinions expressed herein are solely those of the author. Photo by Mil.ru shared under a Creative Commons license.