In the Thick of It
A blog on the U.S.-Russia relationship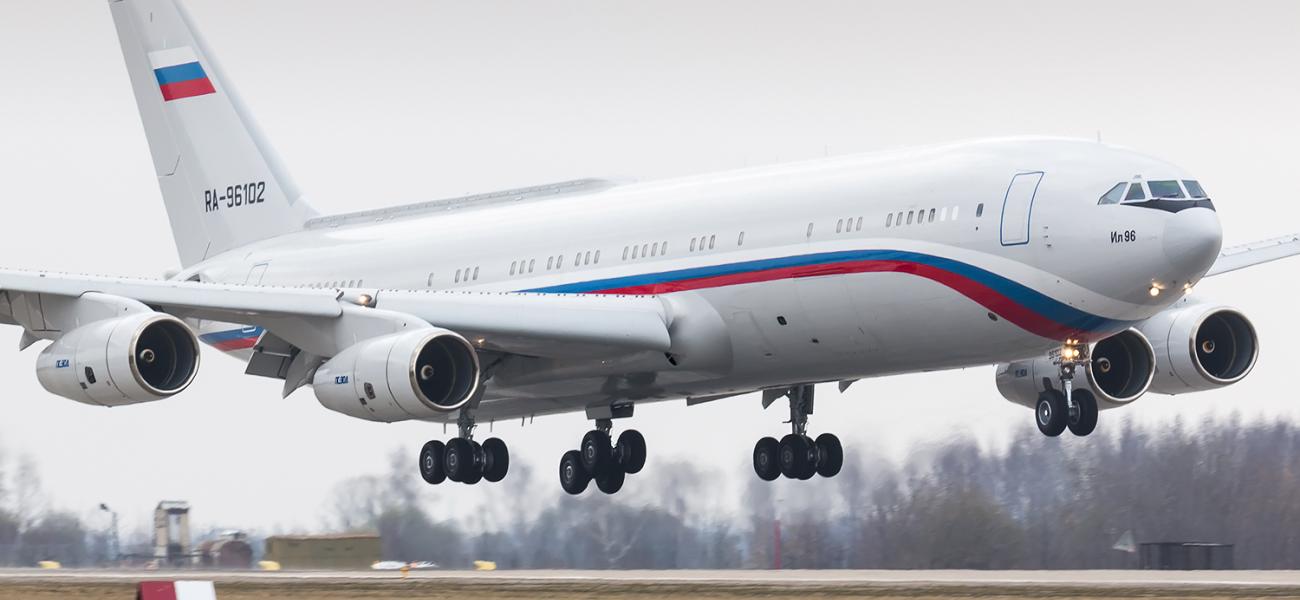 Russia is Building a Plane for Nuclear Doomsday
July 29, 2021
RM Staff
Russia's Voronezh Joint-Stock Aircraft Building Company has begun work on a plane designed to enable Russia's military-political leadership to exercise nuclear command, control, and communications (N3) in the event of a nuclear war while airborne. The design of the aircraft—nicknamed "Judgement Day Plane" by the Russian media—is based on the long-range white-body airliner Il-96-400M, which was developed by the Moscow-based design bureau of the Ilyushin Aviation Complex, part of Russia's state-owned United Aircraft Corporation.
The N3 plane, which is being built as part of the so-called Zveno-3S project, which was first mentioned in the media in 2016, will carry domestically made equipment only and that equipment would allow those on board to send launch commands to intercontinental ballistic missiles (ICBMs), including stationary missiles in silos and mobile missiles, as well as to submarine-launched ballistic missiles (SLBMs) carried by submerged vessels up to 6,000 km away, according to a report by Russia's state-funded RIA Novosti news agency. The plane can apparently remain airborne for days thanks to its ability to refuel in midair, which is a feature it shares with its U.S. counterpart, the E-4B. If not refueled, new plane will still have double the flight range of its predecessor, which was named Il-80 (NATO code: Maxdome) and which was based on Ilyushin's Soviet-era Il-86 airliner.
"The plan is to replace [the IL-80] with IL-96-400M aircraft. This will significantly increase the time of airborne combat duty of command posts and increase the coverage area of command and control," a source in Russia's aircraft-building industry told TASS in October. The Russian Defense Ministry reportedly operates four Maxdomes at the moment. Maxdome's replacements would be powered by PS-90A1 engines, which are manufactured by Perm Motors in Siberia, in contrast to the Il-96M modification, which is powered by four Pratt & Whitney PW2337 planes."A total of two Zveno-3S planes will reportedly be built, though the Russian Defense Ministry has reserved an option to procure another one from the Voronezh plant to ensure Russia's military-political leadership have Plans B and C in the event the N3 plane of their first choice is rendered inoperable in a surprise first strike. It bears noting that so far the only real threat of being rendered inoperable, which Russia's existing N3 planes have faced, came from thieves.  As Russian media have reported  that unidentified criminals accessed an Il-80 parked for maintenance Russia's southern city of Taganrog in December 2019 to steal equipment from it.
In addition to the doomsday planes designed to ensure an airborne commander-in-chief can press the nuclear button even if nuclear warheads are exploding on the ground in Russia, the country has also developed a fully automated ground system that would reportedly rely on sensors to detect nuclear explosions on Russian territory and launch a retaliatory strike with whatever Russian nuclear-armed missiles survive the adversary's first strike. The system, which Russians call Perimetr, but which is known in the West as the Dead Hand, was designed in the 1980s, but continues to function and has been updated, according to former chief of the Russian Strategic Missile Forces Viktor Yesin's 2018 interview.