In the Thick of It
A blog on the U.S.-Russia relationship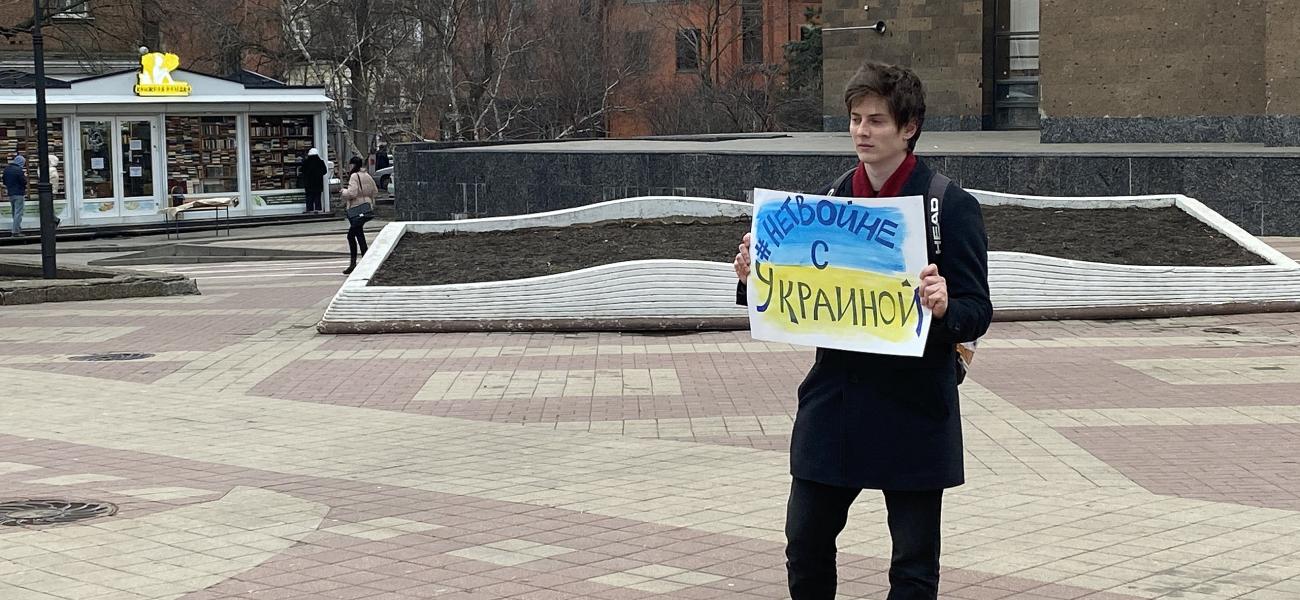 New Polls: What Do Russians Think of the War in Ukraine?
March 04, 2022
RM Staff
This week, two Russian pollsters—VTsIOM and FOM—published surveys showing that approximately two-thirds of the Russian public support the Kremlin's war in Ukraine. The independent Levada Center, which Western experts often cite as more reliable, has not yet released its data on the topic. However, its earlier research suggests that a large share of Russians may indeed be supportive of the "military operation," as Moscow calls it—likely at least in part because of the state's portrayal of the tensions leading up to the conflict.
For example, negative attitudes toward Ukraine and blame toward the U.S./NATO for the crisis there rose by about 10 percentage points in the week before Russia's Feb. 24 invasion as compared to mid-November—and President Vladimir Putin's approval rating followed suit. According to a Feb. 17-21 Levada poll, 52% of Russians hold a negative view of Ukraine and only 35% hold a positive view, versus 43% and 45%, respectively, three months earlier. The portion of respondents holding "the U.S. and other NATO countries" responsible for heightened tensions in eastern Ukraine rose from 50% in November to 60% in the third week of February. Meanwhile, Putin's approval rating grew by 8 percentage points, from 63% in November to 71% in the Feb. 17-21 survey.
The same Levada poll, incidentally, found that in the week before the invasion the share of Russians afraid that tensions between their country and Ukraine could escalate into a war had reached 51%, versus 47% who were unafraid. And the share of respondents who believed that tensions in eastern Ukraine could spark a war between the two neighbors had risen to its highest since 2015: 45%.
After Russia recognized Ukraine's breakaway "people's republics" of Donetsk and Luhansk—DNR and LNR for short—and officially sent in troops on Feb. 21, but before the larger ongoing invasion, Levada's director, Denis Volkov, noted that Russian respondents' attitudes toward events in Ukraine had been years in the making. "They have several approaches to understanding the conflict and what's happening more generally," he told the Meduza news site. "First: Everything is America's fault. … America's and the West's. They're pressuring Ukraine … and Russia must intervene … to help and to defend our own [people]" there.
These popular views are being reinforced by Moscow's latest restrictions on freedom of speech. Media outlets have been instructed to use only official Russian government sources for their reporting and, according to local journalists, to not describe what's happening in Ukraine as a "war," "invasion" or "attack." Outlets unwilling to toe the official line have been shuttered and threatened.
Volkov's observations seem to be borne out by the VTsIOM and FOM surveys, which say respondents believe the "special military operation" is being waged for the following reasons:
VTsIOM
To protect the Russian-speaking population of DNR and LNR: 26%

To prevent the placing of NATO bases in Ukraine: 20%

To demilitarize Ukraine: 20%

To de-Nazify Ukraine and change its political trajectory: 7%

To change a regime unfriendly to Russia: 6%

To split up Ukraine and establish its influence in part of it: 4%
FOM (up to three answers possible)
To secure its [Russia's] borders: 60%

To protect the population of DNR and LNR: 58%

To prevent Ukraine's accession to NATO and the placing of NATO bases in Ukraine: 37%

To join Donbas to Russia: 20%

To change Ukraine's political system and place pro-Russian forces in power there: 17%

To destroy Ukraine's sovereignty and join the territory of Ukraine to Russia: 8%

Other: 3%
Photo by Pavljenko shared under a Creative Commons license.