In the Thick of It
A blog on the U.S.-Russia relationship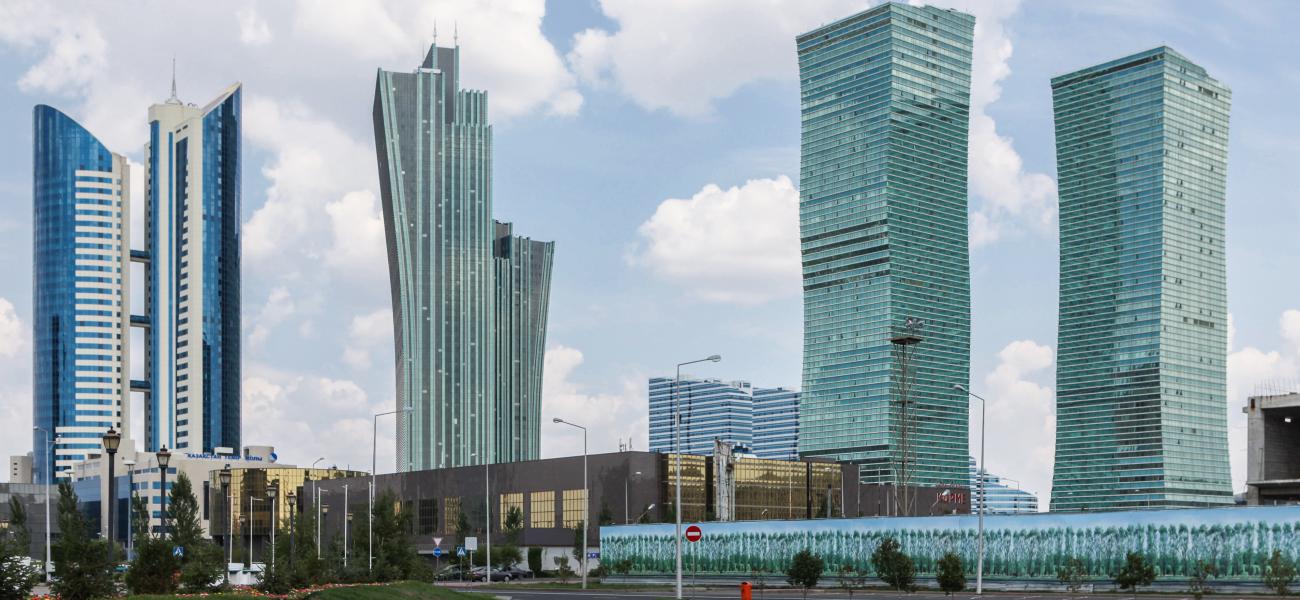 China and Russia in Central Asia: A Tricky Balance
October 03, 2019
Daniel Shapiro
This fall, Central Asia's richest country was shaken yet again, on at least two separate occasions, by anti-government protests with decidedly anti-Chinese sentiments. Local unease with Beijing's intentions and investments—which have ballooned to tens of billions of dollars throughout the region—has become easy to exploit for "the mischievous and hot-headed," as a veteran Central Asia reporter wrote after the protests. It's no wonder then that China's role in the region, alongside Russia and other world powers, was a popular topic of discussion at a recent conference held by PONARS-Eurasia, a global network of scholars who convene once a year in Washington, D.C. Among the points that resonated most were that Central Asians' perceptions of China are complicated, that Western countries have a role to play in Central Asia despite their limited presence in the region and that, whatever tensions Central Asia may cause in the Russia-China relationship, ties between the two countries are generally close and durable enough to withstand them. (The presentations described in sections one and three below can be viewed here.)
What Do Central Asians Think About China?
As China has expanded its presence in formerly Soviet Central Asia, the region's residents have reacted in various ways, balancing between apprehension and hopefulness. Eric McGlinchey, from George Mason University, argued that media depictions of Central Asia as a hotbed of Sinophobia ignore a much more complicated reality. Presenting an aggregation of polls over a 12-year period, McGlinchey noted that while "approval of the Chinese leadership" in four of the five Central Asian countries1 has consistently been measured at below 50 percent, many people have difficulty forming a concrete opinion, as China's role in Central Asia's economies has brought both negative and positive results. To support this argument, McGlinchey provided data showing "Do Not Know" responses to the approval question ranged from a low of 19.9 percent (Tajikistan) to a high of 41.2 percent (Uzbekistan). Sebastien Peyrouse of George Washington University, meanwhile, argued that China nonetheless worries about Sinophobia in Central Asia and the impact it could have on Chinese investments and political ambitions in the region. Thus, the Chinese leadership has tried to wield soft power in the region, including teaching Mandarin, promoting Chinese culture and, sometimes quietly, advancing its model of political stability. But these efforts are heavily state-run, and Peyrouse argued that their impact will be limited so long as they aren't supported by autonomous Chinese civil society organizations. Despite China's endeavors, Peyrouse claims that the country is not "admired" by many in the region.
Western Counterbalance?
Although China has invested significantly in Central Asia, several presentations suggested that Western powers nonetheless have a role to play there. Nargis Kassenova of Harvard University discussed the European Union's 2019 strategy for the region, describing it as "comprehensive," with a particular focus on "sustainable connectivity" (in areas such as transport, energy and digital communication) and good governance. Central Asian countries are "supportive of the EU's sustainable connectivity drive," have welcomed EU investment and see the EU as something of a "counterbalance" to Russian and Chinese influence in the region. However, Kassenova noted, there is a "big gap" between ideal sustainable connectivity as the EU sees it and the situation on the ground in Central Asia: States have "systemic problems with all facets of governments and sustainability," and there is a lot missing in terms of institutional capacity to implement connectivity policies. Overall, Kassenova argued that while the EU's strategy has generally been received well in Central Asia, implementing it will require a herculean effort. Vladimir Popov, of the Berlin-based DOC Research Institute, touched on roadblocks to increased ties between Europe and Central Asia in his presentation as well, arguing that (according to the gravity model of international trade), trade in Central Asia is overly skewed toward Russia and fellow Central Asian states, while the rest of the world is "under traded." To right this imbalance, Central Asia should consider diversifying its trade, including with countries in the West.
Ekaterina Stepanova of the Russian Academy of Sciences focused more on Afghanistan, discussing the American role there, Russia's concerns and Russia's role in the peace process. Stepanova defined Russia's two main concerns in the region as (a) the "massive inflow of narcotics from Afghanistan" and (b) the "threat of spillover of instability and extremism from N. Afghanistan to Central Asia." These two concerns "remain unaddressed," leading Russia to take on a more active role in the peace process, in Stepanova's view. While Russia's resources are "very limited"—it is less influential in Afghanistan than India, Pakistan, Iran and China and has no military presence there—Moscow has been deeply involved in three peace initiatives, including one with China and the United States, and has carved a "major diplomatic niche for itself." While Stepanova described Russia as a key party in the peace process and the only facilitator that has been able to bring together all surviving mujahideen leaders, she did note that none of Russia's concerns will be addressed as long as the U.S. and the Taliban are still fighting and that U.S. and Russian mediation in Afghanistan is valuable, as peace in the country is a key point of convergence in interests between Washington and Moscow.
Russia-China Relations
Russian-Chinese relations were another key topic of discussion at the event. Hilary Appel of Claremont McKenna College noted that Xi Jinping and Vladimir Putin's relationship has been growing increasingly close, especially as the U.S. "pulls away" from China and maintains sanctions on Russia. Indeed, in a 32-country Pew survey released Sept. 30, more respondents in Russia than in any other country had a favorable view of China (71 percent). In Appel's view, we can expect an "enduring rapprochement" between Moscow and Beijing. Appel did, however, list some potential tension points, including population imbalances in the Far East, China's Belt and Road initiative, rising competition for Arctic Sea shipping routes and competition in arms markets. Appel believes that the main potential source of competition is Central Asia. As the Chinese presence in the region grows, Russia may become worried that it is "losing influence in one of its traditional spheres of influence," especially through projects such as the Belt and Road Initiative, which have led China to overtake Russia as Central Asia's largest trade partner. Elizabeth Wishnick of Montclair State University came to similar conclusions, discussing Xi and Putin's relationship at length and describing the China-Russia partnership as "strategic and having a normative basis." The two leaders' close relationship has led to "mutual learning" and solidification of the strategic partnership. Again, however, Wishnick did point to potential areas of competition, including policy toward Central Asia, the Arctic and the United States. Steven Kaplan of the University of Chicago echoed Wishnick's point about foreign policy differences between Russia and China, noting that while both Chinese and Russian investments in the developing world "tend to share a long-term horizon," the two countries have distinct foreign policy aims, and Russia is more willing to challenge the United States than China is.
1Not including Turkmenistan.
Photo: Downtown Nur-Sultan (formerly Astana), the capital of Kazakhstan