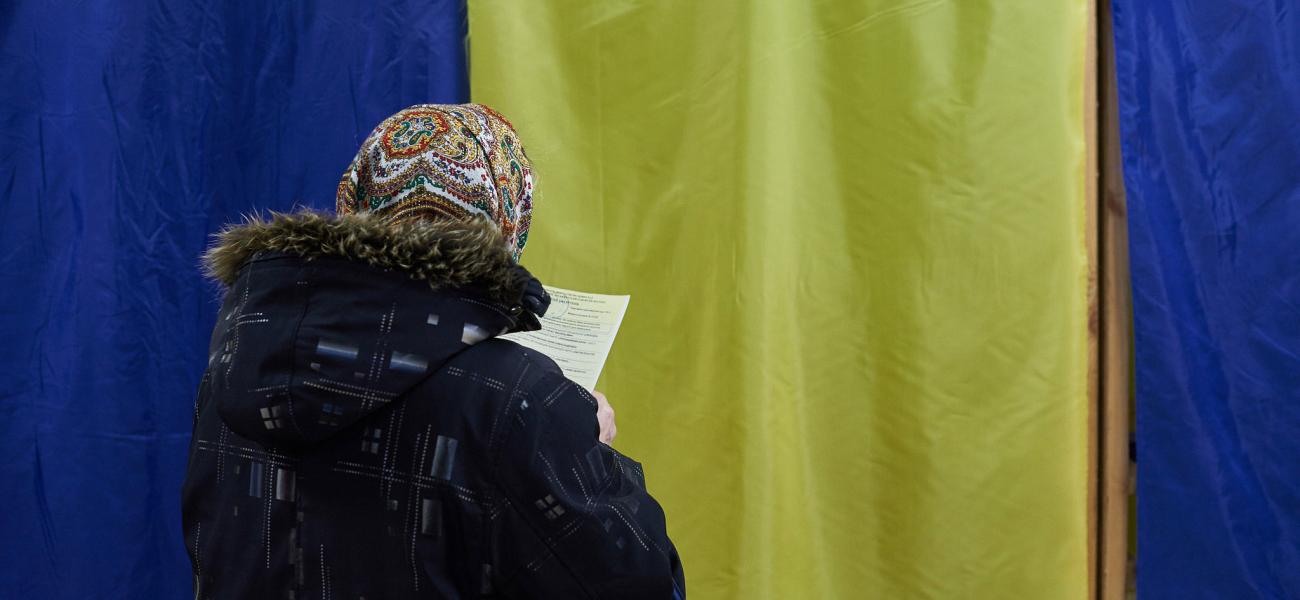 Ukraine Election Bodes Ill for Corruption Fight, and for Kiev's Ties to West
March 26, 2019
Tony Barber
Earlier this month protesters at a far-right rally in Kiev threw stuffed toy pigs at policemen keeping order. The gesture was intended to symbolize their contempt for President Petro Poroshenko, whom they deride as a corrupt "pig farmer" fostering a climate of dirty dealings and unworthy of reelection in Ukraine's March 31 presidential contest. Although the rally attracted only a few hundred demonstrators, it illustrated how corruption is a central theme of the campaign and, five years after the pro-democracy Maidan revolution of 2014, an enduring concern of Ukrainian public life. Gallup reported this month that 91 percent of Ukrainians believe corruption is widespread in the country's government.

It is a problem for Ukraine's U.S. and European partners, too. For them, every setback in the fight against corruption is also a setback in the effort to check Russian, and to a lesser extent Chinese, influence in Ukraine and the wider Central and Eastern European region. Both goals match the ideals of the Maidan revolution: to align Ukraine with the West in geopolitical and economic terms, and to clean up the corruption-tainted, oligarch-dominated order that connects Ukrainian politics, business and public administration. In short, the struggle to root out corruption merges with the no less arduous struggle to consolidate Ukraine's independence and statehood over the long term and to anchor the country to the West—a task that came to seem urgent after Moscow's 2014 annexation of Crimea and backing for separatists in the ongoing conflict in the southeast.

These concerns explain why, in a hard-hitting speech on March 5, U.S. Ambassador Marie Yovanovitch rebuked the government for not delivering "the anti-corruption or rule-of-law reforms that Ukrainians expect or deserve." She called for the dismissal of Nazar Kholodnytsky, the special anti-corruption prosecutor, who is alleged to have coached suspects on how to avoid corruption charges. U.S. policymakers are also troubled by the decision in February of Ukraine's Constitutional Court to strike down a law against officials enriching themselves. Poroshenko swiftly proposed fresh legislation aimed at preserving the principle that illegal self-enrichment will result in criminal punishment. However, the sobering view of Western capitals is that the anti-corruption reforms pursued since 2014 are slowing down and by no means irreversible.

Worse, the campaign has unfolded in ways that suggest the reform process may struggle to regain momentum after the presidential contest and parliamentary elections scheduled for October have been completed. Most Western attention is focused on Poroshenko's battle against his two main challengers, Yulia Tymoshenko, a former prime minister, and Volodymyr Zelensky, a comedian and actor with no political experience and few discernible opinions on the great issues facing the country. However, the legislative elections will be important, too. Should they produce a fragmented parliament, faction-ridden and obedient to oligarchs, the reform effort would surely fall short of what the U.S. and the European Union hope and want to see in Ukraine.
 
None of the three leading contenders boasts solid pro-reform credentials.
In the presidential election the main Western concern is that none of the three leading contenders boasts solid pro-reform credentials. Tadeusz Iwański of the Center for Eastern Studies, a Warsaw-based think-tank, contends: "None of the favorites will guarantee the systemic reforms that would break the oligarchic model of development and signify a real fight against corruption... Mentally, they are unable to change the current model."
Poroshenko is committed to Ukraine's diplomatic, economic and military integration with the West, but his credibility suffers from his oligarchic status and patchy record in office as an anti-corruption reformer. He swept to victory in Ukraine's 2014 election, held shortly after the triumph of Maidan and Russia's annexation of Crimea. Yet his reelection campaign has become engulfed in controversy in recent weeks after allegations, aired on Ukrainian television, that the family of one of Poroshenko's former business partners had engaged in large-scale embezzlement. The alleged scheme involved the smuggling of military equipment parts from Russia and their resale to Ukrainian defense companies at inflated prices. Poroshenko's campaign is light on reform rhetoric and heavier on conservative patriotic values, embodied in his slogan "army, language, faith." In Western capitals the suspicion lingers that he seeks to smother doubts about his foot-dragging on reform by presenting himself as the only truly reliable candidate in the larger U.S. and EU effort to contain Russian encroachment in Central and Eastern Europe.

For Washington and the Europeans, the awkward truth is that Poroshenko may have a point. Viewed from Moscow, a Poroshenko victory is arguably the least desirable outcome. Tymoshenko is noticeably less explicit than the president about Ukraine's pro-Western orientation. She is a known quantity in the Kremlin on account of her career in the gas industry and negotiations with the Russians over gas prices when she was prime minister. Yet these negotiations have haunted her career in Ukrainian politics ever since. In a 2009 deal with Gazprom, the giant Russian energy company, she accepted a price formula that, as time passed, burdened Ukraine with some of the highest energy prices in Europe. Tymoshenko's supporters defended this deal on the grounds that it avoided a serious domestic gas crisis in the short term, but the candidate has never shaken off the suspicion that she gave away too much, too easily to the Russians. It is too speculative to suggest that she might seek, as president, to end the conflict with Russia with a deal that returned the Donbas to rule from Kiev in exchange for some form of recognition of Crimea's annexation. Even if she kept Ukraine on its pro-Western path, however, the fundamental problem is that she will likely be no more of an anti-corruption modernizer than Poroshenko.

One indication is her curious reluctance to go on the attack against Zelensky. He has opened up a lead in the opinion polls, partly because of his image as an anti-establishment outsider in a campaign defined by voters' disenchantment with professional politicians. Yet Tymoshenko has had little to say about his lack of obvious qualifications for the presidency, or about his well-known but nebulous connections to Ihor Kolomoysky, one of Ukraine's wealthiest oligarchs. Kolomoysky was the co-owner of PrivatBank, the country's largest bank, before the government nationalized it in 2016. Is Tymoshenko soft on Zelensky because, if elected, she would seek Kolomoysky's support in return for handing PrivatBank back to him? Such, at any rate, is one theory spread by the Poroshenko camp.

 
Particularly striking is the contrast between Ukraine's contaminated political structures and the vibrancy of Ukrainian civil society, ever on the alert to expose corruption and demand reform.
This leaves the question of how seriously to take Zelensky's campaign. He is doing well enough to make it into the second round, set for April 21, should no candidate win more than 50 percent of the vote on March 31. He benefits from the generous amounts of airtime given to his campaign by 1+1, Ukraine's second most popular television channel, owned by Kolomoysky. Blurring TV with reality, he appears in the series "Servant of the People," in which he plays a teacher catapulted into the Ukrainian presidency, and in another show that tracks his actual election campaign. His anti-establishment status has deflected attention from his ownership of shares in a Cyprus-registered company that collects his royalties from the Russian market.

This is modern Ukraine's most wide-open presidential election. It takes place against a backdrop of much progress in building a civic-minded society, an economy fitted with high-quality EU regulations and a geopolitical outlook aligned with the West. For all the waywardness of the Trump administration on other policy issues, and the EU's multiple internal challenges, Western governments have been admirably consistent in supporting Ukraine's progress. Particularly striking, however, is the contrast between Ukraine's contaminated political structures, still bearing traces of the early post-Soviet years after the 1991 declaration of independence, and the vibrancy of Ukrainian civil society, ever on the alert to expose corruption and demand reform. This gap between society and its rulers underscores that the relative political stability of the post-Maidan era is not to be taken for granted; Gallup has found that only 9 percent of Ukrainians have confidence in their national government. The chief question, in the end, is the sustainability of the domestic Ukrainian reform effort. It is the key not only to Ukraine's pro-Western stance, but to developing the stable, advanced polity that Ukrainians crave and deserve.
Author
Tony Barber
Tony Barber is the Europe editor and a European affairs columnist for the Financial Times. 
Photo by Sandro Weltin shared under a CC BY-ND 2.0 license.
The opinions expressed in this commentary are solely those of the author.