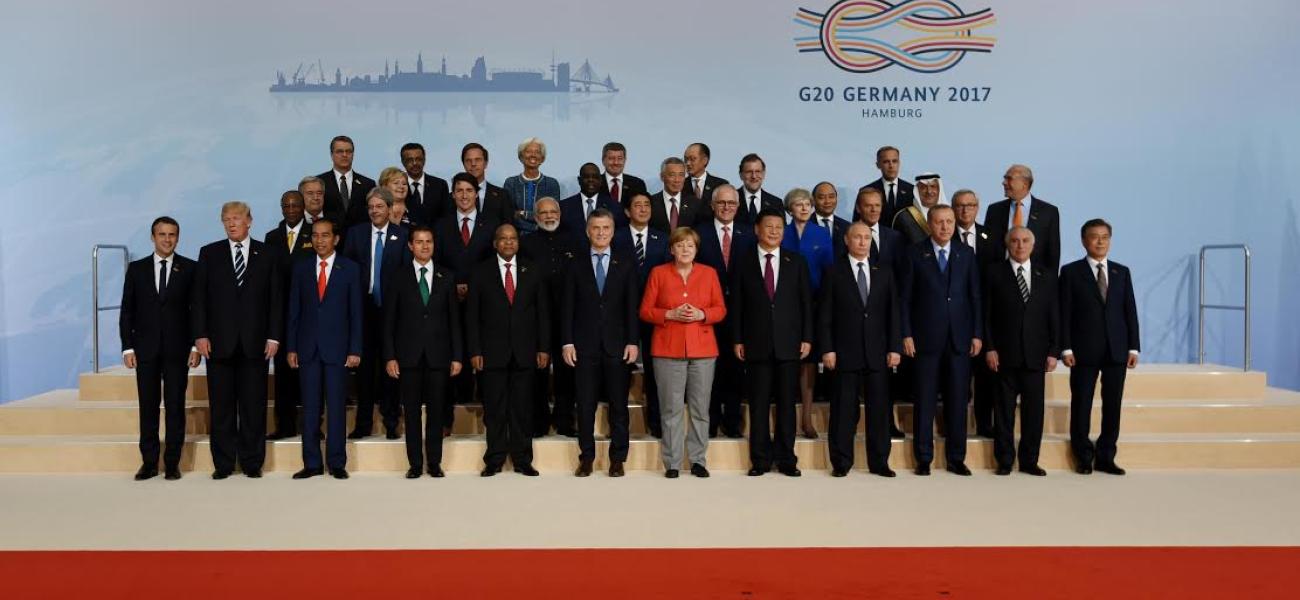 Trump-Putin G20 Summit: High Stakes and Strained Dialogue
November 28, 2018
Matthew Rojansky
NB: Since this piece was published, U.S. President Donald Trump canceled his previously scheduled Dec. 1 meeting with Russian President Vladimir Putin on the sidelines of the G20 summit, citing the tensions over the Kerch Strait as the reason. 
In the U.S. press, the names Donald Trump and Vladimir Putin are often uttered in the same breath. The allegedly chummy relationship between the two has become a social media meme and provided punch lines for countless political jokes. Yet the reality is that contacts between the presidents have been limited. A suggested Paris meeting did not take place earlier this month, but now Trump and Putin are slated to sit down for talks on the sidelines of the G20 summit in Buenos Aires, Argentina, scheduled for Nov. 30-Dec 1.
This meeting comes under a cloud of renewed ill feeling related to Russia's seizure on Nov. 25 of three Ukrainian navy vessels and their crews in the Sea of Azov. Trump said this week that he is so unhappy with Russia's aggression that he may even cancel the sit-down with Putin; other U.S. officials have condemned the Russian move as well, and some in Congress have called for passage of new sanctions against Russia by the end of this year. Yet as high-level contacts are again strained by deep disagreement, both sides face a list of urgent global security challenges that can be managed only through dialogue.
Highlights on the Bilateral Agenda
The most acute crisis is the impending collapse of the U.S.-Russian nuclear arms control regime, the likely consequences of which include not only increased risks of escalation between Moscow and Washington, but the definitive end of the global nuclear nonproliferation regime, the failure of nuclear disarmament efforts on North Korea and Iran, and more. After alleging Russian violations for more than half a decade, the U.S. finally announced its intention to withdraw from the 1987 agreement on intermediate-range nuclear forces, known as the INF Treaty, last month. The end of this deal, which banned an entire category of nuclear delivery systems viewed as destabilizing, raises the risk of a renewed nuclear arms race in both Europe and Asia. Perhaps more importantly, it is a troubling signal that the two sides are so far apart on nuclear issues that there may be no bridging the gap before the 2010 New START agreement, with its vital transparency and inspections provisions, lapses in 2021.
The war in eastern Ukraine continues to underscore the failure of Cold War-era European security institutions, especially in view of the latest flare-up. Ukraine has become an intractable point of contention between Washington and Moscow. Having dispatched a senior envoy to negotiate directly with Russian counterparts while greatly expanding sanctions and continuing to provide Ukraine with financial and military assistance, Washington is signaling that it wants to negotiate from a position of strength. Yet Moscow has taken the position that it need not negotiate at all, preferring to maintain a bloody stalemate on the ground that it believes will indefinitely block Ukraine's aspirations to join NATO and the EU.
Syria has been Russia's recent big win. Thanks largely to Russian air power, Bashar Assad has retaken the bulk of Syrian territory west of the Euphrates River, and he has insisted he will retake "every inch" of territory in the east as well. But as long as the fighting continues, it brings Russian, U.S., Turkish, Israeli and Iranian forces into dangerously close proximity, and requires constant attention from Moscow and Washington to minimize the risks of escalation. In the wider Middle East, a complex new dynamic is emerging among Russia, Iran, the U.S. and Saudi Arabia, with the very real possibility that Cold War-type proxy conflicts between the region's big powers may be repeated.
Obstacles to Progress
Apparent stalemates on these global security issues are not likely to be broken at the upcoming Buenos Aires summit, in part because of the domestic constraints faced by each side.
On the U.S. side, outrage continues over alleged ongoing Russian meddling in U.S. elections and domestic politics. Although some sources have indicated that Russian influence operations slowed before the recent 2018 midterm elections, the investigation of Kremlin interference in the 2016 vote, led by Special Counsel Robert Mueller, is still underway, and with that shadow looming over the White House, high-profile conciliatory steps are unlikely. If Trump were to fire Mueller, or if Mueller were to release new, damaging information, congressional Democrats might even push for impeachment—although, having won only a modest victory in taking back the House, they will likely be careful not to overplay their hand. The Trump administration itself has regularly expanded and updated Russia sanctions, and this is likely to continue regardless of the president's stated desire to get along with Moscow.
On the Russian side, Putin is much less constrained by his own government, but he does face growing public dissatisfaction, even from his traditional political base. Earlier this year, Putin endorsed an unpopular pension reform scheme that will force Russians to work an extra five years before retirement, eroding his support among older voters and blue-collar workers, especially in Russia's provincial one-industry towns, distant from the prosperous bubbles of Moscow and St. Petersburg. Public disaffection was further fanned by botched regional elections in September, which saw some of the Kremlin's chosen candidates defeated outright or caught red-handed engaging in electoral fraud. For Putin, a high profile summit meeting with the U.S. president projects an image of strength and relevance to his domestic audience, one that state television will amplify. But it is not likely to be an opportunity for conciliatory diplomacy—Washington appears far more valuable to the Kremlin as an implacable external enemy and a scapegoat for Russia's economic woes than as a partner demanding concessions.
The Value of Engagement
So is any concrete progress possible?  Trump and Putin have committed to improving dialogue not only between the two governments, but between experts and business communities. At a minimum, this may signal both sides' willingness to empower their diplomatic and consular officials to reengage, following a period of tit-for-tat expulsions and closure of diplomatic facilities.
While U.S. sanctions will continue to severely constrain investment opportunities in Russia, the private sector will surely appreciate more active advocacy of their interests by U.S. officials, especially in the face of European and Asian competition subject to fewer if any sanctions constraints.  Leaders gathered at the G20 summit, including Trump and Putin, will also surely discuss the current downturn in global equities, and the accompanying slide in oil prices.
Though the planned Trump-Putin meeting may not be the only drama in Buenos Aires this weekend, it is bound to be the most closely watched. Critical global security issues, from nuclear proliferation to regional wars and migration crises, depend on Moscow and Washington for resolution. But with U.S.-Russia relations at a low point rivaling the worst years of the Cold War, the upcoming summit will at best be a very small first step.
The opinions expressed in this commentary are solely those of the author.