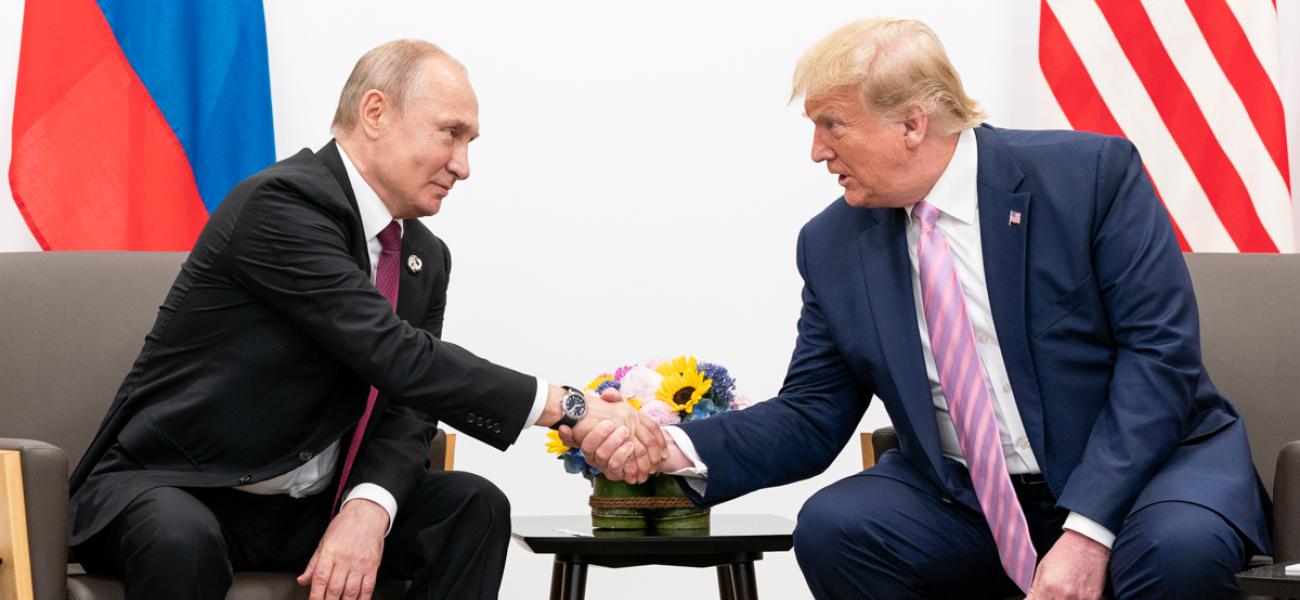 The Osaka Meeting: Is the Tide Turning in US-Russian Relations?
July 01, 2019
Thomas Graham
To the consternation of his bitterest opponents and to the surprise, and relief, of many, U.S. President Donald Trump's meeting with Russian President Vladimir Putin on the margins of the G-20 Summit in Osaka on June 28 turned out to be almost routine. The two presidents, along with their senior advisers, exchanged views on a number of top issues, including arms control, Iran, Syria, Ukraine and Venezuela—the same ones their national security chiefs had foreshadowed earlier in the week in Jerusalem. As was to be expected, there were no breakthroughs on any of these contentious matters, only agreement to continue the dialogue. 
Missing were the long one-on-one sessions between Trump and Putin and the tumultuous press conference that had haunted their earlier meetings in Hamburg (2017) and Helsinki (2018) and  provoked only further deterioration in relations. Missing too were comments from senior officials that described their talks in superlatives. Russian Foreign Minister Sergei Lavrov who had gushed that the ill-fated Helsinki meeting was "better than super," this time simply allowed that the talks had been "constructive."
The only point of dissonance was Trump's dismissive reaction when asked during the pre-meeting press-op whether he would raise the issue of electoral interference with Putin. Trump turned toward Putin and joked, "Don't meddle in the election, please." Both smiled. The American media tried to make an issue of this response, and some Democratic leaders ritually denounced it. Nevertheless, even though Trump's behavior was indeed inappropriate, this episode is unlikely to gain much traction. It was quickly overshadowed by Trump's much more consequential meetings with Chinese President Xi Jinping, which led to a truce in the dangerous trade war, and with North Korean strongman Kim Jong Un at the DMZ in Korea, which restarted nuclear talks. Moreover, with special counsel Robert Mueller's conclusion that there was no election collusion between the Trump campaign and the Kremlin, Russiagate has become a less salient issue for the American electorate, and those who spent two years hyping it have lost credibility.
With calamity averted, the question is whether this meeting will help put relations on a more constructive path. It is difficult to say at this point. There has been no public readout so far. And, as has been the case with previous face-to-face sit-down meetings, the presidents did not issue a joint statement, which would have provided an agreed snapshot of the state of relations and a roadmap for the way forward.
The main task now, as it has been since Trump assumed office, is to rebuild a sustained dialogue after the Obama administration severed most channels of communication in reaction to Russia's seizure of Crimea and intervention in Eastern Ukraine in 2014. The political storm ignited by revelations of Russia's electoral meddling and deep-seated suspicions of Trump's ties to the Kremlin rendered that task much more difficult. Indeed, Trump's avowed desire to work with Russia notwithstanding, his administration, under intense pressure from Congress, initially did more to punish Russia with sanctions than to find ways to reengage.
That began to change after the Helsinki meeting, despite the anti-Russian uproar it sparked. U.S. special envoys on Afghanistan, Syria and North Korea have had constructive meetings with their Russian counterparts. The channel to deconflict combat operations in Syria has continued to operate. To be sure, the so-called Volker-Surkov channel for the Ukraine crisis has lain dormant since the beginning of 2018, and the administration has so far refused to engage seriously on arms control and strategic stability. But the winds are changing. There are hints that the Ukraine channel might be revived after the Ukrainian parliamentary elections in July. Meanwhile, Trump's professed desire to do an arms control deal with Russia, reinforced by the appointment of arms control expert Tim Morrison to replace Russia expert Fiona Hill as the National Security Council senior director overseeing Russia policy, suggests that arms control and strategic stability will become the central issues in bilateral discussions.    
All that is positive, but it will come to nothing without a sustained high-level dialogue across the full range of issues that would provide a strategic framework for the discussion of narrower matters. The Kremlin has made it clear that the two sides will have to talk about everything before they will be able to resolve anything. That is the measure of respect as a great power that the Kremlin is demanding as a basis for cooperation with the United States.
Only two people can conduct that dialogue for the United States: Secretary of State Mike Pompeo and National Security Advisor John Bolton. Thus far, Pompeo has been disinclined to engage on Russian issues. He did not hold his first face-to-face meeting with Lavrov until two months ago, more than a year after he had become secretary of state. Bolton is the more likely candidate. He has met several times with his counterpart, Nikolai Patrushev, since last summer.  By all accounts, he had a successful trip to Moscow last fall, where he engaged in detailed discussions with Patrushev and had a productive meeting with Putin. Although there was hardly a meeting of the minds, Bolton gained respect from the Russians for Bolton's willingness to engage in a vigorous back-and-forth. Finally, Bolton is deeply interested in the questions of strategic stability that will likely drive U.S.-Russian relations for the rest of Trump's term.   
Whether Bolton will take up this dialogue is an open question, but the uneventful Osaka meeting has opened up the possibility for more regularized high-level contact. And the Trump administration might find more support within the American political establishment for such contact. There is a growing realization that American national security depends on developing a working relationship with Russia, which was ironically sparked by the administration's decision to withdraw from the INF Treaty. That mobilized the arms control community to advocate for closer contacts, trumping whatever misgivings Democrats in particular might have had about Trump's disconcerting admiration for Putin and Bolton's views on arms control. The administration, meanwhile, has come to see—rightly or wrongly—value in seeking to work with Russia in dealing with Iran on proliferation issues and with China on strategic stability.
The Osaka meeting might thus mark the beginning of a new stage in U.S.-Russian relations, one of more intensive dialogue. Even if it does, rapid progress on any of the many issues of world order, regional conflicts and values that divide the two countries is unlikely. The differences are simply too profound, and the issue of strategic stability is particularly complex. Congress's anti-Russian animus and pressure for further sanctions will also continue to restrict Trump's latitude in cooperating with Russia. Lurking in the background, moreover, is the danger that the administration is grievously overestimating what it can accomplish with Russia on Iran and China, setting the stage for a sharp deterioration in relations once Russia has disappointed Trump's expectations. That said, the manner of U.S.-Russian relations is shifting. For better or worse remains to be seen.   
Author
Thomas Graham
Thomas Graham, managing director at Kissinger Associates, was the senior Russia expert on the National Security Council staff during the George W. Bush administration.