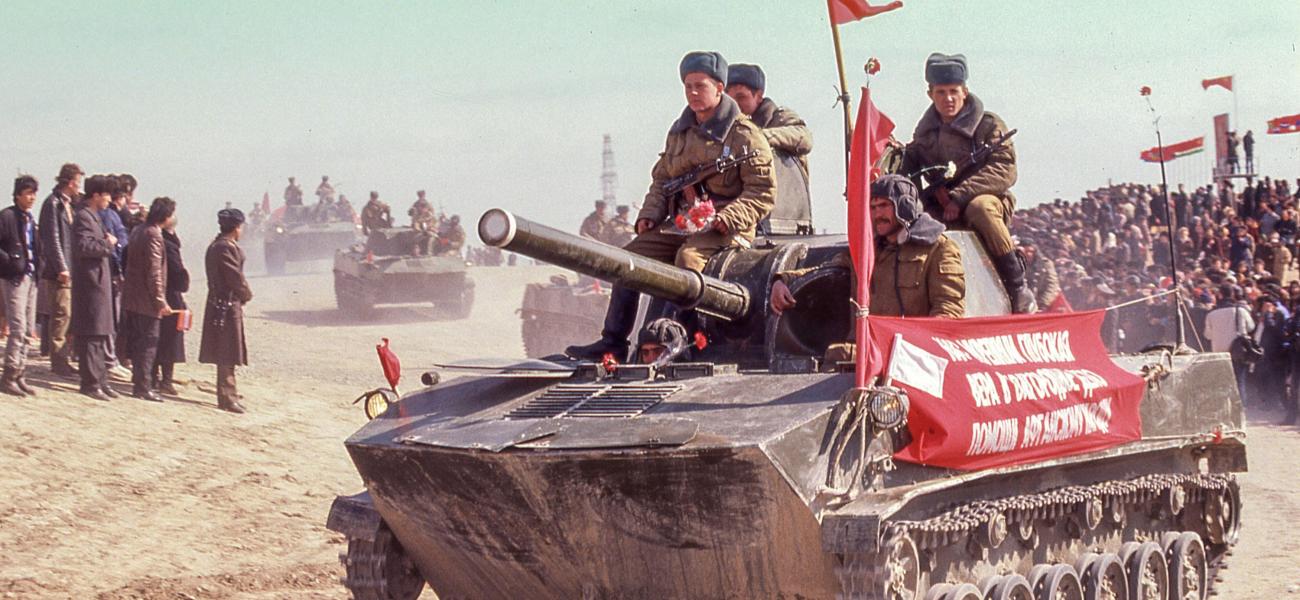 Lessons for Leaders: What Afghanistan Taught Russian and Soviet Strategists
February 28, 2019
Simon Saradzhyan
Introduction
Thirty years ago this month, Gen. Boris Gromov became the last serviceman of the Soviet 40th Army to cross the Friendship bridge from Afghanistan into Uzbekistan, heralding the end of a Soviet military intervention that had lasted nearly a decade. That intervention, which began in December 1979 (with 30 military advisors and some guards remaining beyond February 1989), did not only fail to firmly anchor Afghanistan to the so-called socialist camp, as the Soviet Politburo had hoped, but contributed to the demise of the USSR by imposing formidable human, financial, economic, political and reputational costs on the already declining empire; needless to say, it caused numerous casualties and widespread grievances among Afghans as well. Debates continue to this day about the full array of national-level, organizational-level and personal-level factors that led the Communist Party leadership—including General Secretary Leonid Brezhnev and a handful of other Politburo members—to adopt a resolution on Dec. 12, 1979, authorizing the deployment of a "limited contingent of Soviet troops" to Afghanistan. However, even with that debate unfinished, the Soviet experience in Afghanistan offers plenty of lessons to explore—some of which can, perhaps, be applied by the U.S. and its allies as Washington leans toward ending its own military campaign in this war-plagued Central Asian country.
The following is a selection of military-political lessons gleaned mostly from the recollections of Soviet strategists who were involved in making and executing the fateful decision to send troops to Afghanistan, as well as from writings by some of post-Soviet Russia's prominent military analysts. Where possible, the author made an effort to relay these strategists' analysis of the failures and successes of the intervention because he felt that such assessments, based on first-hand experience, are not always given their due in English-language literature on the subject. The lessons listed below, which are discussed in greater detail in subsequent sections of this research paper, are lined up in the order in which they would have come up—starting with the Soviet leadership's decision to consider sending a large contingent of troops into Afghanistan, moving onto its management of the actual intervention and, finally, onto its decision to withdraw the troops and beyond. All of these lessons are meant for consideration by nations' military-political leadership.
Lesson 1: Before making final decisions on issues of fundamental importance, such as military intervention, determine what national interests are at stake, what options exist for advancing or defending those interests and what costs and benefits each of these options would generate, both direct and indirect; and do not let leaders' personal ambitions impact the ultimate decision.
Lesson 2: Ensure a sufficiently broad and comprehensive inter-agency process of reviewing potential decisions to use force, factoring in the views of all key stakeholders in general and those to be tasked with implementing the decisions in particular.
Lesson 3: Examine aspects of a country's history relevant to your planned undertaking.
Lesson 4: Once the decision to send troops has been made, formulate the goals of the intervention and communicate them clearly to the agencies involved in implementation; also, shape your messaging to other key stakeholders likely to influence the outcome of the intervention.
Lesson 5: If you do decide to go in, develop an exit plan in advance.
Lesson 6: Once in, ensure effective inter-agency coordination and cooperation.
Lesson 7: Rather than try to mold your local allies in your own image, empower them, encouraging self-reliance, and pay attention to indigenous traditions.
Lesson 8: You cannot succeed in a military intervention unless the side on whose behalf you intervene is willing to fight for your joint cause.
Lesson 9: Talk to moderates on the opposite side.
Lesson 10: When leaving, leave…
Lesson 11: …but before you leave, secure enforceable guarantees that POWs and MIAs are found and brought home, and give the returning soldiers proper welcome and care.
Lesson 12: …also before you leave, secure firm and enforceable agreements that would not only meet your own minimum requirements for a negotiated settlement, but also those of your local allies, because the end of an intervention by itself cannot end hostilities.
Lesson 13: Even after you leave, prevent mission creep.
Lesson 14: Last but not least: Be willing to learn the lessons.
Only some of these lessons were inferred as the intervention unfolded, while most were drawn years after the withdrawal of the Soviet 40th Army—which made up the bulk of the so-called limited contingent of Soviet troops in Afghanistan, or OKSVA—on Feb. 15, 1989. Of course, such hindsight could not have changed anything in the intervention. We should also bear in mind that "where you stand depends on where you sit": As some of the passages below demonstrate, some of the "lesson learners" tend to cast their own and their comrades-in-arms' actions in a favorable light while criticizing the conduct of their peers from other agencies.
Despite the occasional bias, these lessons could still prove useful to policymakers faced with the stark dilemmas of a possible military intervention. In particular, some of the entries at the end of the list could, perhaps, prove instructive for the U.S. leadership as it contemplates whether or how to end its own intervention in Afghanistan. Finally, those in charge of applying these lessons should keep in mind historian Ernest May's procedure for ensuring against amateurism in drawing historical analogies, as described by Graham Allison and Niall Ferguson in their Applied History Manifesto: "Put the analogy as the headline on a sheet of paper; draw a straight line down the middle of the page; write 'similar' at the top of one column and 'different' at the top of the other; and then set to work. If you are unable to list at least three points of similarity and three of difference, then you should consult a historian."
The Lessons
Lesson 1: Before making final decisions on issues of fundamental importance, such as military intervention, determine what national interests are at stake, what options exist for advancing or defending those interests and what costs and benefits each of these options would generate, both direct and indirect; and do not let leaders' personal ambitions impact the ultimate decision.
Winston Churchill once famously observed that the key to Soviet decision-making is "national interest." If Churchill was right, then anyone with access to transcripts of Politburo meetings from 1979 should expect to find some kind of discussion on the Soviet national interests at stake in Afghanistan, as well as opportunities for advancing these interests with an intervention. In reality, the author's review of transcripts of the Soviet leadership's deliberations on Afghanistan revealed that while Politburo members did discuss some of the Soviet national interests that were at stake, they failed to take stock of potential, direct and indirect, costs and benefits that their country would encounter if they decided to advance those interests by means of a full-fledged military intervention in Afghanistan. A failure to grasp that the costs of such an intervention would significantly outweigh the benefits led the Soviet leadership to make an erroneous decision on Dec. 12, 1979, in favor of sending troops en masse into Afghanistan. In addition to horrendous human costs on all sides of the conflict, that decision cost the Soviet Union's stagnating economy dearly through a combination of such factors as Western sanctions and expenditures needed to sustain the intervention. Moreover, in the decade after the withdrawal of Soviet troops, Afghanistan turned into a hotbed of instability. This did not only spill over to affect post-Soviet Russia's Central Asian allies, but also gave a home base to al-Qaeda, which in turn supported the insurgency in Russia's own North Caucasus. In the end, therefore, the intervention undermined rather than advanced such Soviet interests as having neutral or friendly neighbors and sustainable development of the Soviet economy.
The author's review of Soviet deliberations on Afghanistan prior to Dec. 12, 1979, reveals a variety of justifications for intervention put forward by different members of the country's leadership—including ones that concern Soviet national interests such as ensuring the survival of Moscow's allies and having friendly neighbors. Soviet Defense Minister Dmitry Ustinov and some other Politburo members, for instance, pointed out the need to bolster the rule of the pro-Moscow People's Democratic Party of Afghanistan (PDPA)—which had come to power in an April 1978 coup—and save it from being overthrown by opposition forces. The coup, which the Soviets preferred to call the "April Revolution," had resulted in the ouster of Afghan President Mohammed Daoud Khan and his eventual succession by PDPA General Secretary Nur Muhammad Taraki; by the fall of 1979, however, Taraki had been assassinated at the behest of his rival and party colleague Hafizullah Amin, who took over as PDPA leader and president of what became the Democratic Republic of Afghanistan (DRA).
This power grab gave Politburo members new cause for concern: One of the arguments they considered in favor of intervention was the perceived need to prevent Amin from initiating a rapprochement with the West, which they saw as a possibility, according to a secret Central Committee memo signed by several Politburo members—including Foreign Minister Andrei Gromyko, KGB chairman Yuri Andropov and Ustinov, the defense minister—as well as Boris Ponomaryov, chief of the Central Committee's International Department. In his 1995 book about the intervention, "The Tragedy and Valor of Afghanistan," Gen. Alexander Lyakhovsky wrote that Andropov and Ustinov told a meeting of select Politburo members in Brezhnev's study on Dec. 8, 1979, that they feared Amin's interest in mending fences with Washington could eventually allow the U.S. to deploy medium-range nuclear-armed missiles in Afghanistan to target the Soviets' Baikonur cosmodrome, among other facilities. (More generally, Lyakhovsky, who served in Afghanistan in 1987-1989, blamed the decision to intervene on what he saw as a strategic disinformation campaign pursued by the U.S. and its allies, among other things.) The Soviet leadership also feared that, if allowed to establish a presence in Afghanistan, the U.S. would be able to collect telemetry during launches of newly designed Russian missiles, since most of the main testing ranges were located in southern parts of the Soviet Union, according to a 1999 article by Gen. Valentin Varennikov, who was not a Politburo member but was intimately involved in planning and carrying out the intervention as deputy chief of the Soviet General Staff.
Some of the post-factum analysis of the intervention also made references to the Soviet Union's geopolitical interest in keeping Afghanistan anchored to the Cold War-era "socialist camp" of countries. For instance, Gen. Ivan Pavlovsky, who had commanded Soviet ground troops as deputy defense minister in 1967-1980, believed that several key factors played a role in the decision to send in troops, including the possible strengthening of American positions on the Eurasian continent, the deterioration of Soviet relations with China, China's rapprochement with the U.S. and a dramatic increase in the influence of Islamic fundamentalism within Afghanistan. Varennikov wrote in his memoirs, entitled "The Unrepeatable," that the Soviet leadership's decision hinged on "the calculation that the presence of our troops in Afghanistan would cool the hot heads of Amin's supporters, and even those of the opposition forces, and … would prevent possible encroachments by the Americans and stabilize the situation." General of the Army1 Makhmut Gareyev, the chief Soviet military advisor to the Afghan army after the withdrawal, wrote in a 1994 article called "Why and How We Went Into Afghanistan" that he saw the USSR's "geopolitical interests" in general as the main driver of the decision to intervene. Among those interests he singled out the Soviet Union's need to have loyal or at least neutral neighbors to ensure the security of the country's frontier regions, particularly in the south.
It should be noted that in addition to the need to defend the aforementioned interests, various other justifications for the intervention were offered in the course of discussions by the Politburo. Not all of them look plausible. For instance, one rationale cited during the Dec. 8 meeting of five Politburo members in Brezhnev's study was the need to prevent Iraq from getting access to Afghanistan's uranium deposits, which Baghdad could have then used to build nuclear weapons. That concern was raised by Ustinov and Andropov, according to Lyakhovsky's aforementioned book. Another justification cited by the duo was the need to disrupt what they saw as U.S.-supported efforts by Turkey to build a new Ottoman empire that would incorporate the Soviet Union's Central Asian republics, according to the book.
The top Soviet decision makers in the Central Committee's Politburo did see some downsides to an intervention too, including the reversal of Soviet-U.S. détente and the inevitable damage to the USSR's reputation in the world as a whole. Less than nine months before the intervention, when the Afghan government had asked Moscow for help against an uprising in Herat, Gromyko, the foreign minister, allegedly told fellow Politburo members that the Soviet army would be branded "an aggressor" if it were sent into Afghanistan and that it would have to "first and foremost fight the Afghan people," according to a transcript of the March 18, 1979, deliberations by Politburo members cited in Lyakhovsky's book. Gromyko warned that Brezhnev's summits with American and French leaders would have to be cancelled. According to the same source, Andropov agreed it would be wrong to send troops. "We can only prop up the [April 27, 1978] revolution in Afghanistan with our bayonets, but this is completely unacceptable for us" and "we cannot run such a risk," Andropov said as almost 9,000 DRA soldiers mutinied against Taraki's regime. The Politburo meeting concluded with the consensus that troops should not be sent, but that the Soviet Union will expand military aid to Taraki's regime.
However, the issues raised at this and other Politburo meetings represented just a fraction of the costs that the Soviet Union could incur. In the end, in its decision-making process, the Politburo neither took full stock of the exact interests at stake nor produced a comprehensive review of all the potential, direct and indirect, costs and benefits of sending troops into Afghanistan. This flew in the face of warnings from some of the Soviet Union's top military strategists—warnings that the Politburo ultimately ignored. One senior Soviet military officer said to have comprehensively assessed the costs of a campaign before it began was the commander of Soviet Ground Forces, Ivan Pavlovsky. Pavlovsky inspected the state of affairs in Afghanistan in August-November 1979 and concluded that Soviet troops should not be sent there. In a 1999 article for the aforementioned Rodina journal Pavlovsky recalled citing seven reasons not to intervene militarily in a report he sent to Ustinov upon his return from the 1979 trip to Afghanistan. These included: his perception that the April 27, 1978, socialist "revolution" did not enjoy significant popular support; the lack of a working class and mass belief in Islam; widespread possession of arms; porous, ill-guarded borders that would allow the U.S. and its allies to ship in arms; an inevitable popular backlash against such an intervention; and the resulting deterioration in relations with the U.S. and NATO. Anatoly Chernyaev, who was a senior international affairs analyst at the Central Committee when the decision to intervene was made, was quick to point out that it could not have possibly generated a net benefit for the Soviet Union. "Have we really acted only for the sake of revolutionary philanthropy? The argument that we had to do so to secure the border is ridiculous," he wrote on Dec. 30, 1979, three days after Soviet commandos  stormed Amin's residence outside Kabul in an operation code-named Storm-333 to kill him and bring Babrak Karmal to power, as Moscow's troops poured across the Soviet-Afghan border. In Chernyaev's view, the Soviet Union could have reaped "political and prestige dividends" if only it had chosen to prop up socialist factions in Afghanistan without a large-scale military intervention. Beyond seeing no benefits from the intervention, Chernyaev—who went on to become assistant for international affairs to Mikhail Gorbachev, the Soviet general secretary who ended the intervention—saw serious costs too. In a diary entry dated Nov. 1, 1980, he lamented that the intervention cost "several million [in cash] every day, and … the blood of our soldiers also every day." The head of the Moscow-based Institute of the Economy of the Global Socialist System, Oleg Bogomolov, made similar points in a memo sent to the Central Committee at about the same time as Chernyaev recorded his thoughts. "With the sending of troops to Afghanistan our policy … has crossed the permissible boundaries of confrontation in the third world," Bogomolov wrote in the 1980 memo. "The benefits of this action turned out to be insignificant in comparison with the damage that was inflicted on our interests." The costs, as seen by the authors, included: the emergence of a hotbed of instability on the "southern flank of the USSR"; generating dissent among the Soviet Union's allies regarding the intervention; burying any prospects for normalizing Soviet-Chinese relations; facilitating consolidation within the anti-Soviet coalition of states that "girded the USSR from West to East"; stalling Soviet-U.S. detente; and strengthening the West's technological and economic sanctions against Moscow (something Russian President Vladimir Putin may find all too familiar in the wake of his intervention in Ukraine).
The author of the 1980 memo and other informed sources have also pointed out the "economic burden" the invasion placed on the Soviet economy—and it was no small burden, indeed. As of the late 1970s, Soviet aid accounted for half of all foreign aid to the DRA, according to Vladimir Toporkov, a KGB officer who advised Afghanistan's security establishment in the 1980s and went on to become a general in post-Soviet Russia's Federal Security Service (FSB). By his calculations, the overall costs, including both aid and funding for Soviet military operations in Afghanistan, totaled the equivalent of $50 billion in 1979-1989. That sum by itself was "neither catastrophic nor painful" for the Soviet economy, according to Toporkov.2 However, if one were to count not only direct but also indirect costs, such as Western sanctions imposed on the USSR over its Afghanistan campaign, these were a significant destabilizing factor, for the Soviet Union, according to Toporkov's study, "The Influence of the Afghan Factor on Economic Processes in the Soviet Union in 1989-1992," published by the Russian Defense Ministry's Military-Historical Journal in 2004.
Like Toporkov, generals Gareyev and Lyakhovsky also waited for the Soviet campaign in Afghanistan to end before publicly weighing its pros and cons, with both of them concluding that its costs had outweighed the benefits. Gareyev, who retired shortly after his time as chief Soviet military advisor to the DRA army, wrote in his 1994 article that the primary cost of the campaign was that "the Soviet Union found itself in international isolation," its relations with the U.S., NATO and China deteriorating. He also wrote in a 1996 book called "My Last War" that "the protracted war in Afghanistan and the need for continued support of the regime in Kabul generated huge financial and material costs, undermining the already limping economy" of the USSR and sapping its military strength. "The decision of the Soviet leadership to stage an armed intervention into Afghan affairs ended up generating more minuses than pluses," he wrote in the 1994 article, published in the Russian Defense Ministry's Oriyentir journal. Lyakhovsky, for his part, believed that one of the costs vastly underestimated by the Soviet leadership was how strong local resistance to the intervention would be: "Scant regard toward the Afghans played an important role too. Ustinov, for example, thought that some of the rebels would instantly lay down arms, while the rest would flee as soon as the Soviet troops appeared in Afghanistan," he wrote in a 1999 Rodina article called "How the Decision to Send Troops to Afghanistan Was Made." "In practice, however, underestimating the adversary cost the USSR dearly. The same thing happened in Chechnya in 1994," Lyakhovsky wrote, referring to Russia's first war with separatist Chechnya.
In addition to failing to fully anticipate the costs and benefits that the Soviet Union would encounter if it were to try advancing its interests in Afghanistan by means of military intervention, some Soviet leaders let their personal ambitions influence the fateful decisions they made on their country's behalf. For instance, Varennikov wrote of "our leaders' ambitions" in his 1999 article, headlined "Those on Top Wanted Glory, the Military Opposed the War." When listing reasons for the intervention, he referred specifically to Ustinov's personal ambitions: "It was difficult to call Dmitry Fyodorovich an outstanding political leader. However, at one point I sensed how he began to want to try on the laurels of a strategist and a victor." While Ustinov's personal feelings may indeed have been a contributing factor, they were not as decisive as Brezhnev's.  In his diary Chernyaev bluntly blamed the intervention on Brezhnev's desire to take revenge on Amin. Chernyaev wrote in his dairy on Feb. 5, 1980, that some of Brezhnev's confidants must have managed to "play on" the Soviet leader's "demential indignation" over Amin's decision to have Taraki ousted and then killed. That Brezhnev was agitated by Taraki's murder is also confirmed by his personal physician, Yevgeny Chazov. "In spite of the decline of his ability for critical perception, he took that event much to heart," Chazov recalled in his book, "Health and Power: Memoirs of a Kremlin Doctor." According to him, Brezhnev was most infuriated with the way Amin undermined the Soviet leader's personal credibility by killing Taraki whom Brezhnev had hosted and publicly promised support to a month earlier. "What will they say in other countries? How can one trust Brezhnev's word if his assurances of support and protection remain just words," Chazov quoted Brezhnev as saying. Gareyev, in his post-factum analysis, also wrote that Taraki's murder on Oct. 9, 1979, had "pushed Brezhnev toward that step" of sending in troops. After the killing "there was no longer any carefully considered analysis of the situation" by Soviet decision makers and "much was being done in haste," according to Gareyev's 1994 article. Lyakhovsky, in his 1999 article in the Russian government's Rodina journal, also said that Brezhnev's view on military intervention in Afghanistan changed after Taraki's murder.
Lesson 2: Ensure a sufficiently broad and comprehensive inter-agency process of reviewing potential decisions to use force, factoring in the views of all key stakeholders in general and those to be tasked with implementing the decisions in particular.
One reason the Soviet leadership erred in its decision to send a military contingent to Afghanistan was that the decision-making circle was very narrow. Had the political leaders included the country's top military strategists, the decision could have been the opposite. According to one authoritative account by then First Deputy Foreign Minister Georgy Kornienko, "a narrow group" that consisted of only five of more than a dozen Politburo members at the time "made the final political decision" to send troops. Those were Brezhnev, Andropov, Ustinov, Gromyko and Mikhail Suslov. Soviet Premier Alexei Kosygin, also a Politburo member, was absent from the meeting, according to Kornienko's recollection of the events, which he published as part of his memoirs, "Cold War: Testimony of a Participant."3 According to Kornienko's account, the hand-written, two-paragraph resolution passed by this small group on Dec. 12, 1979, was "formalized retroactively" with signatures from the remaining Politburo members. "Thus, not even all the members of the Politburo made the fateful decision," according to Kornienko, whose recollection is corroborated in Lyakhovsky's book. Notably, even though the decision was adopted only by a handful of Politburo members, its signatories framed it as a resolution of the entire Central Committee, even though most of its members had not been consulted before it was made; other high-level officials were likewise kept out of the loop.
Chernyaev was equally dismayed by the narrowness of the decision-making: "I think that in the history of Russia, even under Stalin, there has not yet been such a period when such important actions were undertaken without a hint of the slightest coordination with anyone, [without any] advice, discussion, careful consideration, even if only in a very narrow circle," he wrote in his diary in December 1979. It is notable that despite their key positions, both Chernyaev and other senior officials in the Central Committee staff were kept in the dark not only about the exact reasons for the decision to send in troops but also about who actually initiated that decision. It was only in 1985 that one of Chernyaev's colleagues told him Kornienko had claimed in a casual chat that it was, in Kornienko's view, his boss, Foreign Minister Gromyko, who had convinced Brezhnev to send in troops.
In addition to being too narrow, the circle of decision makers also suffered from a lack of reliable information. The fact "that the information was distorted did not allow the country's top leadership to understand the processes taking place in Afghanistan and prevent fatal mistakes," Gareyev wrote in his book. As Col. Nikolai Vasilyev, a military historian, explained in his own 2014 article on the lessons of the Soviet military intervention: "Many leaders, including members of the Politburo, adapted themselves to the opinion of L. I. Brezhnev. The intelligence and other agencies were required to confirm the 'sagacity of the leader,' and the information and recommendations of analysts and experts that did not fit into the pre-planned framework were thrown away." The quality of information fed to the Politburo's top brass did not improve even after Soviet troops were deployed and learning about the situation in Afghanistan first-hand. "Most likely, the General [Secretary] doesn't even know what is happening around us. Briefings from Afghanistan are prepped for him so that they're full of 'complete normalization.' As for information from the West, it's probably 'at the level of Pravda' [the Central Committee newspaper], since he's long been kept in 'spare-him mode.' So he's not even aware of what he's done," Chernyaev wrote in his dairy on Feb. 9, 1980. As important, Chernyaev believes the ageing Brezhnev could not have drawn sound conclusions from the information even if it had not been distorted to please him because of the extent to which his mental capabilities had deteriorated. In a Sept. 29, 1982, diary entry Chernyaev describes how Brezhnev, in Baku to laud the performance of Soviet Azerbaijan, had become so senile by the third year of the Soviet campaign that, 10 minutes into a televised speech, he did not realize he was reading the wrong text even after it explicitly referred to "Afghanistan" instead of "Azerbaijan."
Even when accurate information on Afghanistan did make it to the top decision makers, they often rejected it as they suffered from cognitive bias, dismissing dissenting views even when they were presented by key stakeholders who would be tasked with executing the decisions. Top Soviet military commanders felt particularly slighted by their exclusion from the decision-making process. As Vasilyev, the military historian, lamented in his article, published by the Defense Ministry's Military-Historical Journal, "The Special Commission of the Politburo for Afghanistan, headed by Foreign Minister A. A. Gromyko, in effect replaced the Council of Defense of the USSR and, in part, its working body, the General Staff. … Among them [the commission members] there were no professionals of military strategy." Chief of the Soviet General Staff Nikolai Ogarkov, his first deputy Sergei Akhromeyev and Varennikov, a deputy of Ogarkov's, had been asked to present their thoughts about sending troops sometime before the pared-down Politburo meeting Dec. 12. The trio argued that a Soviet military intervention in Afghanistan would be "impossible and inconceivable, first and foremost from the political standpoint," according to Chernyaev's diary. Rather than heed their advice, Ustinov, the Soviet defense minister and a Politburo member, dismissed their arguments, telling them "not to discuss [orders]" and to present a detailed plan of the operation. Ogarkov, it should be noted, objected to the intervention on more than one occasion. When summoned to the Politburo on Dec. 8, 1979, Ogarkov called on its members to reject Gromyko and Andropov's arguments in favor of reversing the Soviet leadership's previous position, which had been to refrain from sending troops. He repeated his calls again the following day in Brezhnev's presence, warning that "we will turn all of eastern Islamism against ourselves and lose politically across the world," only to be shut down by Andropov: "You were invited not to have your opinion heard, but to write down the Politburo's directives and organize their implementation." That conflict, according to Varennikov, led to a dramatic deterioration in Ogarkov's relations with Andropov; Ogarkov lost his post after Andropov succeeded Brezhnev as general secretary. One senior Soviet commander who lost his post even before the campaign had begun, possibly over his opposition to the intervention, was the aforementioned commander of Soviet Ground Forces, Pavlovsky. As described above, after his travels in Afghanistan in summer-fall of 1979, Pavlovsky claims he pleaded with the Soviet military-political leadership not to send a contingent, but his advice was not heeded; shortly afterwards he was relieved from his post. In his 1994 article Gareyev criticized the Soviet political leadership for ignoring Ogarkov's views and telling him to stick to military planning. "As life has repeatedly proved, political decisions prove viable and grounded only when they take into account all aspects, including foreign policy, economic, ideological and military-strategic considerations," he wrote, adding: "The General Staff cannot determine policies, but they must actively participate in crafting military aspects of this policy and ignoring these aspects can lead to major political failures."
Interestingly, while telling the General Staff to stick to military planning, the Politburo would not even heed the staff's advice on such a key element of that planning as the personnel strength of the intervening force. Ogarkov had responded to the political leadership's order to develop an intervention plan with a proposal for deploying 30-35 divisions, but his request was shot down, according to Gareyev's recollections of the events, which he shared with University of Kansas history professor Jacob Kipp in 1996 and also put on paper for his other book on the subject, entitled "Afghan Suffering."4 However, the Politburo authorized only 75,000-80,000 servicemen, according to Lyakhovsky's book (at the time, a typical Soviet infantry division had 13,000 servicemen).5
Lesson 3: Examine aspects of a country's history relevant to your planned undertaking.
There's a joke that says Americans learn about the history of other countries by invading them. The Soviets, you could say, merely recalled what they had already learned about Afghanistan's history by invading it. Had the Soviet leadership factored in the way that Afghan tribes' intense and enduring dislike for outside powers and their local clients had foiled previous empires' attempts to anchor the country, that may have influenced Moscow's final analysis about sending in troops and helped to save them from a costly mistake.
None of the transcripts of Politburo discussions about intervening in Afghanistan contains any significant discussion of Afghan history. Analyzing how Afghans had fought off various past encroachments, by the British Empire among others, would have perhaps made Soviet leaders more averse to using force to accomplish anything there. The absence of such discussions is especially ironic given that one of Soviet ideology's most revered figures warned how "unruly" Afghans could be: None other than Friedrich Engels observed between the first and second of the three Anglo-Afghan wars that Afghans' "indomitable hatred of rule, and their love of individual independence, … prevents their becoming a powerful nation; but this very irregularity and uncertainty of action makes them dangerous neighbors … [for whom] war is an excitement." The Politburo members could have also examined how Joseph Stalin staged an abortive military intervention in Afghanistan in an effort to prop up Amanulla Khan, the sovereign from 1919 to 1929 who signed the 1921 Soviet-Afghan Friendship Treaty, but then had to abdicate his throne in a revolt. In 1929 Stalin sent 1,000 Red Army soldiers into Afghanistan disguised as Afghan soldiers to operate jointly with some of Khan's loyalists, according to Lyakhovsky's book and a 1999 article in Rodina by Pavel Aptekar. The joint Soviet-Afghan unit took Mazar-i-Sharif in April 1929, but Stalin then had to recall his troops after learning that Khan had fled to India.
Some Soviet officers came to the same conclusions as Engels, but only after being sent to Afghanistan to take part in the 1979-1989 intervention. "It was impossible to defeat those Afghan bearded men and their sons, with whom we then had to fight. They were ready to fight their whole lives, and they had nothing to lose from it because they had nothing to their name, just like now. This is a proud, freedom-loving people. They have nothing but their faith and the desire to live the way they want and consider to be right," KGB officer Vladimir Garkavy, who completed multiple tours of duty in Afghanistan in 1979-1984, wrote in his book. Gromov also cited history in his 1999 Rodina article on Afghanistan. "Any interference from the outside is deemed to fail in a country where tribes have struggled against each other for centuries and where nationalism is extremely developed," he wrote in his book, which contains more useful insights on the intervention than a New York Times op-ed he co-wrote with Dmitry Rogozin; entitled "Russian Advice on Afghanistan," that January 2010 piece is essentially a wish list Moscow had at the time for U.S. conduct in Afghanistan.
Lesson 4: Once the decision to send troops has been made, formulate the goals of the intervention and communicate them clearly to the agencies involved in implementation; also, shape your messaging to other key stakeholders likely to influence the outcome of the intervention.
The Soviet leadership's marching orders for its military contingent, OKSVA, were anything but clear—with the exception of the secret order to immediately replace Amin with Karmal. The fact that the Soviet leadership failed to define what would constitute the ultimate long-term success once the initial goal of regime change had been achieved made it difficult for both that leadership and commanders on the ground to understand, once Amin was removed, whether the Soviet intervention was succeeding, failing or stagnating, other than by measuring how much territory the DRA regime controlled at any time. In the absence of a well-defined mission, Soviet commanders oscillated between merely providing support to DRA forces and actually leading combat engagements, while some of the military advisors pressed for a troop surge that could expand the mission to sealing Afghanistan's borders. In addition to failing to clearly communicate their goals to their own troops, Soviet leaders also failed to communicate their goals in Afghanistan to the international community as a whole, making it easier for the U.S. to win support in its efforts to isolate and punish the USSR over the intervention.
The lack of a clear long-term mission was evident in the key documents kicking off the Soviet intervention, both on the political and the military side. The two-paragraph Politburo resolution initiating the troop deployment, entitled "Concerning the Situation in 'A,'" stated neither the reasons for the campaign nor its goals. The military directive to execute the Politburo's decision, issued jointly by the Defense Ministry and the General Staff of the Soviet Armed Force on Dec. 24, 1979, gave only a vague idea of why troops were being sent into Afghanistan, proclaiming it was to "give international aid to the friendly Afghan people and also to create favorable conditions to interdict possible anti-Afghan actions from neighboring countries." (Defense Ministry newspapers such as Red Star didn't provide "any sensible explanation" either, according to Gareyev's 1994 article.) In his book, Gareyev recalled that Directive 312/12/001, signed by Ustinov and Ogarkov, stated that Soviet troops were being sent into Afghanistan for "fulfillment of international duty." "What that duty constituted was to be decided by each commander and soldier themselves," Gareyev wrote. According to one website maintained by Soviet veterans of the Afghan war, the directive did not provide for Soviet troops' participation in combat. That created ambiguity in its interpretation, even though the 40th Army did get involved in fighting almost immediately. For instance, Marshal Sergei Sokolov, the deputy defense minister in charge of the ministry's Operational Group in Afghanistan in 1980, told Soviet military advisors there in January of that year that "special attention should be paid to the inadmissibility of Soviet troops' involvement in the armed struggle against the rebels; their [the troops'] functions are completely different." Several days later, however, the same commander, under pressure from Afghan allies, sanctioned the use of "one or two units of Soviet troops" to oust the mujahedeen from an artillery depot, according to Gareyev's 1994 article. In addition, while Sokolov's boss, Ustinov, also under pressure from the Afghan leadership, "demanded that Soviet troops engage in active combat operations," General Staff chief Ogarkov, opposed to the intervention from the outset, tried to restrain the troops' involvement in large-scale military operations, according to Gareyev. Gromov, commander of the 40th Army, which made up the bulk of OKSVA, described in his book how he prioritized minimizing Soviet casualties and criticized Kabul for constantly pleading with Moscow to have his troops step up operations while trying to find ways to prevent using its own troops. Gareyev—who commanded no units in Afghanistan and, therefore, bore no personal responsibility for casualties—appears to have criticized what he saw as the 40th Army commanders' passiveness, writing in his book that some of their most important combat operations "were undertaken only at the request of the Afghan leadership and under pressure from the Soviet leadership." (In the end, a decision to limit involvement in combat operations appears to have prevailed among the Soviet top brass: At some point as many as 70 percent of the 40th Army's forces were tasked with ensuring transportation of humanitarian supplies and 60 percent of its activities were geared toward peacekeeping and nation-building, such as helping to build infrastructure and training the DRA army, according to Gromov's estimates.)
The Soviet military's top brass also appears not to have spelled out rules of engagement when sending in the troops. "The inadmissibility of the use of weapons against the civilian population is stipulated by international legal norms, but what about the 'civilian' armed with an automatic rifle or a grenade launcher? Wait till he shoots?" asked Gareyev in his book. He also recalled: "As strange as it may sound, from the very beginning of the introduction of troops and until the end of their stay in Afghanistan there was no clear line on whether our troops in this country should fight or not." As a result, some Soviet commanders displayed "covert resistance to attempts to force the troops to fight," Gareyev wrote. The Soviet political leadership's lack of a "clear goal" and a "definite plan of action" had a direct impact on military operations. In fact, in Gareyev's view, the Soviet leadership continued to have neither "a definite political, strategic plan nor an integral concept of the use of troops in Afghanistan from the very beginning and in essence until the end" of the campaign. Lyakhovsky concurred in his book that Soviet leaders had failed to spell out to the troops what they would be doing in Afghanistan, lamenting in his book that "the political leadership of the USSR formulated the strategic goals of the Soviet military presence in Afghanistan in a vague and unclear way," except, again, for the goal of replacing Amin with Karmal, which was not made public. According to Gromov, however, the 40th Army did at least have clear initial goals. The first was to keep the "April Revolution from dying," he wrote in reference to the April 1979 coup d'état that had brought the Moscow-friendly PDPA to power. The second goal was to prevent external aggression. The 40th Army "handled that [first] task brilliantly," but then the PDPA's leadership managed "craftily to drag the 40th Army into a large-scale guerilla war," Gromov wrote.
While criticizing the Soviet political leadership for failing to formulate and communicate clear goals for the campaign in Afghanistan, Gareyev and other officers involved in the campaign had their own ideas on what these goals should be. In Gareyev's view, which he shared with Ogarkov in December 1979, the Soviet military contingent should have been tasked with sealing Afghanistan's borders and establishing control over all major settlements, communications and other infrastructure, arguing that the Soviet command should send 40 rather than four divisions to accomplish these goals. Lev Rokhlin, who commanded infantry regiments in Afghanistan and then fought in Chechnya, concurred with Gareyev's view that the Afghan borders had to be sealed, but also thought OKSVA should have refrained from siding with any of the warring parties in the country, according to a 1999 article of his in Rodina, "I Was Not Afraid to Fight." It should also be noted that the Soviet command did task 50,000 soldiers with securing Afghanistan's borders as of 1986, according to Akhromeyev, Ogarkov's first deputy at the General Staff, but that number was insufficient to stop the inflow of arms and rebels. In general, it is doubtful that such a goal would have been achievable. If the experience of the International Security Assistance Force in Afghanistan and Russia's own experience in Chechnya during the two campaigns there are any guide, a complete sealing of borders would have proved problematic, at best. That's why, perhaps, Vladimir Kryuchkov, who served as deputy chairman of the KGB during most of the intervention before heading up the agency in 1988, believed the mission should have been limited to a special operation to replace Amin with Karmal. "I remain convinced that a short special operation" to effect regime change "would have been the best outcome," Kryuchkov was quoted as saying in a 1999 issue of Rodina.
In addition to failing to clearly communicate their goals to their own troops, Soviet leaders also failed in their communications with allies, foes and the international community on the issue. For instance, while official Soviet statements cited the Soviet-Afghan Friendship treaties of 1921 and 1978 as giving legal grounds for the intervention, portrayed by the Soviet propaganda machine as "international aid to the friendly Afghan people," the Politburo decision makers did not even bother to have their Dec. 12, 1979, resolution approved by the Soviet parliament, though such a move may have somewhat increased the "official" credibility of their decision in the eyes of their allies. Lyakhovsky noted this problem in his 2005 book: "The then leadership of the CPSU [Communist Party of the Soviet Union] did not consider it necessary to submit this question for discussion by the Supreme Soviet of the USSR. It was simply announced as 'international assistance'—end of story." Lyakhovsky's boss, Varennikov, thought it was wrong not to reach out to the international community on the decision to send troops into Afghanistan. "What was the main mistake that our leadership made after making a decision to deploy troops? That we did not announce it. We should have preempted the Americans and others by announcing it to the whole world: The leadership of Afghanistan repeatedly asked us for military assistance," Vasilyev quotes Varennikov as saying. Moreover, the propaganda dimension of the Soviets' efforts vis-à-vis the Afghan public did not become a priority until the sixth year of the campaign. It was in 1985 that the Soviet military-political leadership made the decision to "organize special propaganda in relation to the population and opposition of Afghanistan" and that was done in response to an increase in Western "information influence" there, according to a 2003 article on the "informational and psychological struggle" in Afghanistan by Col. Yuri Serooky in the Russian General Staff journal Military Thought.  
To be fair, it is unclear whether such propaganda could have made much of a difference in the battle for Afghan hearts and minds even if launched on Day 1 of the intervention. After all, it would have been very difficult to make Afghans forget whose troops had poured into the president's palace and killed Amin in the Storm-333 operation—no matter that Afghan leaders, including both Taraki and Amin himself, had asked the Soviets some 20 times to send in troops, according to Gareyev's 1994 article and Lyakhovsky's 1999 article.
Lesson 5: If you do decide to go in, develop an exit plan in advance.
It should also be noted that the Soviet military had no exit plan when going in. The first draft of such a plan was developed only in 1980, according to Gareyev's book, which cites Yuri Drozdov, the former chief of the KGB's so-called "Illegals Program." According to Varennikov's 1999 article, however, it was not until 1983 that Soviet commanders submitted a proposal for withdrawing troops for consideration by the country's political leadership. Of course, the development of an exit plan in advance could not have influenced the outcome of the intervention. In the end, Gromov, the last commander of the 40th Army, had many months to plan the withdrawal and executed it both leaving months' worth of supplies for the remaining DRA forces and minimizing losses among OKSVA personnel during the withdrawal itself. However, had the intervention gone wrong in the early stages of the campaign (e.g., if Afghan rebels had inflicted massive losses on the advancing troops or a significant unexpected event had emerged, such as a major military conflict elsewhere), then a hasty, unplanned withdrawal could have cost a lot of lives. Also, while the military component of the exit was well planned and executed, the diplomatic component fell short. As discussed further down, the Soviets failed to secure either assurances for the return of their own POWs and MIAs or the effective enforcement of other signatories' obligations on ending aid to the rebels. The latter accelerated the fall of the PDPA regime, bringing instability to the disintegrating Soviet empire's southern frontiers.
Lesson 6: Once in, ensure effective inter-agency coordination and cooperation.
Both the preparation and the execution of the Soviet military intervention in Afghanistan revealed that inter-agency coordination and cooperation was inadequate. That by itself could not have decided the outcome of the campaign, but inter-agency rivalry did limit the OKSVA command's situational awareness, causing a range of problems, including the diminished effectiveness of combat planning and operations.
Initial coordination was so ineffective that key figures were kept in the dark about their colleagues' plans even within a single agency. For instance, the chief Soviet military advisor in Afghanistan, Gen. Saltan Magomedov, had no idea that commandoes of the General Staff's Main Intelligence Directorate would storm Amin's palace, in cooperation with KGB commandos and other forces, to replace him with Karmal. When Ustinov called this star-studded advisor in December 1979 sometime prior to the attack and asked to be briefed on "readiness for Operation Storm-333," Magomedov did not know what his superior was talking about, according to Gareyev's book. When Magomedov admitted this, Ustinov suggested he contact the KGB representative in Kabul. When Magomedov did that, he got "hints, not … the necessary information," Gareyev wrote. Moreover, according to Gareyev's 1994 article, Soviet military advisors in Afghanistan learned that Soviet troops had entered the country from foreign radio broadcasts.
Cooperation across agencies was equally if not more problematic. Both Gromov and Gareyev listed multiple instances when Defense Ministry and KGB personnel would fail to coordinate their actions in Afghanistan. Being army generals, both blamed the lack of cooperation on the KGB, particularly when it came to interactions with the General Staff's Main Intelligence Directorate, or GRU. KGB agents in Afghanistan would sometimes refuse to share intelligence they had collected directly with the Soviet armed forces' commanders there, sending it to superiors at KGB headquarters in Moscow instead. "As a result, we [40th Army Command] would learn about actions supposedly planned by the mujahedeen from Moscow," Gromov wrote. "Such situations arose with depressing consistency and created certain tensions between military intelligence [GRU] officers and their colleagues from the State Security Committee [KGB]," Gromov wrote. It was only in 1985, six years after the campaign began, that inter-agency intelligence coordination meetings began to take place at 40th Army headquarters so that representatives of the GRU, KGB, Interior Ministry and Foreign Ministry could jointly examine and analyze intelligence, according to Gromov.
Lesson 7: Rather than try to mold your local allies in your own image, empower them, encouraging self-reliance, and pay attention to indigenous traditions.
As stated above, the Soviet Union spent the equivalent of billions of dollars arming and training DRA forces, including Defense Ministry, Interior Ministry and security troops. The results proved to be far from either lasting or sufficient, however. DRA troops proved unable either to hold on to territorial gains made by the Soviet 40th Army or to withstand rebel offensives after Moscow withdrew the army and then discontinued aid. The implosion of the DRA forces—which proved to be no match for the rebels in skills, tactics or morale—brought instability to the southern frontiers of the Soviet empire.
One of the senior Soviet officials to criticize the quality of DRA forces' training by their Soviet advisors was Leonid Shebarshin, then a general in the KGB's foreign intelligence branch. While some Soviet military commanders sought to portray their efforts to train the Afghans as adequate, blaming poor results on the Afghans' ineptitude, Shebarshin offered searing criticism of the trainers themselves in his memoirs. "What was the source of the [Soviet commanders'] distrust of the [Afghan] ally? How did it happen that two thousand advisers, including colonels and generals, failed to create a single fully combat-capable and reliable unit in the Afghan army? How did it happen that the tactics of the Afghan army's actions are not based on modern realities but on the hopelessly outdated experience of war in the open spaces of Russia?" wrote Shebarshin, who spent more than a decade in the region, conducting more than 20 trips to Afghanistan and eventually becoming chief of KGB operations in the Middle East. In Shebarshin's view, one reason the training of Afghan troops proved to be ineffective was that the Soviet commanders never learned how to delegate powers to their trainees: "We did teach something to Afghans, no doubt. But mainly we ordered them around and commanded them, 'stitching them on' to our operations, imposing our decisions, while loudly shouting about the weak fighting capacity of the ally." Gareyev agreed with Shebarshin's assessment on the lack of Soviet commanders' trust in their Afghan allies, but blamed it in his book on KGB operatives. Whether it was the lack of trust that adversely affected soldiers' conduct, or the other way around, is unclear. What is clear, however, from all the Soviet commanders whose writings and statements were reviewed for this article, is that this conduct was subpar.
Rather than try to press their Afghan allies into some Marxist-Leninist mold, the Soviets should have encouraged the PDPA leadership to revert to indigenous traditions of power sharing to ensure national reconciliation and subsequent self-reliance. As Gromov wrote in his book, "A puppet-string mentality grew so strong among Afghans that they could no longer act independently, without the help of the Soviets." Chernyaev was even starker in his assessment of the Afghan leadership's overdependence on the Soviets for making crucial decisions: "Karmalism is the dogmatism of Marxism-Leninism plus parasitism in relation to the USSR," he wrote on Aug. 28, 1987, in his diary. As Gareyev wrote: "In the early 1980s, in relation to Afghanistan, the most realistic thing was [for Soviet-policymakers] to avoid striving for the creation of a similar, obedient and unconditionally socialist state, but to support more moderate forces that enjoyed the support of the majority of the population and to push for reconciliation of the parties from the very beginning." Gromov struck a similar note. "It is impossible to make country like Afghanistan, with its completely different way of life, with different religion, low level of development, a country that lives in its fourteenth century according to its calendar, similar to the Soviet Union. It would be a real absurdity," Gromov wrote.
Lesson 8: You cannot succeed in a military intervention unless the side on whose behalf you intervene is willing to fight for your joint cause.
No amount of training and empowering your local allies will help an intervention succeed unless those allies are actually willing to fight for your joint cause. The Soviets intervened to bring Karmal's PDPA faction to power, going as far as assassinating a president to make way for their protégé. But the PDPA lacked a sufficient number of loyalists willing to fight for that cause, and many of the tens of thousands of men conscripted into the Moscow-aligned Afghan forces preferred to either avoid battle or outright desert when given orders to fight opposition forces.
Gromov vented repeatedly in his book about Afghan civil and military authorities' failure to hold on to territorial gains made by Soviet forces, implying that differing priorities played a part. "The local Afghan leadership, despite its pro-Soviet sentiment, was not interested in having us conduct combat operations with maximum efficiency. Only a few of them [Afghan officials] tried to consolidate their power and govern in the provinces that we had 'cleared.' Obviously, they understood that sooner or later the war would end and there would be no one to face the music but them," Gromov wrote of his first tour of duty, which ended in 1982 with him commanding an infantry division. His second tour of duty, which he began in 1985 as the General Staff's representative in Afghanistan, was not marked by significant changes. Gromov called the situation he returned to that year "a dead end": "One and a half months after our battalions returned to [their] military camps, we were again forced to conduct operations" in the same areas, he wrote in his book. "Our experience has shown that the results we achieved during our combat operations are not then utilized by the Afghans. About one and a half to two months after completion of an operation everything would go back to square one: Mujahedeen would again take the districts from which we had knocked them out; they would restore their old bases with weapons and ammunition, coming very close to our sites again and resume shelling and attacks. The question is: What did we fight for so long, sacrificing our guys in the mountains? It was necessary to stop," Gromov wrote in 1985. Akhromeyev, first deputy chief of the General Staff, lamented the same problem at around the same time: "There is not a single piece of land left in this country that a Soviet soldier has not taken, yet most of the territory is in the hands of the rebels," he told a Politburo meeting chaired by Gorbachev, the last Soviet leader, on Nov. 13, 1986. "We control Kabul and the provincial centers, but we cannot establish authority in the conquered territory. We lost the fight for the Afghan people," Akhromeyev said. Indeed, as of 1986, only 8,000 of some 31,000-35,000 villages were under Afghan government control, according to estimates by Mohammad Najibullah, who succeeded Karmal as PDPA head in May 1986, which he shared with Soviet diplomat Yuly Vorontsov in October of that year, according to Gromov's book. As of 1989, the authorities' controlled only 18 percent of the country's territory, according to Gromov.
Gromov confirmed his impressions of Afghan soldiers' and administrators' conduct during his third and final tour of duty in 1987-1989 when he was commanding the 40th Army. "A time will soon come when revolutionary leaders will be left alone with their problems. They will be left one on one with the opposition. Only in this way can I explain the numerous instances of treason and betrayal by the Afghan military, which we encountered wherever we went," he wrote in his 1994 book "Limited Contingent." Some of the officers from Afghanistan's Ministry of State Security were no more enthusiastic about standing up to the mujahedeen than their Soviet Defense Ministry counterparts or civilian administrators, according to Gromov. In his book he described how Soviet forces would "mop up" areas, detaining suspected mujahedeen and passing them on to the Afghans, only to encounter the same suspects again during the next mopping-up operation three or four months later. It was most likely that Afghan security agents would simply let these suspects go without investigating them or prosecuting them in court, Gromov surmised.
Not only were Afghan authorities and troops far from committed to the Soviet cause, they sometimes actively sabotaged it. Gromov complained that opposition field commanders like Ahmad Shah Massoud had "broad networks of informants in the Afghan army and government," making it difficult to keep combat plans secret. Moreover, Afghan soldiers kept deserting to the opposition forces, taking their arms with them, including even howitzers and heavy armored vehicles. Equipment transfers by government troops "constituted a formidable source of arms and ammunition for the rebels," Gromov wrote. Thousands would desert from the Afghan ministries of defense, security and internal affairs. According to one Russian account, a 1993 memoir called "Pursuing the Lion of Panjshir," the number of deserters totaled 34,000 in 1983 alone. Even some DRA Air Force pilots would desert, reportedly flying their Soviet warplanes and helicopters to Pakistan, while some of those who stayed on would deliberately drop their bombs away from the designated targets, according to Gromov, who claims to have "documented a multiplicity of such instances." He also wrote that some of the DRA servicemen tasked with observing enemy positions and providing targeting data would supply coordinates of locations where their personal enemies lived rather than mujahedeen. Desertion from DRA forces became particularly widespread in the late 1980s as it became clear that OKSVA would be leaving. Of the 370 Afghan tank crewmembers trained in the city of Termez in Soviet Uzbekistan in 1989 and used to form a new tank brigade, only 127 made it to Kabul, according to Gareyev; the rest deserted, with several trainees fleeing during every night-time stopover en route.
Even when faced with an existential threat to the regime, some DRA commanders could not stop theft of military stocks or prevent desertions among their soldiers. When departing Soviet troops left three months' worth of supplies for the DRA army, including almost 1,000 armored vehicles, 3,000 other vehicles and 14,400 assault rifles, many of these supplies did not reach the designated recipient because they were either stolen and sold to insurgents or seized by insurgents by force, according to Gareyev. Gromov described how entire military camps that his withdrawing army had outfitted with everything from security perimeters to slippers next to beds would be looted by corrupt DRA commanders and their subordinates within days of being handed over and the goods then sold in local private shops.
Lesson 9: Talk to moderates on the opposite side.
In theory, the Soviets were bound by their ideological dogmas to offer unconditional support for the PDPA only. In reality, while supporting Afghanistan's ruling socialist regime, Soviet commanders did not refrain from reaching out to some of the moderate leaders among the mujahedeen, even though they espoused such "hostile ideologies" as political Islam and Pashtun nationalism. Such outreach proved to be important not only in reducing combat losses, but also in creating opportunities for reconciliation, which ultimately remained unused.
The Soviets likewise managed to establish direct contacts between commanders and chiefs of staff of Soviet units and "a multiplicity of [rebel] field commanders," using Soviet military intelligence agents as liaisons, according to Gromov. Gromov dedicated quite a few pages in his book to describing his contacts with such leaders, including Massoud, whose stronghold was in the Panjshir valley. "We were particularly interested in individual gangs' attitudes toward the Afghan state authorities and the Soviet troops," he wrote. Gromov noted that some of the field commanders would deal with OKSVA top brass, but would refuse to deal with official Afghan authorities. "Apparently, the mujahedeen believed they would benefit more from dealing with the Russians. In addition, constant cooperation with the command of the Soviet troops gave them certain guarantees that this or that grouping would not be destroyed in the near future," he wrote. Those field commanders who cooperated with OKSVA would even sometimes receive medicines and food from the Soviet contingent, according to Gromov. Overall, however, this cooptation fell short, mostly due to ideological dogmas. "Having bet on PDPA members and ignoring the Afghan elites established over the centuries, the Soviet leaders made themselves hostage to all these Tarakis, Amins, Karmals, Najibs [short for Najibullahs] and the like. This they understood much later, however," Vasilyev, the military historian, wrote. However, not all of this outreach was a waste. The contacts between Gromov and Massoud may have contributed to the latter's desire to take a cooperative stance toward post-Soviet Russia. Once the DRA regime fell apart and the Taliban rose to power, Massoud became one of the leaders of the so-called Northern Alliance, which post-Soviet Moscow supported in its effort to prevent an expansion of the Taliban's influence into Central Asia in the 1990s.
Lesson 10: When leaving, leave…
When describing how he engineered the withdrawal of the 40th Army in his book, Gromov does not cite the popular Russian adage "when leaving, leave," sometimes attributed to Cicero. However, the description itself proves that he persistently tried to do just that despite pressure from DRA rulers. Had Gromov not been so persistent, Najibullah may have succeeded in persuading Moscow to keep the troops in-country, and the result of that "success" would have been only delaying the fall of his regime at the cost of more OKSVA casualties. Moreover, had the Soviet soldiers stayed for three more years, they would have found the state they had sworn to defend vanish in December 1991. Even as it was, the subsequent process of dividing Soviet units among the 15 newly independent republics proved to be chaotic and antagonistic at times, which would have seriously affected both the supplies and the morale of OKSVA had the contingent still been deployed. Come 1992, and even the largest of the ex-Soviet republics, Russia, would have lacked the resources possessed by the USSR in 1989 to smoothly and securely withdraw the 40th army had post-Soviet Moscow claimed it for its own. In reality, when 1992 came, there were only seven "Soviet" military advisors left in Afghanistan and they all left the country in April of that year.
In his book Gromov describes multiple instances when Najibullah and some of the Soviet leaders kept coming up with options that would commit Soviet troops to stay in Afghanistan even after the announcement about withdrawal. In 1988 "the government of Afghanistan made truly 'heroic' efforts to stop the 40th Army from leaving at any cost," Gromov recalled in his book. To do so, the Afghan Defense Ministry made repeated attempts to draw OKSVA into "large-scale combat," while DRA diplomats argued that the withdrawal should be suspended because Pakistan was failing to fulfill its commitments under the 1988 Geneva Accords. In one instance, also in 1988, Najibullah said that he would agree to the withdrawal of the 40th Army, but asked that Soviet volunteers guard Kabul's airport and the Hairatan-Kabul highway, which would have required a 12,000-strong division, according to Gromov's book. A secret Central Committee memo of Jan. 23, 1989, described several options for providing military support to the DRA after the withdrawal, including one similar to what Najibullah asked for—to leave a 12,000-man division to guard the highway so that the Soviets could continue shipping aid. Another option was to ask the U.N. to deploy peacekeepers and keep Soviet troops in until they arrive. A third option was to withdraw OKSVA, but have Soviet military units guard convoys with aid. The fourth option was to "withdraw almost all Soviet troops," but leave some units behind so they could guard key parts of the Hairatan-Kabul highway. The fifth and final option was to withdraw all troops, but have the Soviet military send in ammunition and other supplies to fully equip and maintain Afghan government units guarding the highway. Ultimately, the Soviet leadership rightly concluded that keeping in regular troops was not an option and withdrew all personnel except advisors, who at one point totaled 2,000, according to an interview Gareyev gave the Rodina journal in 1999.
The Soviet departure did not suffice to end the civil war, as some may have hoped based on the mujahedeen's stated goal of driving out the Soviets; however, subsequent events proved that the Soviets' Afghan allies could hold onto power even without Soviet soldiers and, therefore, without significant Soviet casualties, as long as Moscow continued to materially support the government.
Lesson 11: …but before you leave, secure enforceable guarantees that POWs and MIAs are found and brought home, and give the returning soldiers proper welcome and care.
Describing how the last battalion of the 40th Army crossed into Termez under his command on Feb. 15, 1989, Gromov wrote how ordinary people embraced the returning soldiers heartily, but how also "not a single commander in Moscow even thought about how to organize greeting" them. "Were we supposed to greet ourselves? The attempt to overlook the withdrawal of the 40th Army from Afghanistan became another instance of tactlessness by those who worked in the Kremlin… They could have at least sent someone from the huge government staff or the Defense Ministry to meet us in Termez. It's not every day we complete the withdrawal of troops from Afghanistan," Gromov wrote. He also wrote that some of the Soviet citizens welcoming home his last battalion were relatives of Soviet soldiers who had been killed in Afghanistan. "Some of them, having received official notices and even having buried their loved ones, still hoped: What if he was alive, what if he would come out now?" Gromov wrote. Overall, 15,051 Soviet servicemen were killed in Afghanistan, according to a 2001 study edited by Col. Gen. Grigory Krivosheyev. As for Afghans, some 800,000-1,500,000 of them died during the intervention, according to one scholarly estimate.
Of those who did return, many suffered from post-traumatic disorders that often went untreated, while also encountering public disapproval from those with anti-war sentiments, much as Vietnam veterans initially did in the U.S. The author of this paper encountered one such veteran in 1999. The former sniper, broad-shouldered, had served in a Soviet commando unit in Afghanistan and said the only means of relaxation his commanders had provided was an aquarium. He also said his complaints about what he later realized to be a post-traumatic stress disorder were dismissed by commanders with phrases like: "What psychological stress? Have you seen the size of your arms?" (meaning, presumably, that his physical fitness precluded any medical conditions). According to a book by KGB officer Vladimir Garkavy, who completed multiple tours of duty in Afghanistan, "despondency, apathy and despair have become the companions of many veterans." Garkavy wrote that some 500 veterans of the Soviet war in Afghanistan committed suicide in 2007 alone.
In addition to failing to organize a proper welcome to the returning troops or ensure adequate treatment of their war-induced disorders, the Soviet authorities also did not bother to include a clause on the return of Soviet MIAs in any of the so-called Geneva Accords,6 which were signed in 1988 and included three Afghan-Pakistan bilateral agreements on ending the war and a declaration on international guarantees signed by the U.S. and Soviet Union and meant to cut off U.S. and Soviet aid to the warring sides. At the time, Gorbachev and his foreign minister, Eduard Shevardnadze, "who concluded these treaties, seemed to be concerned only about convincing the public that they were not personally involved in the deployment of Soviet troops to Afghanistan and to disclaim responsibility for it. Soviet soldiers and officers who were in captivity ... were of little interest to them," Lyakhovsky wrote in his book. According to Varennikov's 1999 article, he and other Soviet commanders pleaded with Shevardnadze during a 1987 meeting to include clauses on reciprocal closure of rebel bases in Afghanistan and he agreed to push for them, but none made it into the accords. Gromov also wrote in his book that the leadership of the 40th Army and Soviet Defense Ministry "insisted" the Soviet government insert a clause on the return of Soviet POWs and MIAs into the accords because "we had no moral right to leave Afghanistan until we liberated our soldiers or at least ascertained their fates." However, these demands were disregarded. According to the Krivosheyev study, 417 Soviet soldiers went missing or were taken captive in Afghanistan during the intervention, with 130 of them later found and returned home, leaving 287 MIAs and POWs as of Jan. 1, 1999; by 2013 the list had been whittled down to 263 people, according to a Moscow-based veterans' organization.
Lesson 12: …also before you leave, secure firm and enforceable agreements that would not only meet your own minimum requirements for a negotiated settlement, but also those of your local allies, because the end of an intervention by itself cannot end hostilities.
Had the Soviet Union managed to secure enforceable commitments from other external powers involved in the conflict to discontinue aid to the Afghan rebels in exchange for doing so itself, it might have at the very least delayed the fall of the friendly regime in Kabul. Moreover, that could have created a stalemate that would have made some of the warring factions more inclined to achieve national reconciliation. This, in turn, could have led to the emergence of a regime that would have been neutral toward Moscow rather than hostile like the Taliban. The latter ultimately gained the upper hand in Afghanistan in the 1990s before being ousted from power by a U.S.-led coalition and, at the time of this writing, was negotiating a power-sharing agreement with Washington.
Gareyev, Gromov and Kryuchkov all pointed out in their books and interviews that the Soviet withdrawal may have robbed the mujahedeen of one of their rhetorical casus belli, but it did not and could not have ended hostilities, as the rebels strove to finish off Najibullah's regime. Yet the new Soviet leadership (Gorbachev and his team) was so keen to withdraw from Afghanistan that a POW/MIA clause was not the only one they forgot to insert into the Geneva Accords: While the U.S.-Soviet declaration obliged both countries to cut aid to warring factions in Afghanistan, Pakistan, Saudi Arabia and other sponsors of the Afghan mujahedeen either were not bound by the accords or ignored them, continuing to supply aid and rightly calculating that the Soviets were in no mood to enforce agreements as their country grew weaker. Gromov wrote that Pakistan was failing to abide by the accords even as the Soviets honored their obligations: "We knew that the government of Pakistan did not really fulfill most of the clauses of the signed agreements. As before, insurgent bases operated on the territory of that country, [and] weapons were continuously flowing from there," he wrote in his book. Gromov refrained from evaluating Pakistan's failure to honor its commitments, but Gareyev was blunt in his criticism of the Soviet leadership's failure to make Islamabad comply: "Neither the Soviet nor the Russian foreign ministries did anything to achieve the implementation of the Geneva Accords by the United States and Pakistan… [While] the Soviet troops left, all the military bases and training centers of the mujahedeen in Pakistan remained. Soviet military aid to the Republic of Afghanistan was stopped, but the supply of weapons and ammunition to the mujahedeen continued," he wrote. "Why did we need long and expensive negotiations with the Americans and Pakistanis and the Geneva Accords if only one side abided by them and the other was not going to do anything? It would have been easier to withdraw the Soviet troops unilaterally and resolve the issue without any diplomatic games," Gareyev wrote. Former KGB officer Garkavy struck a similar note in his book. He criticizes the Soviet leadership for committing to end assistance to Afghanistan in exchange for a U.S. commitment to end assistance to the mujahedeen because such reciprocity did nothing to stop aid that the Afghan rebels were getting from Saudi Arabia, Pakistan, Egypt and Kuwait.
In addition to trying to obtain enforceable guarantees from external stakeholders, the Soviets could have also done more to press their own client into reconciliation when still providing the DRA with substantial aid because such aid could be used as leverage. As Gareyev wrote, "there were no tangible results in the implementation of the policy of national reconciliation. The concept of political settlement in Afghanistan put forward by the Afghan leadership was perceived by many [PDPA] party leaders as a loss of its current leading role in governing the country and, for many members of the leadership, as having to leave the government positions they held."
Lesson 13: Even after you leave, prevent mission creep.
Even when the bulk of the troops have been withdrawn and only a small contingent of military advisors are left behind to help the ally retain positions, it is important to continue avoiding mission creep. Otherwise, leaders of the (no longer) intervening power may find themselves in the same predicament as Al Pacino's character in "Godfather III" when he exclaimed: "Just when I thought I was out, they pull me back in." According to Gareyev, such mission creep nearly occurred again after the 40th Army was withdrawn with only 30 Soviet advisors and some guards left behind. The general recalled in his book how Dmitry Yazov, the-then defense minister, told him—when dispatching him to Afghanistan in 1989 to act as the chief Soviet military advisor after the 40th Army's withdrawal—that his task was to make sure Najibullah's regime survives for at least three or four months; if it did, Yazov argued, then maybe a political resolution of the conflict could be attained in that time. But, seeing Najibullah's regime last for a year after the OKSVA withdrawal, some top officials in the KGB and Foreign Ministry began to assert that Najibullah's troops and their Soviet advisors had been on the defensive long enough and should now initiate "decisive, offensive actions in all directions," Gareyev wrote. He also wrote that he had had a hard time convincing some leaders in Moscow to refrain from such "adventurist aspirations" that "could only lead to the most negative consequences." It is easy to see how, if DRA forces would have gone on a major offensive, they could have suffered a disastrous defeat, strengthening the case made by Najibullah and some of his supporters in Moscow – who tried to prevent withdrawal of OKSVA – from brining the troops back in.
Lesson 14: Last but not least: Be willing to learn the lessons.
Last but not least, strategists of an intervening power need to be willing to infer and internalize lessons that the intervention has generated. Otherwise, they will be more likely to repeat mistakes and less likely to replicate some of the intervention's successes.
An estimated 620,000 Soviet soldiers and officers were rotated in and out of Afghanistan during the 10-year campaign. (The author of this paper still remembers, as an adolescent, the sinking feeling upon seeing his father, Soviet Air Force Lt. Colonel Karen Saradzhyan, pack for another komandirovka to Afghanistan at the time.) However, while the rank-and-file learned to fight in the country's rugged mountains because it was a matter of survival, not all of their commanders did. Members of the military-political leadership need to be willing to learn the lessons that present themselves during a campaign—that is the final lesson inferred for this paper from Soviet commanders' and officials' recollections of the country's intervention in Afghanistan. According to Gromov, in the summer of 1981, with the intervention well into its second year, the Soviet Defense Ministry decided to send the commanders of several military districts to Afghanistan for several days to learn the lessons learned there by the OKSVA. Many of the dispatched high commanders and their staff officers showed no real interest, however, thinking the lessons would be of little use to them because the local war was local whereas they had been preparing for a major international conflict with NATO. Ironically, though his book came out in 1994 when Russians troops were fighting an anti-insurgency campaign in the mountains of Chechnya, which was in some ways similar to Afghanistan, Gromov did not draw such a parallel. Rather than focus on lessons, some of the commanders spent much of their time in Afghanistan examining whether barracks were tidy, "whether the soldiers' beds were made and there were slippers next to the nightstands," Gromov wrote. When these visiting commanders did venture out to combat areas, they were asking why there is no loudspeaker communication between the commander and his artillery unit. "By and large, no one got interested in the experience we acquired. It was simply ignored and it was not integrated into education. Apparently, they believed it was better to keep silent about the war in Afghanistan. I think the reason the war was initiated should not affect whether the invaluable combat experience [accumulated over its course] is studied or not," Gromov wrote. Soviet advisors likewise did not apply the inferable lessons when shaping the Afghan military they were advising. "How did it happen that the structure of the Afghan armed forces was created exactly according to our model and the experience of a nine-year war did not yield any changes in that structure," KGB general Shebarshin wrote in his book after more than 20 tours of duty in Afghanistan.
Finally, a year and a half after ascending to the post of general secretary in March 1985, Gorbachev too faulted the Soviet military top brass for failing to infer and learn some lessons from the Afghan war. "In Afghanistan, we have been fighting for six years," Gorbachev told a Nov. 13, 1986, meeting of the Politburo. "If you do not change the approaches, then we will be fighting there for another 20-30 years. This would cast a shadow on our ability to influence the development of events. I must also tell our military that they are learning poorly from this war. … In general, we have not found the keys to solving this problem. Are we going to fight endlessly, as testimony that our troops are not able to deal with the situation? We need this process completed soon," he said.
Conclusion
As demonstrated above, the Soviet leadership made a number of mistakes, first when contemplating whether to intervene in Afghanistan, then during the intervention and, finally, when withdrawing the troops. Some of these mistakes were particularly costly, such as the failure to take full stock either of the hierarchy of vital national interests at stake in Afghanistan or of the costs and benefits of intervention. Had the leaders in Moscow paid attention to the full array of potential costs presented to them, they may have avoided the fateful error of sending troops en masse across the Soviet-Afghan border. The Soviet leadership also erred in failing to clearly formulate the troops' mission beyond regime change, creating confusion and debates among top commanders about what it is they were supposed to achieve in Afghanistan once Amin was replaced with Karmal and how. Whatever the mission, the Soviet military operations would have probably dealt greater setbacks to the armed Afghan opposition at lower costs to the Soviet troops if the various Soviet government agencies had fostered effective coordination of their activities from the very beginning—including, first and foremost, the sharing of intelligence on the ground. The Soviets eventually learned the importance of such sharing and corrected the mistake. However, even such coordination, or better training of DRA forces by their mentors, could not have led to a decisive defeat of the opposition forces as long as many of the DRA forces remained unwilling to fight. Therefore, it was a matter of time before the Soviets realized that their only option was to leave. That was the right decision, which was made in spite of pressure from the DRA ruling elite. However, while leaving was the right move and its military component (the actual withdrawal of troops) was executed well, the diplomatic and political aspects of that maneuver were not without flaw. Not only did the Soviet government fail to secure guarantees for the return of POWs and MIAs, but it also failed to secure enforceable commitments from other external powers involved in the conflict to discontinue aid to the Afghan rebels in what could have at the very least delayed the fall of Najibullah's regime.
The Soviet intervention in Afghanistan was not what bankrupted the Soviet Union or led to its collapse, contrary to U.S. President Donald Trump's January 2019 take on Soviet Russia's experiences in Afghanistan, which he offered as he argued in favor of a U.S. troop withdrawal from the country. Rather, as Yegor Gaidar convincingly demonstrated, a combination of structural economic and other factors played the lead role in the demise of the Soviet empire. However, that intervention, which caused horrendous hardship for many Afghans, did contribute to the demise by imposing formidable human, financial, economic, political and reputational costs on the Soviet Union, despite the fact that Soviet leaders did eventually realize some of the mistakes they had made in Afghanistan and sought to correct them. Not all erroneous decisions can be reversed and some of them can have disastrous consequences. Therefore, if faced with a situation that passes May's test for historical analogies to the Soviet predicament vis-à-vis Afghanistan,  Western leaders would do well to learn from those mistakes, rather than make their own, even if some senior Russian legislators are now planning to convince their compatriots that the Soviet intervention was the right thing to do.
The author would like to thank William Tobey, Artemy M. Kalinovsky and William Putnam for their substantive feedback.
Updated March 1, 2019, with a reference to Prof. Kipp's conversation with Gen. Gareyev.
Footnotes
General of the Army is the second highest rank in the Russian armed forces after marshal.
In fact, the Soviet defense budget totaled some $128 billion in 1989 alone, while both military aid to Afghanistan and maintaining OKSVA, the contingent of Soviet troops there, cost less than $2 billion a year at the time. Adjusted for inflation, that would equal some $4 billion in 2019—compare with the $2.25 billion a year Russia is spending on federal aid to Crimea.
According to a scan of the resolution, several more Politburo members were present at the Dec. 12, 1979, meeting, including Nikolai Tikhonov, Arvids Pelshe, Andrei Kirilenko, Viktor Grishin and future Soviet leader Konstantin Chernenko, who drafted the resolution by hand. In addition to their signatures, the document also bears that of Politburo member Vladimir Shcherbitsky (dated Dec. 25), but not that of Kosygin.
Gareyev's recollections were communicated to the author in February 2019 by Prof. Kipp. Some Russian reports have said the plan for 30-35 divisions was prepared two months prior to the invasion by a group of General Staff officers led by Gen. Vladimir Bogdanov and then presented to Ogarkov.
Eventually, the personnel strength of the 40th army, which consisted of four divisions and various other units, peaked at more than 100,000 in 1986, according to one Russian source, but the war raged on.
Formally known as the Agreements on the Settlement of the Situation Relating to Afghanistan.
Author
Simon Saradzhyan
Simon Saradzhyan is the founding director of the Russia Matters Project at Harvard Kennedy School's Belfer Center for Science and International Affairs.
Photo by Arnold Drapkin/ZUMAPRESS.com.
The opinions expressed in this commentary are solely those of the author.