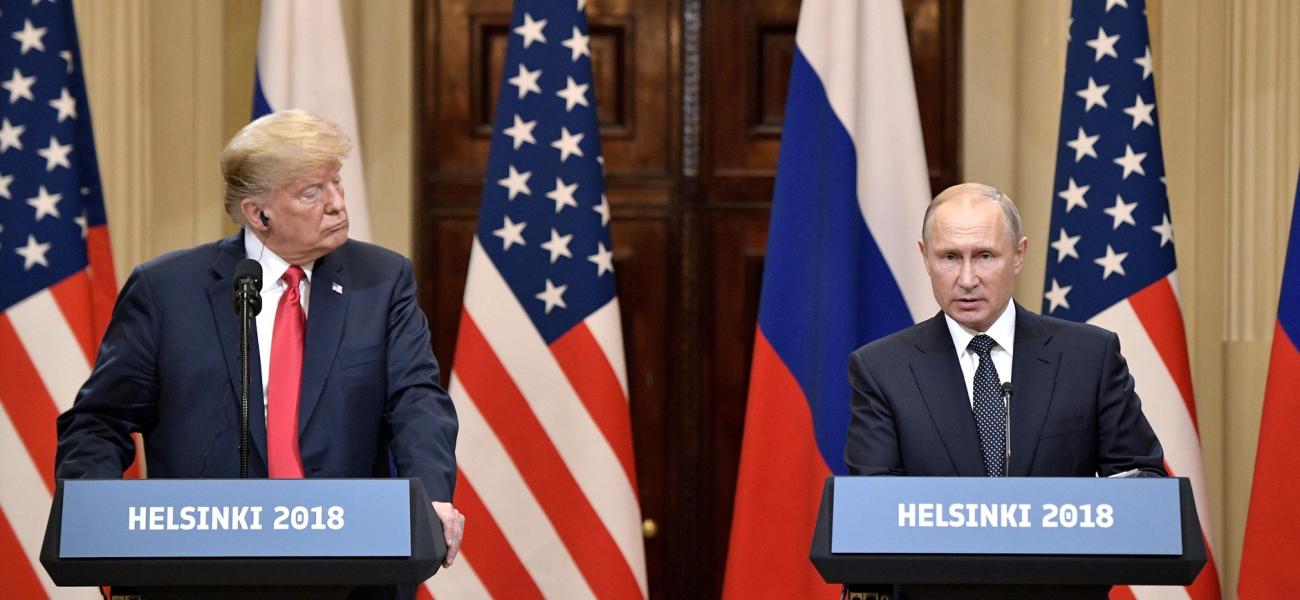 In Helsinki, Trump Takes 'Do No Harm' Approach to Russia on 2 Issues: Syria and Energy
July 17, 2018
Nikolas K. Gvosdev
Despite some predictions that President Donald Trump would announce U.S. recognition of Russia's annexation of Crimea, or cancel U.S. military deployments to Eastern Europe and the Baltic states, his summit in Helsinki with President Vladimir Putin resulted in very little change to existing U.S. policies on Russia. The sanctions regime remains intact, and American commitment to the "enhanced forward presence" in the eastern part of the NATO alliance is unchanged. Moreover, given the tenor of the joint press conference, and the swell of reactions that followed in Washington, it is clear that Trump enjoys almost no U.S. domestic political support for any effort to engage in a rapprochement with Russia. The repudiation by some of his senior officials of his comments within hours of the Helsinki talks, and the likelihood that Congress will take action to further solidify existing sanctions on Russia, means that no matter the personal relationship between Trump and Putin, the U.S. president will have little maneuvering room to change current policy. Yet, if little to no progress was made on the contentious issues—like election interference, Ukraine and arms control—there also appears to have been a Hippocratic "do no harm" approach in two of the understated items on the bilateral agenda: Syria and energy.
On Syria
In the run-up to the Helsinki summit, America's two closest Middle Eastern allies—Israel and Saudi Arabia—wanted to ensure that the careful diplomacy that they are engaging in with the Kremlin would not be disrupted by precipitous U.S. action. Both Jerusalem and Riyadh want to reduce the possibility that Syria could emerge as a major flash point for regional conflict with Iran. In recent weeks, we have seen the outlines of a settlement for Syria emerging, one that leaves the government of Bashar al-Assad in place in Damascus and preserves Russian equities in Syria, in return for deconfliction zones that preserve spheres of influence for other regional powers, starting with Turkey, while also keeping Iranian forces away from Israel's frontiers in Syria and in Lebanon. Overall, there is also an effort to reduce the size of the Iranian presence in Syria and to limit the interchange Iran has with Hezbollah in Lebanon.
Getting Russia to agree to mediate this complicated balancing act requires concessions to Russian concerns. First and foremost, this means additional investment into a capital-starved Russian economy that continues to bear the burden of Western sanctions. Whether Israeli technology transfer to Russian firms or Gulf Arab investments—within the last year, Qatar and Dubai have acquired minority stakes in both Rosneft and Gazpromneft—the Middle East provides alternatives for Moscow to goods and capital no longer available from Western sources due to sanctions, or ones that come from China with too high a price. (It bears remembering that Qatar emerged as the critical stakeholder in Rosneft after China's terms for acquiring a piece of the Russian state oil company, according to my sources, were deemed insufficiently advantageous: a lowball offer combined with Chinese demands for greater control over Rosneft's operations.) Qatar's acquisition not only helped to plug a hole in the Russian budget but has given Rosneft a key strategic partner as it continues to expand its global range. It has been important, therefore, to guarantee that all of this economic activity with Russia not be brought under the purview of U.S. sanctions.
It also means acquiescing to Russia's own relationship with Iran. Indeed, with the resumption of U.S. sanctions after the American withdrawal from the nuclear deal, and the reimposition of American secondary sanctions—which have spooked most European firms into canceling their plans for Iran—Russia emerges as one of the major remaining players for Iran's economic development. Indeed, days before Putin met with Trump, an Iranian delegation visiting Moscow walked away with assurances that Rosneft and Gazprom will be prepared to invest up to $50 billion in the country's faltering energy complex. That would give Moscow the leverage to insist on Iranian compliance with any deconfliction arrangement in Syria.
There are indications, from the joint presidential press conference, that Trump is moving to accept this reality. Certainly there has already been some degree of lobbying in Washington from both Israeli and Saudi representatives. In Helsinki, Trump alluded to the conversations that Israeli Prime Minister Binyamin Netanyahu has been having both with Putin and with himself, saying that Russia and Israel "would like to do certain things with respect to Syria… So in that respect, we absolutely would like to work in order to help Israel." At the same time, he apparently put the Russians on notice that for this arrangement to work Moscow has to recognize that "the United States will not allow Iran to benefit from our successful campaign against ISIS."
On Energy
Trump also recognized that Russia is one of the world's energy majors and that Russian production will play an important role in the calculus of broader U.S. energy policy. While giving high priority to putting Iran under sanctions pressure, Trump also realizes that higher energy prices create economic problems at home (and could contribute to a possible midterm elections defeat). While Trump made it clear that he intends to strengthen America's ability to compete with Russia for greater market share in a growing European energy market, he also signaled that the global economy at this point demands a guaranteed supply of energy at stable prices. Trump's comments in Helsinki suggest that he views market forces as the main drivers for what he termed a U.S.-Russia competition in energy sales, rather than the use of U.S. sanctions pressure, which would further constrict the global energy supply and drive prices higher. (In fact, a looming trade war with Beijing may create incentives for U.S. producers to shift sales from China to friendlier markets in other parts of the world, like Europe.) In other words, building on the energy dialogue that began several weeks ago in Washington between Energy Secretary Rick Perry and Energy Minister Alexander Novak, the U.S. will not put additional roadblocks into Russia's ability to inject more energy into global markets, to help keep prices and supplies stable.
Trump has made clear his opposition to new Russian projects to bring energy to Europe—the Nordstream-2 gas pipeline and the Turkish Stream pipeline specifically—and in fact created a diplomatic kerfuffle at last week's NATO summit by describing Germany as "captive" to Russia in terms of energy dependence. But it is not clear that he will impose any new penalties on these projects, and, if NATO allies continue to increase their defense spending, Trump believes his point has been made. At the same time, both German Chancellor Angela Merkel and French President Emmanuel Macron—who met with Putin at the World Cup finals ahead of the Helsinki summit—want to use economic engagement with Russia as a way to nudge the Kremlin's behavior in more constructive patterns. In particular, Merkel has engaged in quiet diplomacy with Moscow to trade the Nordstream-2 line for Russian guarantees to continue to use Ukraine as an export-transit country to ensure that Kiev continues to benefit from the energy revenues—and, in Helsinki, Putin seemed to confirm this understanding.
Helsinki's Takeaways
How to sum up Trump and Putin's first official summit? The takeaway for Netanyahu and King Salman of Saudi Arabia (and his son Crown Prince Mohammed), as well as Macron and Merkel, will be that they should continue to pursue their own engagement with Moscow, expecting no help from Washington, but also no great deal of interference. It is not yet clear whether being a largely passive observer in these processes will lead to better outcomes for the U.S. in the long run.
To be sure, there is a great deal of criticism in the United States that Trump did not press Putin harder on the question of Russian interference in the 2016 elections and showed a strange unwillingness to press him on the Kremlin's misdeeds in the international arena, but despite the tone of Trump's statements—which seemed to accept Russian denials of wrongdoing at face value—nothing of real substance in U.S. policy has been altered. Significantly, no concrete agreements were concluded in Helsinki. Putin, after all, made reference to having submitted to "our American colleagues a note with a number of specific suggestions." Yet any informal understandings that were reached will require a great deal of additional staff work on both sides to be transformed into workable policy instruments. Whether or not that follow-up work will take place is still very much in question.
Author
Nikolas K. Gvosdev
Senior Fellow, Foreign Policy Research Institute; Senior Fellow, Carnegie Council on Ethics and International Affairs
Photo by Kremlin.ru shared under a a CC BY 4.0 license.
The opinions expressed in this article are solely those of the author.