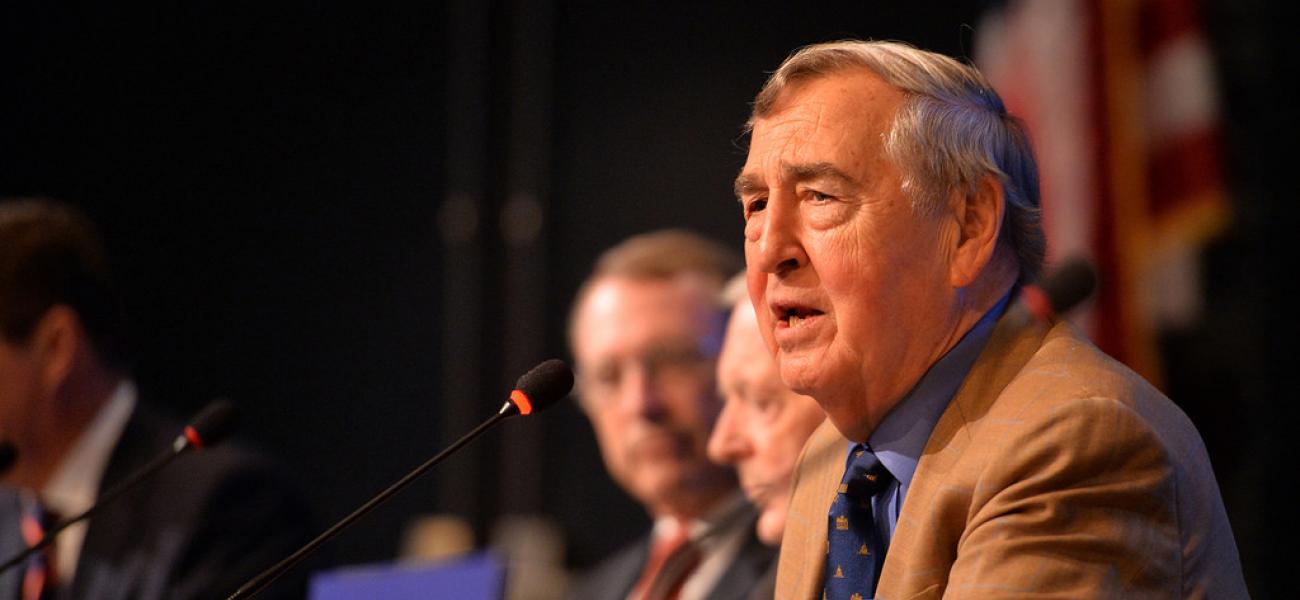 Graham Allison on Russia: Insights and Recommendations
April 19, 2018
This evolving compilation of observations and policy ideas about Russia by Graham Allison is part of Russia Matters' "Competing Views" rubric, where we share prominent American thinkers' alternative takes on U.S.-Russian relations, Russia itself and America's policies toward this country.
Graham Allison was director of Harvard's Belfer Center for Science and International Affairs from 1995 until July 2017. He is a leading analyst of U.S. national security and defense policy with a special interest in nuclear weapons, terrorism and decision-making. He served with distinction in both the Reagan and Clinton administrations. As assistant secretary of defense in the first Clinton administration, Dr. Allison received the Defense Department's highest civilian award, the Defense Medal for Distinguished Public Service, for his work in reducing the former Soviet nuclear arsenal in Russia and the former Soviet republics. Dr. Allison was "founding dean" of the modern Harvard Kennedy School, and under his leadership, from 1977 to 1989, the program grew 20-fold to become a major professional school of public policy and government. His most recent book, "Destined for War: Can America and China Escape Thucydides's Trap?", was published in 2017 and quickly became a national bestseller.
This compilation is meant as a sampling of Dr. Allison's views. All sections may be updated with new or past statements. The quotes below are divided into categories similar to those in Russia Matters' news and analysis digests, reflecting the most pertinent topic areas for U.S.-Russian relations broadly and for drivers of the two countries' policies toward one another. Bulleted text that is not italicized, bracketed or in parentheses is a direct quote from Dr. Allison. 
I. U.S. and Russian priorities for the bilateral agenda
Nuclear security:
North Korea's nuclear and missile programs:
What we see unfolding now is a Cuban Missile Crisis in slow motion. In the most dangerous moment in recorded history, to prevent the Soviet Union from placing nuclear-tipped missiles in Cuba, John F. Kennedy was prepared to take what he confessed was a 

one-in-three chance

 of a nuclear war with the Soviet Union. What risk will Mr. Trump run to prevent North Korea acquiring the ability to strike the United States? (

New York Times

, 05.30.17)

Is it accidental that the two states that have persisted the longest as bastions of Stalinist authoritarianism are the two that the US has most harshly isolated and sanctioned: North Korea and Cuba? (The Boston Globe, 04.24.15)
Iran's nuclear program and related issues:
While no one should underestimate Russia's potential as a spoiler, too many fail to recognize its influence when it chooses to help.  The agreement that prevented Iran from acquiring nuclear weapons could not have happened without active Russian assistance. (Russia Matters, 10.24.16)

But if the U.S. Congress rejects this agreement and proposes sending Secretary of State John Kerry back to the negotiating table, Kerry will most likely find no one else there. Partners who have negotiated and compromised over 20 months to achieve this accord will conclude that the U.S. government is incapable of making agreements. The international coalition will splinter and the sanctions regime will collapse, with Russia and China leading the way, but with France and Germany not far behind. (

The Atlantic

, 08.04.15)

I appreciate [World Politics Review editor Judah] Grunstein's point

—

Iran unshackled from sanctions can arm itself with sophisticated weapons from suppliers like China and Russia. Still, if I were to bet on the race between U.S. or Israeli offensive capabilities and Iranian defensive capabilities, I would choose our team. (

Iran Matters

, 08.15.15)
New and original Cold Wars:
Military issues, including NATO-Russia relations:
Missile defense:
Regarding

U.S.-Russian

disagreement over ballistic missile defense:

At this impasse, what would Reagan do? One can be sure that he would be thinking well outside the box of conventional proposals now on the table. My bet is that he would offer the Russians not only transparency about U.S. missile defense systems, but actual shared control of those systems in a reconfigured deployment that would incorporate Russian as well as U.S. radar systems, and invite Russia to join the U.S. in deploying defenses against emerging nuclear threats. (

Los Angeles Times, 03.28.13)
Nuclear arms control:
Counter-terrorism:
Conflict in Syria:
Syria provides a further bloody reminder that where parties are not willing to kill and die for their objectives, others who are will prevail. After announcing a grand objective—"Assad must go"—Obama was unwilling to commit American military forces to achieve that goal, leaving a vacuum that Vladimir Putin stepped in to fill.

(

The National Interest

, 12.18.16) 

Advice to Trump ahead of taking office: As one of your first foreign-policy steps, we recommend that you order a review of the Syrian crisis with a view to developing a fundamentally new policy. That policy would be more open to cooperation with Russia in defeating ISIS and Al Qaeda, and less focused on removing Assad, but would also demonstrate that America will not allow Moscow and/or Tehran to impose a solution in Syria.

(

The National Interest

, 12.18.16) 
Elections interference:
Russia's cyberintrusion into the recent presidential election signals the beginning of what is almost sure to be an intensified cyberwar in which both they — and we — seek to participate in picking the leaders of an adversary. [The difference is American elections are generally fair so] we are much more vulnerable to such manipulation than is Russia. (

New York Times

, 06.10.17)

I have no question that we're the good guys, and they're the bad guys. So there's no moral equivalence here. But if a Martian were looking at this and said, "Who interferes most frequently in other countries' elections?" Excuse me, we announced that we promote democracy. So I'm in favor of promoting democracy. That's the right form of government. And our Constitution, actually our Declaration of Independence says, "All human beings," whichever country, should be able to be free. So, from a Russian point of view, are we just doing to them sort of like what we do to guys in Ukraine? If there's a government, there's a demonstration, a guy that we said was democratically elected—Yanukovych is there. Lo and behold, he's overthrown by a crowd, where we had an Assistant Secretary out giving out cookies and cheering him on. ("Russiagate: Everything You Wanted to Know but Were Afraid to Ask" HKS Forum, 05.02.17)
Energy exports:
Russia is the world's largest oil producer and second largest gas producer. Over the past decade, Russia has added more oil and gas exports to world energy markets than any other nation. Most major energy transport routes from Eurasia start in Russia or cross its nine time zones. As citizens of a country that imports two of every three of the 20 million barrels of oil that fuel U.S. cars daily, Americans feel Russia's impact at our gas pumps. (Politico, 10.30.11)
Bilateral economic ties and sanctions:
On the contrary, the damage to an already-stagnant Russian economy suffering from low energy prices is actually reducing Putin's foreign-policy flexibility. Russia's president needs to show that his country's suffering has been worth it. Retreat could severely damage Putin's carefully cultivated image as a strong man—a style Russians have historically appreciated—and alienate his hypernationalist political base. They resent sanctions, which they see as hurting ordinary people much more than Putin's entourage, and they want their leaders to resist, not capitulate. For many, Russia's dignity is at stake. (The National Interest, 04.20.15)
Even after the great financial crisis of 2008, Putin still believes that Americans are the masters of finance and economics. He has often expressed his deep conviction that the "greatest geopolitical catastrophe of the 20th century" was the disintegration of the Soviet Union. He has reflected on the analysis by former Russian Prime Minister Yegor Gaidar that identifies the squeeze on Soviet finances caused by the sharp drop in oil prices in the mid-1980s as the primary proximate cause of that event. (National Interest, 11.11.14)
Other bilateral issues:
I think the good news story is that the demonization of Putin has not made America safer. I think Putin is demonic and he's a dangerous character. And I think his behavior is dangerous for us. That's a reality. But just demonizing him and blaming him for things—I have to ask about our security: At the end of each round, are we better off, are we worse off? And the answer is, we're worse off. (Center for Strategic and International Studies, 07.31.17)
II. Russia's domestic developments
Politics, economy and energy:
Following the 2003 arrest of

Platon Lebedev, a

Yukos oil company official

:

Whatever the merit of the charges, no one doubts the prosecution is politically motivated. Most observers agree that the real target of the attacks is Yukos chief Mikhail Khodorkovsky. … The ensuing drama has revealed the fragility of the Russian economy and of Mr. Putin's effort to ground economic reforms in an internationally recognizable rule of law. (The Wall Street Journal, 09.01.03)
Despite history, culture, and recent national experience that make Russia rocky soil for democratic seeds, Russia's fledgling democratic experiment survives. With the election of members of the Duma and the campaign for June's presidential transfer of power, the "democratic presumption" is taking hold across Russia's political spectrum.  (

The Boston Globe

, 12.21.99)
Defense and aerospace:
Russia's Soviet

-era scientific establishment and post-

Soviet

 achievements make it a global leader in science and technology, particularly in high-tech 

military

 hardware. (

The National Interest,

12.18.16) 
III. Foreign affairs, trade and investment
Russia's general foreign policy and relations with "far abroad" countries:
When the Soviet Union collapsed in 1991, Russia was on its knees, dependent on Western assistance and consumed by its own internal affairs. In that context, it was not surprising that Western leaders became accustomed to ignoring Russian perspectives. But since Vladimir Putin took over in 1999, he has led a recovery of Russia's sense of itself as a great power. Fueled by rising oil production and prices that brought a doubling of Russia's GDP during his 15-year reign, Russians increasingly bridled at such treatment. (

The National Interest

, 04.20.15)

German businesses are having no problem whatever doing a huge amount of business in Russia, but so, too, for many great Americans companies. You mentioned John Deere. Coca-Cola has just made a decision to put another $5 billion into Russia. Pepsi, this is one of their biggest markets. Boeing has a fantastic plant there. Microsoft has a very significant facility there. So I think there's a fantastic amount of opportunities and I think what Dmitry was saying was at the same time that

American businesses are doing effective business there,

there's also the question of what's happening to culture, government, Russian business relations that make that more challenging than it ought to be.

 

(

CSPAN

,

10.31.11

)

Regarding Vladimir Putin coming to power:

I think as you look forward, at least for what you can see, from what he's said, if you read carefully the statements that he's made and watch his campaign, you find a person who's very realistic—indeed brutally realistic—who's very pragmatic, showing no evidence of ideology or principle in trying to achieve his objectives, and whose ambitions for Russia are essentially modern and moderate, namely that Russia not fall into collapse and not fall into the third rank of poor powers. And he feels that in order to do that, Russia's got to join the world and join the world economy. So if that's the philosophy that comes through in his administration, I think he will indeed prove a man with whom the West can do business. (

NPR

, 03.27.00)
China:
Ukraine:
Russia's other post-Soviet neighbors:
First of all, it is necessary to give due tribute to the significant role that Kazakhstan has historically played in the area of nuclear nonproliferation. Kazakhstan is one of the few states that had an arsenal of a nuclear superpower quite within its reach. It decided to return these weapons to Russia and this decision was the right one. If Kazakhstan had made an attempt to establish the operating control over this nuclear arsenal of more than 1200 strategic warheads— carried mainly by intercontinental ballistic missiles that were aimed at the United States— such a decision would have led to a crisis with unpredictable consequences and potentially catastrophic scenarios. (

Kazakhstan TV interview

, 02.01.02)