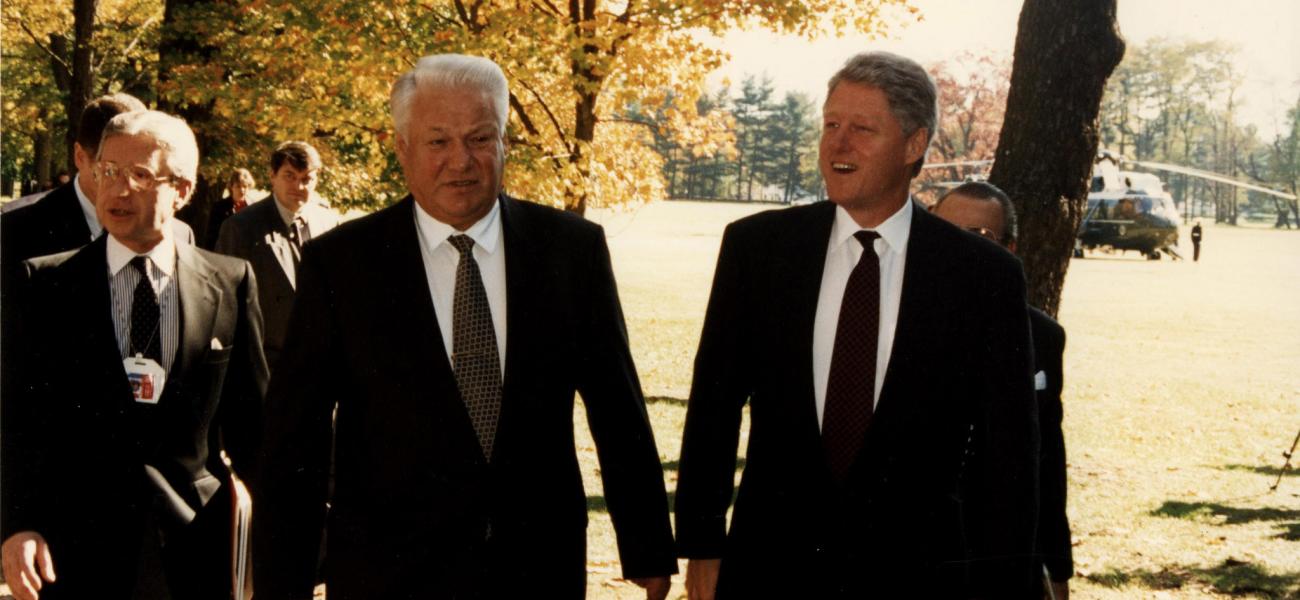 The Clinton-Yeltsin Relationship in Their Own Words
October 02, 2018
Svetlana Savranskaya and Mary Sarotte
These materials are reproduced from www.nsarchive.org with the permission of the National Security Archive.
In July 2018, students of U.S.-Russian relations added hundreds of pages of declassified documents to their required reading list when the Clinton Presidential Library released almost all memoranda of Clinton-Yeltsin conversations in response to requests by historian Mary Sarotte in 2015.  Today the National Security Archive publishes the highlights of this release.
The partnership between the United States and Russia that Presidents Bill Clinton and Boris Yeltsin tried to build in the 1990s succeeded only in part – but even that partial success helped to make the world a safer place.  Cooperation on non-proliferation efforts, particularly within the framework of the Nunn-Lugar program, led to the successful withdrawal of nuclear weapons from Belarus, Kazakhstan, and above all Ukraine (briefly the third-largest nuclear power in the world due to the amount of Soviet-era weaponry on its territory).[2]  The Clinton-Yeltsin cooperation also enabled the safe dismantlement and storage of nuclear weapons in Russia as it complied with the START I treaty. Russia even participated in the international peacekeeping mission in Bosnia, became a member of the G-8, and joined the Council of Europe.  In return, the Clinton administration provided badly needed economic assistance and used its leverage with international financial institutions to help Russia. 
However, many contentious issues damaged the partnership along the way – most importantly NATO expansion and the military campaign in Kosovo.  And, behind the rhetoric of equality and friendship lay the undeniable reality of an enormous power and status disparity. Russia was no longer the superpower that had challenged the United States at the height of the Cold War, and it was not even the declining-but-democratizing Soviet Union of Mikhail Gorbachev.  Moscow often felt disrespected, and claimed that its interests and priorities were not being duly considered.  For its part, the United States was willing to cooperate only – in Strobe Talbott's words – on "what we deem to be [Russia's] legitimate security concerns," not on everything the Russians claimed to be important.[3]
In order to learn more about this crucial era, many years ago the Archive began spearheading an effort to get specific relevant documents declassified.  In the summer of 2012, files began trickling in, first from the State Department and then from the Clinton Library, largely in response to itemized requests for specific summit meeting materials made by Archive staff (Svetlana Savranskaya and Tom Blanton) as well as by James Goldgeier with the assistance of Catherine Nielsen.  These initial, limited declassifications gave us an important first glimpse behind the scenes of Clinton-Yeltsin conversations, including at the Cologne summit of 1999.  Another group of requests produced two particularly significant Clinton-Yeltsin conversations, in Moscow and Halifax in 1995, at the crucial point just before both men's make-or-break reelection bids of 1996.[4]  
Starting in the spring of 2015, Mary Sarotte decided to invest time in a broad-brush approach. She began a three-year process of compiling and filing omnibus requests to the Clinton Library and, when those did not succeed, pursued numerous appeals with the Interagency Security Classification Appeals Panel or ISCAP.[5]  She finally won some of those appeals in 2018, and the Clinton Library declassified a phenomenal set of memcons and telcons as a result.  Even better, the Clinton Library declassified nearly all of the pages of her massive requests with no redactions.  It therefore becomes possible to read almost the entire history of top-level U.S.-Russian interactions in the contemporaneous words of Clinton and Yeltsin in one (admittedly very long) sitting.  Two archivists at the Clinton Library who worked closely with the Archive and Sarotte over the years – Rob Seibert and Kelly Hendren – along with Meredith Wagner of ISCAP deserve enormous credit for their hard work, which has provided students of history and diplomacy with a major scholarly opportunity.
What do these new sources tell us?  The selection of documents below, chosen both from the earlier requests and the 2018 Sarotte release, sheds new light on the most important issues in U.S.-Russian relations in the 1990s.  They show Clinton as an empathetic and committed champion of the new Russia, willing to use his political capital to help his friend Boris in tough times, such as during the Russian constitutional crisis of 1993, or the close-run presidential election of 1996.  However, the documents show that Clinton understood the need to balance his relationship with Yeltsin against other priorities of US foreign policy.  While Clinton's stated top goal was to help Russia become a democratic country – one fully integrated into the Western institutions – that goal often clashed with other U.S. interests.  These interests included:  expanding NATO to secure its presence and role in Europe and to expand democracy and security to East-Central Europe; denuclearizing the former Soviet space and making sure that Russian weapons of mass destruction were securely dismantled; limiting Russia's role in its "near abroad"; stopping Russian trade in nuclear technologies with Iran and India; and managing conflict in the former republic of Yugoslavia.
Clinton saw Yeltsin personally as an indispensable partner in achieving his goals.  Only Yeltsin's continued leadership, the White House believed, could guarantee Russian cooperation on U.S. priorities.  The perception of Yeltsin as irreplaceable gradually led to the difficult situation where U.S. backing for the Russian democratic transition consisted largely of promoting its favorite "democrat," Yeltsin, as the only game in town – even as he was quickly becoming an autocrat in reality.  For his part, Yeltsin painted his opponents in the 1996 elections as the ultimate evil:  unreformed communists who would attempt to reinstate Stalinism, and take back not only Crimea but also Alaska.  The newly available documents show that, in response, Clinton took many steps to increase the chances that Yeltsin would win the Russian elections of 1996, including making presidential visits, delaying visible progress on NATO expansion, and pressing Congress and international financial institutions to provide Russia with loans that would allow Yeltsin to pay salaries and pensions during the critical campaign period.  For his part, Yeltsin openly asked his friend to provide $2.5 billion and complained that he only received $300 million of IMF loans.
To ensure that Yeltsin survived, Clinton was willing to close his eyes to electoral irregularities, the rise of the oligarchs, the war in Chechnya, and the rising corruption in the new Russia.  The administration's policy essentially supported Russia's economic liberalization as it developed into a form of robber-baron capitalism, or "market Bolshevism," rather than developing into genuine democratic institutions and practices.[6]  Put bluntly, Russian stability and the implementation of the flawed market reform turned out to be more important in practical terms than the healthy development of Russian democracy.  Tellingly, when Yeltsin reveals to Clinton in the fall of 1999 that he has chosen a successor – former KGB officer Vladimir Putin – and will do everything possible to get Putin elected as the next president of Russia, Clinton seemingly accepts Yeltsin's choice as another one of the measures needed to guarantee Russian stability.
Overall, the documents reveal the complexities of the Clinton-Yeltsin relationship.  At once very warm and personal, but at times confrontational and contentious, the sources show an unequal partnership that was neither fully genuine nor fully instrumental but somewhere between the two.  On the one hand, Yeltsin tried to play up the personal connection that the two fellow presidents had made, suggesting correctly that they were able to overcome many controversial issues through their personal regard for each other.  And there is no doubt that their closeness certainly helped Yeltsin in his domestic political struggles.  On the other hand, the sources show that their dialogue was carried out essentially on American terms, with Clinton making suggestions and proposals and Yeltsin often accepting, even when he initially objected.  In response to arm-twisting by Clinton, Yeltsin would often accede and respond simply, "I understand."[7] 
This is not to say that Yeltsin was passive; he made significant proposals of his own, such as on European security structures, cuts to armaments, and even on getting rid of the "nuclear football" (the briefcase that always accompanied both leaders, allowing them to launch nuclear attacks at any time).[8]  Yeltsin genuinely tried to promote Russian interests. But he was doing so at a time when, simultaneously, Russia fell into steep economic and political decline and the U.S. rose to the heights of its "unipolar moment."  The interactions of these two world leaders at this crucial juncture – revealed in the documents below – have a legacy that shapes U.S.-Russian relations to this day.
Read the documents at the National Security Archive website.
Footnotes
[1] Yeltsin to Clinton on June 17, 1995 in Halifax (see Document 5 of this posting). [2] For more on Nunn-Lugar, see the Archive's Electronic Briefing Book No. 447, Svetlana Savranskaya and Tom Blanton, "Nunn-Lugar Revisited." [3] Ronald D. Asmus, Opening NATO's Door: How the Alliance Remade Itself for a New Era, (New York, 2002), 171. [4] Svetlana Savranskaya and Tom Blanton, "NATO Expansion:  What Yeltsin Heard," National Security Archive Electronic briefing book. [5] For more information about ISCAP, click here. [6] See Peter Reddaway and Dmitry Glinsky, The Tragedy of Russia's Reforms: Market Bolshevism against Democracy (Washington, D.C., The United States Institute of Peace, 2001). [7] Clinton-Yeltsin memcon, May 10, 1995, Moscow. (see Document 4 of this posting). [8] See the Archive's Electronic Briefing Book #632 by William Burr, "Presidential Control of Nuclear Weapons: The "Futball." [9]. For a depiction of Yeltsin during the 1994 meetings and the "half-baked" proposals that he made during the first meeting, see Strobe Talbott, The Russia Hand: A Memoir of Presidential Diplomacy (New York: Random House, 2002), 134-137. [10]. Ibid., at 135-136, for the luncheon discussion of NATO.
Author
Svetlana Savranskaya
Svetlana Savranskaya is a research fellow at The George Washington University's National Security Archive.
Author
Mary Sarotte
Mary Sarotte is the Kravis Chair in Historical Studies at the Johns Hopkins School of Advanced International Study.