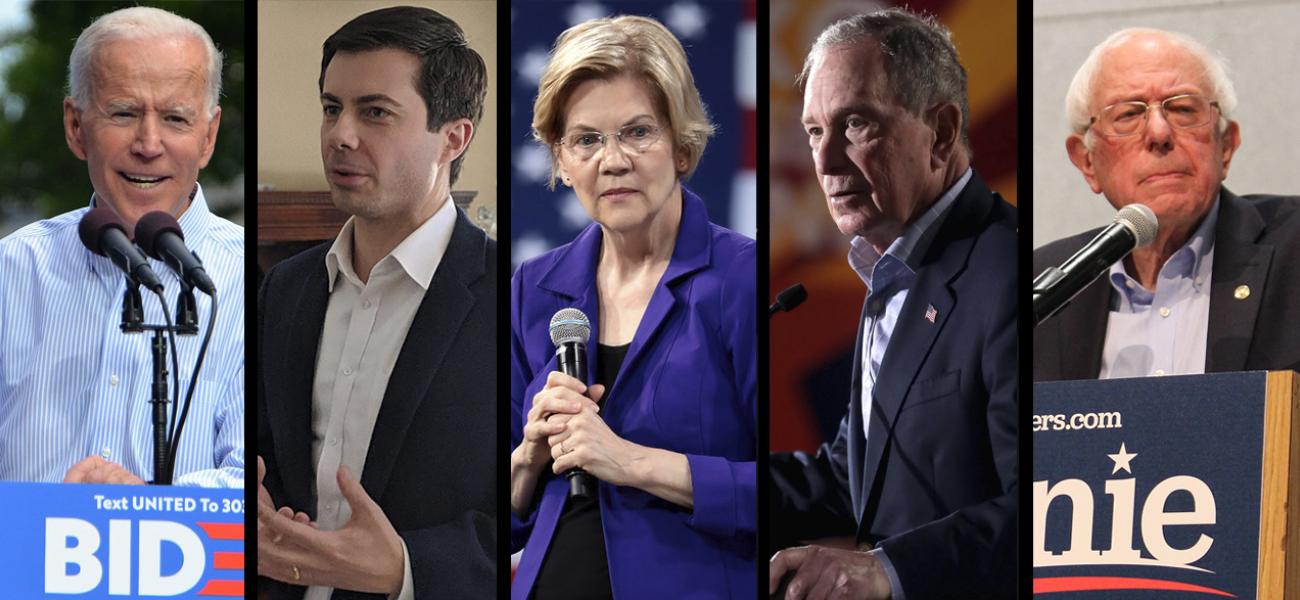 2020 US Presidential Candidates on Russia: What Have They Said So Far?
March 17, 2020
Daniel Shapiro, Thomas Schaffner and Angelina Flood
NB: This post was originally published May 23, 2019. Candidates who have dropped out of the presidential race since then have been marked with an asterisk and their comments have been moved to the bottom of the section. Latest updates marked "NEW."
A crowded field of candidates has sought to challenge Donald Trump in the 2020 American presidential election: In May 2019, 23 Democrats and two Republicans, including the incumbent, had announced their candidacy. As of March 2020, with nearly half of the delegates allocated, former U.S. Vice President Joe Biden, Sen. Bernie Sanders (I-Vt.) and Rep. Tulsi Gabbard (D-Hawaii) remain in the race, along with the single Republican challenger to Trump, former Mass. Gov. Bill Weld.
On topics most pertinent to the U.S.-Russia relationship, such as arms control, cyber issues and the role of NATO, these contenders overwhelmingly agree. For example, the democratic candidates unanimously agree that the U.S. should regard Russia as an adversary "or even an enemy" if Russia continues on its current course in Ukraine and other post-Soviet states, and that Russia must return Crimea to Ukraine in order to regain membership in the G-7. Many of the candidates also agree that it is crucial for the U.S. to preserve bilateral arms control treaties with Russia, like New START. On some points the candidates differ, including in their views on NATO defense spending levels and the continuation of personal diplomacy with North Korean leader Kim Jong-un. Below is a sampling of the candidates' views as expressed since Trump's election in November 2016, not an exhaustive record. The quotes are divided into categories similar to those in Russia Matters' news and analysis digests. The current president's views on Russia are not included here, but were published in an earlier compilation. 
I. U.S. and Russian priorities for the bilateral agenda
Nuclear security and safety:
Former Vice President Joe Biden:

"

Yet nuclear weapons—the proliferation of this deadly knowledge to more nations, and the possibility of a terrorist obtaining nuclear materials—remain among our most pressing security challenges.  Even one nuclear bomb can still cause hideous damage." (Remarks, 01.12.17) 

Sen. 

Bernie Sanders (D-Vt.):

[W]e have 11 countries, 12 countries around the world with nuclear weapons?  … I think we have got to, once again, be very vigorous in trying to put forward nuclear bans and do everything we can to get those weapons out of the hands of countries all over the world. (

New York Times

, 01.13.20)

Sens. Bernie Sanders, Elizabeth Warren* (D-Mass.), Kamala Harris*, Cory Booker* (D-N.J.) and Kirsten Gillibrand* (D-N.Y.) writing in response to the Trump administration's Nuclear Posture Review:

"Our review reportedly pays only superficial attention to the substantial threat posed by nuclear terrorism and nuclear proliferation. These efforts are just as important as deterring existing nuclear weapons states." (Letter to President Trump, 01.29.18)
North Korea's nuclear and missile programs: 
--------------------
F

ormer Mayor of New York City 

Michael Bloomberg* (statement): "North Korea's total denuclearization should remain the ultimate goal of the U.S. … Negotiations with North Korea's leadership, including with its dictator, Kim Jong-un, should involve our Asian allies (Japan and South Korea), along with China and Russia." (New York Times, 02.06.20)
F

ormer Mayor of South Bend, Ind. 

Pete Buttigieg*: "I would support an initial freeze agreement that would have North Korea cease production of fissile material and end nuclear and missile testing, all verified by international inspectors, in exchange for targeted sanctions relief, which could be reversed if the North Koreans did not uphold their end of the bargain." (New York Times, 02.06.20)
Pete Buttigieg*: "Until we can change the present dynamic—until there are good-faith and verifiable reversals in North Korea's nuclear program—sanctions must remain in place." (New York Times, 02.06.20)
Pete Buttigieg*: "We have to accept that denuclearization will not happen overnight and will require a sustained, step-by-step approach spanning a significant number of years. … I believe the most realistic way to get there is a framework for complete, verifiable denuclearization and peace on the Korean Peninsula that is comprehensive in scope, with steps on both fronts implemented step-by-step and in tandem." (New York Times, 02.06.20)

Sen. Amy Klobuchar* (D-Minn.) [

statement]: "We need to work with our allies to make clear to Kim Jong-un that further development of North Korea's nuclear and missile programs will only lead to further economic sanctions and diplomatic isolation. … Sen. Klobuchar is prepared to offer incentives for positive actions, but these must be tied directly to verifiable and irreversible steps toward denuclearization. She believes these specific issues need to be addressed through negotiations." (New York Times, 02.06.20)
Hedge fund executive Tom Steyer*: "The United States should work with China, Japan, Russia and South Korea to ensure that the Kim regime is not a threat to global security. Our country should engage diplomatically with North Korea without preconditions at the staff level and insist upon independent verification, in concert with the global community, of North Korea's nuclear weapons and production capability." (New York Times, 02.06.20)

Sen. Elizabeth Warren* (D-Mass.)

: "[W]e should consider strengthening them [sanctions] in the event of serious North Korean provocations, such as nuclear or long-range missile tests. At the same time, with verifiable steps in denuclearization, we should be prepared to negotiate appropriate sanctions relief." (New York Times, 02.06.20)
Elizabeth Warren*: "As a first step, I would be prepared, in consultation with our allies and partners, to consider partial, time-limited sanctions relief and other confidence-building measures in exchange for a strong, verifiable agreement that freezes North Korea's nuclear and missile activities." (New York Times, 02.06.20)
Elizabeth Warren*: "Our goal should be the full elimination of North Korea's nuclear weapons and ballistic missile programs and peace on the Korean Peninsula. … As a first step, and in coordination with our partners and allies, I would seek a strong, verifiable agreement that keeps North Korea from expanding its nuclear or missile arsenal or proliferating to other countries. An interim agreement would open the door to negotiations to reduce North Korea's nuclear capabilities and ballistic missiles, control conventional weapons and address the regime's crimes against humanity." (New York Times, 02.06.20)

Elizabeth Warren*:

"I agree with our senior military officials that there is no military-only solution to the situation on the Korean Peninsula, and I was glad to see President Trump embrace diplomacy earlier this month. … I support talking to our adversaries, but we should be skeptical that he [Kim Jong Un] is negotiating in good faith and is willing to halt his nuclear expansion even as he snatches the trophy of a picture with an American president." (

Boston Globe op-ed

, 03.25.18)

Former Rep. Beto O'Rourke* (D-Texas):

"I want to make sure that we have effective negotiations [with North Korea, as with Iran during the Obama administration

]."

(Town Hall, 05.22.19, 2:30)
Iran and its nuclear program:
--------------------
New Cold War/competition among great powers:
Joe Biden [on whether or not he agrees with the Trump administration's decision to shift foreign policy focus from the Middle East to 'revisionist' superpowers Russia and China]: "Yes, but Russia and China pose different types of threats, and there are a number of other important priorities, including climate change, nuclear proliferation, ensuring that the global economy works for the American middle class, and contending with the challenges posed by emerging technologies like artificial intelligence." (New York Times, 02.06.20)
--------------------
NATO-Russia relations:
--------------------
Michael Bloomberg* [statement]: "Mike would like NATO allies to provide considerably more than 2 percent for their own defense in the context of equitable trans-Atlantic burden sharing. … However, Mike is also realistic, and most allies do not currently even meet the 2 percent goal. So, his immediate priority would be to boost every NATO member's defense spending to 2 percent, and then to concentrate on raising that percentage over time." (New York Times, 02.06.20)
 Elizabeth Warren*: "NATO is not a protection racket; it is an alliance. NATO members made a commitment in Article 5 to come to each other's aid if attacked—our allies came to our defense after 9/11, and if needed we will do the same. NATO is the most successful military alliance in history because of this shared commitment, and because it is built on shared burdens and shared values." (New York Times, 02.06.20)
Elizabeth Warren*: "I do think that the Europeans need to bear a significant share of the cost of defense of Europe. I don't think that hectoring or embarrassing them is a way to get there. I think we get there by talking about the ways that work best for them on the ground, but I do think it's important. It's an important partnership, and it should be a partnership." (New York Times, 01.14.20)

Kirsten Gillibrand*:

"Equally important is the message this bill [on sanctions against Russia and Iran] sends to our NATO allies – that this alliance is built on a commitment to each other's security, and just as NATO came to our defense after 9/11, we will always be there for our NATO allies." (

Statement

, 06.15.17)

Entrepreneur 

Andrew Yang*:

"I would say [to Vladimir Putin] that we're going to live up to our international commitments. We're going to recommit to our partnerships and alliances, including NATO. And it was James Mattis that said that the more you invest in diplomats and diplomacy, the less you have to spend on ammunition. That has to be the path forward to help build an international consensus not just against Russia, but also to build a coalition that will help us put pressure on China." (

Democratic debate transcript

, 11.21.19)
Nuclear arms control:
NEW. Joe Biden: "We may have to work out--for example, I was able to help negotiate a New START agreement with Russia, not because I like Putin. The guy's a thug." (The Pavlovic Today, 03.15.20)

Joe Biden:

"On nonproliferation and nuclear security, the United States cannot be a credible voice while it is abandoning the deals it negotiated. From Iran to North Korea, Russia to Saudi Arabia, Trump has made the prospect of nuclear proliferation, a new nuclear arms race and even the use of nuclear weapons more likely. As president, I will renew our commitment to arms control for a new era." (

Foreign Affairs

, 01.23.20)

Joe Biden: "I will … pursue an extension of the New START treaty, an anchor of strategic stability between the United States and Russia, and use that as a foundation for new arms control arrangements. And I will take other steps to demonstrate our commitment to reducing the role of nuclear weapons. As I said in 2017, I believe that the sole purpose of the U.S. nuclear arsenal should be deterring—and, if necessary, retaliating against—a nuclear attack." (Foreign Affairs, 01.23.20)

Joe Biden [recalling his participation in arms control talks in 1979]:

"

The Soviets wanted a deal with us not because they trusted us, but because they didn't. It is precisely because we do not trust our adversaries that treaties to constrain the human capacity for destruction are indispensable to the security of the United States of America." (Prepared Remarks, 01.11.17)

Bernie Sanders, Elizabeth Warren*, Kamala Harris*, Cory Booker*, Amy Klobuchar* and Kirsten Gillibrand* to

Donald Trump:

"Your administration's efforts to double down on new, unnecessary nuclear weapons while scrapping mutually beneficial treaties risks the United States sliding into another arms race with Russia and erodes U.S. nonproliferation efforts around the world. … A collapse of the INF Treaty and failure to renew New START would lead to the absence of verifiable limits on U.S. and Russian nuclear forces for the first time since the early 1970s. … Abandoning the Treaty would free Russia to expand its capacity to directly threaten the entire U.S. homeland." (

Letter to President Trump

, 12.12.18)

Bernie Sanders, Elizabeth Warren*, Kamala Harris*, Cory Booker* and Kirsten Gillibrand* writing in response to the Trump administration's Nuclear Posture Review: "

Your purported plans to develop new, more usable low-yield nuclear weapons and reintroduce Cold War-era weapons systems are unnecessary to maintain deterrence and are destabilizing. Further, your reported decision to expand the conditions under which the United States might use its nuclear weapons, including to respond to a broadened range of non-nuclear attacks, is equally disturbing.

"

(Letter to President Trump, 01.29.18)
--------------------
Counterterrorism:
--------------------
Cory Booker*

(on the Trump administration's bid to redirect $230 million in funding for stabilization efforts in Syria): "This decision will undermine the gains the United States has made and continues to make against ISIS, empower our adversaries, and threaten stability in both Syria and Iraq. … [C]utting all of our stabilization funding sends an unmistakable message: The U.S. is taking a backseat to Iran, Russia and the Syrian regime in the Middle East." (

Statement

, 10.03.18)

Amy Klobuchar*:

"It is critical that we continue our efforts to track and cut off the financial resources of terrorist groups. … We need strong programs that work with our communities to counter violent extremism and prevent recruitment by militant groups seeking to exploit our citizens." (

Senate website

)

Elizabeth Warren*:

"Just like the hateful terrorism of Al Qaeda and ISIS, domestic right-wing terrorism is completely incompatible with our American values. It is a threat to American safety and security, and we must not tolerate it in the United States of America." (

Facebook

, 12.11.18)
Conflict in Syria:
Joe Biden:

"What is happening in Iraq is going to—I mean, excuse me, in Afghanistan, as well as all the way over to Syria, we have ISIS that's going to come here. They are going to, in fact, damage the United States of America. That's why we got involved in the first place and not ceded the whole area to Assad and to the Russians." (

Democratic debate transcript

, 10.15.19)

Former Gov.

Bill Weld of Massachusetts:

"I'm not interventionist in either Afghanistan or Syria." (

Interview with Rolling Stone

, 04.15.19)
--------------------
Cyber security:
Joe Biden: "Deterring malicious cyber activities directed against the United States is an important component of a comprehensive cyber strategy. However, engaging with adversaries in cyberspace can have unintended consequences outside of the cyber domain. As such, I would ensure that the strategy of 'persistent engagement' undergoes appropriate review." (New York Times, 02.06.20)
--------------------
Elections interference:
Joe Biden:

"The fact of the matter is, you have Russia influencing and trying to break up NATO. What does the president do? He says, 'I believe Vladimir Putin. I believe Vladimir Putin. I don't believe our intelligence community.'" (

Democratic debate transcript

, 10.15.19)

Joe Biden:

"Foreign election interference is not only a serious threat to our democratic institutions, I believe it's a threat to our national security." (

Munich Security Conference/RFE/RL

, 02.16.19)

Joe Biden:

"Russia … has taken similar steps to sway political campaigns in a wide range of European countries, including for referendums in the Netherlands (on Ukraine's integration with Europe), Italy (on governance reforms), and Spain (on Catalonia's secession). … Further down the road, the U.S. midterm elections in 2018 and the presidential election in 2020 will present fresh opportunities for Russian meddling." (

Foreign Policy

, 01.02.18)

 

Joe Biden:

"With many countries in Europe slated to hold elections this year, we should expect further attempts by Russia to meddle in the democratic process. It will occur again, I promise you. And again the purpose is clear: to collapse the liberal international order." (

Speech

, 01.18.17)

Bernie Sanders: "All of us remember 2016, and what we remember is efforts by Russians and others to try to interfere in our election and divide us up." (NBC, 02.19.20)
Bernie Sanders: "Facebook and other tech companies have become so powerful and so greedy that they seem willing to allow foreign powers like Russia continue to meddle in our elections so long as it helps their bottom line."  (Twitter, 01.14.20)

Bernie Sanders:

"What the Russians did in the 2016 election cycle deserves unconditional condemnation. That includes all of their conduct—whether it was active support of any candidate or active opposition to any candidate." (

Twitter

, 02.21.18)

Tulsi Gabbard:

"One thing we do know about Russia's ads is that they were part of an effort to create division, fighting, partisanship, conflict, and fear." (

Twitter

, 10.11.17)
--------------------
Energy exports:
Joe Biden:

"The Russian economy is utterly dependent on hydrocarbon exports, so its health is tied to the price of oil and gas; as those prices have plummeted in recent years, the state-owned gas giant Gazprom's market capitalization has shrunk, from about $368 billion in 2008 to around $52 billion today." (

Foreign Policy

, 01.02.18)

Joe Biden:

"The manipulation of energy markets is another important tool that Russia uses for coercion and influence peddling. … In addition to using energy to coerce its neighbors, the Kremlin is adept at using energy deals to curry influence with European political and business leaders." (

Foreign Policy

, 01.02.18)
U.S.-Russian economic ties:
Joe Biden:

"The scope of Russian corrupt influence is exceptionally wide, particularly since Russian oligarchs who made vast sums of money over the last several decades have parked much of this wealth in the West, including in luxury real estate markets in London, Miami, and New York. These billions of dollars of investments have been used in many cases to secure access to Western political and business elites. They also serve as a ready source of financing for the Kremlin's influence operations abroad." (

Foreign Policy

, 01.02.18)
U.S.-Russian relations in general:
Joe Biden: 

"You know, is it any wonder that if you look at the international polling that's been done, that the Chinese leader is rated above American

—

the American president or that Vladimir Putin congratulated him saying, stand fast and, in fact, it was a mistake to impeach him." (December democratic debate transcript, 12.20.19)
Joe Biden: "I found out [from the impeachment trials] that Vladimir Putin doesn't want me to be president." (Democratic debate transcript, 11.21.19)

Joe Biden:

"Russia harbors an erroneous but stubborn—perhaps even obsessive—belief that Washington is actively pursuing regime change in Russia. There is no truth to that idea; the United States has never sought to remove Putin." (

Foreign Policy

, 01.02.18)

Joe Biden:

"Even while defending U.S. interests and safeguarding liberal democracy elsewhere, Washington must keep the channels of communication open with Moscow. At the height of the Cold War, American and Soviet leaders recognized that, whatever their differences, they could not afford a miscalculation that might lead to war. They had to keep talking. The same is true today: as two nuclear superpowers with military assets deployed in close proximity in many different parts of the globe, the United States and Russia have a mutual obligation to maintain strategic stability." (

Foreign Policy

, 01.02.18)

NEW. Bernie Sanders: "I'm talking about speaking to China, to Russia, to countries all over the world--and in this moment, making the point that instead of spending $1.8 trillion on weapons of destruction designed to kill each other, maybe we should pool our resources and fight our common enemy, which is climate change." (The Pavlovic Today, 03.15.20)

Bernie Sanders:

"Today I say to Mr. Putin: We will not allow you to undermine American democracy or democracies around the world. In fact, our goal is to not only strengthen American democracy, but to work in solidarity with supporters of democracy around the globe, including in Russia. In the struggle of democracy versus authoritarianism, we intend to win." (

Speech at Westminster College

, 09.21.17)

Bernie Sander

s (discussing an exchange program in the 1980s between Americans and Soviets)

: "I will never forget seeing Russian boys and girls visiting Vermont, getting to know American kids, and becoming good friends. Hatred and wars are often based on fear and ignorance. The way to defeat this ignorance and diminish this fear is through meeting with others and understanding the way they see the world." (

Speech at Westminster College

, 09.21.17)

Bernie Sanders:

"

At a time when climate change is causing devastating problems here in America and around the world, foreign policy is about whether we work with the international community—with China, Russia, India and countries around the world—to transform our energy systems away from fossil fuel to energy efficiency and sustainable energy."

 

(

Speech at Westminster College

, 09.21.17)

Bill Weld:

"He [Trump] acts like a schoolyard bully, except, of course, when he's around other bullies, like Mr. Putin, and then he turns ingratiating, all smiles, kicks the American press out of the Oval Office, and has his summit meeting with Mr. Putin with no news media present except Tass, the state organ of Russia." (Prepared remarks reprinted on Boston.com, 02.15.19)
--------------------
II. Russia's relations with other countries
Russia's general foreign policy and relations with "far abroad" countries:
Joe Biden: "Putin wants to tell himself, and anyone else he can dupe into believing him, that the liberal idea is "obsolete." But he does so because he is afraid of its power. No army on earth can match the way the electric idea of liberty passes freely from person to person, jumps borders, transcends languages and cultures and supercharges communities of ordinary citizens into activists and organizers and change agents." (Foreign Affairs, 01.23.20)

Joe Biden:

"Today, the Russian government is brazenly assaulting the foundations of Western democracy around the world. Under President Vladimir Putin, the Kremlin has launched a coordinated attack across many domains—military, political, economic, informational—using a variety of overt and covert means. … By attacking the West, the Kremlin shifts attention away from corruption and economic malaise at home, activates nationalist passions to stifle internal dissent, and keeps Western democracies on the defensive and preoccupied with internal divisions." (

Foreign Policy

, 01.02.18)

Bernie Sanders:

"[W]e are seeing the rise of a new authoritarian axis. While these regimes may differ in some respects, they share key attributes: hostility toward democratic norms, antagonism toward a free press, intolerance toward ethnic and religious minorities, and a belief that government should benefit their own selfish financial interests. … All around the world, in Europe, in Russia, in the Middle East, in Asia and elsewhere we are seeing movements led by demagogues who exploit people's fears, prejudices and grievances to achieve and hold on to power." (

The Guardian

, 09.13.18)
--------------------
China:
Elizabeth Warren*:

"China is on the rise, using its economic might to bludgeon its way onto the world stage and offering a model in which economic gains legitimize oppression. To mask its decline, Russia is provoking the international community with opportunistic harassment and covert attacks. Both nations invest heavily in their militaries and other tools of national power. Both hope to shape spheres of influence in their own image and ultimately remake the global order to suit their own priorities." (

Foreign Affairs

, 11.29.18)
Ukraine:
Joe Biden: "[Trump] held up aid to make sure that--while at the same time innocent people in the Donbas are getting killed by Russian soldiers." (Democratic debate transcript, 11.21.19)

Joe Biden:

"My son did nothing wrong. I did nothing wrong. I carried out the policy of the United States government in rooting out corruption in Ukraine. And that's what we should be focusing on… I never discussed a single thing with my son about anything having do with Ukraine." (

Democratic debate transcript

, 10.15.19)

Joe Biden:

"Maintaining the sanctions that the United States and the EU levied on Russia in response to its invasion of Ukraine has been important not only in pressuring Moscow to resolve the conflict in the near term but also as a signal to the Kremlin that the costs of such behavior will eventually outweigh any perceived benefits." (

Foreign Policy

, 01.02.18)
--------------------
Russia's other post-Soviet neighbors:
Joe Biden:

"Democratic transformation in Russia's neighborhood would serve as a powerful counterexample to Moscow's kleptocratic and authoritarian rule and would delegitimize its authority over the long run. So Russia waged wars against Georgia in 2008 and against Ukraine in 2014 in order to undermine governments determined to pursue further integration with NATO and the EU." (

Foreign Policy

, 01.02.18)
--------------------
Pete Buttigieg*: We've also seen regionally destabilizing Russian behavior, from activities on the Crimean Peninsula and in eastern Ukraine, to conduct with regard to intermediate-range missiles. Future U.S. policy towards Russia must include a regional security framework that promotes stability for Eastern Europe and incentivizes Russia to adhere to international norms. (Speech at Indiana University Auditorium, 06.11.19)

Elizabeth Warren*:

"Russia is actively working to destabilize countries along its borders and to undermine the European Union and NATO." (

Statement to Congress

, 07.13.17, 00:12)
III. Russia's domestic policies
Domestic politics, economy and energy:
--------------------
Security, law-enforcement and justice:
Cory Booker*:

"You can tell a lot about a country by who they incarcerate. So in Russia, they incarcerate political opposition." (

Interview with Stephen Colbert

,

03.08.19

)

Eric Swalwell*:

"Russia's national news agenda is largely controlled by the Kremlin; editorial policy at its state-owned television stations is managed by the government. Freedom House has counted at least 63 violent attacks on Russian journalists since 2006, including the killing of 20. Beyond the atrocious nature of state-sponsored attacks on its citizens, it's evident that Russia doesn't hold any respect for the freedom of the press, a right that the United States holds as fundamental and remains enshrined in our Constitution." (

Official Website

)
RM staff also contributed to this compilation.
This post was previously updated on Oct. 17, 2019, Nov. 21, 2019, Dec. 20, 2019, Feb. 6, 2020 and Feb. 20, 2020.
Author
Daniel Shapiro
Daniel Shapiro is a graduate student at Harvard University specializing in contemporary Russian politics, Russian public/private sector relations and the North and South Caucasus. He is also a graduate student associate with Russia Matters. 
Author
Thomas Schaffner
Thomas Schaffner is a student web assistant with Russia Matters and a graduate of American University.
Author
Angelina Flood
Angelina Flood is the assistant editor for Russia Matters.