In the Thick of It
A blog on the U.S.-Russia relationship
The Russia-Ukraine War Report Card, Oct. 17, 2023
October 17, 2023
Belfer Russia-Ukraine War Task Force
Who's Winning and Who's Losing What?
Territorial Control1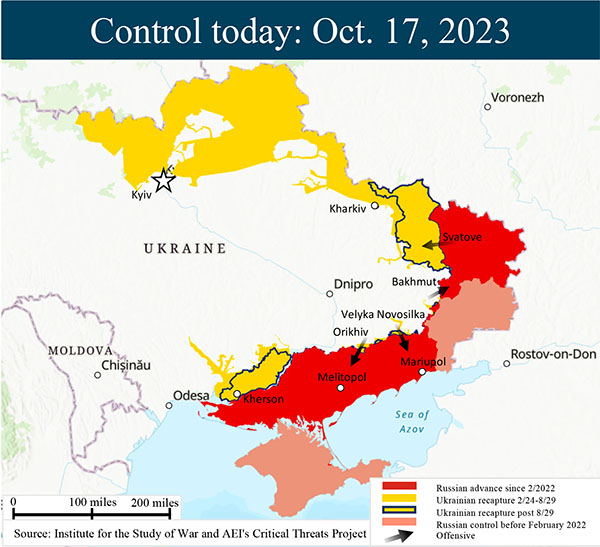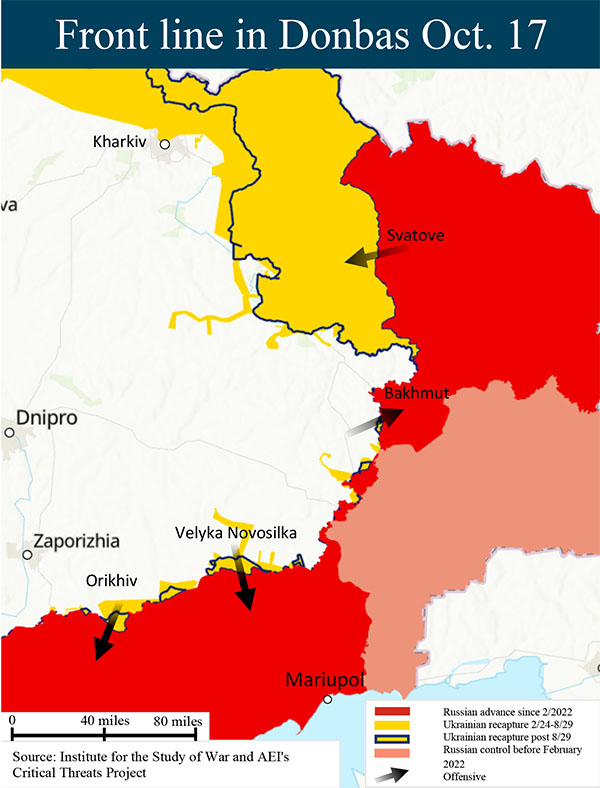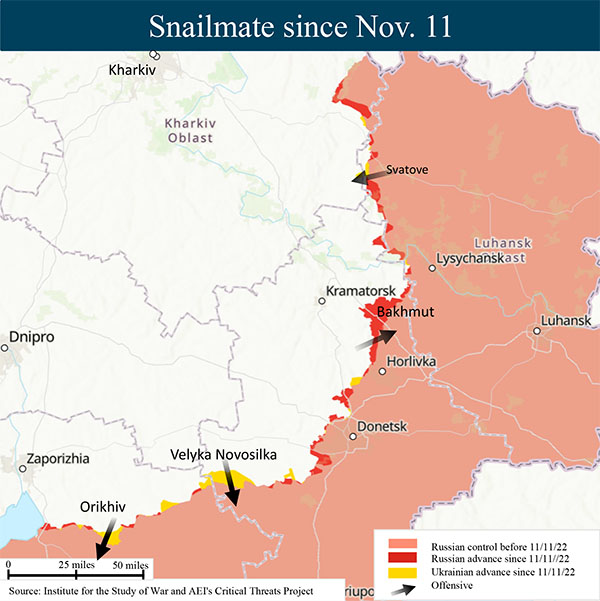 Report Card*
Change in control of Ukrainian territory
Since Feb. 24, 2022:

Russia: +25,000 square miles. 11% of Ukraine. Area equivalent to Massachusetts, New Hampshire and Connecticut combined.
Ukraine: 0. Ukraine has not taken any territory controlled by Russia before the 2022 invasion.

Since Aug. 29, 2022 Ukrainian counteroffensive: Ukraine +6,540 square miles. 3% of Ukraine. Area equivalent to Connecticut and Rhode Island combined.

Russia: +520.
Ukraine: +7,060.

In past month: Ukraine +3 square miles.

Russia: +10.
Ukraine: +13.

In past week: Russia +6 square miles.
Total territory occupied by Russia at some point since Feb. 24, 2022: 54,000 square miles.
Total territory reclaimed by Ukraine since Feb. 24, 2022: 29,000. 54% of total territory occupied by Russia.
Currently occupied by Russia: 25,000.
Military casualties2
Russia: 200,000 killed, severely wounded and missing.
Ukraine: 130,000+ killed, severely wounded and missing. Includes 10,000+ missing.
Civilian fatalities3, 4
Russia: 98 killed.
Ukraine: 9,806 killed.
Citizens displaced5
Russia: 800,000 emigrated for economic or political reasons, 0.6% of Russian population.
Ukraine: 10.9 million displaced Ukrainians, 25% of Ukrainian pre-invasion population of 44 million.

Internally displaced: 5.1 million.
International refugees: 5.8 million.
Economic impact6
Russia: -2.1% GDP for 2022

2.2% GDP forecast for 2023.
Budget deficit: 3% of GDP, excluding grants.
Russian Ruble: 0.010 U.S. dollars. -14% since invasion.
3-year bond yield: 12.4%

Ukraine: -29% GDP for 2022

2% GDP forecast for 2023.
Budget deficit: 30% of GDP, excluding grants.
Ukrainian Hryvnia: 0.027 U.S. dollars. -17% since invasion.
3-year bond yield: 16.9%.
Infrastructure7
Russia: No significant damage except Kerch Strait Bridge, under repair but one lane open.
Ukraine: 40%, or 22.5 out of 56 GW electricity generating capacity destroyed or occupied.
Popular support8
Russia: 39% support continued fighting over negotiations.
Ukraine: 60% support continued fighting over negotiations.
Other criteria which may be even more important (about which we continue to search for reliable indicators)
Ammunition supply
Foreign military aid
Force generation
Military leadership
Training
Morale
Control of strategic locations
Information war: with U.S./Europe; with world
* Due to a lack of reliable indicators, our report card does not include multiple factors which may be more important to assessing success and offensive potential. Several ways in which Ukraine likely has an advantage are difficult to quantify, such as foreign military aid, morale, military leadership, and information war, while Russian strengths like concrete territorial control are easier. The available quantitative data paints a picture more favorable to Russia than the reality. It is therefore important to keep in mind what is not included when interpreting the numbers that are.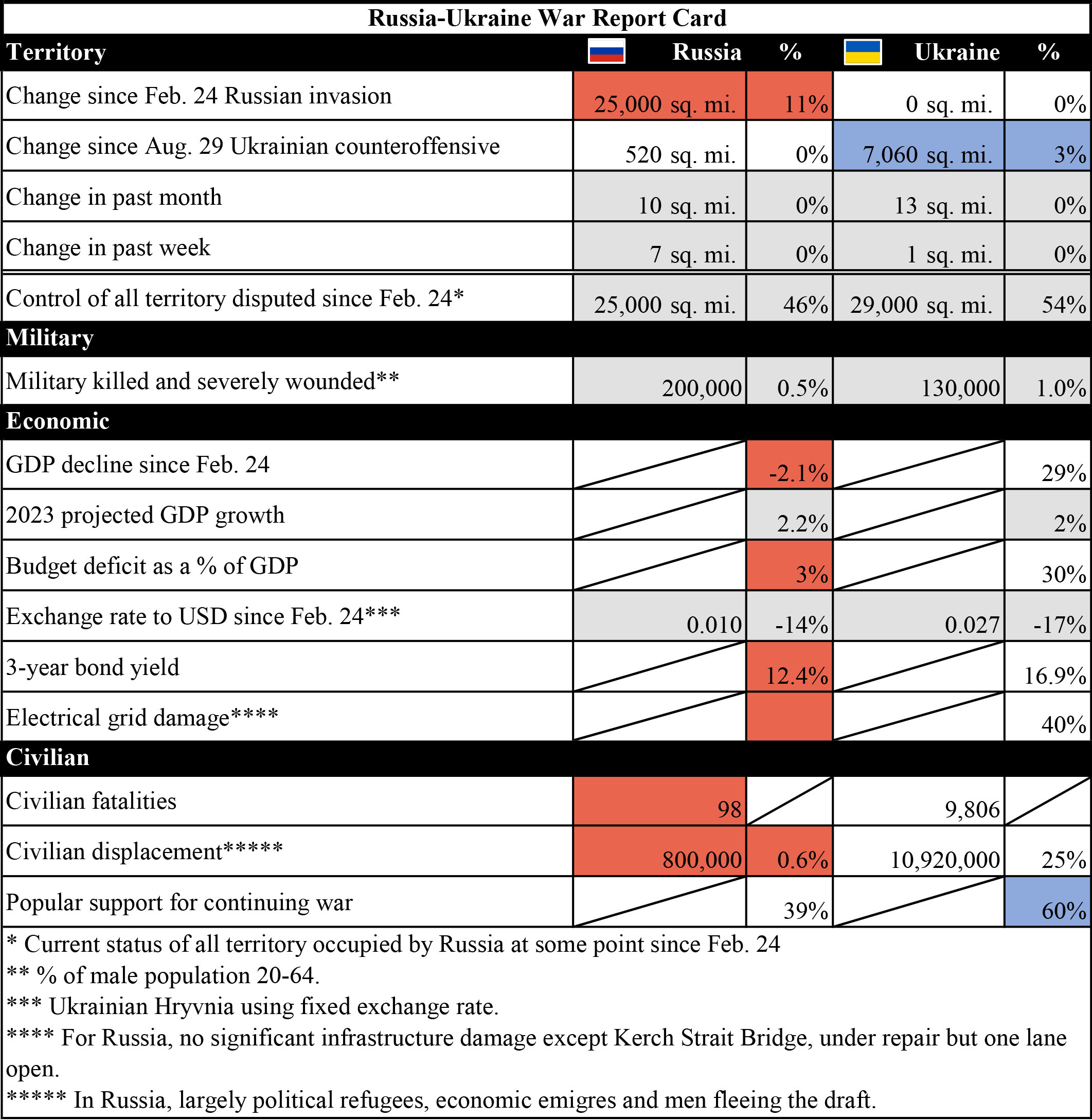 Footnotes
Including territory occupied before 2022, Russia now controls about 41,000 square miles (17.5%) of Ukraine. Maps and territorial estimates based on data from: "Russian Campaign Assessments," Institute for the Study of War, https://www.understandingwar.org/; "Russia's Invasion of Ukraine in Maps — Latest Updates," Financial Times; New York Times, "Ukraine Maps: Tracking the Russian Invasion," https://www.nytimes.com/interactive/2022/world/europe/ukraine-maps.html; "Ukraine in Maps: Tracking the War with Russia," BBC News, sec. Europe, https://www.bbc.com/news/world-europe-60506682.
U.S., U.K., Ukrainian, Russian, and other public government estimates.
United Nations, "Ukraine: Civilian Casualties," https://ukraine.un.org/en/resources/publications; Central Intelligence Agency, "The World Factbook," https://www.cia.gov/the-world-factbook/; "Türk Deplores Human Cost of Russia's War against Ukraine as Verified Civilian Casualties for Last Year Pass 21,000," United Nations OHCHR, February 21, 2023, https://www.ohchr.org/en/press-releases/2023/02/turk-deplores-human-cost-russias-war-against-ukraine-verified-civilian.
Oryx, the source for military equipment losses, stopped reporting data on October 1. Final count of equipment losses: Russia: 12,311 pieces total. Ukraine: 4,510. Oryx, "Attack On Europe: Documenting Equipment Losses During The 2022 Russian Invasion Of Ukraine," Oryx (blog), https://www.oryxspioenkop.com/2022/02/attack-on-europe-documenting-equipment.html; "The Military Balance 2022," IISS, https://www.iiss.org/publications/the-military-balance/the-military-balance-2022.
United Nations, "Ukraine Humanitarian Response," https://reports.unocha.org/en/country/ukraine/; Estimates of Russian displacement based off public reporting, including "About 700,000 citizens left Russia after September 21," Forbes.ru, October 4, 2022, https://www.forbes.ru/society/478827-rossiu-posle-21-sentabra-pokinuli-okolo-700-000-grazdan; Mary Ilyushina, "Cyprus, a Haven for Russian Expats, Welcomes Techies Fleeing Ukraine War," Washington Post, October 24, 2022, https://www.washingtonpost.com/world/2022/10/23/cyprus-russian-expat-tech-workers/. The Moscow Times, "Nearly 4M Russians Left Russia in Early 2022 – FSB," The Moscow Times, May 6, 2022, https://www.themoscowtimes.com/2022/05/06/nearly-4m-russians-left-russia-in-early-2022-fsb-a77603. Kyiv Post, "Twice as Many People Left Russia in the First Half of 2022 as in the First Half of 2021," https://www.kyivpost.com/post/5278.
International Monetary Fund, World Bank, and Russian estimates. "Russia and Ukraine 3-Year Bond Yield," Investing.com, https://www.investing.com/rates-bonds/russia-3-year-bond-yield.
Based off public media reporting, including "Ukraine Real-Time Electricity Data Explorer – Data Tools," IEA, https://www.iea.org/data-and-statistics/data-tools/ukraine-real-time-electricity-data-explorer; Dara Massicot, "What Russia Got Wrong," Foreign Affairs, February 8, 2023, https://www.foreignaffairs.com/ukraine/what-russia-got-wrong-moscow-failures-in-ukraine-dara-massicot; Aura Sabadus, "Power to Ukraine," CEPA, https://cepa.org/article/ukraine-energy-grid-resilience-continues-despite-invasion/; Andrew D'Anieri and Victoria Voytsitska, "How to Save Ukraine's Energy Infrastructure," The Hill, November 17, 2022, https://thehill.com/opinion/international/3729102-how-to-save-ukraines-energy-infrastructure/. Wilson Center, "Russian Air Attacks on Ukraine's Power System," https://www.wilsoncenter.org/blog-post/russian-air-attacks-ukraines-power-system.
Levada Center, "Conflict with Ukraine: November 2022," December 12, 2022, https://www.levada.ru/en/2022/12/12/conflict-with-ukraine-november-2022/; "Poll: 67% of Ukrainians Are against Any Compromises with Russia; 82% Say Putin New Hitler," Kyiv Independent, May 8, 2023, https://kyivindependent.com/over-67-of-ukrainians-say-no-compromises-with-russia-over-80-say-putin-new-hitler-poll-shows/.
Compiled by Kate Davidson, a researcher with the Avoiding Great Power War Project at the Belfer Center for Science and International Affairs.
Image created for RM by Andrew Facini. All rights reserved. 
Previous issues: