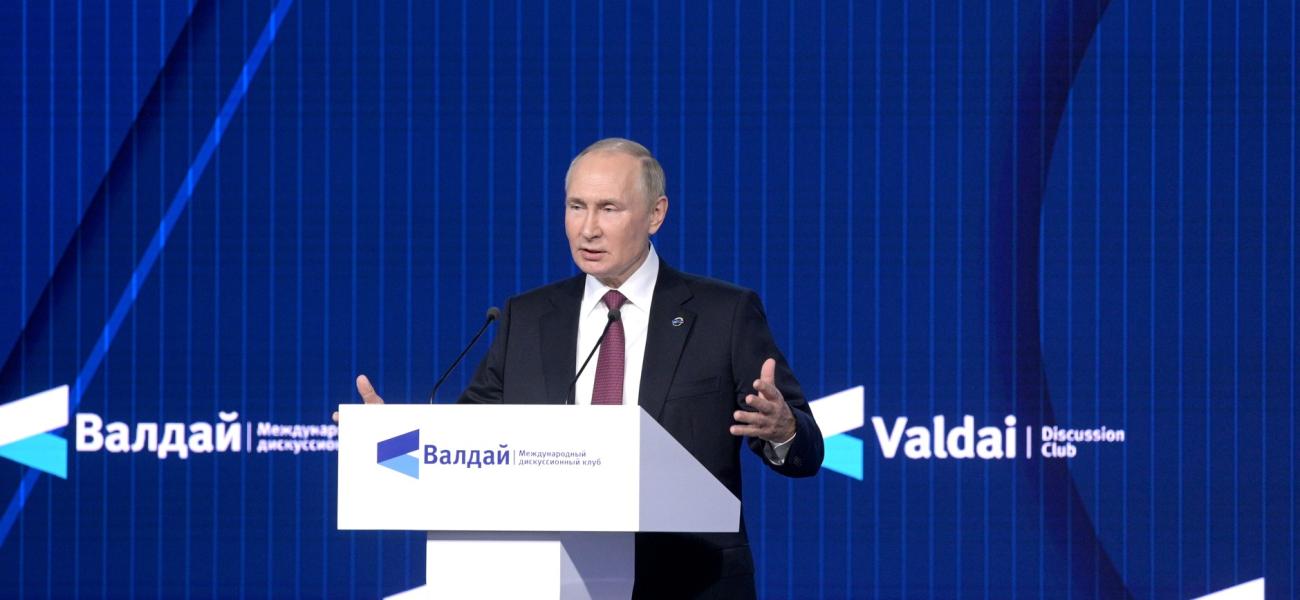 Remarks at Valdai Discussion Club
October 27, 2022
Vladimir Putin
This is a summary of Russian President Vladimir Putin's remarks at the Valdai Discussion Club.
At the Valdai Discussion Club meeting on Oct. 27, Russian President Vladimir Putin said:
"We have the Military Doctrine, and they should read it. One of its articles explains the cases when, why, in relation to what and how Russia considers it possible to use weapons of mass destruction in the form of nuclear weapons to protect its sovereignty, territorial integrity and to ensure the safety of the Russian people."
"We have said many times that we are ready for negotiations... But the leaders of the Kyiv regime decided not to continue negotiations with the Russian Federation. ... However, the decisive word belongs to ... Washington. It is very simple to solve this problem: give an appropriate signal to Kyiv that they should change."
When explaining why he ordered the "special military operation":  "The most important thing for us is to help the Donbas... the plan was the same and the goal is to help the people who live in the Donbas."
"Now this historical period of boundless Western domination in world affairs is coming to an end. The unipolar world is being relegated into the past. We are at a historical crossroads. We are in for probably the most dangerous, unpredictable and at the same time most important decade since the end of World War II."
"I am convinced that sooner or later both the new centers of the multipolar international order and the West will have to start a dialogue on an equal footing about a common future for us all, and the sooner the better."
"As an independent and distinctive civilization, Russia has never considered and does not consider itself an enemy of the West. ... [T]wo Wests—at least two and maybe more but two at least—the West of traditional, primarily Christian values, freedom, patriotism, great culture and now Islamic values as well—a substantial part of the population in many Western countries follows Islam. This West is close to us in something. We share with it common, even ancient roots. But there is also a different West—aggressive, cosmopolitan and neocolonial. It is acting as a tool of neoliberal elites. Naturally, Russia will never reconcile itself to the dictates of this West."
This item is part of Russia Matters' "Clues from Russian Views" series, in which we share what newsmakers in/from Russia are saying on Russia-related issues that impact key U.S. national interests so that RM readers can glean clues about their thinking.
The opinions expressed herein are solely those of the author. Photo by Kremlin.ru shared under a Creative Commons license.